Each time we fly to Jogjakarta there's talk of Maitais by the pool and massages at the hotel, but we always struggle to tear ourselves away from the JEC hall where the show takes place. That's a testament to just how good the Kustomfest show is, and this year was no different. Once again there was no shortage of custom motorcycles to see with a touch over 130 to paw over. There were vendor stalls, live tattooing, an art display, custom bicycles and helmets, miniatures, BMX and stunt bike exhibitions outside and 2 live music stages. During the day thousands of visitors made their way through the main hall and each night things got loose outside at the main stage.
Despite the huge number of custom motorcycles on display every one had been handpicked and had passed basic scrutineering to be eligible to be on display. Of 300 builders that applied 150 were chosen. On the Friday prior to the show each entrant then had to demonstrate their bikes ability to function as any motorcycle should. Each builder was asked to start their motorcycle, perform a start/stop maneuver and also drive a basic figure eight course. This year after scrutinizing the final number stood at just over 130 motorcycles which were then broken up into categories like cafe racers, baggers, choppers, etc.
When it came to selecting a winner it was, as always, a tough decision. There's a diverse mix of builds in the café racer category. Some workshops take a more traditional approach while others go all out. I've seen bikes that could have been built in the 60s sitting next to ones that boast hand-made frames, bodywork and even custom-made engines. What I usually end up selecting is a mix of different approaches and this year the highlight was the White Collar Bike Benelli which we feature here on the site a few weeks back.
After the award ceremony and my fleeting time on stage was over (phew!) we headed to the after party. It was finally time to sink a few Bintang beers with our fellow international judges and discuss what we'd just experienced. Despite our different backgrounds and automotive tastes, I realized that everyone shared a common love for one aspect of the show. The Indonesian people. In a country inhabited by over 140 million people, it's hard to believe anyone can be so welcoming and it's this that will keep us coming back to Kustomfest year after year.
If you have the opportunity to visit Indonesia during October 2018 add the Kustomfest show to your itinerary. You won't regret it.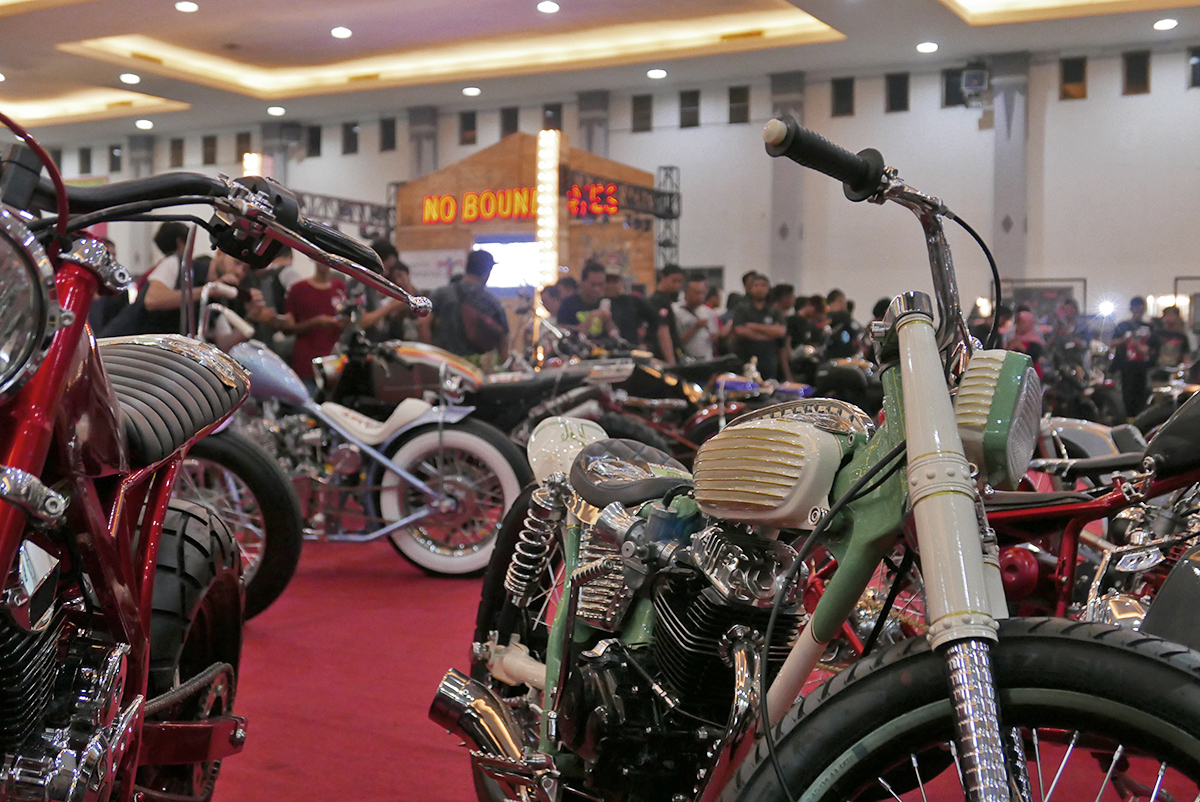 2017 marked Return of the Café Racers fourth trip to Jogjakarta for Indonesia's premiere custom culture show, Kustomfest. Along with Luke Ray from Fuel Magazine, I was honored to once again attended the show as a special guest. Kustomfest takes place in Jogjakarta, a city on the island of Java that's 700kms west of Indonesia's best known holiday destination, Bali. With motorcycles being the primary mode of transport for a large percentage of the countries inhabitants the Kustomfest show continues to be a very welcome addition to the thriving Indonesian custom scene.