As someone who has a history of heart disease in their family, I know all too well how devastating it can be. Thankfully I've been aware of the issue since I was young and make a point of getting regular checkups to keep tabs on things. Unfortunately for Scott Radabaugh discovering he suffered from genetic heart disease almost cost him his life. Now, in a bid to help others avoid similar life-threatening experiences, he's decided to do something about it with the help of a modified Kawasaki W800.
"I'm just a regular guy who loves motorcycles and almost got my ticket punched by FH," says Scott. "My experience happened when I was on an Elliptical Machine at the gym and not riding my insanely fast CBR 1000RR…as my mom predicted countless times."
What Scott experienced was an early warning sign of what would have likely been a fatal heart attack. His discovery led to open-heart surgery and a quadruple bypass at the age of 43. He recalls his doctor saying "You are unbelievably lucky…if you had not called us with the first sign of chest pain, you were on track to have a fatal widow-maker heart attack within 2 weeks."
After the operation, he decided to have his family checked. What they discovered was a genetic condition by the name of Familial Hypercholesterolemia (FH) which placed other members of his family at the same risk.

Scott's eyes had well and truly opened. FH had very nearly torn his family apart, so, to learn more about the condition affecting them and future generations he dug deeper.
What Scott found was that his genetic disorder affected 1 in 250 people. Worse still was that only 10% of those suffering from FH were aware of their condition. Wanting to do something to help others he decided to reach out to the community he felt closest to, which just so happened to be motorcyclists.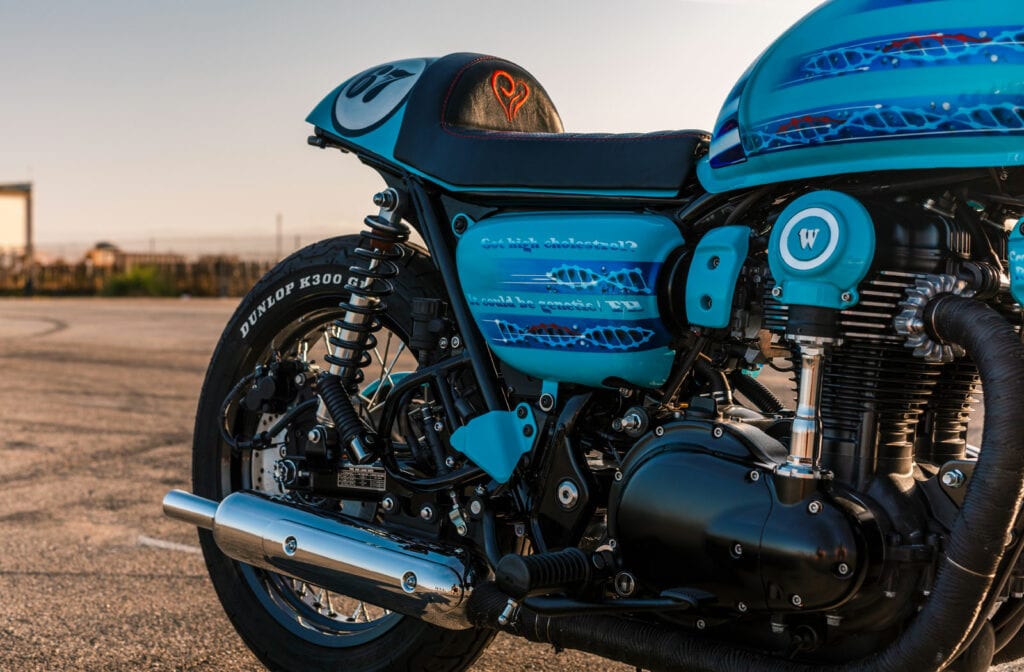 Scott's idea lead to the formation of his own FH awareness initiative, 'Motorcycle Saves Lives', and the build of a very special cafe racer. To help realise his vision Scott teamed up with Rodrigo Cedeño Jr. of DNA Motor Lab LLC and painter John Bartevian of Custom Motor Arts. Together they built 'Chloe' a 2020 Kawasaki W800 that Scott will be taking to moto events and rides around the US.
To do our part in helping Scott raise awareness of FH amongst the greater riding community, here's the story behind this purpose-built bike…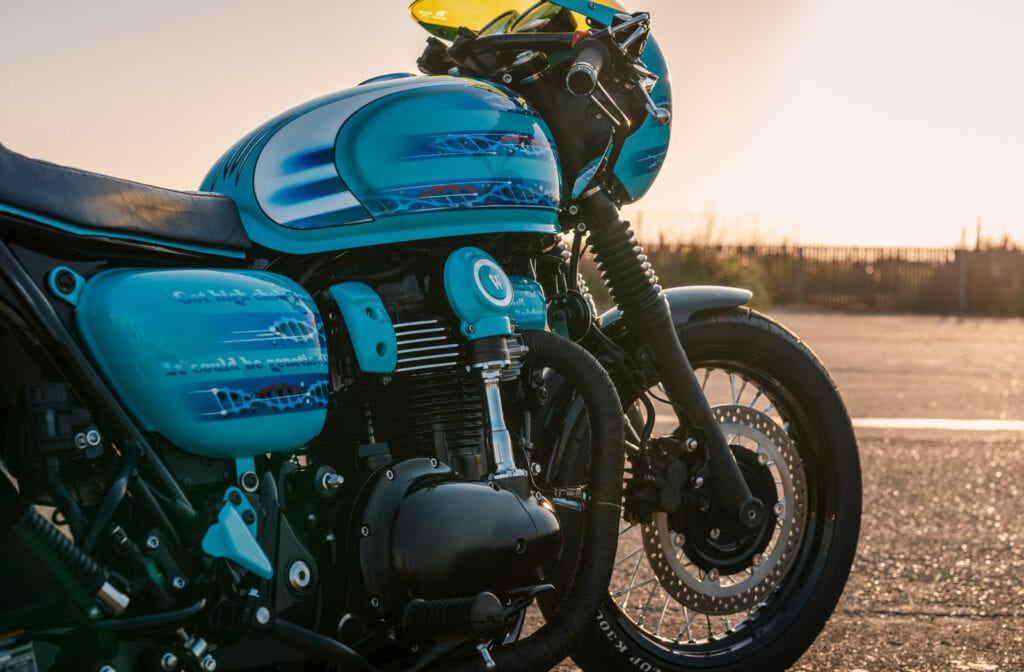 What is Familial Hypercholesterolemia?
FH is a sudden, silent killer.
High cholesterol levels can begin to build at birth. By the time most discover their high cholesterol, they've had potentially decades of cholesterol burden and damage to their cardiovascular system. For the 90% who have FH and don't know it yet, the first sign they have it may be an early heart attack, stroke or even death.
Thankfully once a person knows that they have FH, it can be effectively treated.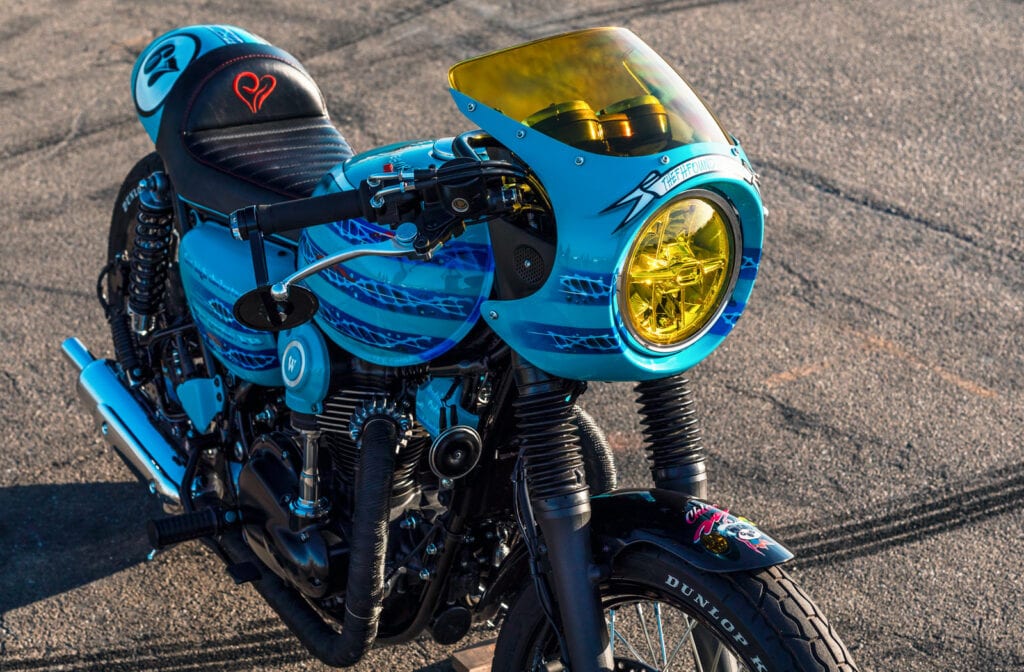 Why use a motorcycle to build awareness?
Global motorcycle registrations are estimated to be 60,000,000. Using the 1 in 250 FH prevalence factor 240,000 motorcyclists around the world have FH. Sadly, 216,000 motorcyclists globally don't know they have FH and we want to stop preventable deaths. This bike is for them.
It's not often you have the opportunity to positively affect the lives of nearly a quarter of a million riders, their kids and their family members. Since FH is genetic and does not skip generations, you never find a single FH patient – you will always find an FH family.
With help from websites like this one and the Motorcycle that Saves Lives (MSL) café racer, we can significantly contribute to saving and extending countless lives.
Spreading the word on two wheels
Here in the US, the MSL bike is receiving a very positive reception. Progressive Int'l Motorcycle Shows has done a feature article in their newsletter and they are considering featuring the MSL bike at some of their motorcycle events this year.

Interview with the builder, Rodrigo Cedeño Jr.
Tell us about yourself and your workshop.
I started out with vintage bikes about 10 years ago with a CL360 build. Most people assume I've been riding all my life but I didn't get into motorcycles until later in life. I started off my professional career as a chef, however, my off time was always spent wrenching on motorcycles. After just 2-3 years I got to a point where I left my career as a chef and pursued motorcycles full time.
Long story short – I ended up building and customizing countless motorcycles. I now own and run a full-service motorcycle shop & motorcycle tow service called DNA Motor Lab LLC.  We also created a custom shop and communal hub called Bay Area Vintage Motors.
All in all. I'm a lucky person to always be around motorcycles literally 24/7. Getting to pump out builds like this is what I live for.
What attracted DNA Motor Lab to this project?
This bike has a greater purpose behind it. Bigger than most people may realize.
Scott approached and educated me on FH. The purpose of the bike appealed to us since it was to help generate awareness for his foundation and this condition which literally can affect anyone – including our riding community.
There were also all kinds of crazy coincidences that came up that drew us to this build. The first being that FH is a genetic (DNA) disorder and our shop name is DNA Motor Lab!
What was the design concept for the project?
The concept with the W800 was finding a connection between motorcycles and the medical industry – something you don't traditionally see together… at least not always in a good way.
This bike was very different and challenging because of the medical aspect. Finding a way to project an important message about FH and still build a cool and edgy cafe racer was tough.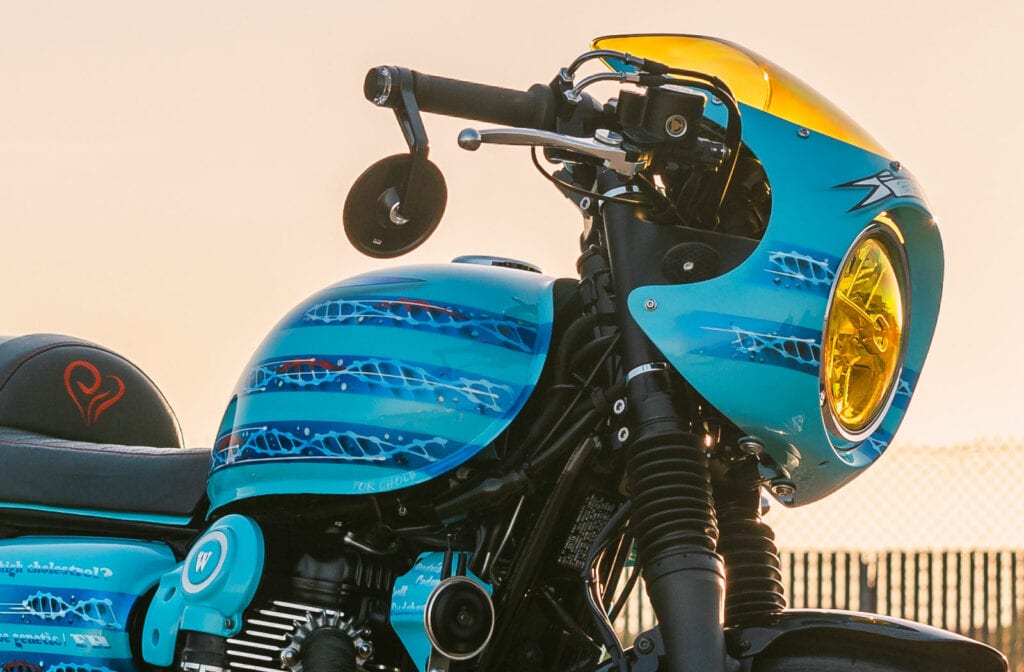 What custom work has been done to the W800?
The Motorcycle Saves Lives Kawasaki W800 features a complete custom paint job. This is where most of the work so far has been focused. We used DNA Helix strands with accents of colour-changing pearl and red offsets to replicate the genetic disorder and draw attention to the bike.
The W800 also wears a custom seat, seat pan and rear cafe-style cowl. The exhaust system has been modified and wrapped and the factory turn signals replaced using Motogadget M-blaze units. The bars also wear  Motogadget mo.view cafe bar-end mirrors and we tinted the headlight and windscreen yellow. Finally, we added an integrated LED rear end lighting.
Creating that blue colour and how it contrasts with the yellow accents turned out great. It was a long journey to get to the colour right. The concept changed several times (literally restarting paint) until we found a way to make something that looks good.
The bike itself is pretty smooth. The power band is very linear and predictable in a nice way. It's the perfect motorcycle to cruise around on. Its seat and bar position feel right and most importantly – it turns heads everywhere it goes!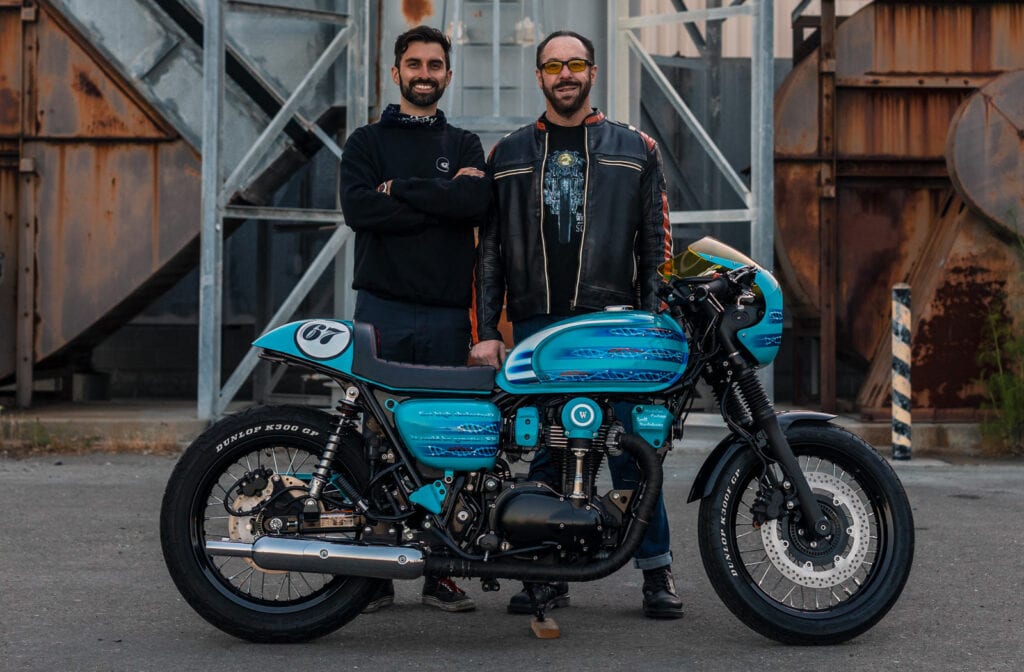 From here Scott plans to continue spreading the word about FH to the motorcycle community both locally and worldwide. If you'd like to learn more about the foundation or about how to get yourself tested for FH we encourage you to visit the Motorcycle Saves Lives website.
We'd like to thank Scott and Rodrigo for sharing their story and for doing their part to help others within the motorcycle community.
Bike Builder DNA Motor Lab LLC / Photography by Stephen Thompson