Rat Bikes like their 4 wheeled cousins, Rat Rods are what some people would consider to be a "piece of junk". Often covered in patches of rust, dents or make shift parts solutions they have the look of a badly maintained vehicle that in some cases look as though they wouldn't even run. The fact is though that custom builds of this style are some of the most unique vehicles you're ever likely to see out on the street and chances are they perform just as well if not better than your own ride.

This Rat Bike named "The Bolo Shit" is a Kawasaki KZ400 built by B R Moto Officina of Blogna, Italy. With it's rusty tank, oxidised engine cases and drilled out covers it could easily trick unsuspecting pedestrians in to thinking it belongs on the scrap pile; the truth is though that this KZ400 has undergone a full rebuild from the frame up and it actually kicks custom arse.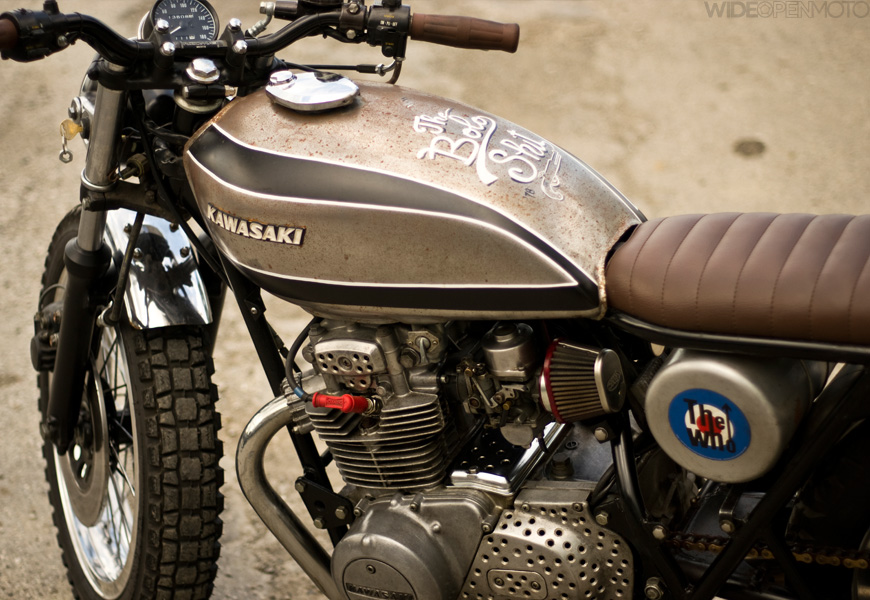 The Bolo Shits frame was stripped and detagged before receiving a fresh powder coat in gloss black. A custom pair of B R Moto high flowing mufflers with their unashamedly rough welds went on to the original headers. The wheels were replaced with high quality, stainless steel laced Borrani rims with classic Metzeler dual purpose rubber front and rear. K&N filters and new carb internals increase horsepower enough to keep the bikes owner (B R Moto member Matteo) smiling and the fake oil can now houses all the electrical junk previously hidden behind the bikes original air box.
While it may not seem that much attention was paid to the Bolo Shits aesthetics it has in fact had some very nice "upgrades". The low profile seat was designed to fit snugly to the frame and it looks about a thousand times better than Kawasaki's goofy, over sized factory unit. The original dials have been replaced with a single black faced speedo that sits square in the middle of the powder coated handle bars with vintage style gum grips. The front and rear fenders were trimmed and bikes indicators were dumped for a much skinnier figure. The engine cases, brake drum, levers and anything else that could be drilled were transformed in to swiss cheese by B R Motos overzealous drill operator. Finally the bikes fuel tank was stripped bare and customised with a simple stripe job and humorous custom lettering before being put back on and left for mother nature to work her magic on.

In a world where custom tends to mean show quality the Bolo Shit makes for a welcome change of scenery. Perhaps it's time I threw out my polishing cloth, picked up a drill and embraced the gods of rust? Rat Bikes rule!