There's nothing like a bit of competitive spirit to egg a build on and when it's between 2 brothers you can bet the stakes are most certainly high. After Andy Webman of Interstellar Motors introduced his twin brother Jody to bike customisation it wasn't long before Jody had built himself a daily rider that put Andy's own bike to shame. Seeing his brother riding a much cooler machine than his own was exponentially worse than any noogie or chinese burn he could inflict on him so something drastic would have to be done. So Andy decided the only thing to do was to redesign and rebuild his first bike, an '81 Kawasaki KZ650 CSR cruiser into this one of a kind Cafe Racer.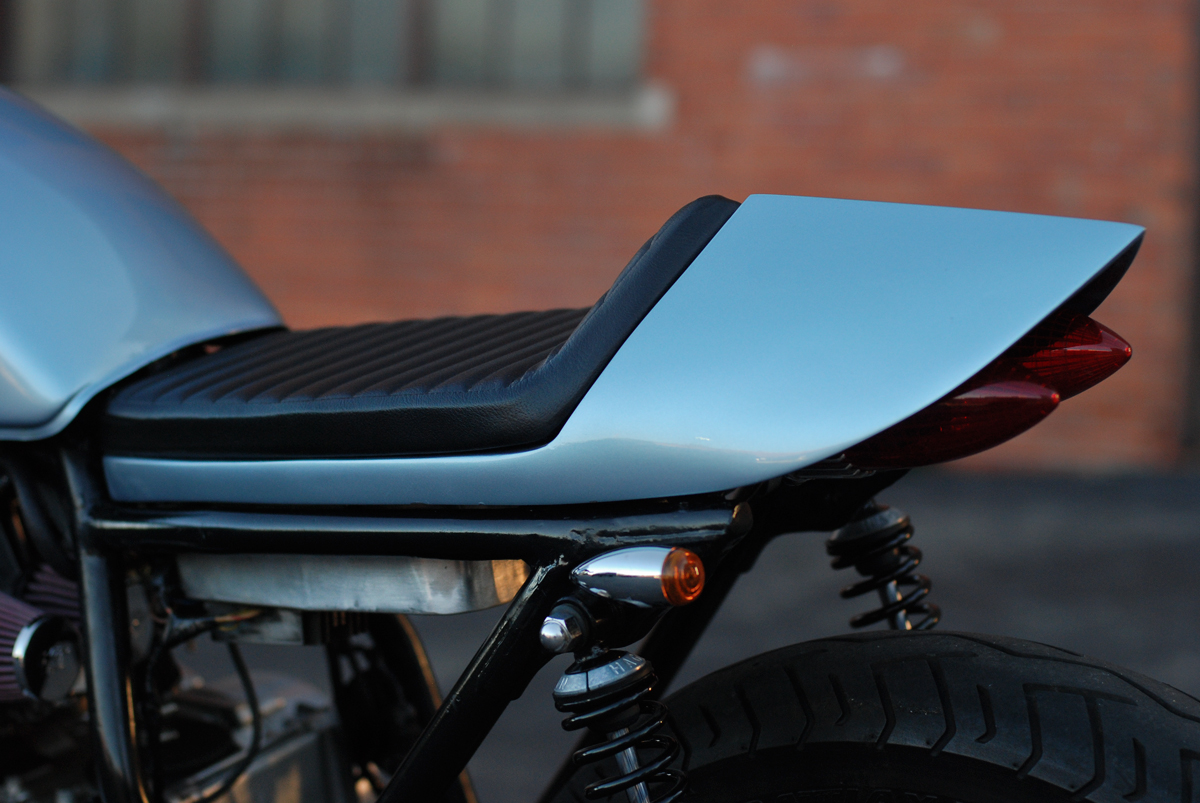 As Andy puts it "Cafe Racer builders tend to shy away from early metric cruisers because
the frames aren't straight across where the seat sits, the wheels are odd sizes and the suspension lengths differ greatly"and I couldn't agree with him more… but not being the kind of guy to shy away from a challenge Andy saw his frumpy Japanese cruiser as a more than suitable subject for his own Cafe Racer project.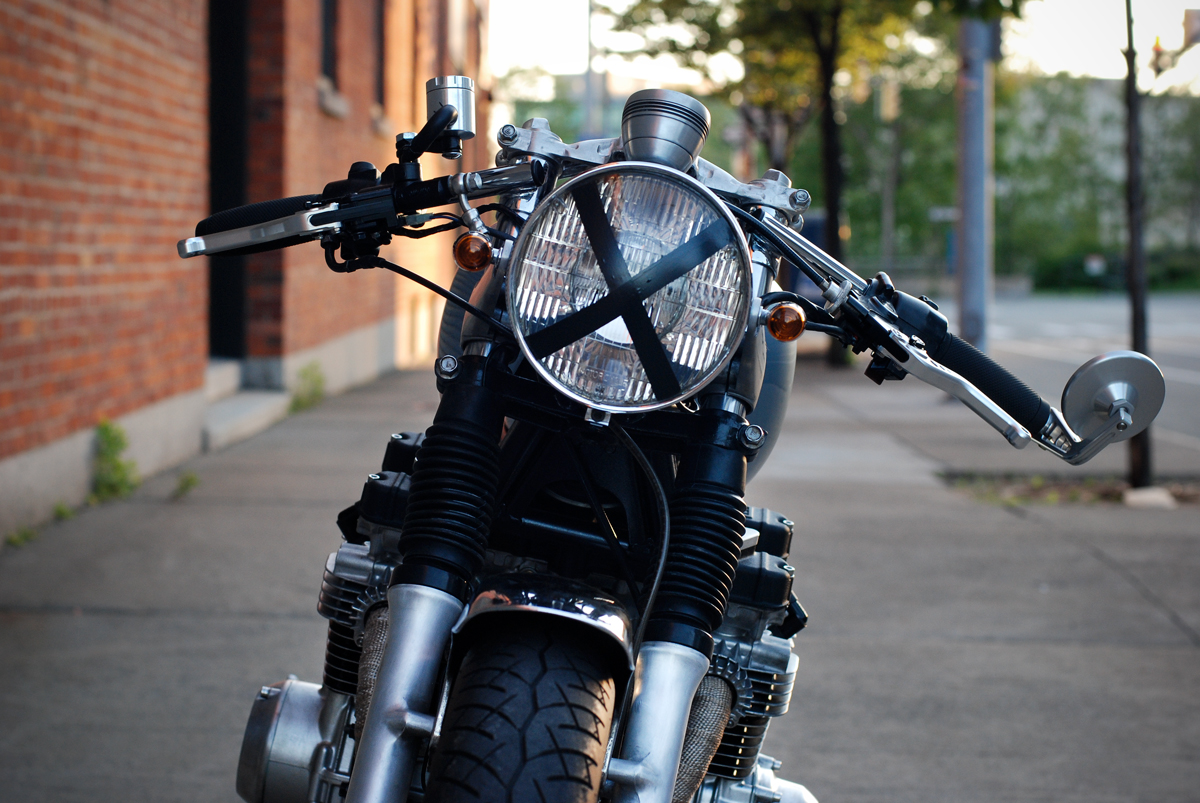 Balance is what makes a great looking bike and when it comes to Cafe Racers there is no exception to the rule. With a 19 inch wheel up front and a 16 in the back drastic measures were required. After removing the old rubber and snipping off the stock spokes Andy re-laced the hubs to lightweight 18 inch aluminium rims. Lowering the Kawasaki's front end was then achieved by trimming 2.5 inches off the fork tubes and their performance was then addressed by installing a set of new springs and damper valves. To give the bike a forward sloping, "looks fast while standing still" stance a pair of Hagon shocks were then mounted to the KZ.
All that then remained to finish off the bikes stance was to remove the drop step in the frame. For this Andy cut away a section of the rear before welding in a new sub frame of his own design. With the bike now sitting right there was no way it could be ridden with the original bull horn bars or mid controls so a pair of clip on bars and a set of '09 Ninja ZX6R rearsets were installed.  A custom made, fibreglass tail and seat unit were next to go on the bike and beneath them you'll find a box containing all of the bikes electronic components and a lithium ion battery.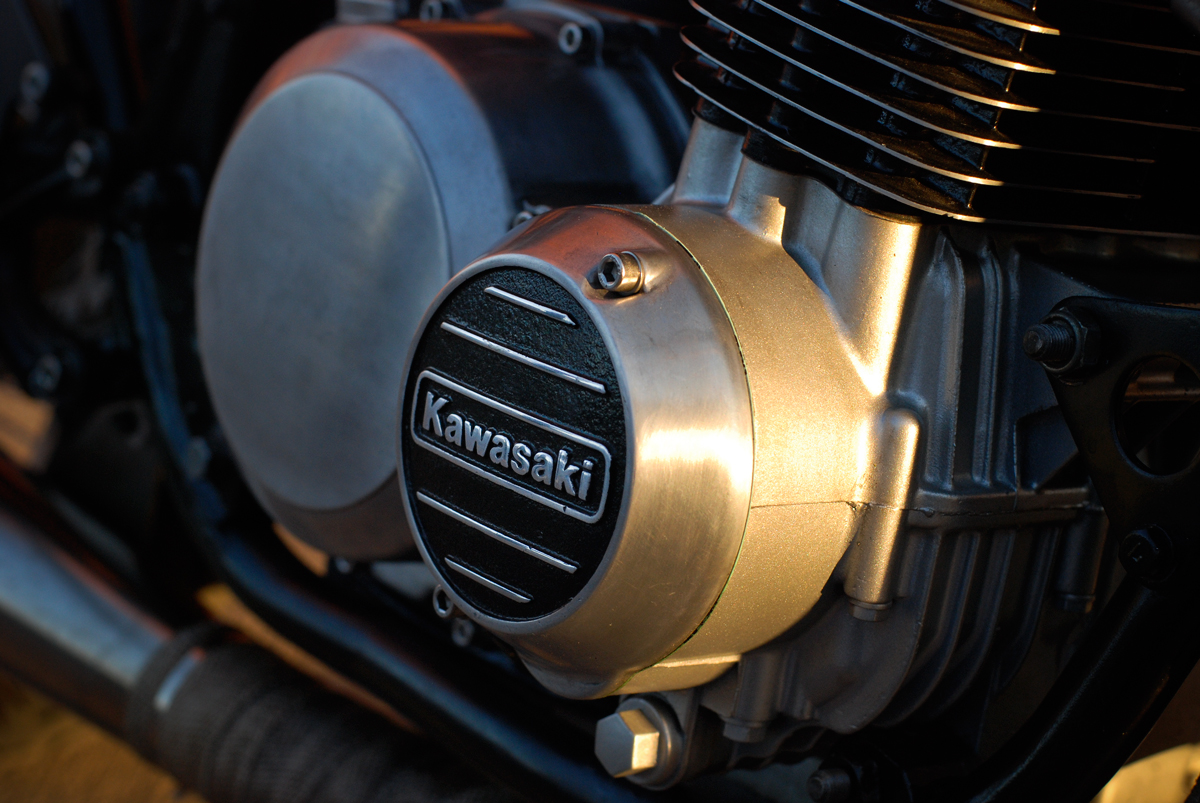 New bullet indicators, a Moto Guzzi headlight and a pair of 1959 Cadillac style tail lights fulfil all of the bikes lighting requirements and an Acewell speedo replaces the original chunky Kawasaki unit. Since looking good is only ever half the task Andy's also rejetted the carbs to run sweet with the pod filters and the 4-into-1 Vance and Hines stainless steel exhaust system he's installed.