Someone had sacrilegiously painted the bike's frame in a past life, hiding the trademark Rickman nickel plating, so it had to be stripped back. To avoid damaging the original frame and bronze welds I dispensed of the paint using a soda blaster. At some point, the frame had been modified to match the specs of the Rickman Predator, with the lower headstock tubes being braced to the headstock with a gusset and two banana tubes that tie the top and bottom headstock tubes together. The swing arm had also been braced. It all looked like it was done well, but the nickel had been damaged during the modifications. After the soda blasting revealed the imperfections, I took to the frame with a die grinder and flapper wheel to smooth it off before being nickel plated once again. Following the nickel plating 'Competition and Industrial Coating' put a clear ceramic coat over the frame, swing arm and any other nickel bits to seal them for life. I also had this coating applied to the new wheel rims and all of the other polished engine bits and pieces.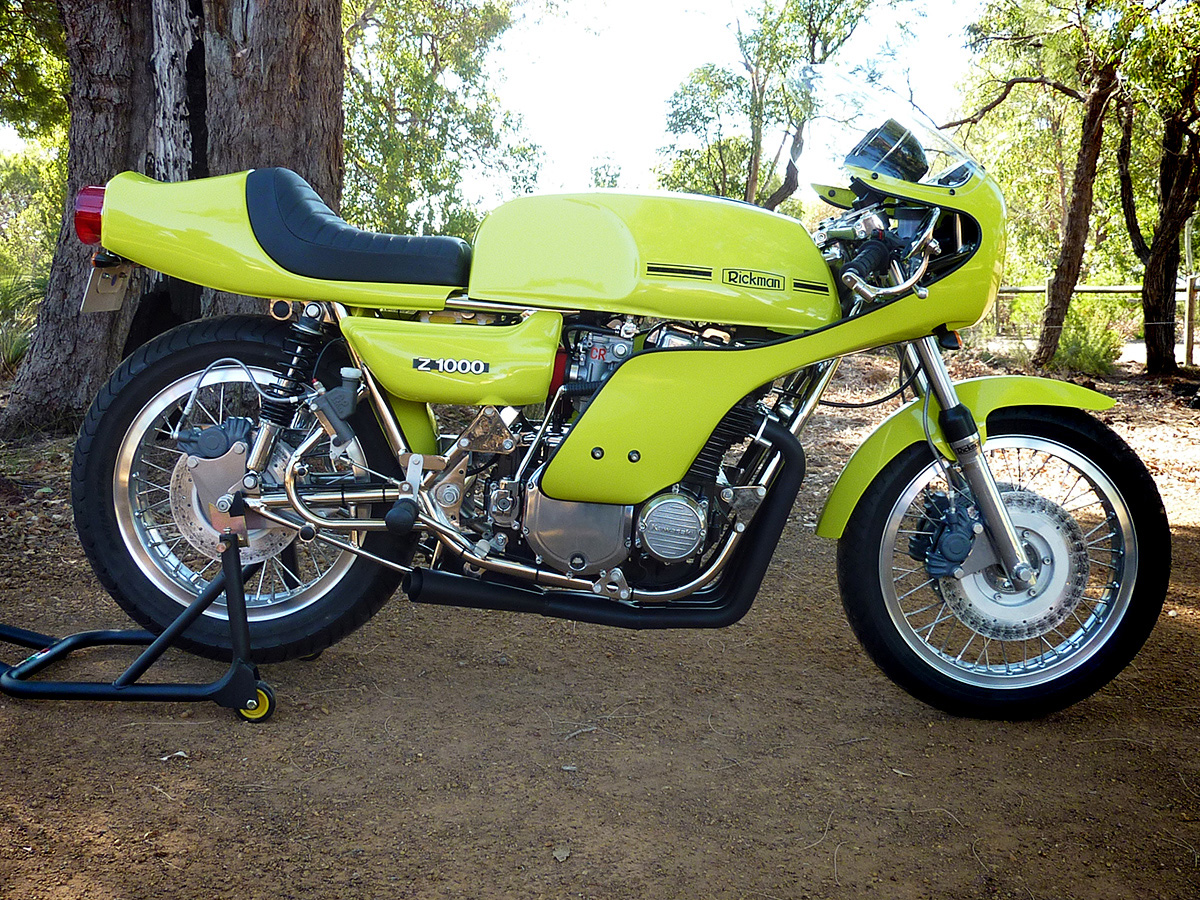 All new fibreglass was required to get it back to its original single seat, long tank configuration. Some of the original parts used to make the moulds were loaned to me by John Coombes (tail section) and Greg Mills (fairing). 'Prixhistoric Fibreglass' replicated the pieces, which I then rubbed back in preparation for priming and filling before being painted. While stripping the front end I found that one of the fork tubes was bent. I suspected the bike had been down in the past due to some scrapes on the exhaust and foot peg. A Mark in our workshop helped me contra heat the tube straight again and we got it within 10 thou of being perfect and once it was linished you would never have known.
I really wanted to source some Borrani rims for the bike as they were used on the original setup. Not wanting to risk running second-hand 30+-year-old alloy or selling a kidney for the cash to buy them, I went about tracking some replicas down. I found an Italian company who make replica rims which are identical aside from the lack of Borrani stampings. After supplying them with my specs, I received the rims and a set of clip-ons, which were handmade and plated inside of a week, from Italy. 'Spoked Wheel Services' laced the wheels together using larger stainless steel spokes to marry the new rims to the rebuilt and ceramic coated hubs.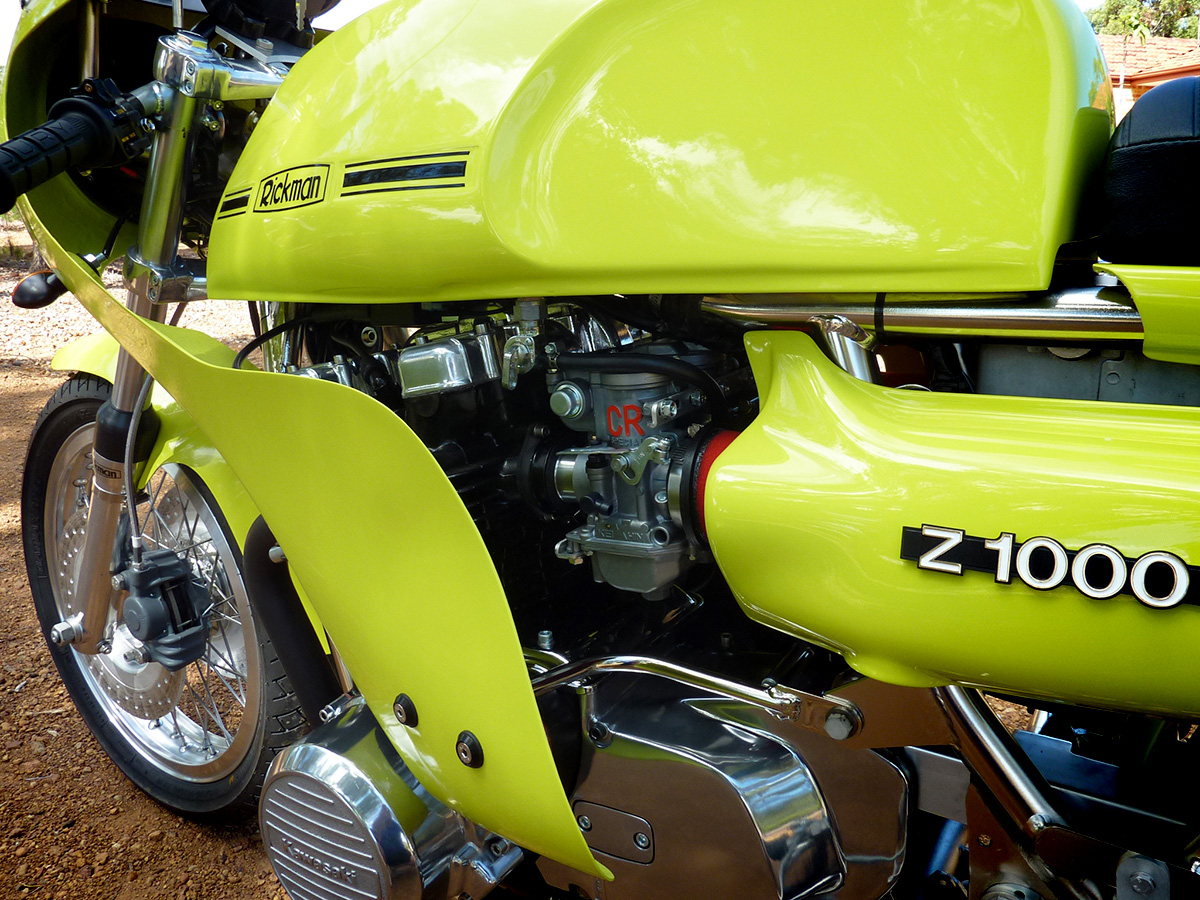 The bike's engine is from a Kawasaki Z1000 MkII and I had the dilemma of finding someone reliable to rebuild it as I simply didn't have the time. A friend suggested I talk to Kevin Doyle inVictoria, who, at the time, was doing a lot of work for the KTM off-road team. It turned out that Kevin used to own and run a Kawasaki Dealership back in the day and actually pulled spanners on the early Kawasaki Race Bikes in Australia. Kev's eyes lit up when we met to talk about it and the deal was done. Extensive work, including various ceramic coatings, were performed on the engine's internals. It now has a capacity of 1075cc and is running a ported head, all new valves, MTC pistons, Andrews Grind PSP-3X cams, APE studs kit and all sorts of other goodies, including a brand new set of Keihin Special CR31 carbs wearing uni-flow pod filters. The exhaust is an X-Pipe system out of the States which is a 4-1-2 which works really well with good low down torque right and is a lot quieter than I thought it would be.
Like the original bikes, a lot of parts on the bike were silver Cadmium plated and Anthony at 'Aeroplate' did a great job of re-plating all the nuts, bolts, brackets and even the complete disc rotors. The brakes needed an overhaul so I sourced original AP Lockheed bits out of England. New front and rear master cylinders were purchased and I overhauled the callipers with new pistons that we spun up out of stainless steel. To finish them off I had a friend make a set of new braided lines.
I had to make several parts from scratch and fellow Rickman Owner, John Coombes, kindly lent me the bits I needed to replicate including the rear sets and fairing brackets, a long fuel tank and various spacers, etc. The paint work was done by Rob Fry whom I met at a historic race meeting. Rob took an interest in the Ducati NCR replica I had at the track (as he was building one) and we became friends. The colour was matched from an original part of the body work I had and was finished using a flatter clearcoat to give it more of a period correct appearance.
The restoration was finally finished after 2 years of hard work. I have put thousands of miles on the Kawasaki so far and I can say that it has exceeded my expectations. Although I did a lot of the work myself during this build it wouldn't have been possible without the help of John Coombes, Greg Mills, Mark Epis, and finally, there is one person who I couldn't have done without during the whole project. Whether it was helping strip the bike down, holding the string line to true the frame and wheels, helping me lift that lump of a Z engine in and out of the frame, or just pure understanding, it would have to be my loving wife Lindsey, who, as she puts it "works to support my bike addiction".
Story by John Moralee from Perth, Western Australia