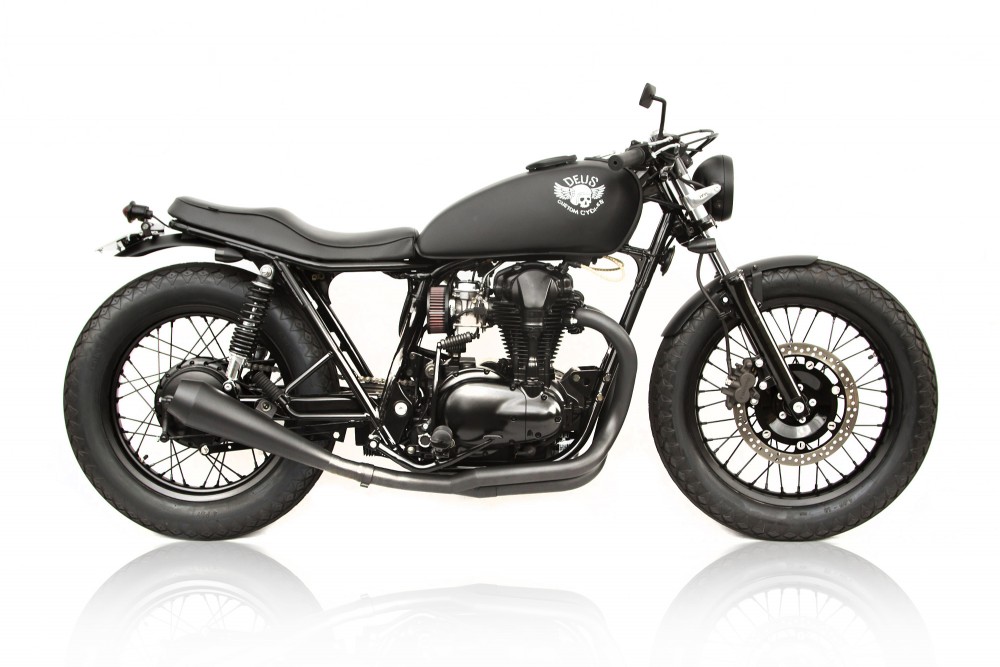 Le Gicleur Noire
Black, black and more black. The Le Gicleur Noire which translates to "Always bet on black" is a dressed in a combination of gloss, satin and matte black finishes. The back to basics W650 wears nothing but the essentials yet still features a list of custom additions as long as your arm.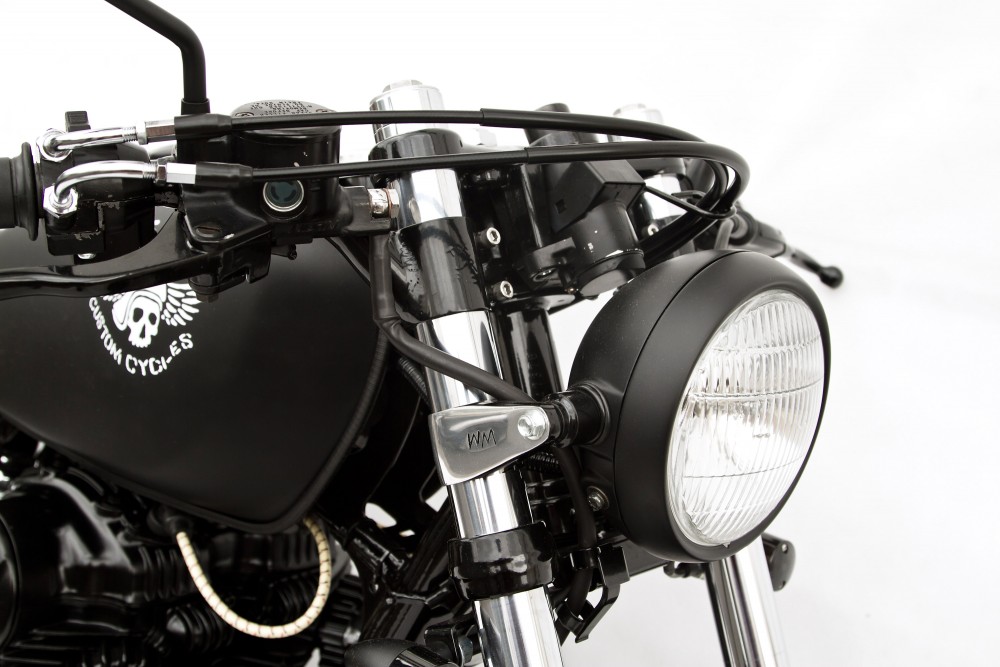 "Kawasaki's W650 stripped bare, Deus artisans make redundant the W's useless bits. Deus trademark airbox eliminator, battery relocation, and a sweet 2 into 1 Ceramic coated straight through exhaust. Tingate clip-ons, Daytona clock and custom triple clamp in clear view of the pilot. A stunning Swingbob with attention to detail paramount."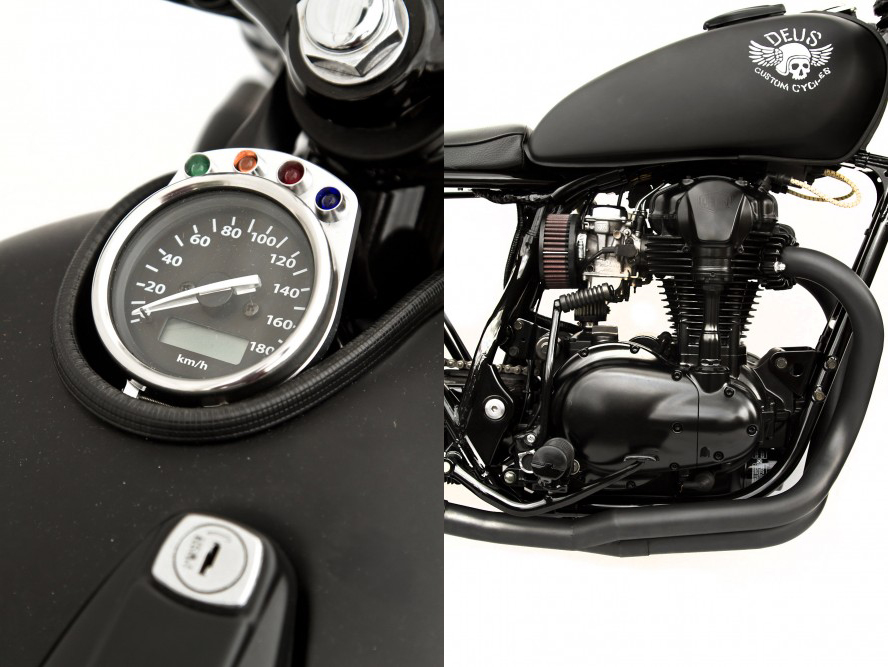 "Swingbob" is the Deus equivalent of a Sprung Bobber but I think there's also a bit of Tracker and Cafe Racer in this bike, I guess Botracaf doesn't have the same ring to it though. This bike is now one of the Deus 'available to order' finishes and I'm sure it's one they will get several requests for.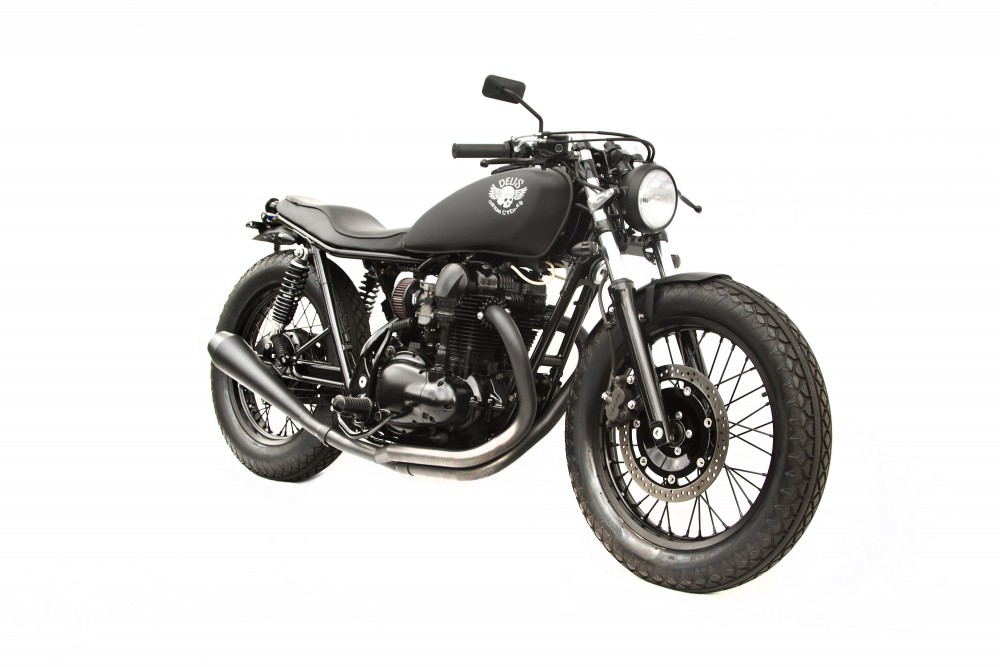 ——————————– ♠ ——————————–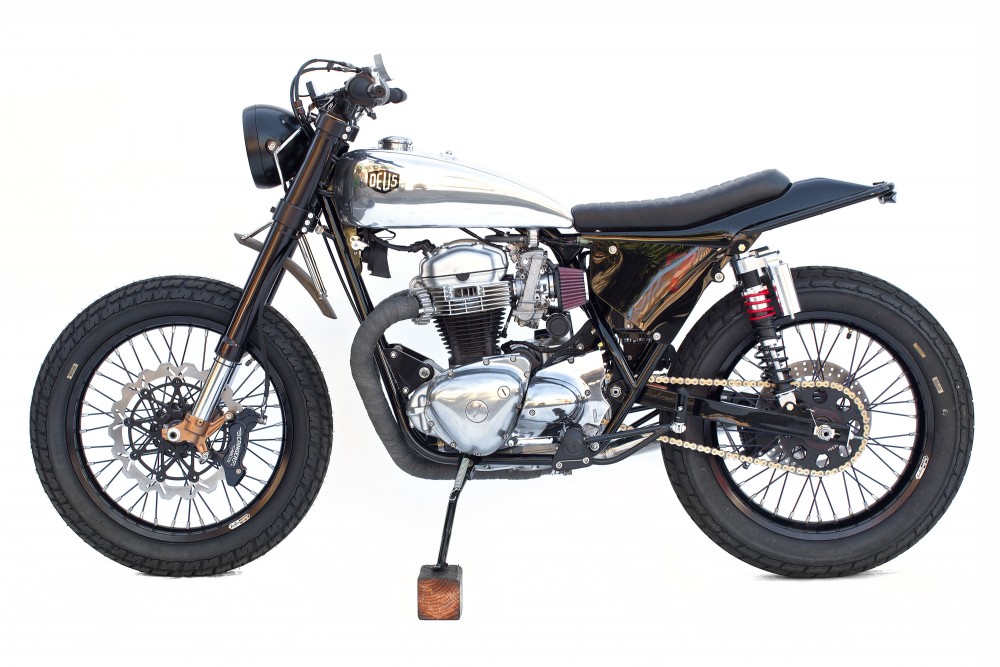 THE SEVENISH
While Street/Dirt Trackers aren't usually my thing I can appreciate the amount of work Woolie at the US Deus workshop has put into the 'Sevenish'. Woolies built a race ready Tracker with all the upgrades you'd need for serious trail blazing and street carving. Less weight, upgraded everything and basic styling mods to keep you in front of the pack and heading exactly where you want it to.
"Although the total number of finished builds out of Woolies Workshops numbers eight or nine, this bike has the very distinctive "007 Woolie" stamp pressed into its steel skeleton, meaning it's a full frame-up, Deus Ex Machina manufactured, custom build. Combine that with the fact that the build was commissioned by motion picture helicopter pilot Fred North, who just happens to have done aerial film work on several Bond movies, and the name The Sevenish finds clearer focus."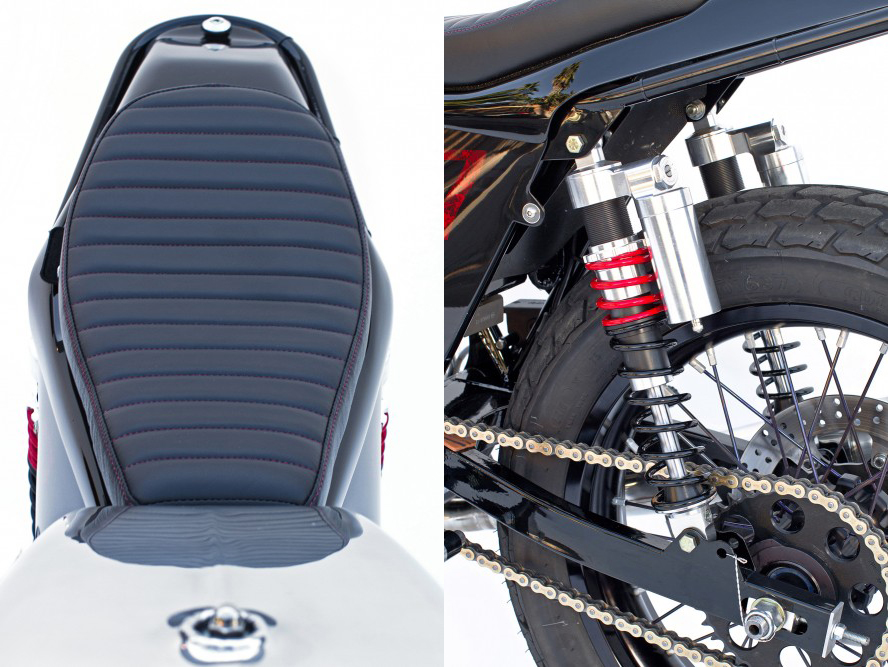 "
Full competition dirt track set up that's super light and handles extremely well. It's planted. The seating position is very forward, right at the base of the tank. There's a lot of ground clearance and the tires are dirt track racing spec. "The Sevenish spins up the tire accelerating in first gear, loves to back into turns and slides into stop signs. It's really really fun to ride," says Woolie.
"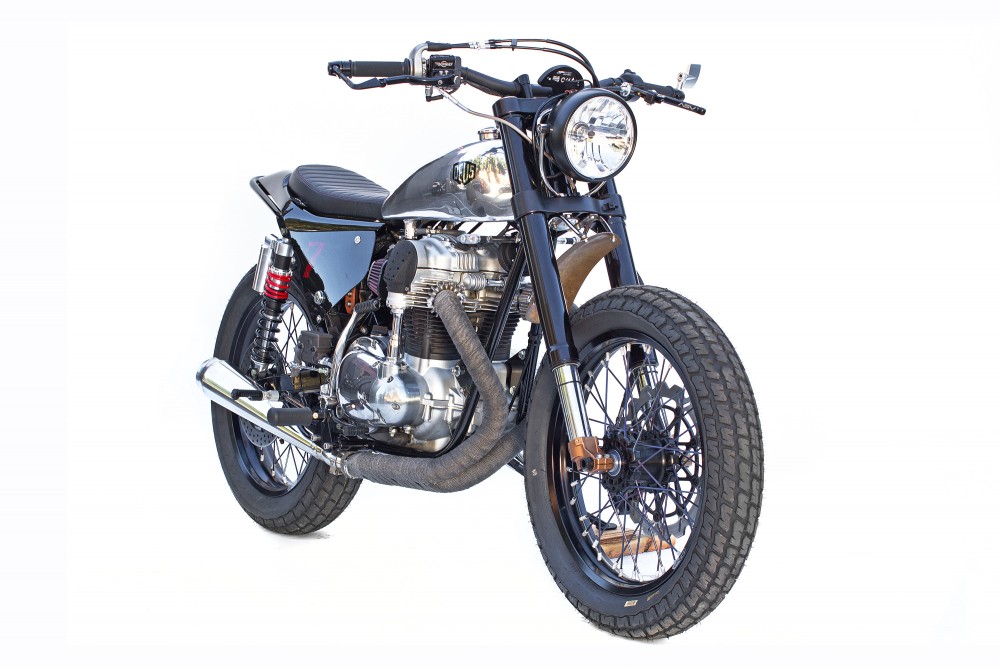 I'm happy to admit the reason I bought a Kawasaki W650 was because of Deus ex Machina. Back in '06 when I was searching for a donor bike Deus ex Machina had just come on the scene and some of their very first shop builds were based on W650's. I wanted a bike that was reliable and had classic looks which Deus had already discovered when they chose the W as a staple donor for their builds. </span><span style="text-align: -webkit-auto;">These two bikes named "Le Gicleur Noir" and "The Sevenish" are the latest custom Kawasaki W650's to roll out of the Deus workshops. Two very different builds and two very nice results that showcase just how flexible Kawasaki's parallel twin can be.