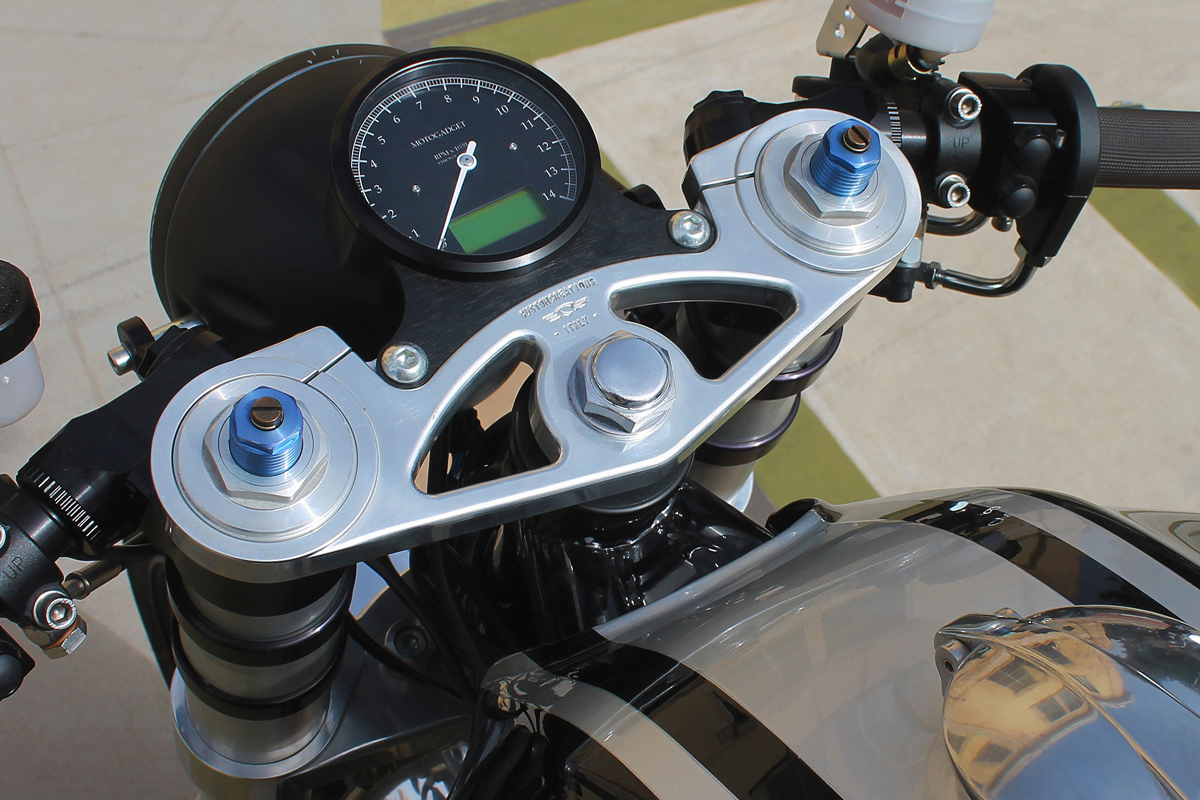 Named 'Gunpowder' the 1999 Kawasaki ZRX1100 is the work of Benny Lombardo and Antonello Zonna of Seven Motors. After the owner explained to them he would be "bringing them a dinosaur that he wanted to be transformed into a powerful and sleek black panther" they took cues from their past Guzzi based builds to fulfill his rather unorthodox design brief.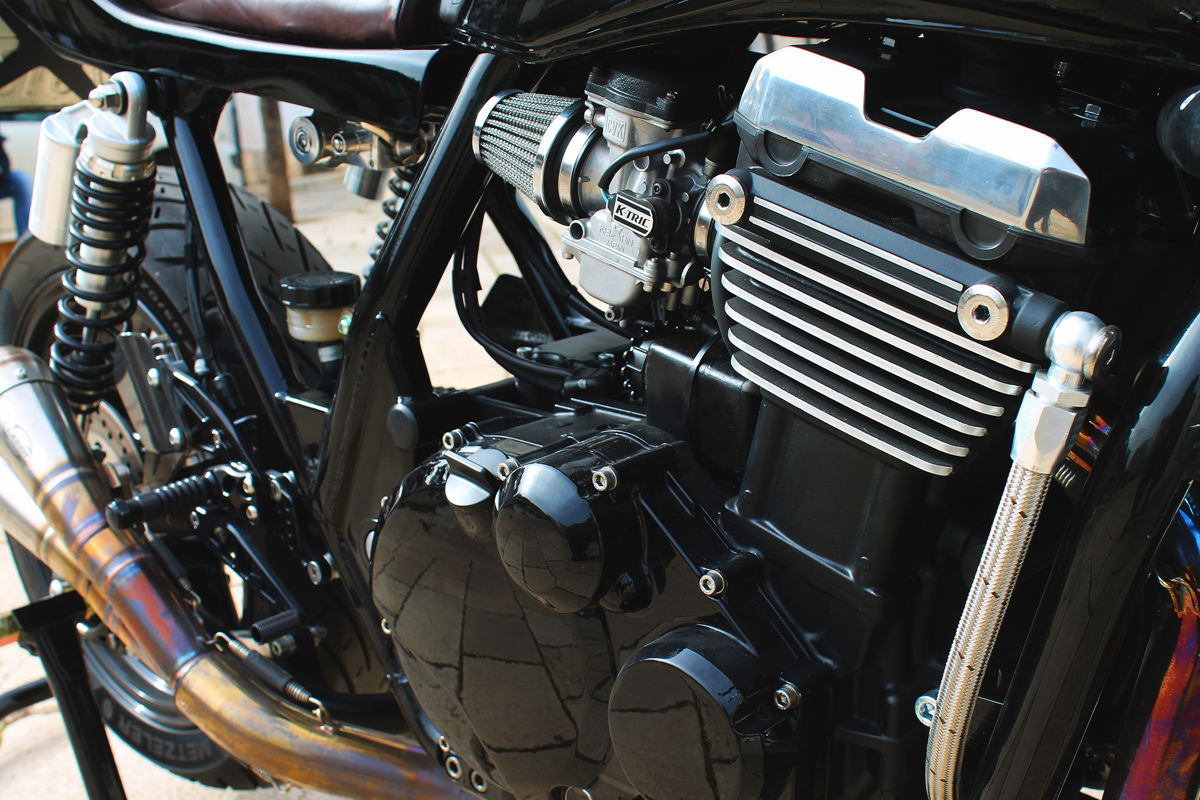 When Kawasaki released the ZRX1100 they weren't attempting to break new ground. The ZRX followed the standard UJM formula running a detuned, race-bred inline four in a street-ready, lower-cost frame and body. With 96bhp at the rear wheel, it was no slouch, but its 1980's influenced styling had well and truly passed its use by date. To satisfy their client's request Seven Motors decided a complete overhaul was essential. So the bike was torn down and rebuilt with either brand new or reconditioned components.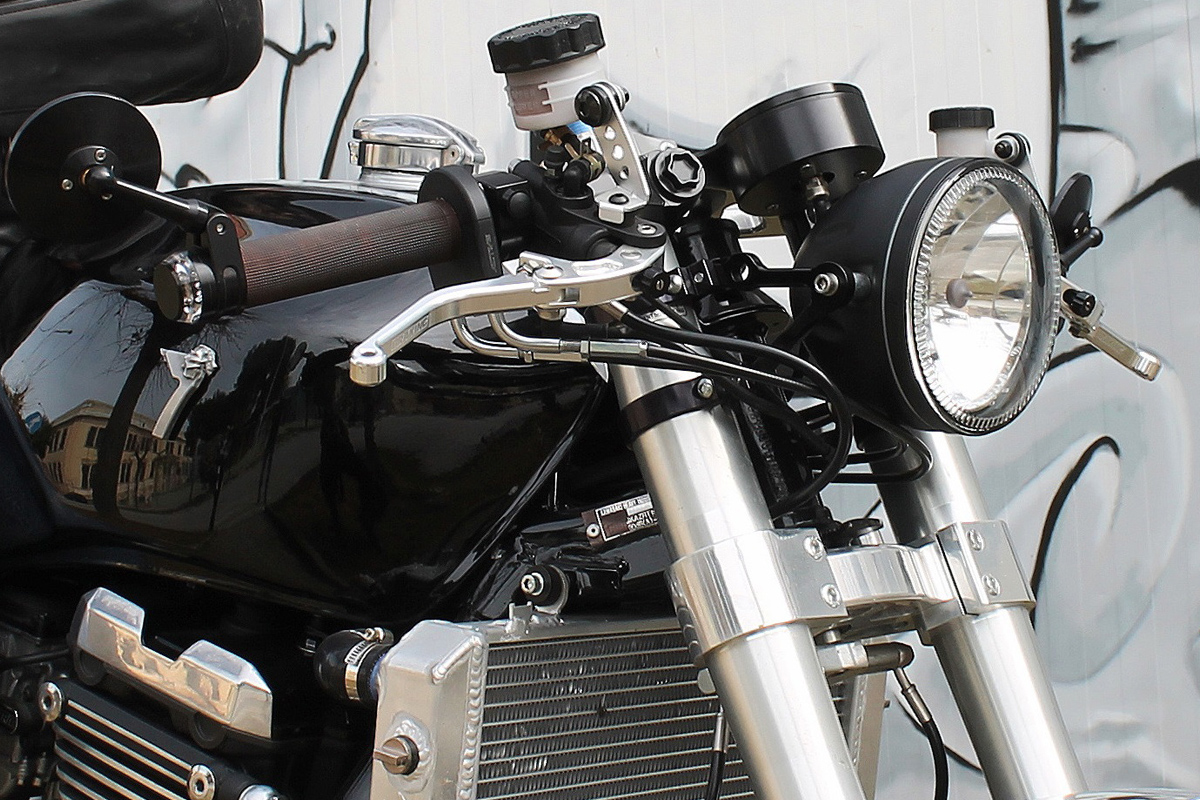 Seven Motors set out to transform the outdated UJM into something worthy of their customer's request. Power improvements were essential, but not the focus, consisting of a free-flowing exhaust system, filters, and rebuilt carburetors. With a revised power figure of around 100bhp and a significant weight reduction, they were confident this would be enough to liven up the ride. Handling, on the other hand, required a more comprehensive approach.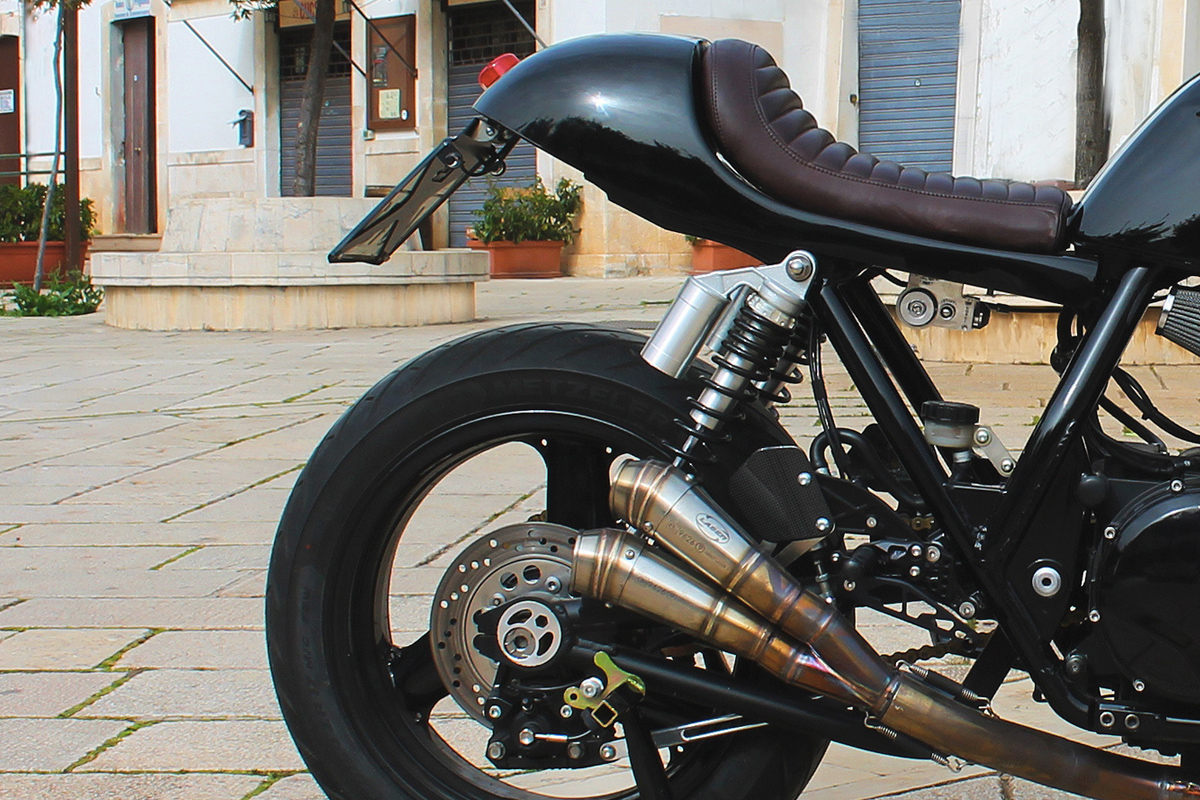 The Kawasaki's front end was modified using a modern USD ZX12R set of forks which are held in place by a Kustom Kreations triple tree conversion kit. The rear shocks were also replaced with updated versions and clip-on handlebars and aftermarket rear sets position the rider for more aggressive behavior.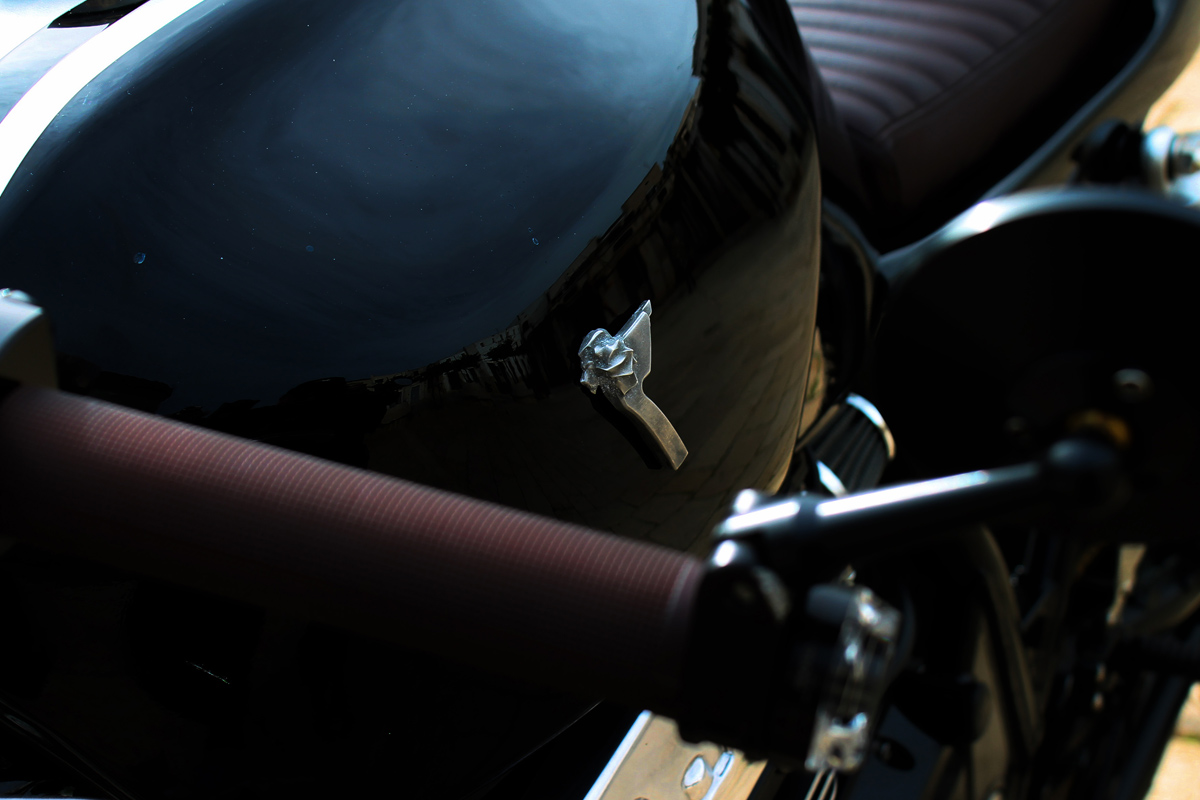 To style the bike appropriately Seven Motors have taken a minimalistic approach removing anything deemed unnecessary or bulky. The frame has been opened up and battery relocated to the tail to create a good balance of negative space behind the bulky inline four. The tail now wears a signature Seven Motors single saddle and rounded rear cowl that is perfectly paired with the stock fuel tank. The tank itself wears a classic Monza filler cap and cast alloy Seven Motor badges. Careful attention was then paid to balance out the mix of black and silver finishes to give the finished bike a clean modern appearance that is sure to stand the test of time.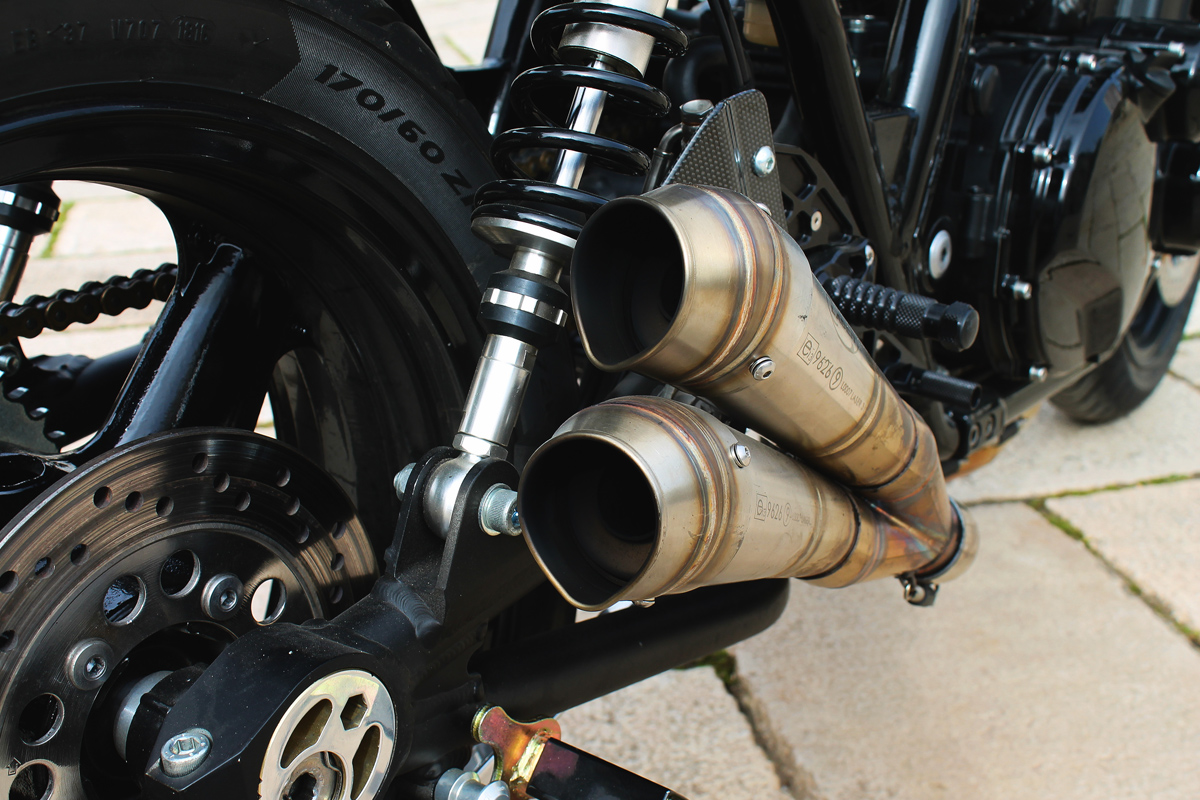 As always it's the small details that take any motorcycle project from good to great and there's no shortage of them here. A custom alloy radiator from OPL, braided oil lines and a complete Akrapovic titanium exhaust system give this Kawasaki its racing edge. A Motogadget dial and low profile lighting add a touch of modern tech while low profile mirrors and vintage style rubber grips complete this bikes classic street appeal.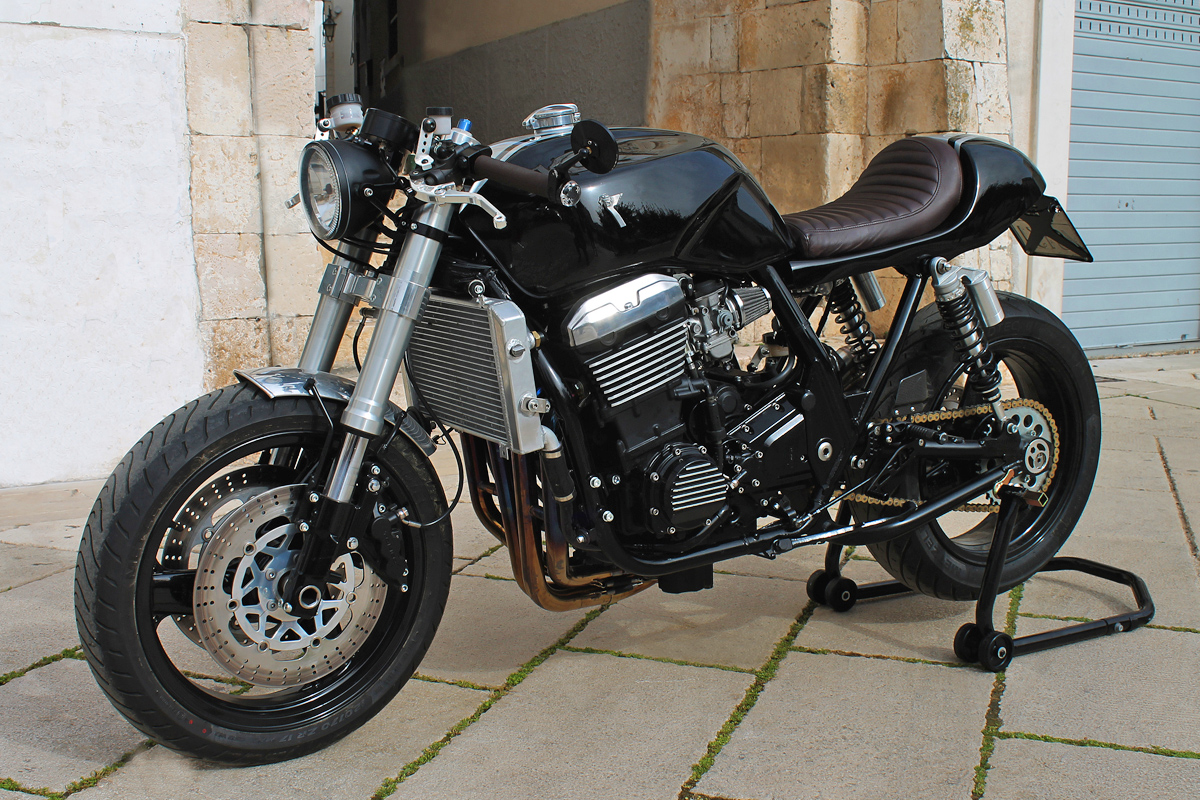 No this isn't the motorcycle belonging to Marvel's top-grossing superhero. It is rather the latest build from Italian workshop Seven Motors. At the request of a customer, Seven Motors took a break from their usual Moto Guzzi based creations to build this blacked out Kawasaki ZRX1100 café racer inspired by the look of the big cat, not the guy in the tight-fitting costume.