"I acquired this 1980 KZ440 in bits from a friend who had lost interest in the project." recalls 26 year old boilermaker Nigel. "I had no idea what I was going to do with it, but when I got it home I stripped it down to a bare frame and just started playing around on my English Wheel." Before he knew it, Nigel was hooked and his KZ440 project quickly "got out of hand". Sinking his evenings and weekends into getting the bike built, Nigel completed every aspect of the build himself, from the metal fabrication to the paintwork.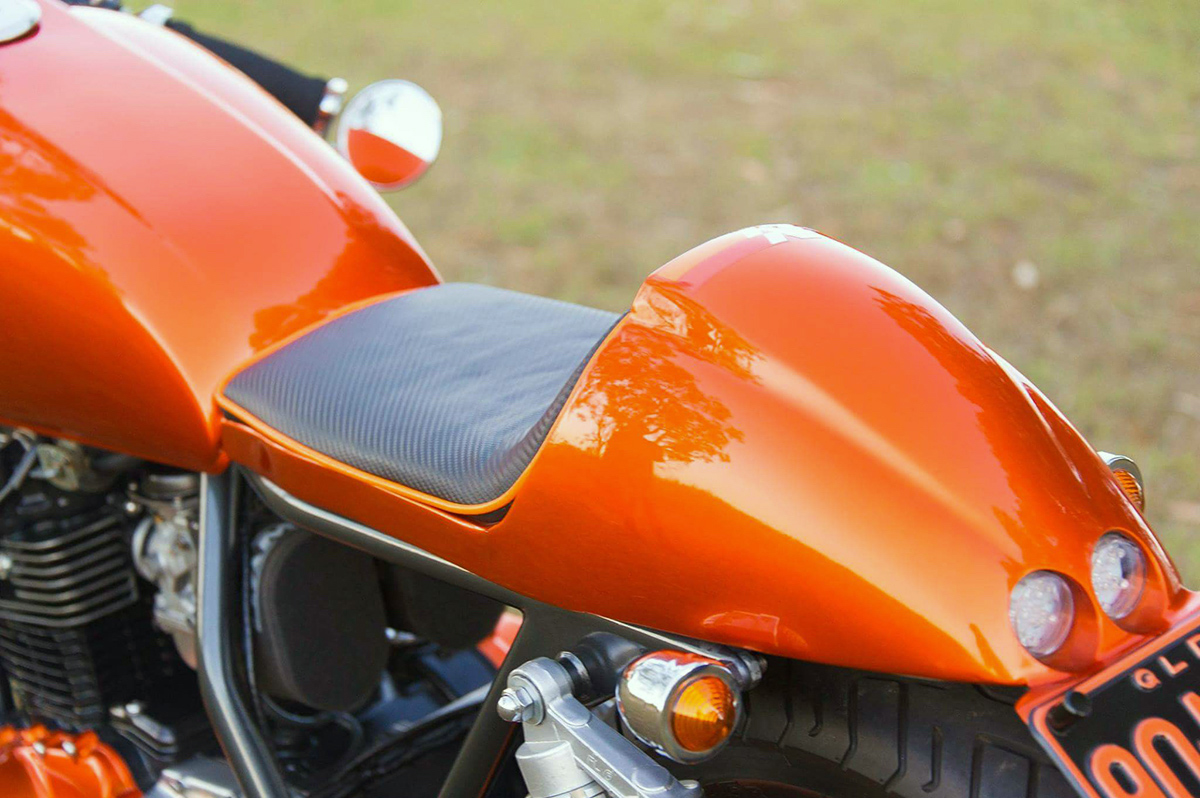 Nigels "playing around" on the English Wheel resulted in a tail end that the Kawasaki's original designers would have been proud. Using the same lines as the factory fuel tank he created a sweeping rear end complete with a pair of frenched LED tail lights to keep the back end extra tidy, and even fit it to the frame without taking a grinder to it. Next he prepared the fuel tank for the conversion to clip on bars by adding 2 dents to retain full steering clearance. Unhappy with the oversized original part he then whipped up his own chainguard.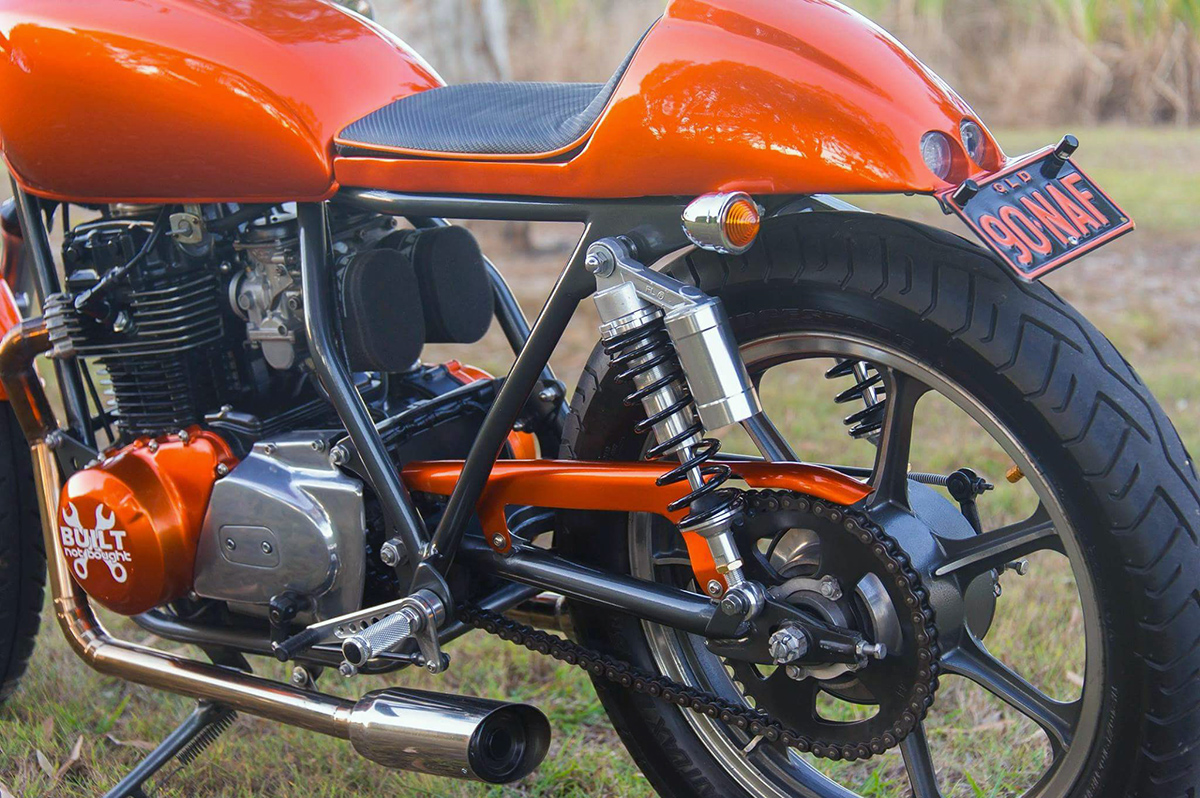 Fabricating exhaust systems is something Nigel does for his customers so the KZ features a one off, lobster back set of headers he cut and welded up from stainless pipe. The tiny mufflers are also custom made items that he packed with fibreglass for a bit of baffling. With the engine out of the frame it was opened up and treated to an internal update with new rings, valves, seals and bearings. The carbs were also rebuilt with larger jets to suit the bikes new exhaust system and conversion to foam filters.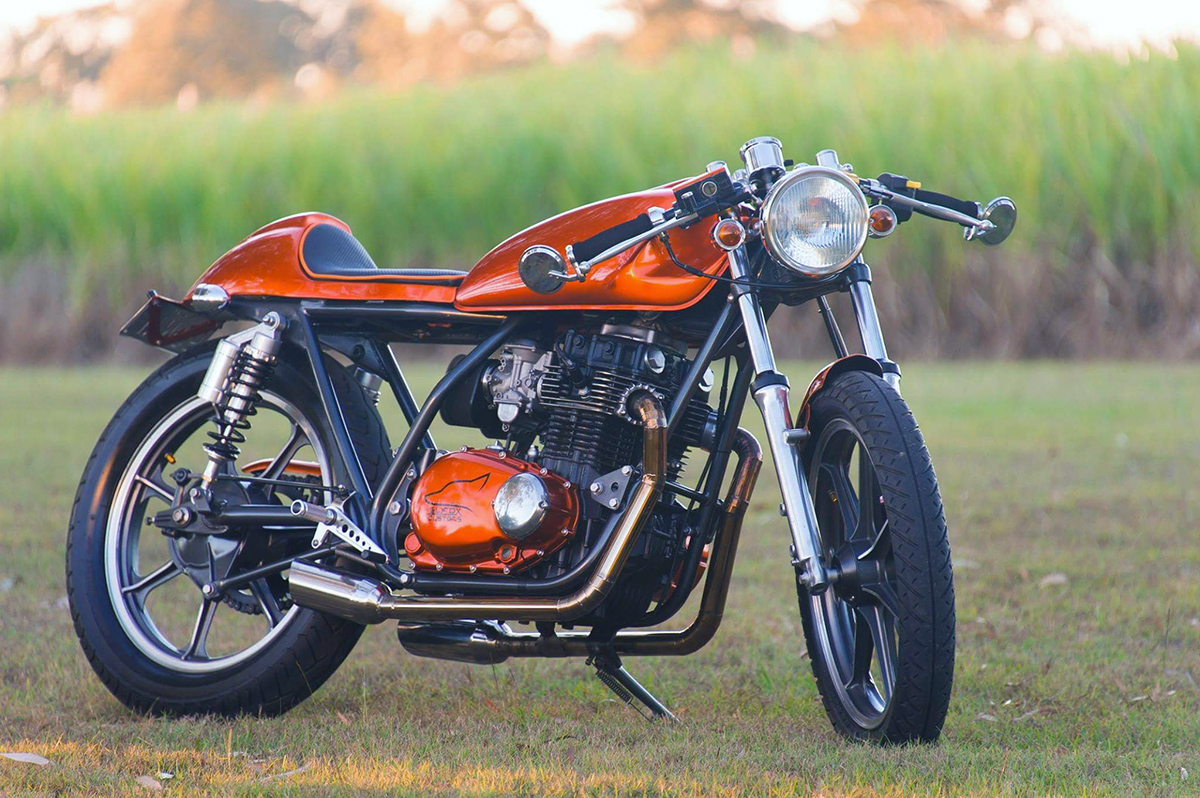 The frame itself was cleaned up to remove redundant tabs, mounting points for the rear set footpegs were welded in and an extra brace added between the rear shocks to reduce flex. It was then painted with a fresh coat of gunmetal grey to compliment the candy orange paint scheme Nigel had chosen for the bike.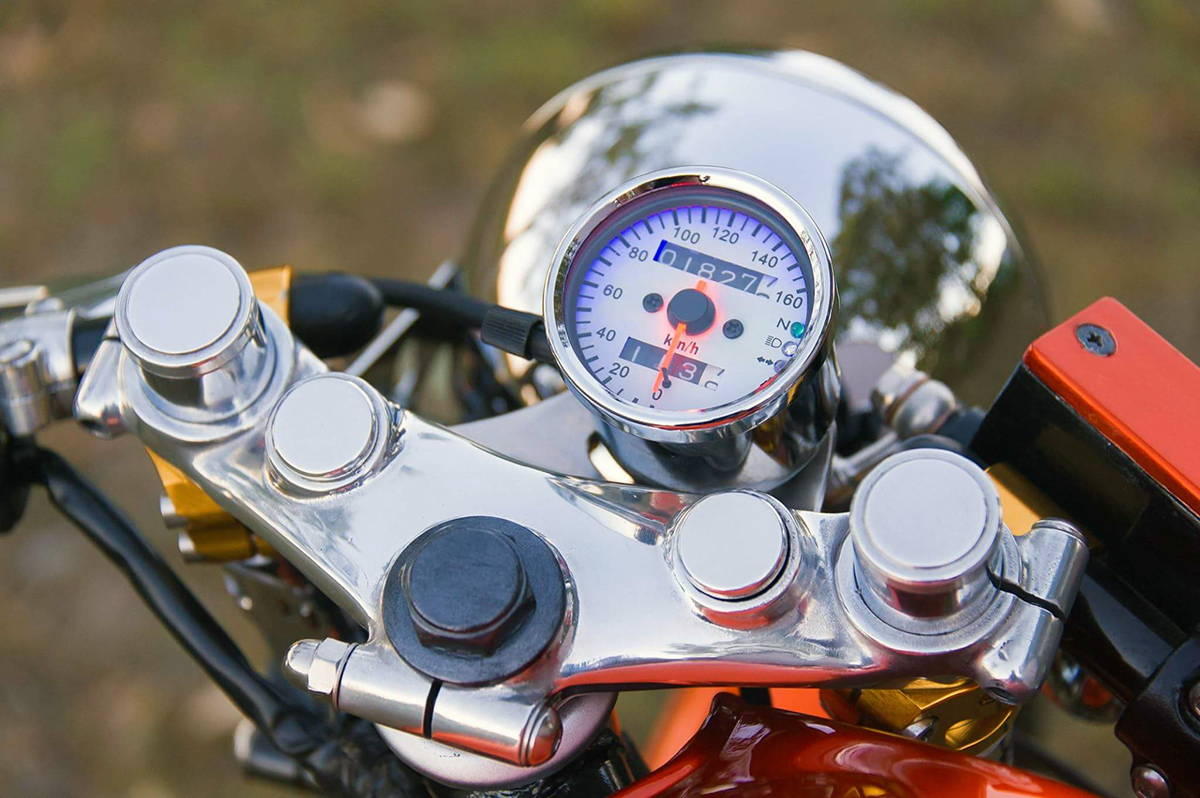 Lastly the whole bike was rewired. The ignition was relocated to under the seat and the blinkers and headlight were purchased of eBay. Currently sitting above the polished top clamp is an aftermarket speedo, but Nigel is planning to convert this to a GPS unit some time in the future.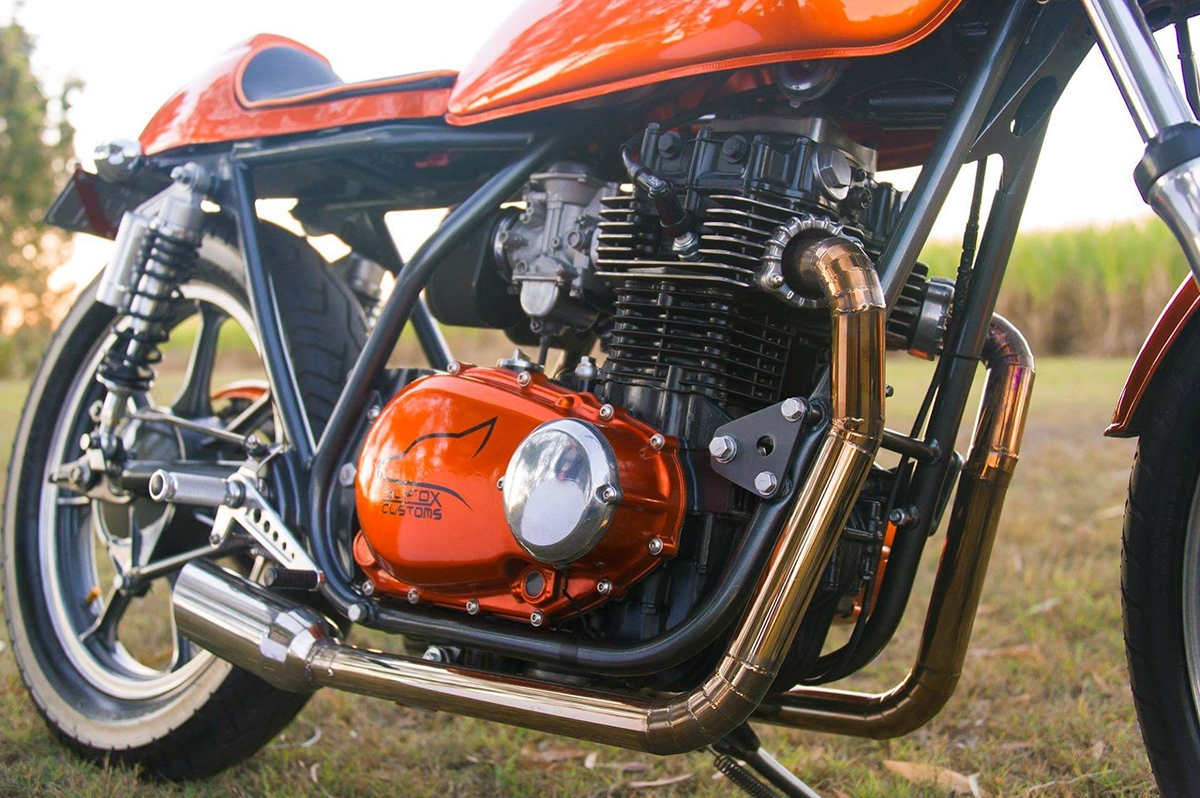 Photography by Chris Sweetapple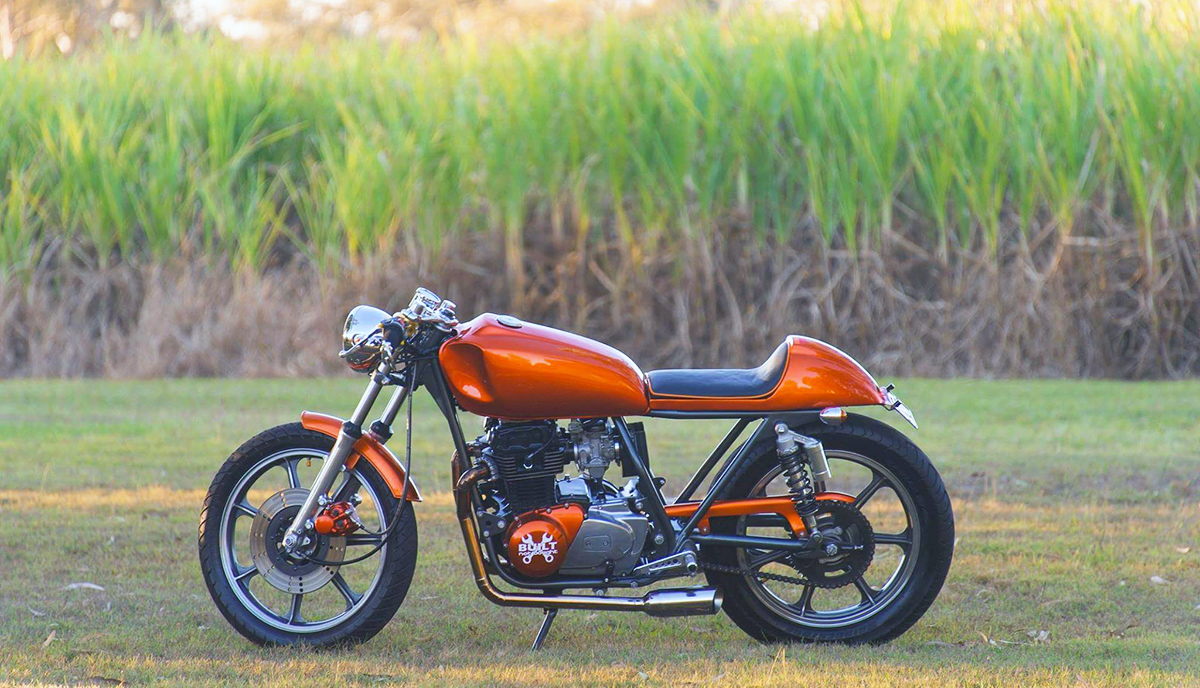 Being "sly as a fox" requires experience and skill. It's the ability to be particularly crafty at what you do. Although in some circumstances the application of the saying may not be a positive one, in this case it most definitely is. Sly as a fox perfectly exemplifies Nigel's well-rounded skill set and approach to building. With the help of his Dad Nigel's been working on everything from BMX bikes to complete car builds from an early age, but this sleek Kawasaki KZ440 is his first attempt at building a cafe racer and the result speaks volumes.