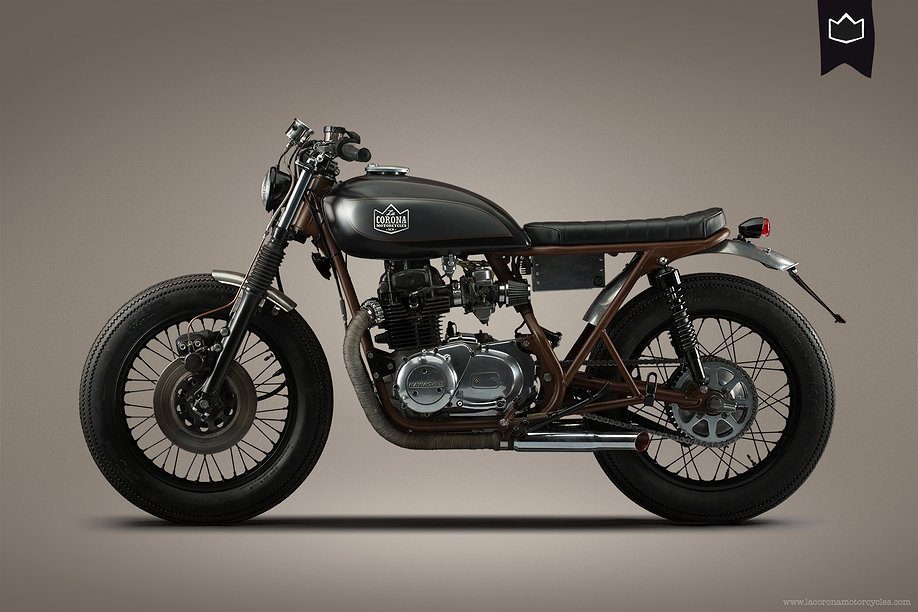 "Simple but sweet" is one way to sum up La Corona's portfolio of custom motorcycles. To think that recreating this look would be an easy task though would be a huge mistake. Balanced lines, simplified engineering and appealing neutral colour schemes require a set of skills you don't often find in the one place. At their Barcelona based workshop La Corona don't seem to have any shortage of talent as each bike they complete looks just as good as the last and this Kawasaki KZ400 is no exception.

Gone are the bulky factory seat, handlebars, mirrors and side panels. La Corona have stripped away all non-essential items to open up the Kawasaki's frame, reduce clutter and to drop the bikes weight. The frame, wheels and swingarm remain stock along with the Kawasaki fuel tank but that's where the list of original components ends.
The KZ now has more of a Tracker feel with it's low, flat seat and Motocross bars, changing the riding position from a lack luster cruiser to a back street bruiser. Firing up the 2 cylinder 4 stroke has been reduced to kick only and the remaining electrics are housed beneath the seat in a simple alloy box. The lighting has also been cut back with only a Bates style headlight and fender mounted taillight remaining. Although the ZK400 was never considered a sports bike La Corona have performed the regular set of engine mods to unlock easily accessible horsepower. Rejetted carbs with pod filters and a custom made exhaust add some bark and a tad more bite.
Lastly we come to the bikes paint scheme and who'd have thought that shade of brown could look so good! Balanced with a grey and black palette the unlikely combination works a treat and wether the bikes spotlessly clean or covered in road grim it's always going to look good.
Check out the La Corona Motorcycles website for more of their fine work.