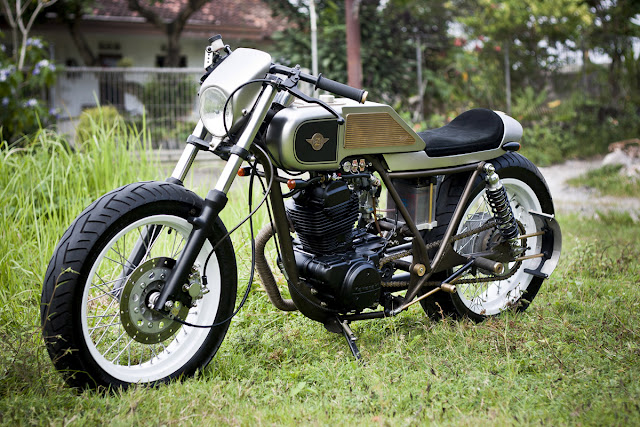 By my definition an 'attempt' is usually when you try to do something and it doesn't quite work out. I can only hope that Agus Darizt has a different idea of what attempt means. If not, then he's the most self critical custom motorcycle builder I've ever come across. This bike which Agus built out of his Darizt Design workshop in Java, Indonesia is named "12th Attempt".

The bike started out life as an '83 Kawasaki KZ200 which in it's day, represented one of the largest engine capacity motorcycles on the road in Indonesia. After receiving the stock motorcycle from a customer Agus prepared a raw sketch of his vision for the 200cc cruiser which was approved with minor alterations. The bikes engine remains primarily stock aside from the custom exhaust and a pod filter conversion the rest of the bike however is a shadow of its former self.
Up front and in the rear you'll find a freshly laced and powder coated 17 inch rim. A set of forks from a Yamaha Byson (FZ16) have replaced the Kawasaki unit and in the rear is a pair of brand new aftermarket shocks. The frame has undergone extensive work including the addition of a goose neck, a shortened swingarm and some adjustments to the rear sub frame to tighten up the bikes stance.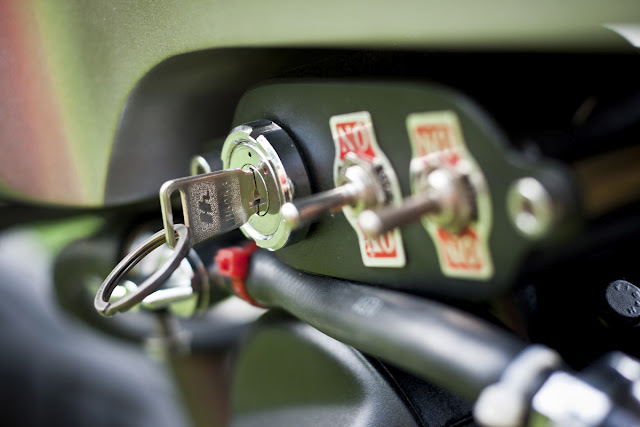 12th Attempt's custom tank, fender and front bikini fairing are all the work of Agus. He's a self taught metal worker and does all his shaping the old school way using primarily a hammer and wood block. Agus even utilised some of the excess sheet metal to fabricate the handlebars that attach directly to the top bridge. The brass detailing on the tank is carried through the rest of the bike and gives it a unique Art Deco/ Steampunk style.
Prior to venturing into the world of custom motorcycle building Agus worked in a range of different creative fields including statue making, illustrating books, interior designer and airbrush artist. After building scale models of motorcycles for years a friend asked him to customise his motorcyle and the rest is history.  Agus is currently working on his 15th Attempt which you can see along with all his other "attempts" on the Darizt Design Blog.