I'm an advocate of recycling. I separate my paper and plastic rubbish and I buy recycled products, so when I came across the website of Italian workshop REcycles I was an instant fan. REcycles approach to building custom motorcycles follows two simple statements, firstly that "Custom is Cool" (no arguments there) and secondly "Give new life to everything old". It's clear that the REcycles crew pride themselves in their ability to do both of these things well and their Kawasaki Z750 Cafe Racer is the proof.
When Kawasaki produced the Z750 its four cylinder, DOHC, power plant produced 74hp and was referred to as their "Class Performance King". It was in the same league as Honda's legendary CB750 and Suzuki's GS750 but it was around 22kg lighter, was faster and cheaper! Unfortunately after 4 years at the top Kawasaki replaced the Z with the GPz and many people were left feeling disappointed.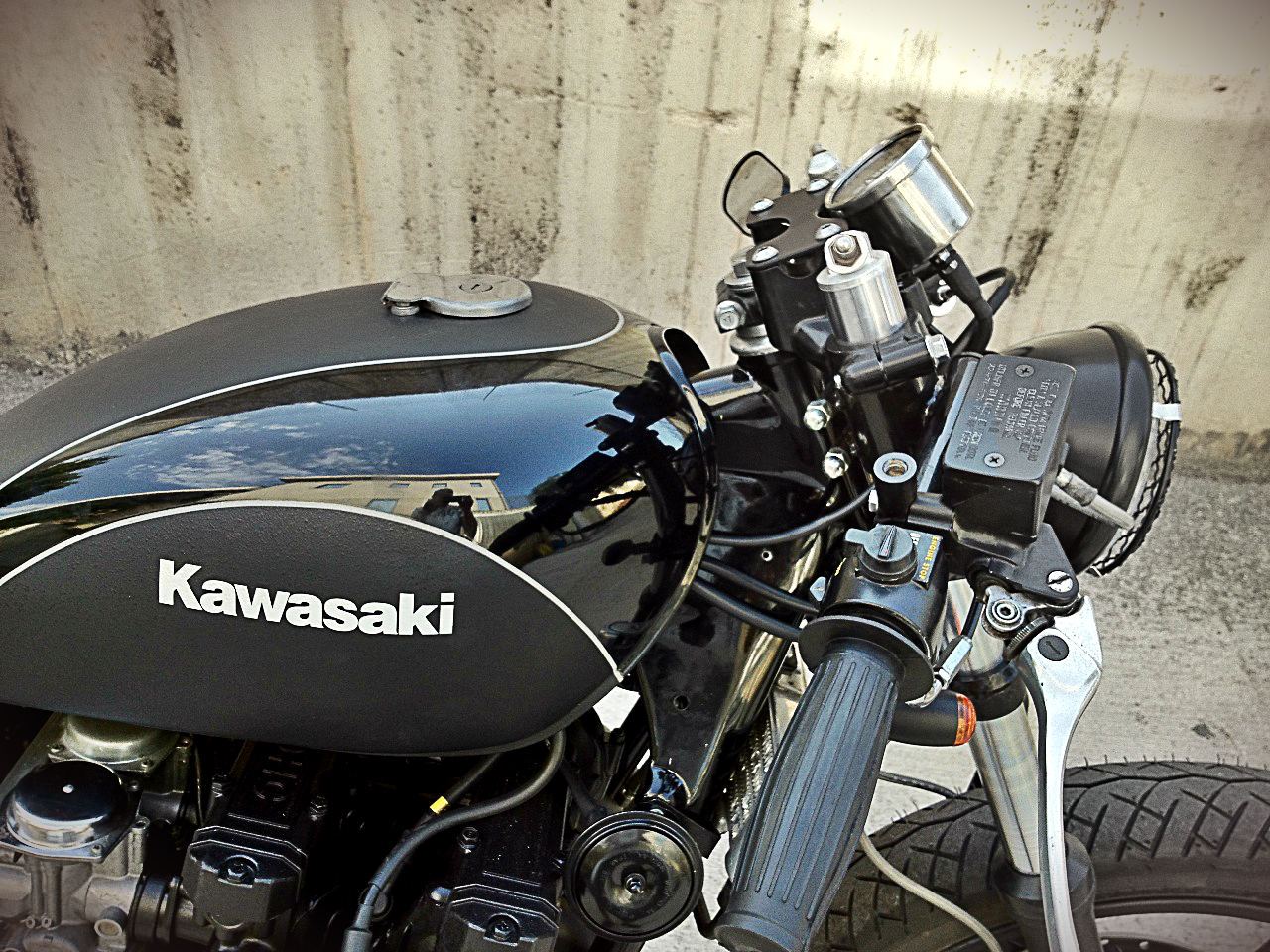 The Z750 Cafe Racer is the eleventh custom to roll out of the REcycles workshop. The donor bikes power plant was in good condition so the bulk of the work went into improving its stance and overall aesthetic. To achieve a look that boasted parallel lines to the ground REcycles made a series of modifications to the frame, suspension and seat. Hand formed aluminium side panels sit flush with the frame and conceal the bikes electrics but still leave space to breath and avoid visual bulk.


Attention to detail also seems to be something REcycles prides themselves in. All the visible welds in the bikes frame were ground smooth before repainting and braided lines replace the stock rubber ones. A classic all black paint scheme was chosen but wasn't applied in a traditional way. A mix of gloss, satin and textured paints draw your eye around the bikes engine and frame while the subtle glimpses of raw steel and chrome break help to break up the darkness. It's an impressive recycling job well suited to a bike with such a proud past and I have to say if this thing didn't burn fossil fuels, I'd nominate it for a sustainability award.