When opportunity beckons what do you do? … let it pass you by or seize it? Whilst the
decision for Henry didn't make for completely smooth sailing, the potential
result was well worth the gamble. He was after a clean and unique bike to run down to the shops on
and something to check out the best surf breaks early in the
morning. What he initially found was a shabby '93 black Kawasaki ZR550
(Zephyr)… and a vision of how cool that bike could be. The point is
that Henry had some ideas, saw an opportunity, seized it and some time
later that vision materialized as the bike you see here now.

The Zephyr had seen better days and needed some work, but there was
still life left in it, so when Henry decided to go ahead with the
project Ellaspede started with a two-pronged aproach. The design team
generated a number of different aesthetic concepts while the build team
got to stripping and cleaning the Zephyr down. The motor was taken apart
for gearbox work and although it actually seemed ok the entire motor
was given a comprehensive rebuild. Oversized bore and pistons, new
engine and gearbox bearings, seals and gaskets were installed, specs
were measured and checked before the engine was blasted, painted and
then appropriately polished.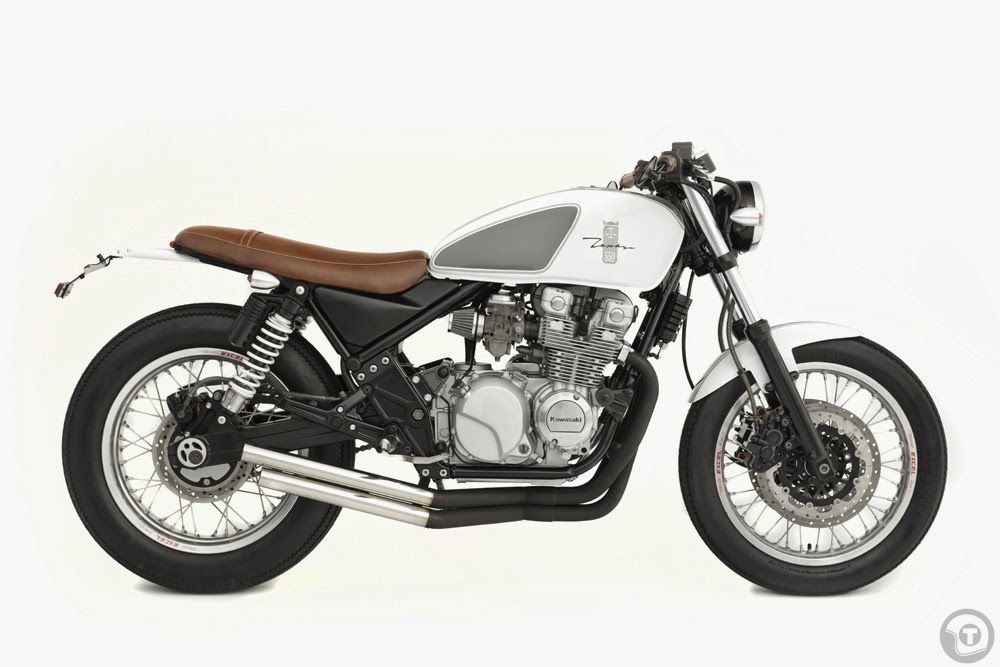 "One of the design requirements specified by
Henry was that he was keen to achieve a retro look, so naturally he
gravitated towards one of the spoke wheeled concepts we produced. If
only swapping mags out for spokes was as easy as selecting out of a
catalog!" Ellaspede's industrial design background helped with the design of a new hub, brake and sprocket spacers which were
CNC machined from billet blocks and laced to Z900 rims. New brake rotors were sourced and Firestone Deluxe Champion 3.5
inch front and 4.5 inch rear tyres completed the wheel package and
added to the retro look Henry was chasing.
After some necessary adjustments, de-tabbing and minor modifications the frame was blasted and powder coated in satin black along with many other associated items. A custom made seat, trimmed in tan kangaroo leather sits atop the frame and is complimented by a set of tan Posh grips. The arctic white and warm grey paint scheme was deliberated on for some time but Ellaspede decided that it sat very comfortably with the rest of the bike, crisp and clean. The vintage scales graphic makes reference to Henry's vocation as a Barrister in combination with the 550's 'Zephyr' title, with the signature style graphic being inspired by the early Ford models of the same name.