The success of the Studio Motor workshop has made Donny somewhat of a celebrity in the Indonesian custom scene. He's made television appearances and completed custom builds for some big name Indo brands, but he hasn't let any of this go to his head. Donny's always smiling and quick to extend his hand when he makes your acquaintance.
These days it seems that motorcycles have become the focus of Studio Motors work and Donny and his team are completing several new builds each month to meet the demand. He's not precious about the make or model of your ride and is just as happy building choppers as he is building cafe racers. However here on Return of the Cafe Racers it is, of course, the latter that interests us the most!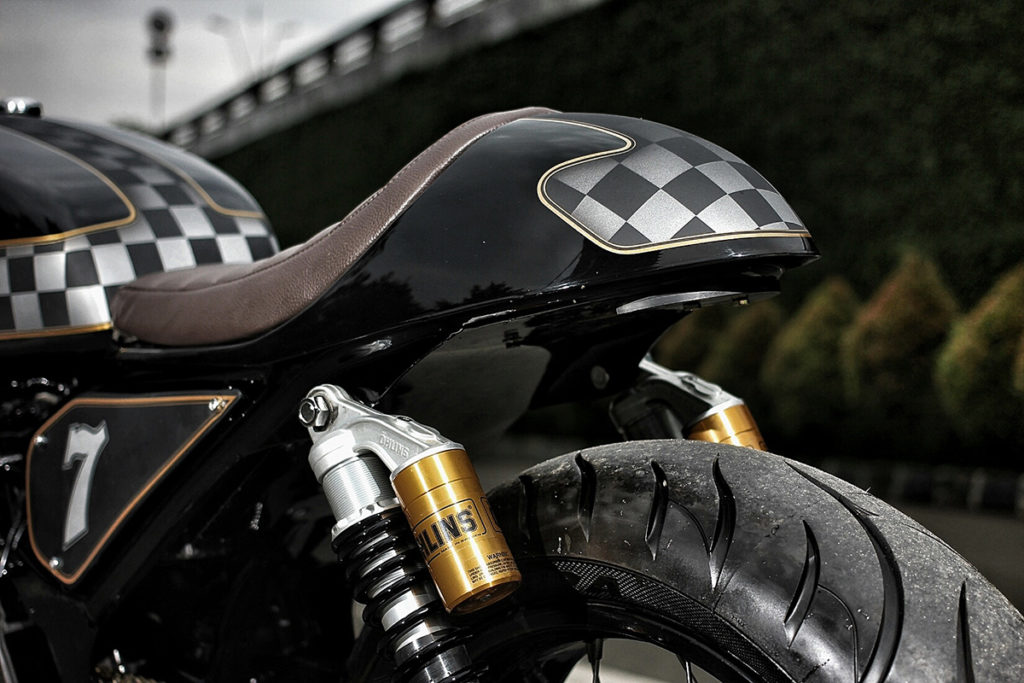 The Studio Motor 2012 Kawasaki ER6N cafe racer, named 'The Hatch', took the Studio Motor team 4 months to complete.  Despite being presented with the rather challenging task of transforming a modern street bike into a classically styled cafe racer they've done an admirable job.
With the plastic bodywork and angular tank removed the transformation began with a major rework of the frame. The bikes original kinked swingarm and monoshock set up weren't in keeping with Donny's vision of a more classically styled ride, so they had to go. In their place is an entirely new subframe and alloy swingarm, mated by a pair of Ohlins shocks. To match the finish of the rear shocks a set of ZX1000 USD forks were mounted up front and the original cast wheels replaced with spoked 18 inch TK Japan rims. The combination of these modifications resulted in a stance that runs more parallel to the road akin to the cafe racers of the 50s.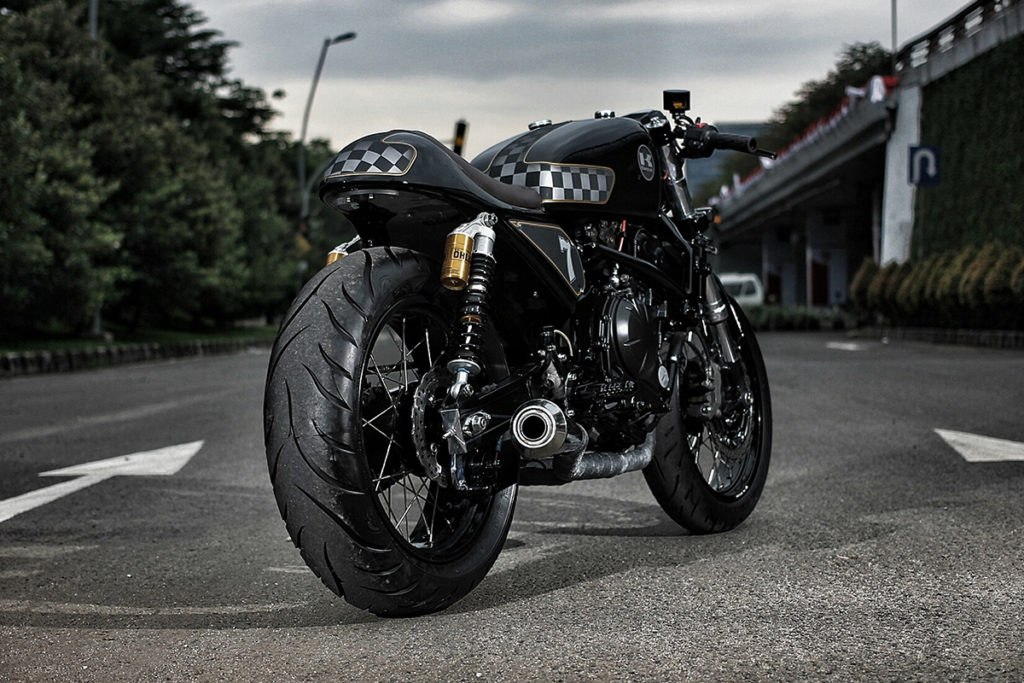 With such dramatic improvements in suspension, Donny sought to complete the handling package. For this, he added Brembo front and rear master cylinders with Rizoma reservoirs and a Brembo hydraulic clutch for good measure. For the new bodywork, Donny's in-house metal magicians shaped 1.2mm galvanized plate to form the bikes new tank, tail and side covers. Then all of the bike's lighting was replaced with more retro-styled aftermarket units and the clip on bars and rear set pegs were bolted in place.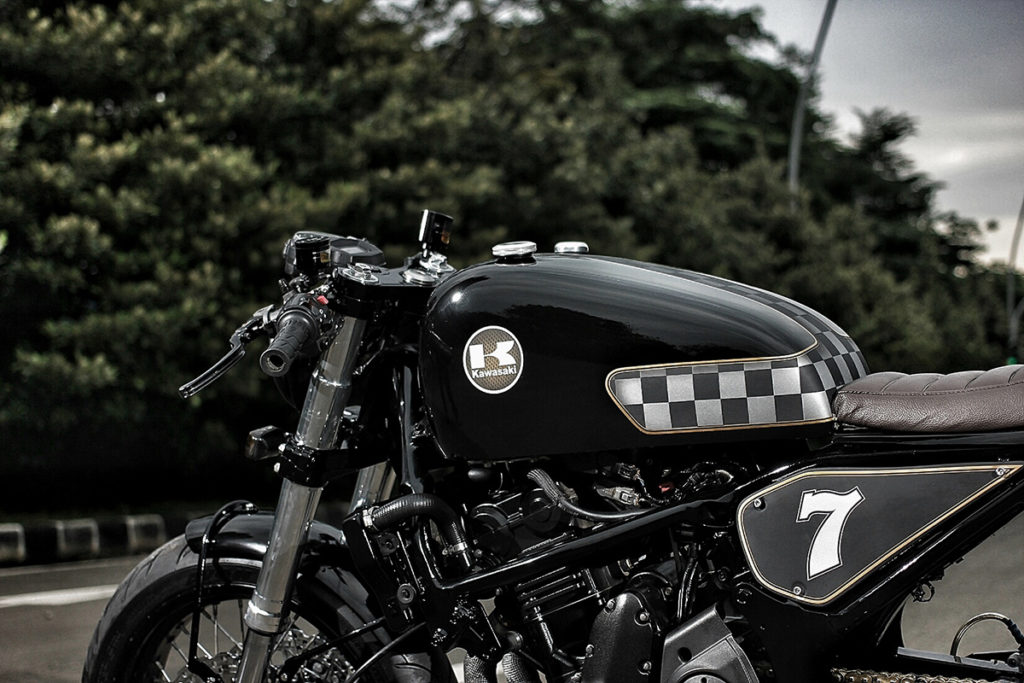 Performance wise the ER6N had more than enough grunt for navigating Jakarta's congested city streets, so the engine only saw a slight retune to suit the custom 2-into-2 exhaust system. An all-black paint scheme broken up by a checkered panels was the final finishing touch. Checkers on a cafe racer may seem a little cliched these days, however by taking a slightly different approach with how they're applied this modern cafe racer by Studio Motor is anything but a cliche.
Find out more about the Kustomfest show here
It's almost time for me to head to Indonesia for the 2016 installment of Kustomfest. Kustomfest is one of Indonesia's biggest custom car and motorcycle exhibitions, attracting builders from all over the country. Last year the show hosted close to 200 custom motorcycles in the main hall while outside the carpark swelled with countless custom builds ridden in off the street. For me the only thing that's been better than seeing the motorcycles has been getting to know the people. The Indonesian custom community is full of positive energy and there are a few standout builders that are helping to feed its growth. In Jakarta, the country's capital, you'll find the workshop of Studio Motor run by Donny Ariyanto. Donny and his team have been producing a steady stream of custom motorcycle and car builds since 2008 and this cafe'd Kawasaki ER6N is one of their latest.