In our recent feature discussing the cafe racer styled motorcycles at EICMA 2017 we left something very important out, but it was no accident. We've been impatiently awaiting the release of Husqvarna's production version of the Vitpilen 701 for what feels like a decade…well 3 years really, but who's counting. The Swedes caused quite a fuss when they first revealed the Vitpilen concept. The new model marked the company's re-entry into the street bike segment and they blew everyone away with a design that was unlike anything else. Now that the covers are off the, let's take a closer look at the production-ready Husqvarna Vitplien 701.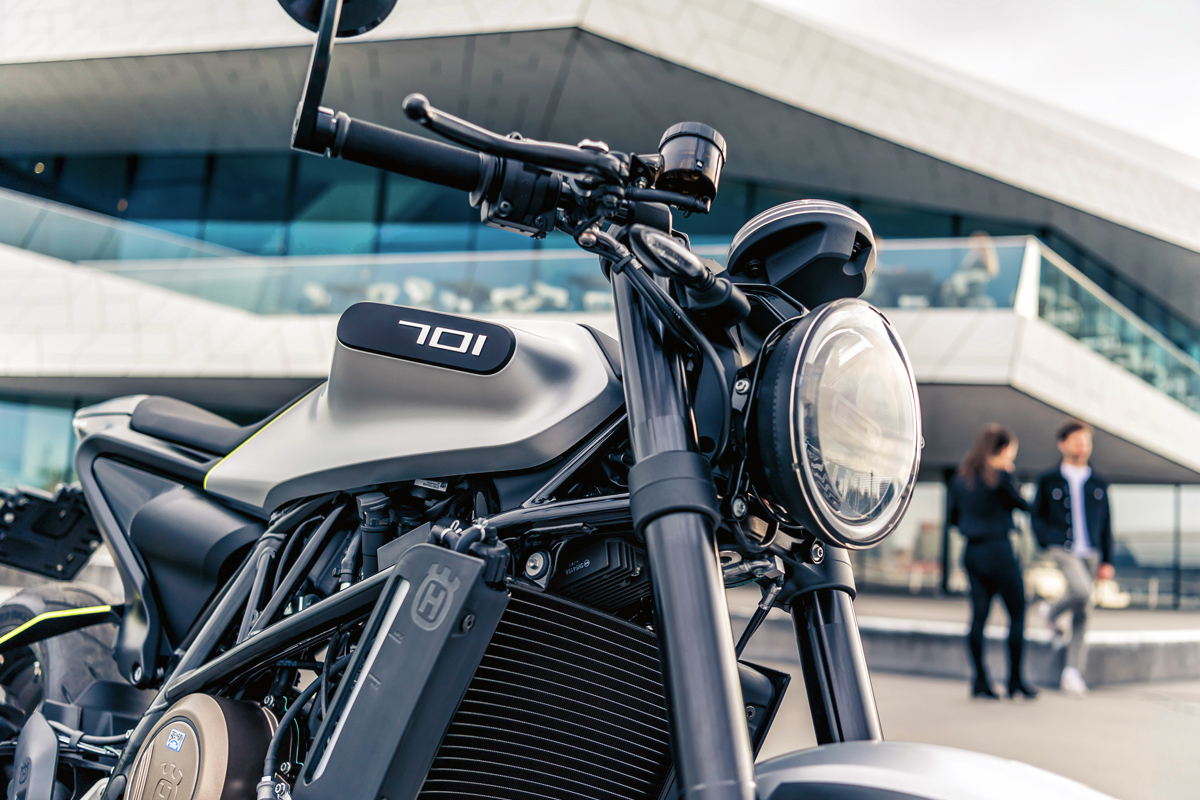 Since it's taken longer for these bikes to come out than the last season of Game of Thrones, here's a quick recap…
Back in late 2014, Husqvarna unveiled 2 concept motorcycles, the Vitpilen 401 (white arrow) and the Svartplien 401 (black arrow). The Vitpilen 401 was a naked bike with hints of café racer styling while the Svartplien had a distinct Scrambler flavor to it. Husqvarna stated that both bikes would be powered by a "state-of-the-art 400cc water-cooled single" which later turned out to be the same unit found in the latest KTM 390 Duke.
Then, just over a year later, Husqvarna unveiled a more production ready, less concept version of both motorcycles. The big surprise was the addition of the Vitpilen 701 that was powered by a "more serious" water-cooled, four-stroke 690cc single. All 3 models had styling that was very much in line with the original concepts and we were given a few more stats from the bikes specification list. This revealed that brakes were being supplied by Brembo, suspension by WP and that they would utilize the latest in ABS and ride-by-wire technology. Husqvarna also blew us all away with another concept named the Vitpilen 401 Aero. The Aero was a faired version of the Vitpilen 701 that featured racier lines and was described as a "21st-century interpretation of a cafe racer".
Fast forward yet another 12 months to EICMA 2017 and the final, final, final production-ready Vitplien and Svartpilen were on display again with a firm release date of February 2018 (Europe).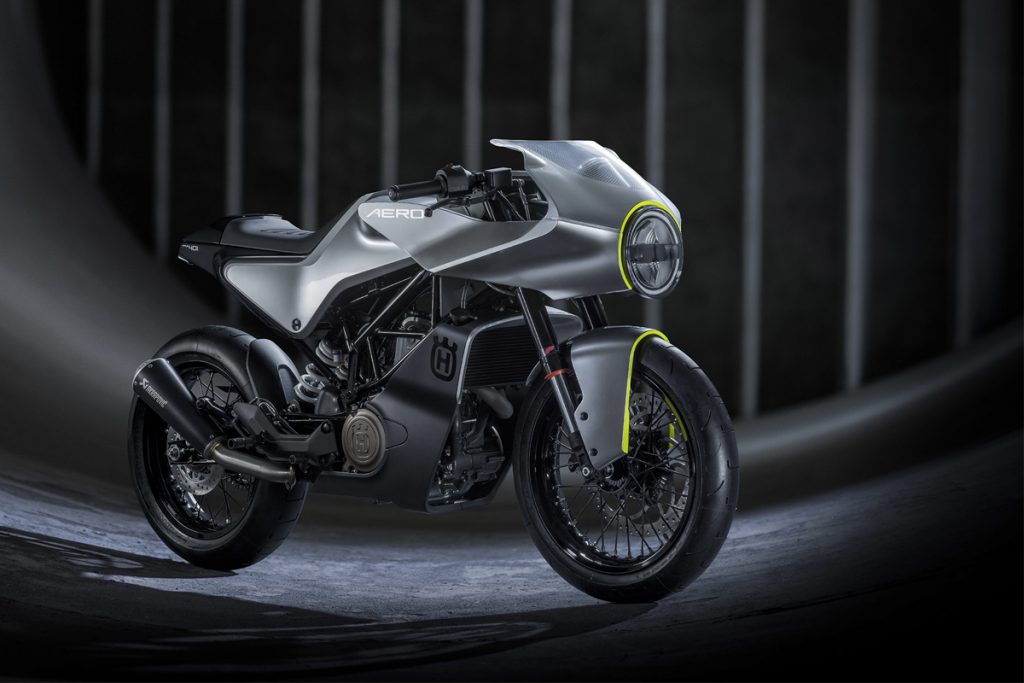 Vitpilen 701 Final Production Specs
Along with the features listed above, we now know even more about the new Vitpilen 701.
Husqvarna has stuck with their suspension setup using WP adjustable 43mm USD forks and a mono-shock at the rear. Brembo is also still onboard providing a 4 piston front and single rear caliper and the discs are perforated. The frame is lightweight chromoly and has been put together using a trellis configuration. The 5 spoke wheels are lightweight 17″ cast alloy items which Husqvarna says are a "design highlight". Personally I could take them or leave them.
Husqvarna Vitpilen Design
When it comes to styling you have to admire Husqvarna for sticking to their guns. Little has changed from concept to production versions. The most notable changes being the addition of legally required components. Husqvarna describes their design approach for this bike as a mix of classic and modern styles with a minimalist, essentials only approach, and we're not about to call their bluff. The Vitpilen is beautifully basic. The bikes smooth bodywork is made up of only a few individual panels and it's very easy on the eye. Dark finishes on the engine reduce visual clutter while brass colored accents add elegance. Then there's that slick yellow line. A signature feature on Husky's bikes that's been pushed even further with the Vitpilen.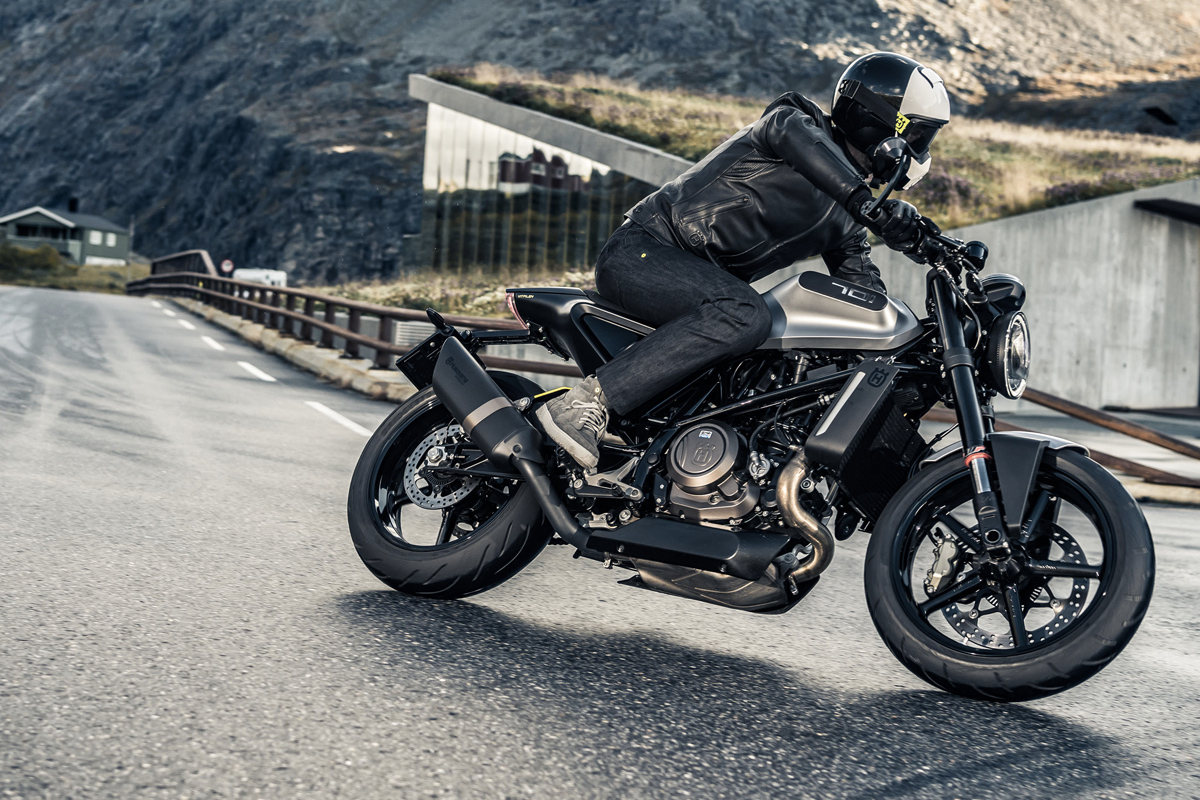 Moving in closer even more of the Vitpilen's carefully considered design details become evident. The svelte seat is constructed from high-quality foam wrapped in MOKKA leather. A design that Husqvarna promises to be comfortable. Branding has been kept to a minimum and the use of gloss and satin finishes add a distinctly modern feel to the whole package.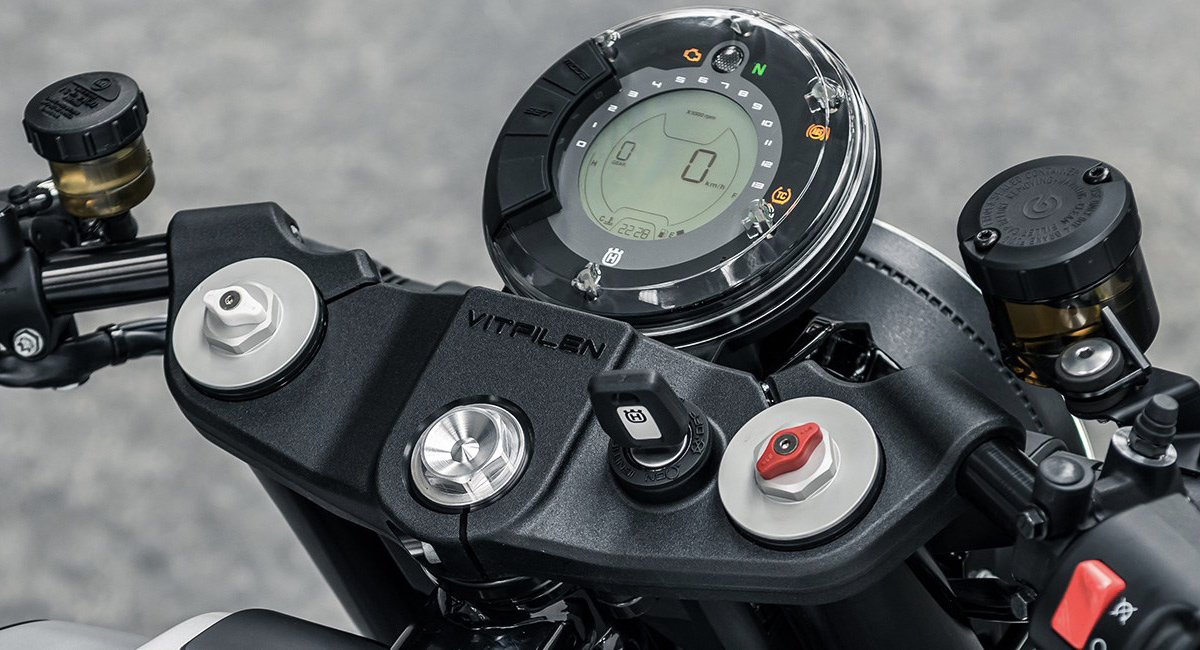 That aircraft style, cast alloy filler is a thing of beauty and the alloy top yoke cleverly doubles as a clamp for the bikes clip-on handlebars. There's a Ducati Scrambler style halo headlight up front and an LED brake light, but we haven't been able to spot indicators in any of the press photos. Hopefully, they'll be inconspicuous LED items. The mirrors are also a little confusing. In the studio shots, you can see somewhat goofy round units on stems, while in the riding shots the 701 wears bar end units, we're hoping the latter makes the final cut. Last, but certainly not least is the dash. A no-fuss digital unit with integrated tachometer, warning lights and speedometer.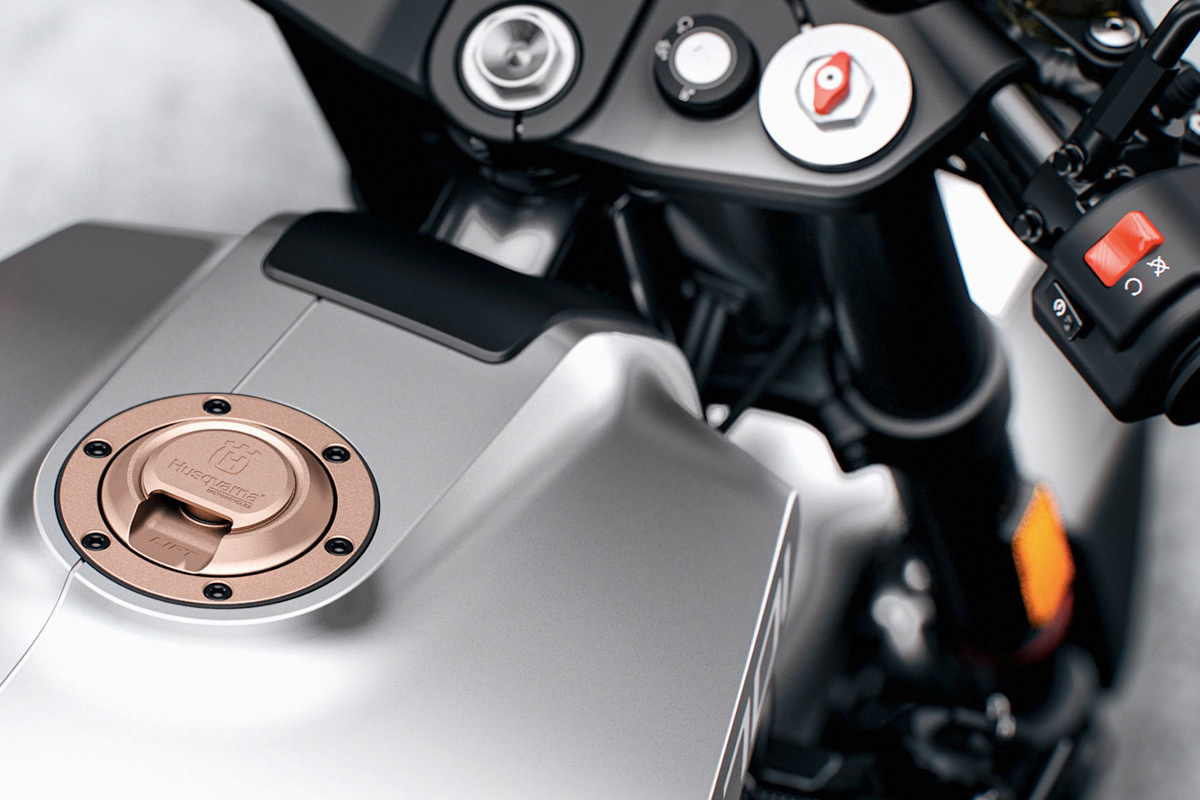 Husqvarna Vitpilen Performance
Then there's the engine. The Vitpilen 701 features a 6 speed, 690cc liquid cooled thumper which is essentially a rebadged version of the much loved KTM 690 Duke. Power figures are identical to the Duke with 75bhp and 72Nm of torque on tap and the bikes EFI is controlled by a ride-by-wire system.
Impressively the Vitpilen 701 has a dry weight of only 156kg. That's about the same as Yamaha's entry-level R3, but with more than double the capacity. Put those numbers together and it's looking like the 701 is going to be a hoot to ride, but don't just take our word for it. Check out the video below that shows the Svartplien 701 in action. (I advise skipping forward to the 49-second mark).
Husqvarna Vitpilen Models
If the 701 sounds like a bit of a handful to you then there's always the 401 version. Perhaps you prefer black paint and chunky rubber? Go for the Svartpilen Scrambler. Personally, I'm hoping that the big guy upstairs has been listening to my whining and the Vitpilen Aero hits showroom floors sometime in the future. Ahmen.
As for prices, Husqvarna is yet to reveal how much we'll have to part with to own a Vitpilen 701. Fingers crossed the pricing won't be this awesome bikes Achilles heel.