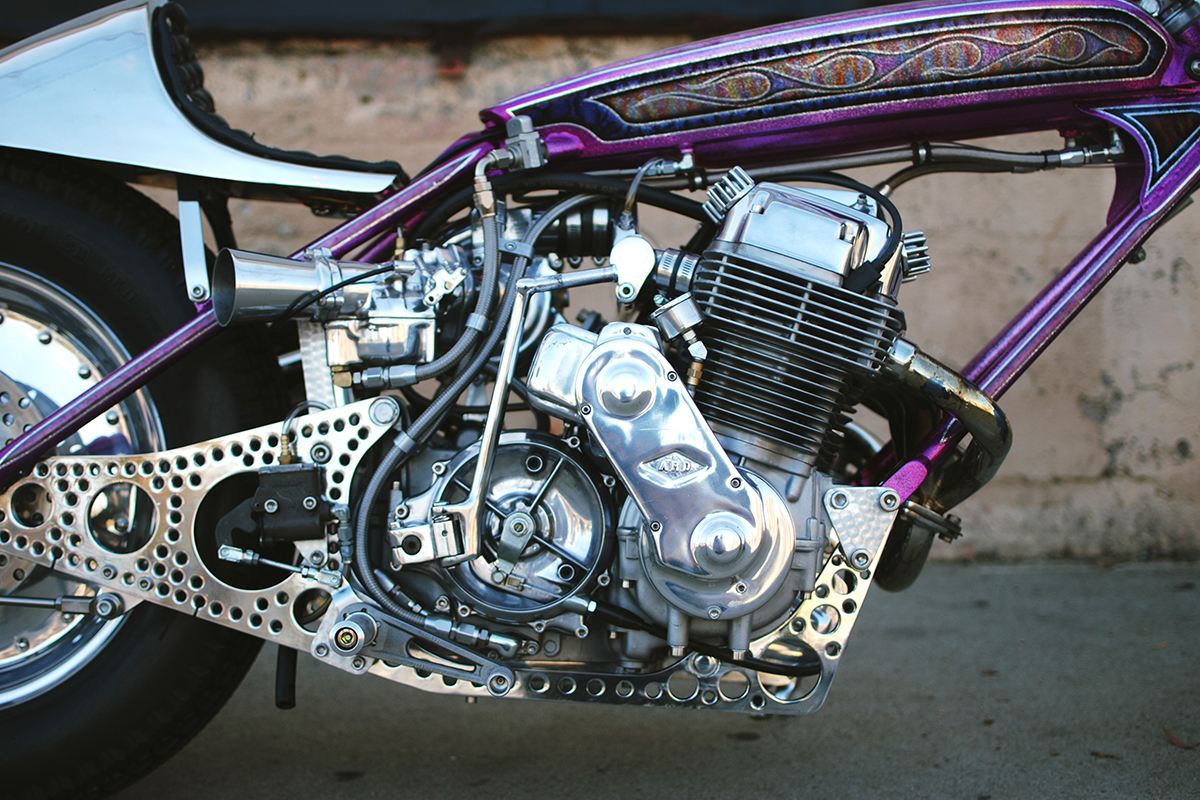 Since moving to the States from Japan Kiyo has played an important part in the Californian custom scene working on both American and Japanese manufactured machines. It was his incredible turbo charged, K series Honda CB750, which was awarded the "Best Japanese Bike" at Born Free 5, that really blew my mind. After seeking more information about the heavily flaked, pink, turbo charged CB750 I discovered that our good friend and contributing photographer, Jose Galina, was a buddy of Kiyo. As it turned out Jose had been looking for an excuse to go and see/hear the bike in action so as if the planets had all aligned a photo session and an interview were locked in.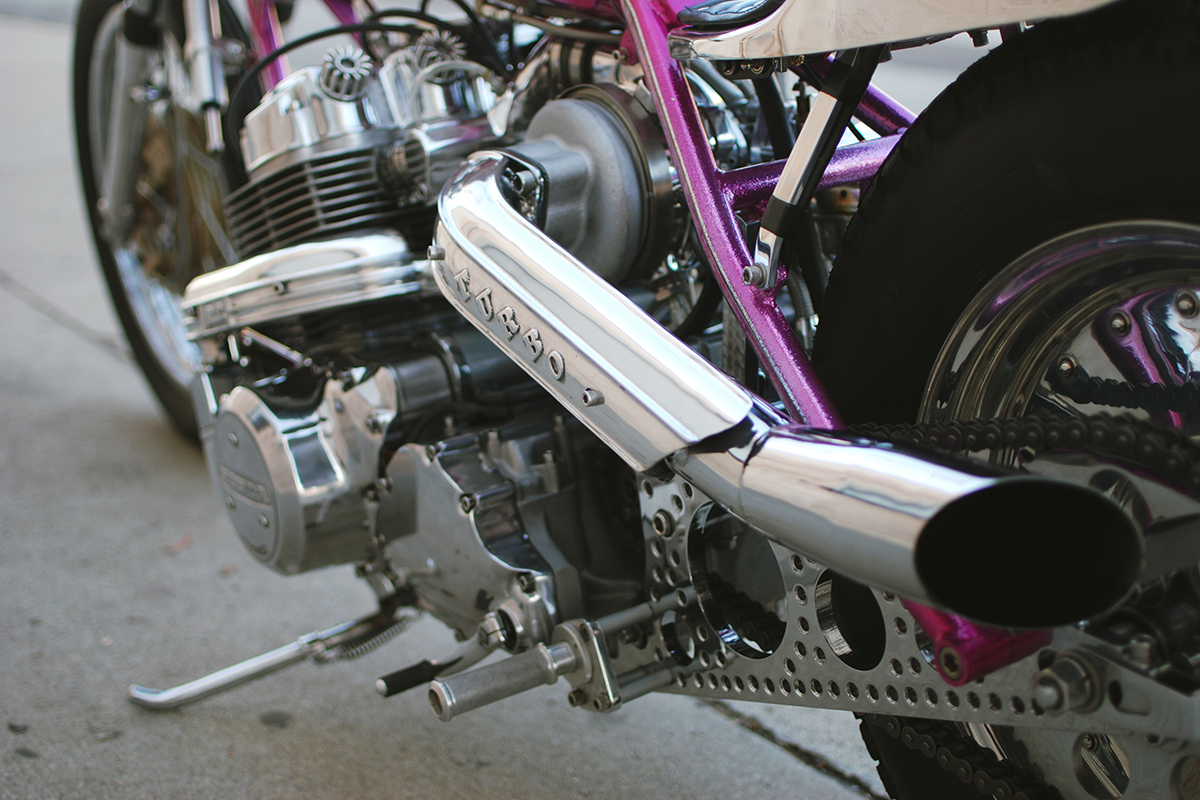 "My name is Kiyo and I am a mechanic. Working on CB750's and especially old vintage Harley Davidson's. I am not only a mechanic though; I also do engine work, fabrication, repair, and custom work. I have never thought of myself as beinga "Bike Builder", I just make bikes because I want to ride bikes of my favorite style."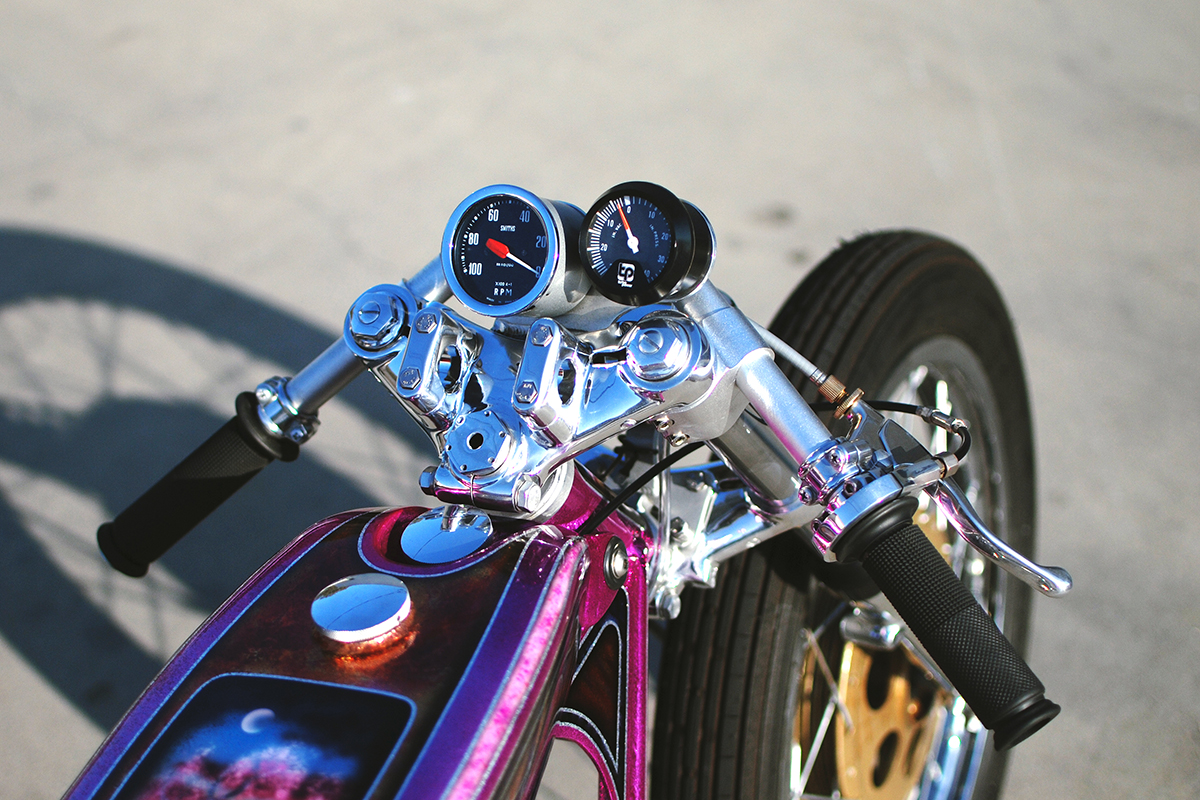 "I have always produced bikes with an emphasis on functionality.  This attitude was the same when I was working at Garage Company. I did a huge amount of bike repairs, custom fabrication and restorations while working with Yoshi. I have my 11 years experience at Garage Company to thank for my current skills. I left Garage Company in 2013 and started Kiyo's Garage where I challenge techniques and test my various ideas. I want to produce bikes where there is complete originality. This bike is my 1970 Honda CB750 KO that I completed in 2013. I named the bike 'Cherry-Blossom' because the build and the process was a rebirth, like the cherry blossom is in the spring. The Cherry-Blossom build began as a way of showing my independence as a builder and for displaying at the Born Free 5 show."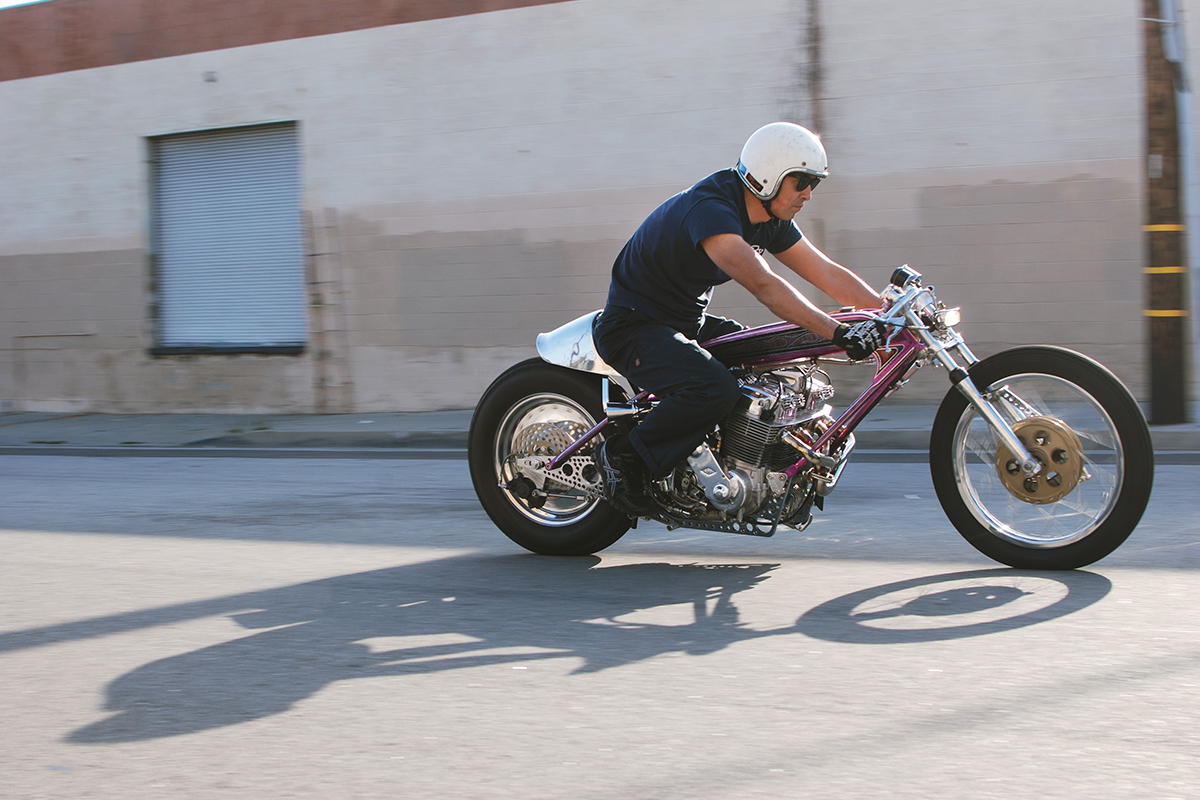 "Most of the work I have done during my 13 years of living in the United States has been on Harley Davidsons, but I've always been drawn to Honda's CB750. When I was 18 I rode a CB750 for the first time and I've always had one on hand. As I built this bike I wanted to demonstrate a strong connection to Japanese custom bikes; the small details, paintwork and the finished style."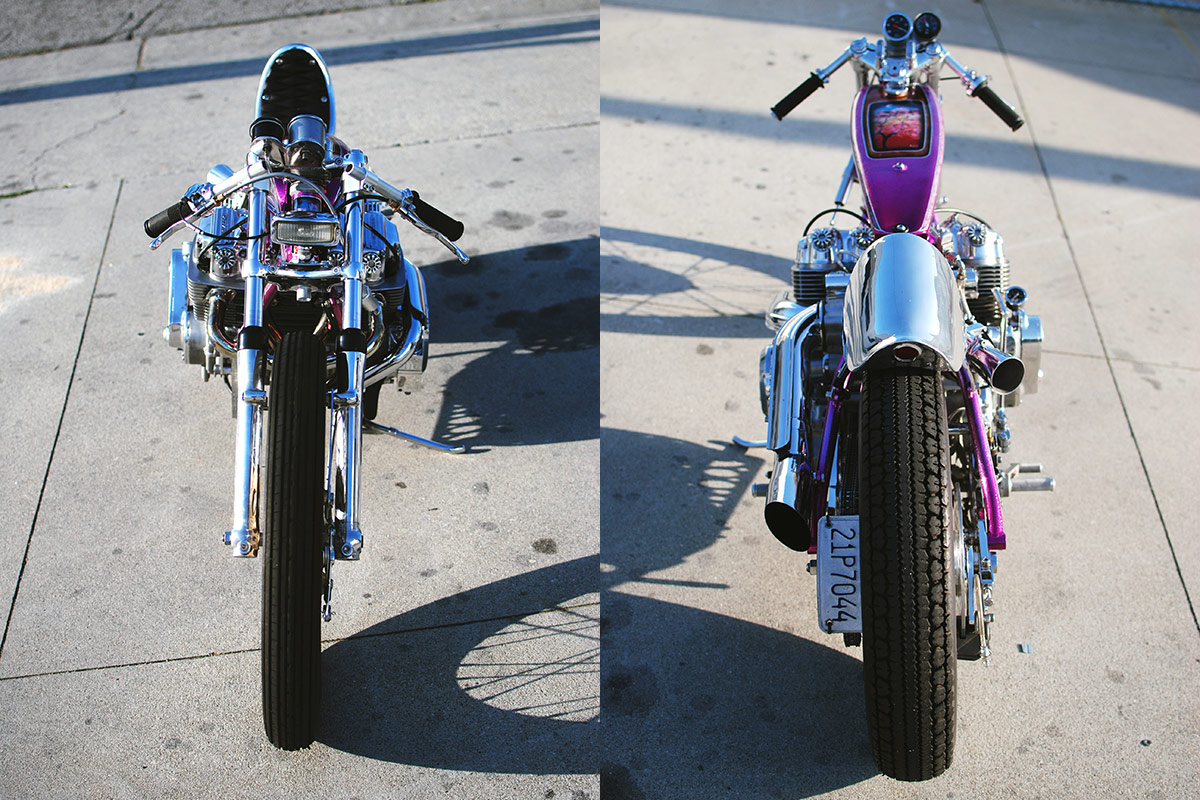 "The build was triggered when I got my hands on the old turbo kit. It was a kit that had been sold by Russ Collins Engineering who produced drag racing products for CB750's. This particular set up is called the 'American Turbo Pack' and was produced in the 70s. Before I began the build the bike was in pieces so it was a fresh start with very little to begin with. The other parts I used were things that I have been collecting for many years waiting for the right opportunity to put them all together. For example the Ceriani 32mm front-end, the dish wheel and S&S carb were all parts I already had. 

I fabricated a one-off custom frame, which uses an axle plate as the motor mount, a technique that I have wanted to do for many years and it's what I consider to be the key feature of the Cherry-Blossom. I think anyone that looks at the set up of the frame, the brackets and the engine can easily imagine the time involved in creating it. Setting up the turbo was a very difficult process because the timing and jetting is drastically different from a standard CB750 set up."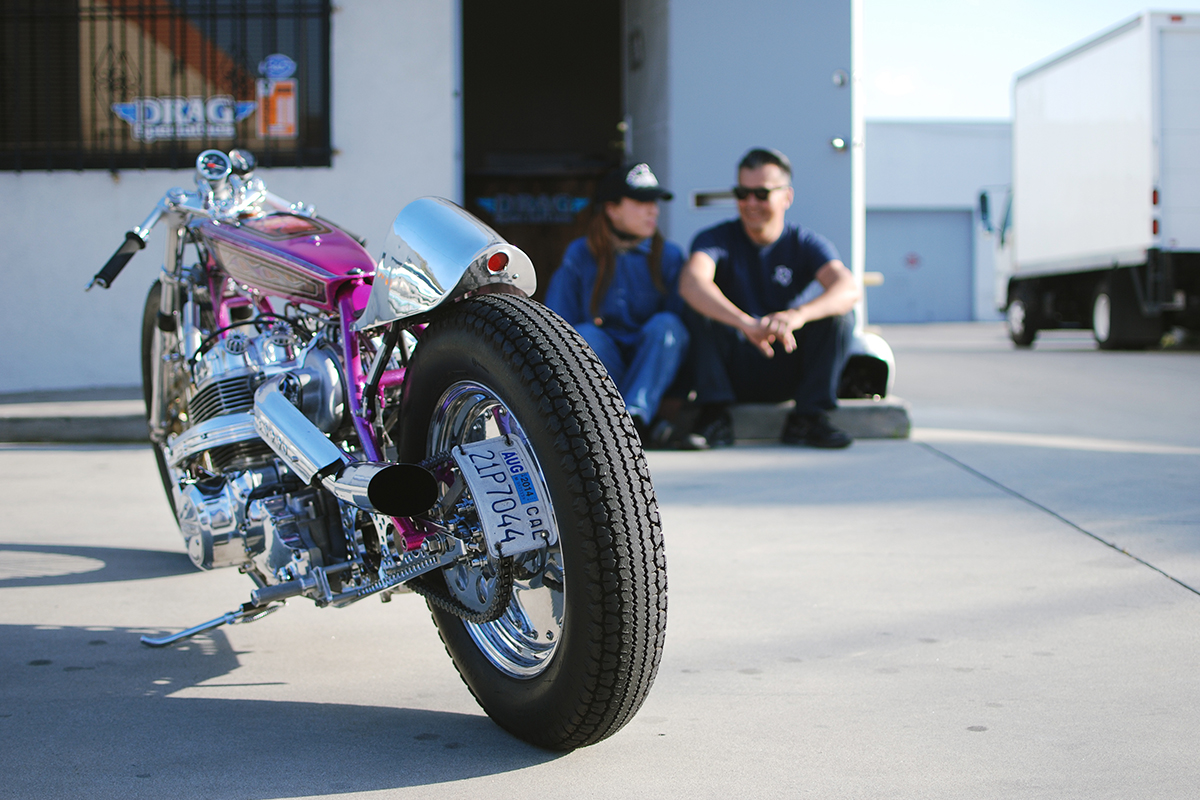 "The Cherry-Blossom is a special bike for me. She is my favorite custom bike and rides happily! When I get a taste of the acceleration I just want to push the turbo more and more… It sounds great and when I'm riding it I can smell victory in the air. The next goal for Cherry-Blossom is to race, but for now I'm riding it around town in its street spec."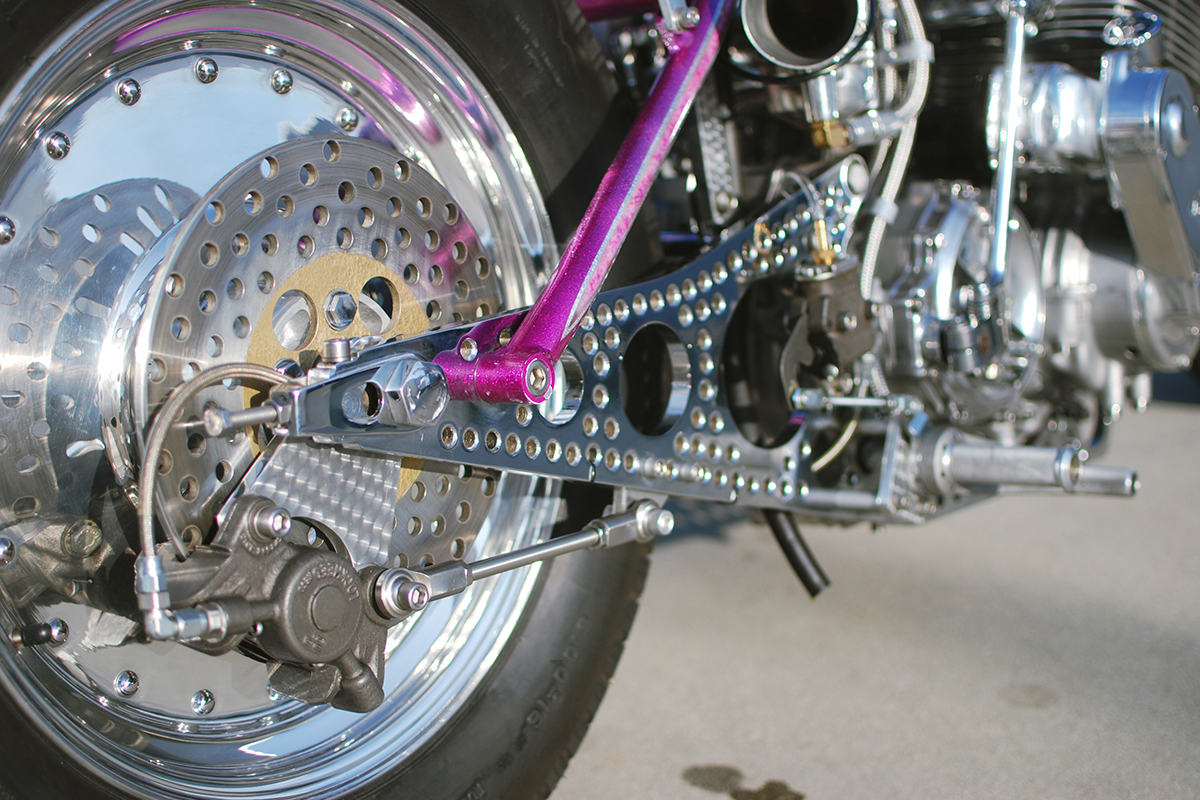 Since Kiyo completed this bike he's also constructed a twin engined Honda CB750 land speed bike called the 'Gekko'. This bike will be featured in the upcoming issue a Tank Moto and will be available from the Tank Moto store mid November 2016.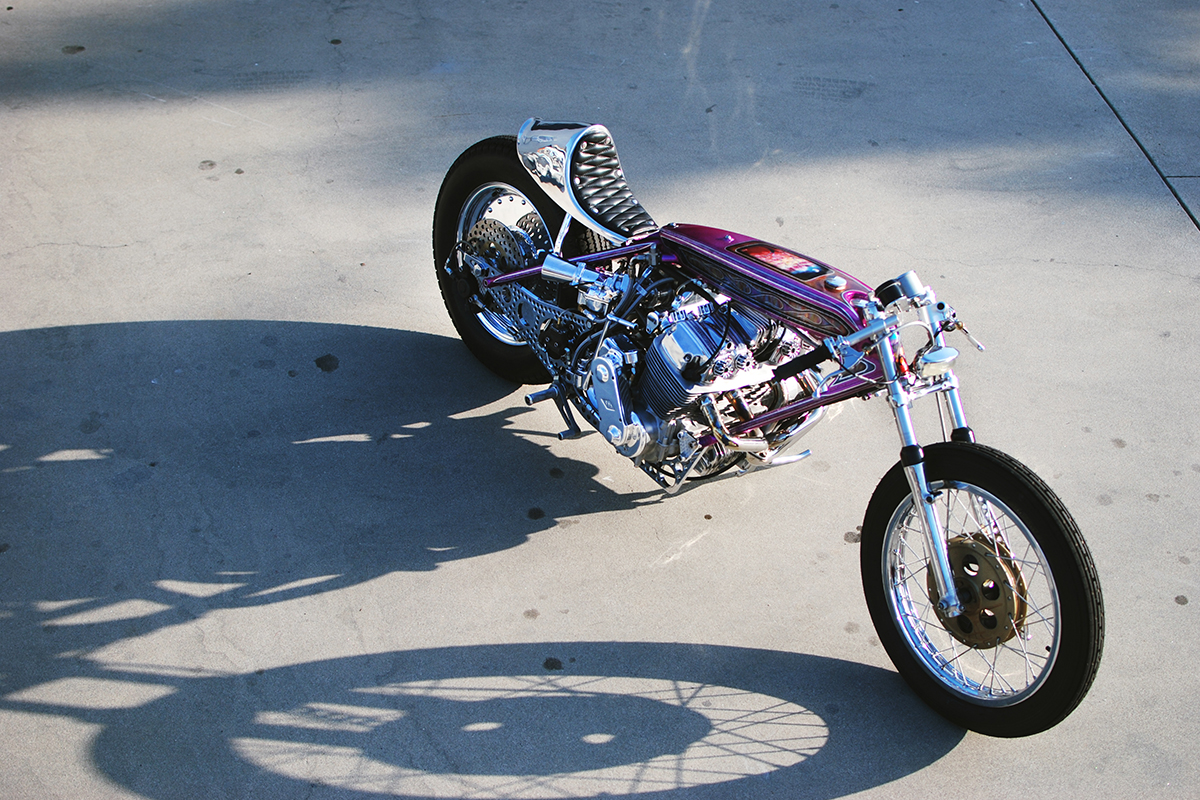 Story by Geoff Baldwin from issue 4 of <a href="http://usa.shop.fuel-press.com/" target="_blank" rel="noopener"><b>Tank Moto Magazine.</b></a>
The first time I noticed Mitsuhiro Kiyonaga was in an interview with 'Garage Company' owner Yoshinobu Kosaka. He was working on a motorcycle in the background of the workshop and Yoshi explained how important he was as their skilled fabricator. He then caught my attention years later as he was doing doughnuts and compression lock-ups on his custom Knucklehead in a video about photographer Ray Gordon's 'Throttled' exhibition. Then he popped up again as an invited builder at the Born Free 5 show in Silverado, California and I promptly added him to my "keep an eye on this guy" list of builders.