I've been following the Stories of Bike video series since it began and had the pleasure of meeting its creator Cam Elkins and working with him on a few episodes. A while back I noticed he posted a photo of a rather tidy looking Honda CX500 cafe racer on his Instagram feed and had to find out more. As it turned out the bike belonged to Cam's brother Tristan who painstakingly pieced the CX500 together over 14 long months, using limited funds and shed time to get it done. Cam snapped off these great photos and was kind enough to coax the story of its creation out of Tristan for you all to enjoy. As Tristan explains it "Literally blood, sweat and tears went into this bike build" and all I can say is that it was well worth it.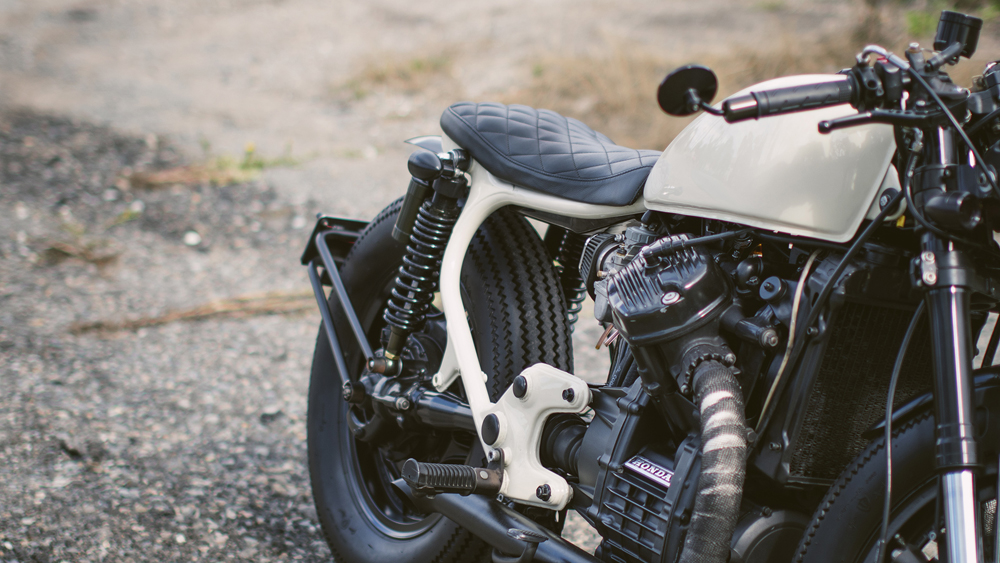 "I have always liked the Honda V-twin note and had previously owned a VTR250 and VTR1000 Firestorm. It seemed only fitting to go for another one and thought that aiming smack bang in the middle was the way to go, which lead me to the CX500. As with most guys that get into Honda's CX the first two custom builds that really grabbed my attention were the CX500 cafe racers by the WrenchMonkees and Moto-Mucci. After numerous personal things in my life started to fall apart, I decided I needed a distraction, something to focus on, so I started searching for a donor for my own custom project.
I bought the CX on the Gumtree after thinking it looked pretty good on my iPad. After making the purchase I drove a 1000km round trip from Brisbane to Kempsey and back to collect it. Unfortunately, it didn't look quite so good in the flesh, but I knew the extent that I was going to go with the build so I accepted it for what it was."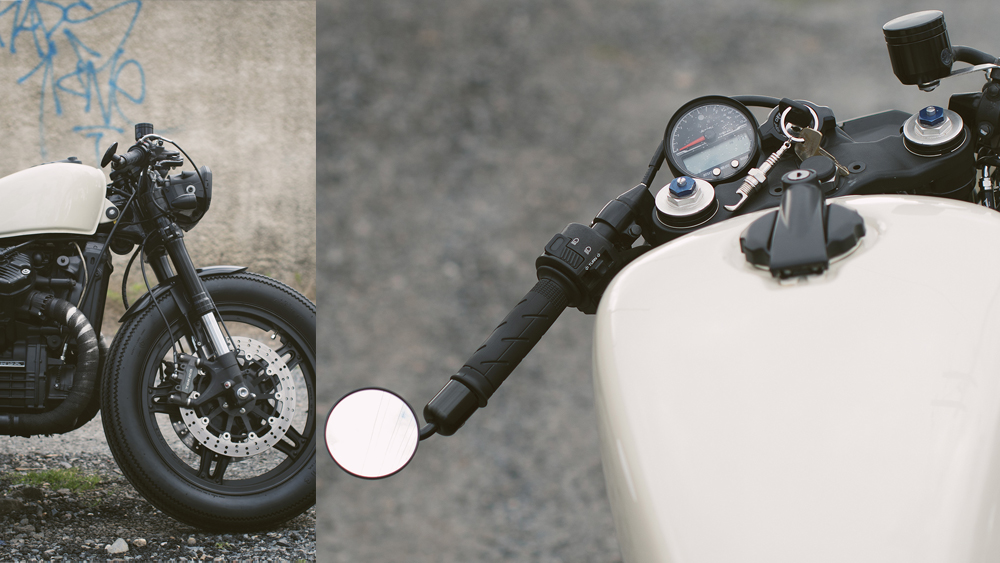 "I handled the design and construction myself, but for the parts I couldn't machine or weld I enlisted the help of the guys at Niccom Engineering (Nick)and Ellaspede (Steve). I had a few ideas on which bits I wanted to modify and how to go about it, but didn't have some of the skills or the machinery to do it.
I completely stripped the bike down to the frame to see what the foundation was like. I have a neighbour who strips and rebuilds machine guns on our Aussie fighter jets and he kindly offered to chemically strip the frame at the local air force base. When I got it back I found rust in both sides of the lowest points. I knew this could be fixed with some help so I went ahead and cleaned it up and de-tabbed it of all the useless bits."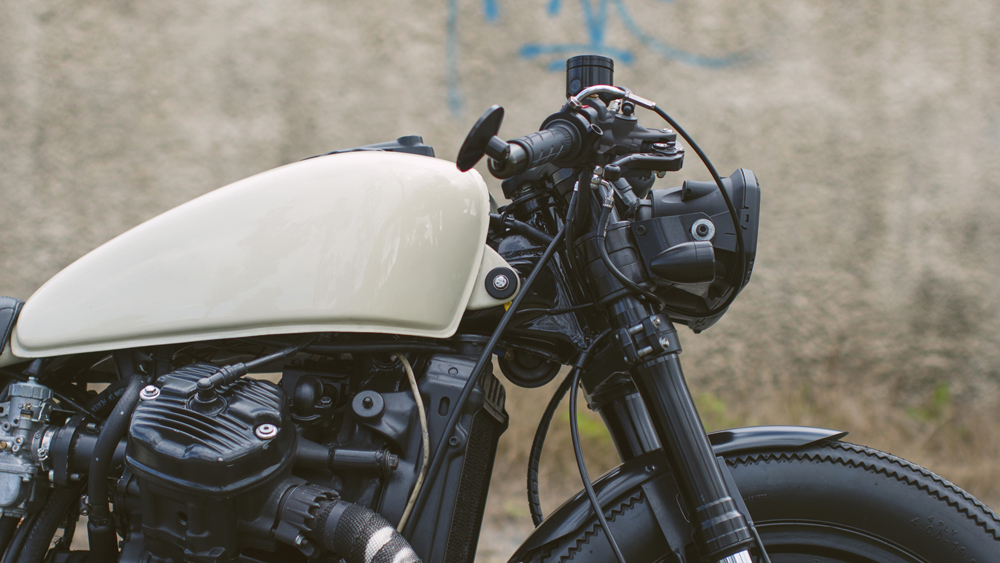 "I already had the upside down fork assembly from a Honda CBR600RR sitting in the shed so I took that and clean frame to Nick at Niccom Engineering. Nick repaired the rust damage and shorten the head tube slightly so that the headset bearings and assembly of the CBR forks would fit safely. While I was at Niccom I also sorted some new bearings to accommodate the CBR front axle into the original CX wheel and had spacing adaptors made for the disc rotors which were originally designed for a ZXR but suited my CX wheel perfectly.
The original rear end of the frame sat way too high and needed to cut and modified. I wanted to lower the front end with the CBR forks and have a nice line running from the underside of the tank flowing through to the rear seat pan. This is where Steve at Ellaspede became involved. I had long discussions with him on how we were to go about this. He disclosed his dis-appreciation of the CX, but said that my design idea would probably change his view of the bike. Ellaspede then went to work on the back end shaping and tapering the frame into what I could only describe as factory perfect. They even made allowance for an inset LED brake light. We also worked together on shaping the seat pan and a custom tray underneath to fit all the wiring and a battery. Work done at both Niccom and Ellaspede was very professional."
"With all the frame mods done the rest was up to me. I replaced the exhaust valves & springs and added a pair of VM34 Mikuni Carbs. I installed a new timing chain, stator and clutch and fit an Ignitec ignition system. I also had the cylinder heads ported by a mate in Sydney and rewired the whole bike from scratch.  Under the exhaust wrap are a set of custom stainless pipes and for tyres, I went with everyone's least favourite, Firestone Deluxe Champions. Personally, I like the style and they're not too bad for my riding habits around town.
For the headlight, I used a BMW F650GS cluster. I've always liked this headlight and wanted to do something different from the usual round headlight. This was something I knew I was going to do before I had even decided what bike to get. For the paint, I made use of a contact I had in the bicycle paint industry who was looking for some extra work. It took a long time to decide on it but finally went for Mini Cooper Pepper White for the tinware and frame and Matt black powder coat for the swingarm and wheels.
After Countless hours and mockups and a year and a bit of work I finally fired the beast up and it was all worth it!"