It's not often I hear of custom workshops offering 3-year warranties. However, new Bulgarian workshop Thracian bikes are doing just that with their first shop release, the 'Primo' Honda CB750. This is because they are confident this nut and bolt overhaul won't let its new owner down, and it's easy to see why. With over 600 hours invested and a long list of updated components, this '83 Honda is running better than ever before.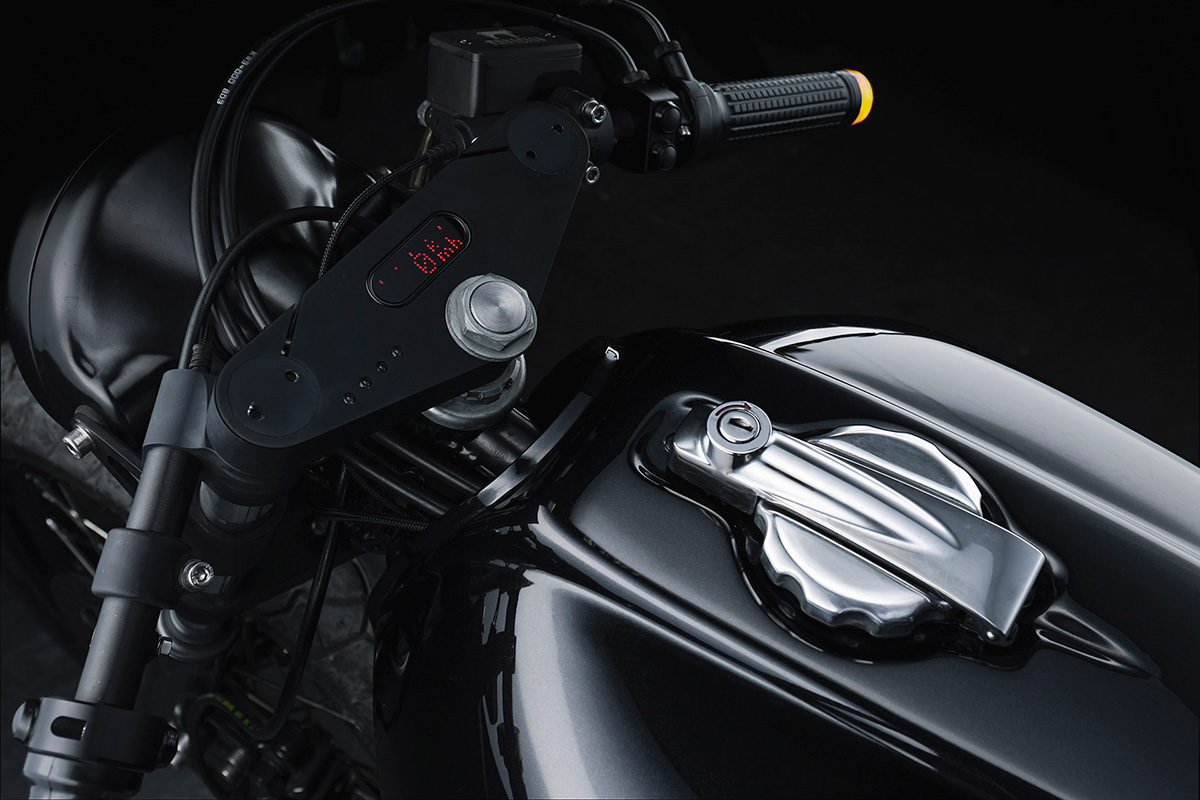 Thracian workshop owners Plamen Nikolov and Miroslav Vulkov say they "build bikes without compromise" and their Primo Honda CB750 is proof. Despite sourcing a solid donor from Germany the pair stripped the bike down to the last bolt and thoroughly inspected everything. Any items showing signs of wear were replaced and anything that was deemed superfluous was set aside.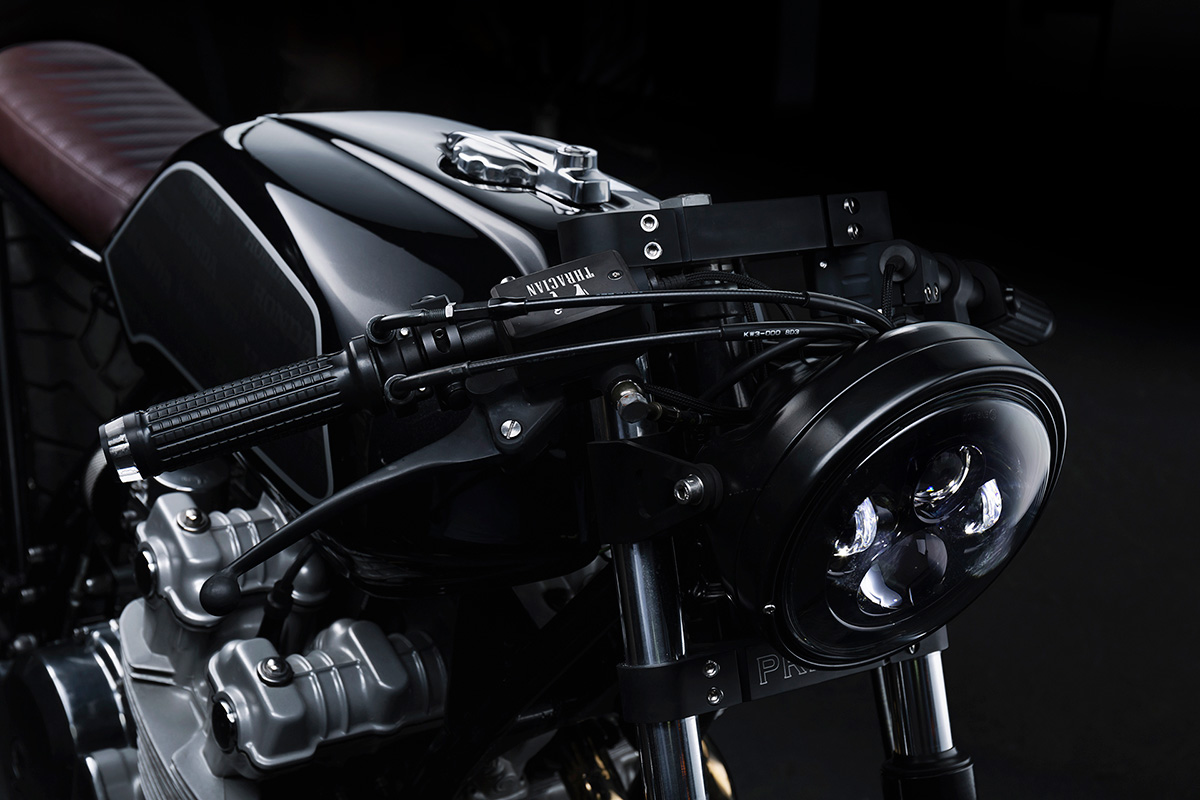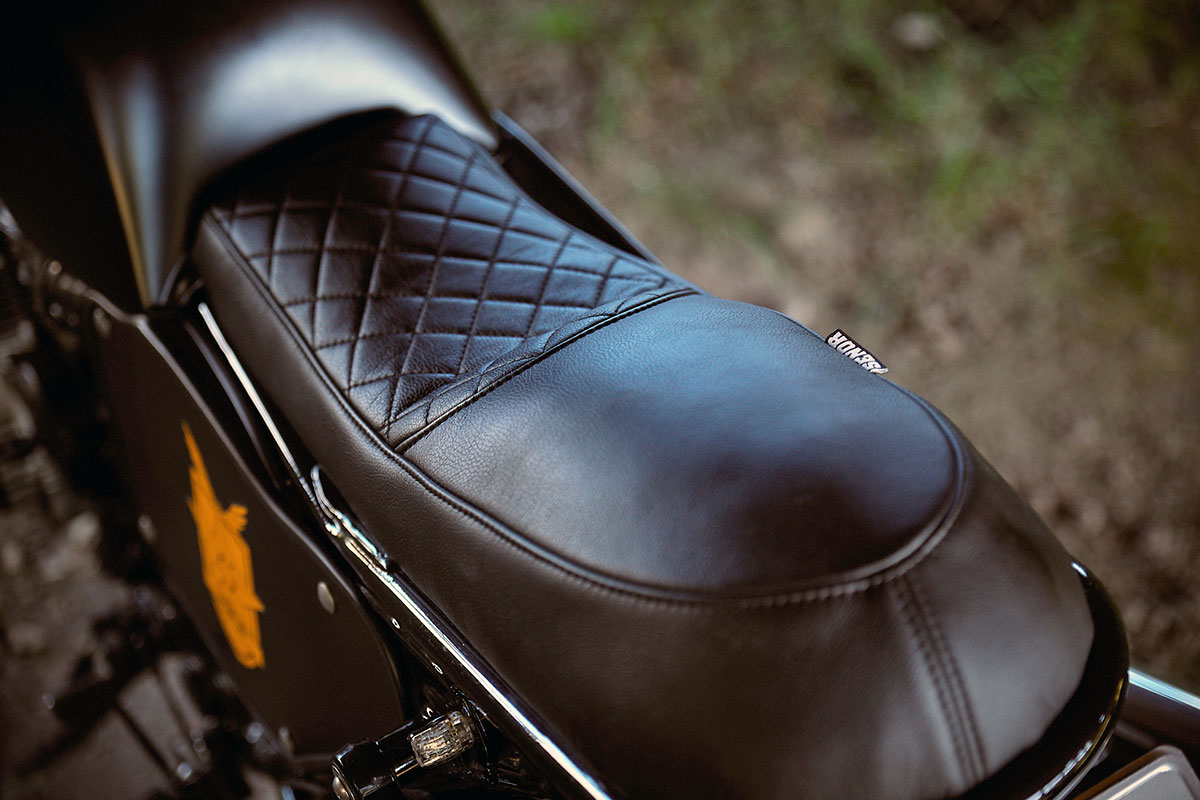 Their vision for the Honda CB750 was a light, stripped back cafe racer, so the rebuild began with a nip and tuck of the subframe. The new rear loop incorporates a multifunction LED light strip and supports a svelte custom made saddle. The whole bike sits low and level thanks to the revised suspension which was rebuilt using modern Honda components. To slightly increase the bikes footprint the boys designed and fabricated new triple clamps which cleverly house a Motogadget Motoscope Mini speedometer. The entire brake system now utilises Brembo components and the wheels are wrapped in performance focused Bridgestone rubber.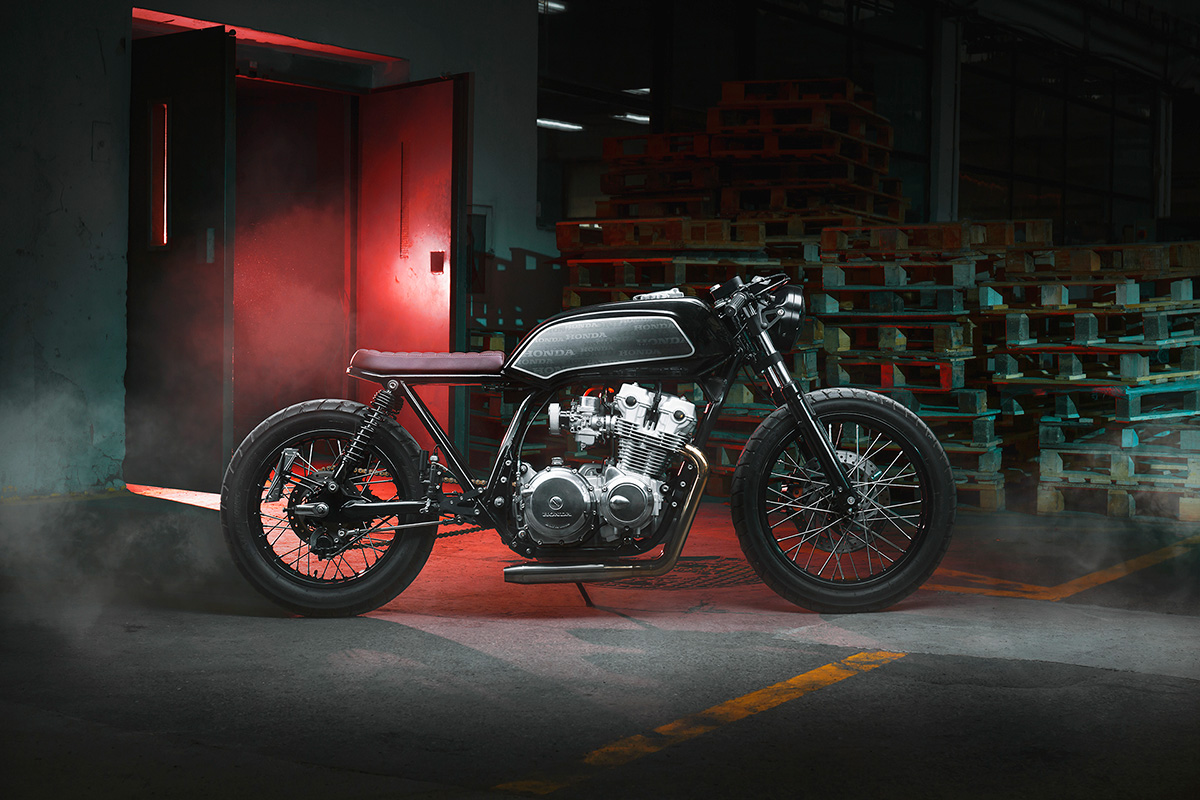 Looking good is great, but reliability is the key when building a bike you hope to establish a business on. So to make sure the Honda would continue to perform as it should all of its wiring has been replaced. At the core of the new system is a brand new Motogadget M.Unit Blue that features some fancy Bluetooth connectivity, including the ability to start the bike with your mobile. The bar end signals are also Motogadget items along with the grips and switches.
The engine tune was also carefully considered during the rebuild. After calculating they'd shaved a whopping 25kg from the bike the inline four was going to be much more sprightly. So to add just a little extra zing they freed up the airflow with a custom made filter box and a 4-into-2 stainless steel exhaust system.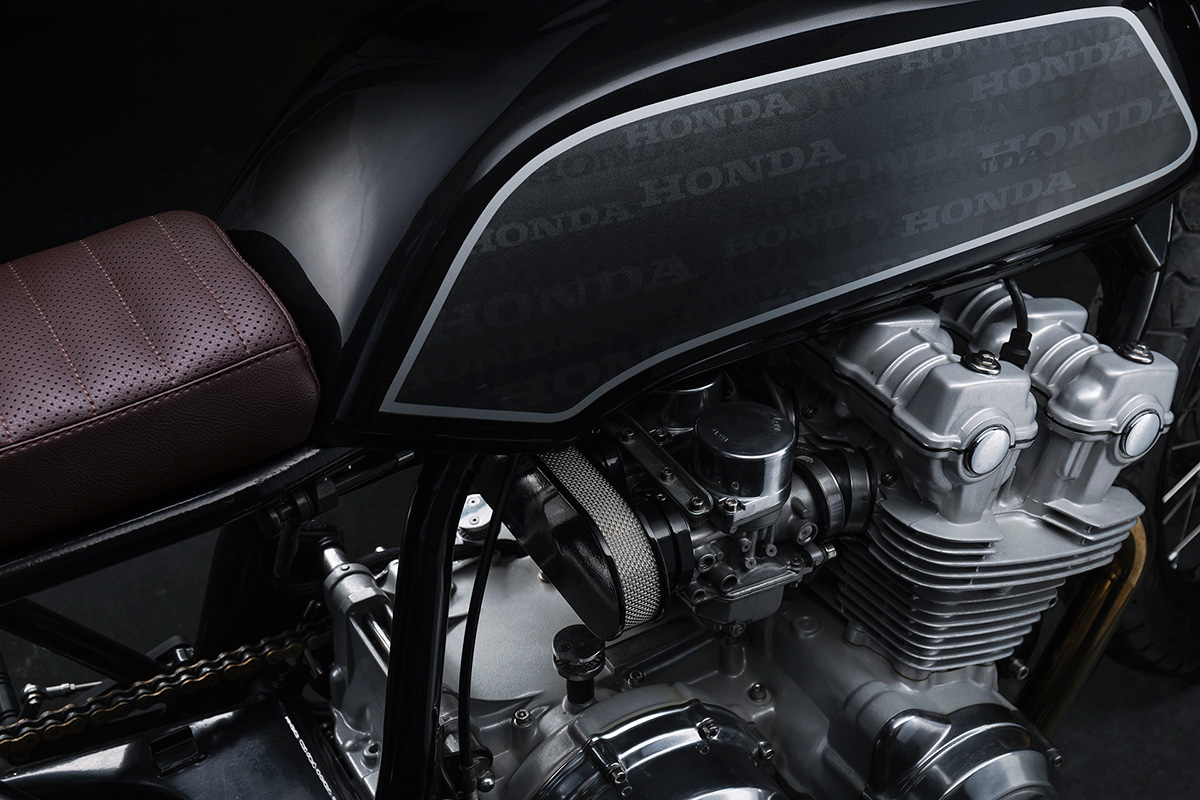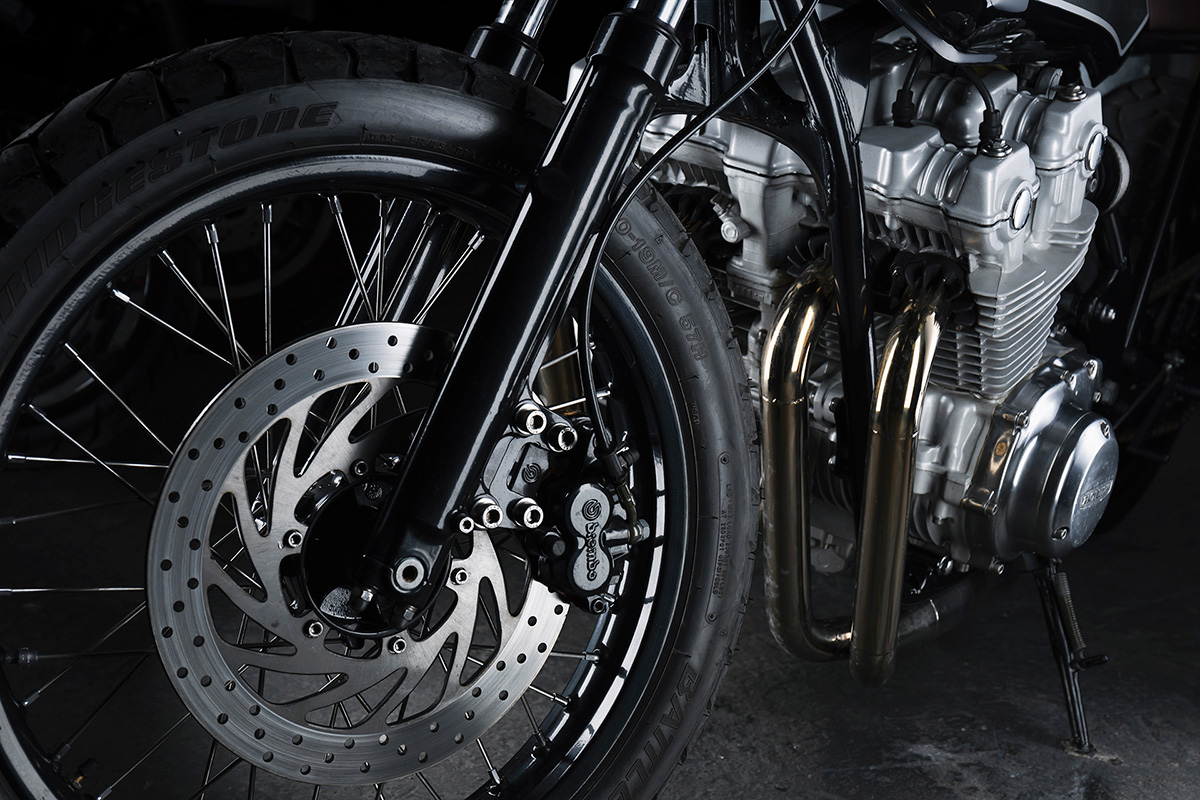 As for the paint on their first Honda CB750 cafe racer, Thracian wanted a subtle scheme that was still striking enough to stop people in their tracks. As a result, the predominately black scheme is broken up by the bold burgundy leather of the saddle and an eye-catching paint effect on the tank. The unique paint process creates a holographic effect that reveals a multitude of Honda emblems as light passes over the tank, which I hope becomes a trademark of the Thracian portfolio.  
No build is complete without a proper shakedown and Thracian did exactly that. After around 100 km in the saddle and plenty of fine-tuning, they were happy that the Primo Honda CB750 cafe racer was ready for sale. It's now available on their website so if you're in the area and are looking for a custom that won't let you down, I'd suggest you give them a call.