For anyone who enjoys tinkering with motorcycles, there will come a day when you'll need to invest in some real tools. That Ikea Fixa kit may have proved it's worth the last time your taps were leaking, but when it comes to rebuilding an engine you're going to need much more than that Scandinavian playset.
UK based graphic designer, Tom Crane had all the skills he needed to realize his vision of a cafe racer. A keen design eye, a youth filled with riding and a father who passed down his extensive knowledge of motorcycle mechanics had him on the right path. Unfortunately by the time he was ready to undertake the build he was out of home and Dad's tools were no longer on hand…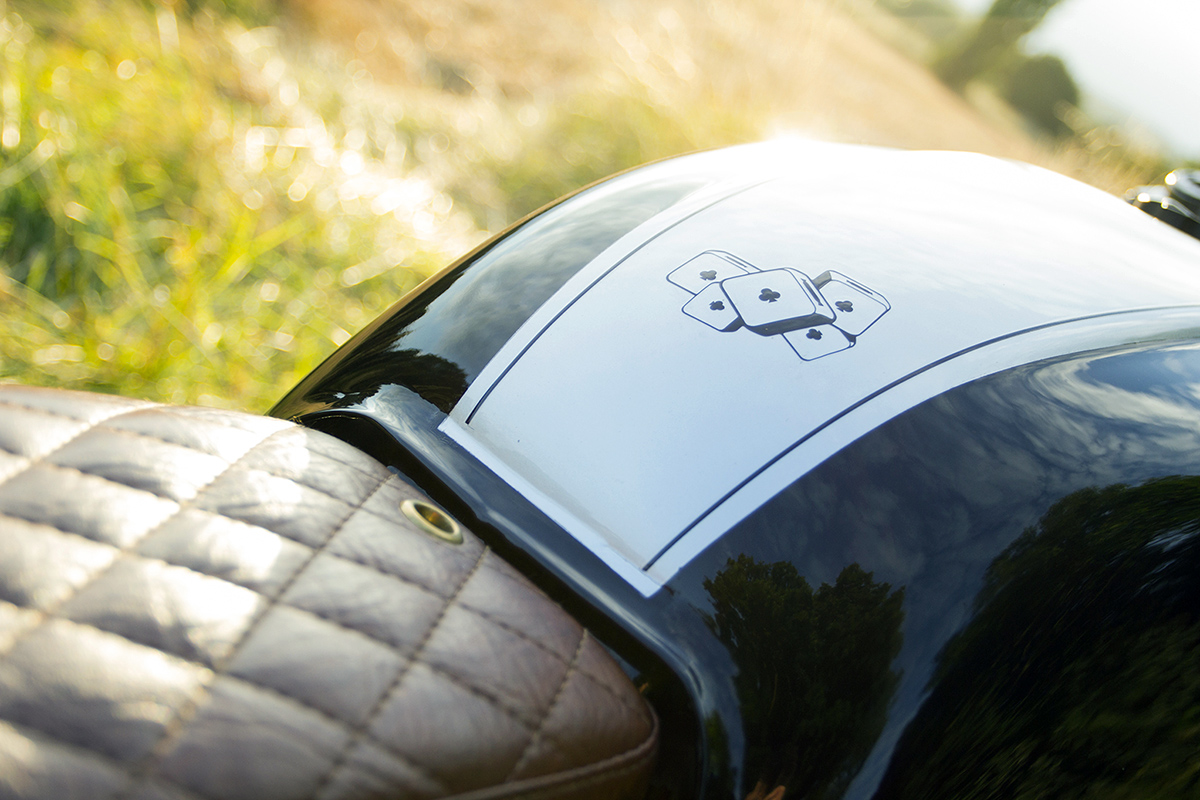 "I grew up watching my father build classic British bikes in the garage and even in the attic of our house" recalls Tom. "It was natural for me to become a garage rat myself. It's always been a dream of mine to build my very own Café Racer, but my career path and movements in the last 10 years made it difficult. When we finally moved into a house with a garage my first priority was to find a donor bike and after a few months of looking, I purchased a rather rough 1976 Honda CB750KZ for £600. At the time my workshop consisted of a socket set and about 3 spanners, but it was game on!
Every corner I turned on the project I required a different tool or bit of machinery, so the majority of my time and finances were spent kitting out the workshop. I bought everything from cir-clip pliers to a welder.""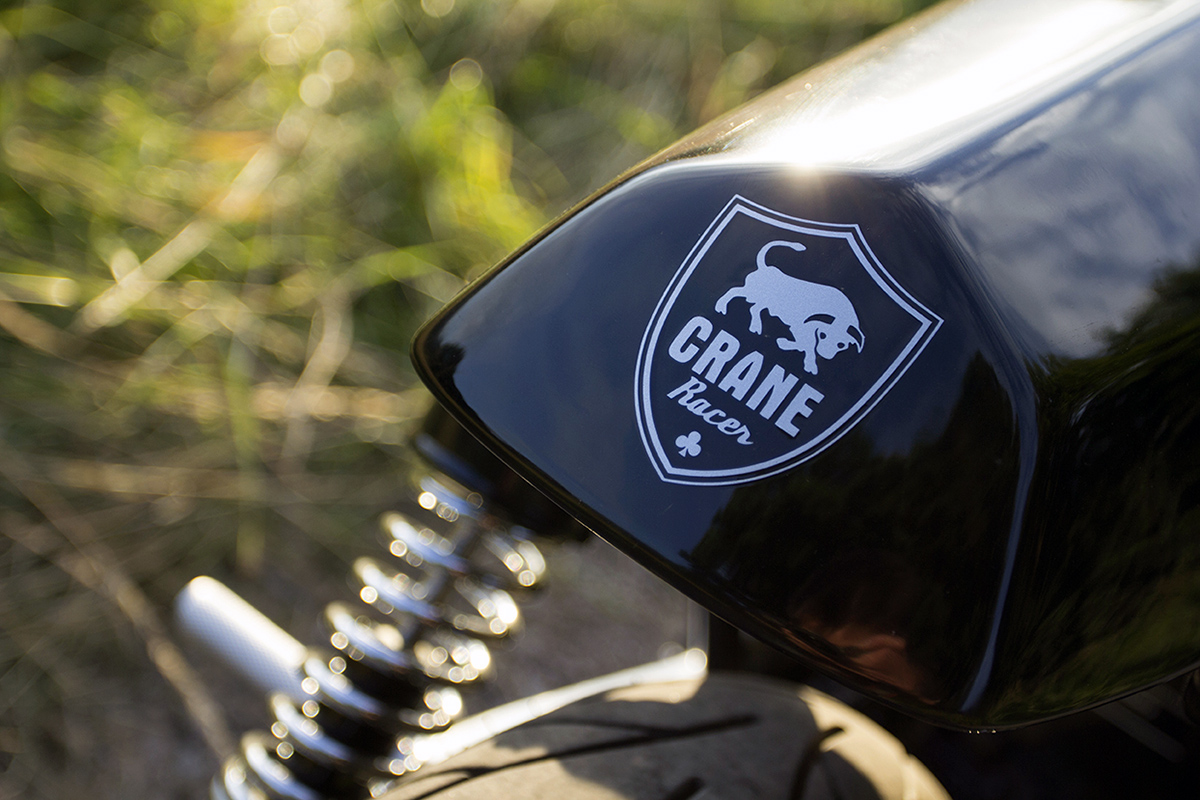 "I had a vision for how I wanted this bike to look from the beginning. Nothing too complex or in your face and I was a little worried about the shape of the KZ tank"
To overcome his fuel tank fears Tom decided to have a crack at fiberglassing. He'd patched a hole in a boat once before, but building an entire rear end was a different kettle of fish. Tom began by trimming a piece of foam to sit snugly on the frame and was shaped to match the lines of the stock tank. Using the foam as a buck Tom then laid the tail and seat pan in fiberglass, using a bit of trial and error to feel his way through the process.
When it came to naming the bike Tom found inspiration in his family history. "My late grandfather always had an interest in bikes and even rode them in the war. His WW2 Army Division was nicknamed 'The Black Bulls' or the 11th Armoured Division as it was formally known. That's where the bull comes from on the bike, it was the symbol of the Division. I've always liked it and wanted to incorporate it into the build, hence the name 'Taurus'. My grandfather also played a lot of dice and 5 aces was his trademark throw. It seemed right to include them somewhere too."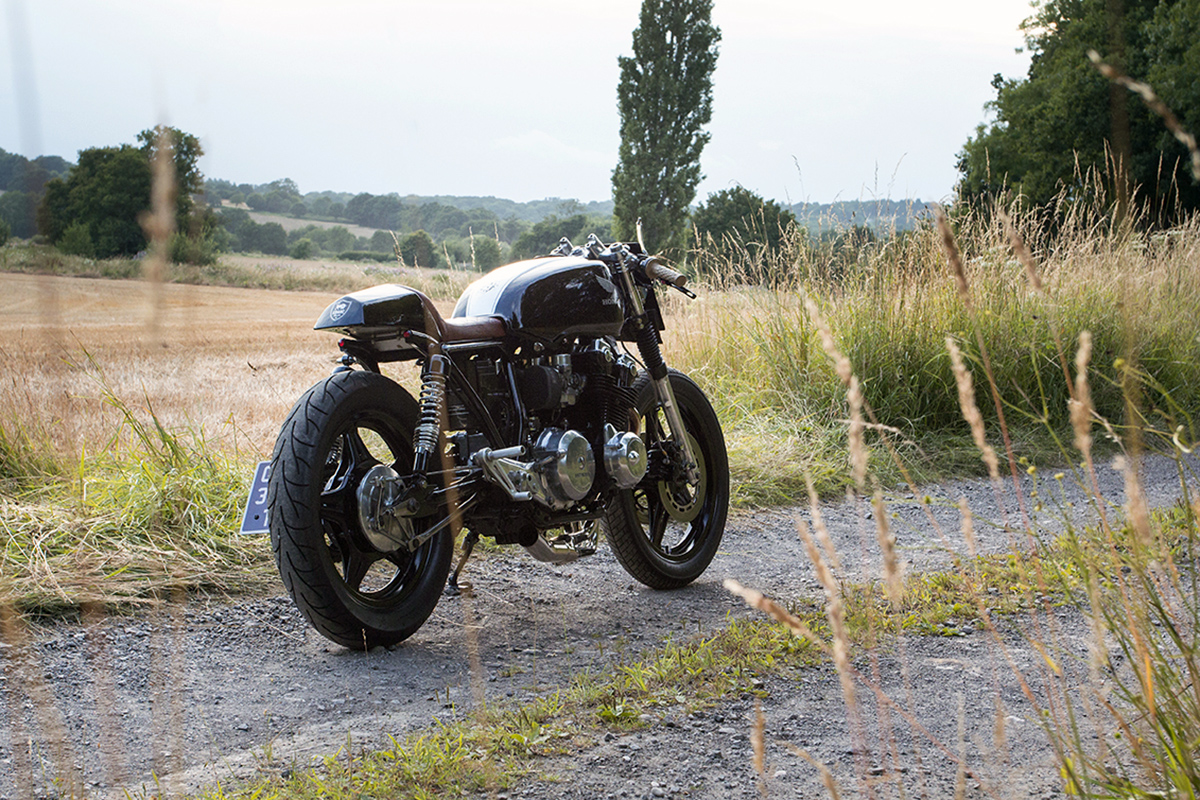 The Taurus is running a set of Honda CB900 forks with twin brakes that are hooked up to a ZX10R master cylinder. The frame length was shortened in the rear and braced for strength and the remaining openings in the subframe tubes have been plugged using LEDs that function as the rear lighting. To fit a set of rear set pegs Tom repurposed and modified the original linkages and upfront there's a set of clip on bars tucked in behind a racing style number plate for a "straight off the track" look.
No build would be complete without some performance improvements and as such Tom's done the customary pod filter swap and hi-flow exhaust. The carbs were of course retuned to suit the increased mass of air passing through them. Whenever possible Tom also tucked electrics out of sight, but the standard battery still hangs in the frame. He explained this is the last piece of the puzzle that will soon be replaced by a hidden lithium unit.
"In a bid to keep costs down the majority of the parts I used were either made from scratch or sourced from local auto jumbles" says Tom. "I even made things like the numberplate bracket and front number plate from scratch. The only things I've purchased are the electrical components, the rear shocks, bushings, filters and clip ons handlebars. If I had more of a budget I would have purchased a lathe which could have opened up a whole new world of possibilities with this bike, but I think my girlfriend would have killed me."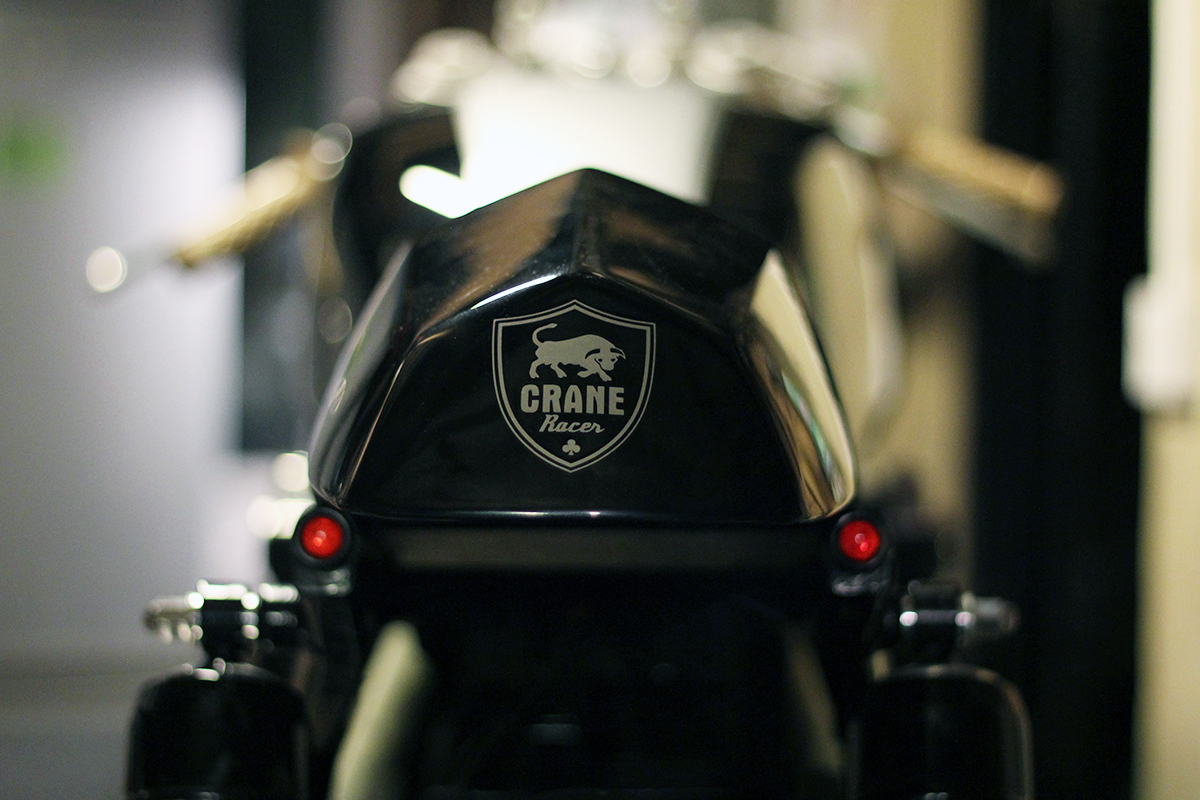 "My good friend Charlie Thomas was instrumental in helping with various bits of the build including the arduous task of scrubbing 36 years of grime off the engine! I carried out all of the mechanical and fabrication aspects of the build myself. Over the duration of the project I learnt to weld, work with fibreglass, rebuild carburettors and much, much more. The only jobs I outsourced were ones I couldn't do myself such as the frame and swing arm powder coating, done by a local firm Colour Coatings. The final prep and paint on the tank and seat unit was done by a member of the family, Sean Copper, who worked magic with the beaten up old tank."
With the CB750 finished Tom hopes his next project will be a customer build. With a freshly stocked workshop of tools and plenty of enthusiasm were keen to see what he'll have rolling out of his 'Shank Shed' workshop next.