In recent years we've seen a spate of new motorcycles inspired by classic bikes. Models like the Kawasaki Z900RS and the Triumph Thruxton R were released with convincing backstories explaining why they were made and what influenced their creation. It's a clever marketing tactic used to coax us into believing these bikes are more credible than those being released by their competitors. This tactic isn't anything new though. It's been happening for decades and has actually resulted in the release of a few motorcycles that themselves are becoming classics. In Japan during the late '80s, Honda was testing how the Japanese market responded to these tactics by developing a bike called the GB400 TT or Tourist Trophy.
At the time of its release, the GB400 TT was about as close to a factory-built cafe racer as you could get. Honda found inspiration for the bike in iconic British motorcycles that took part at the Isle of Man TT, such as the BSA Gold Star and Norton Manx. The GB400 TT channelled those motorcycles in both it's engine configuration and design. Powered by a revised version of their XL600 air-cooled single the TT offered modest performance, but where it really excelled was in its styling. The GB400 TT featured a tubular frame, spoked alloy rims, clip-on styled handlebars and a humped single seat. Its fuel tank had knee dents like those on the TT race bikes and it sported a classic pinstriped paint scheme.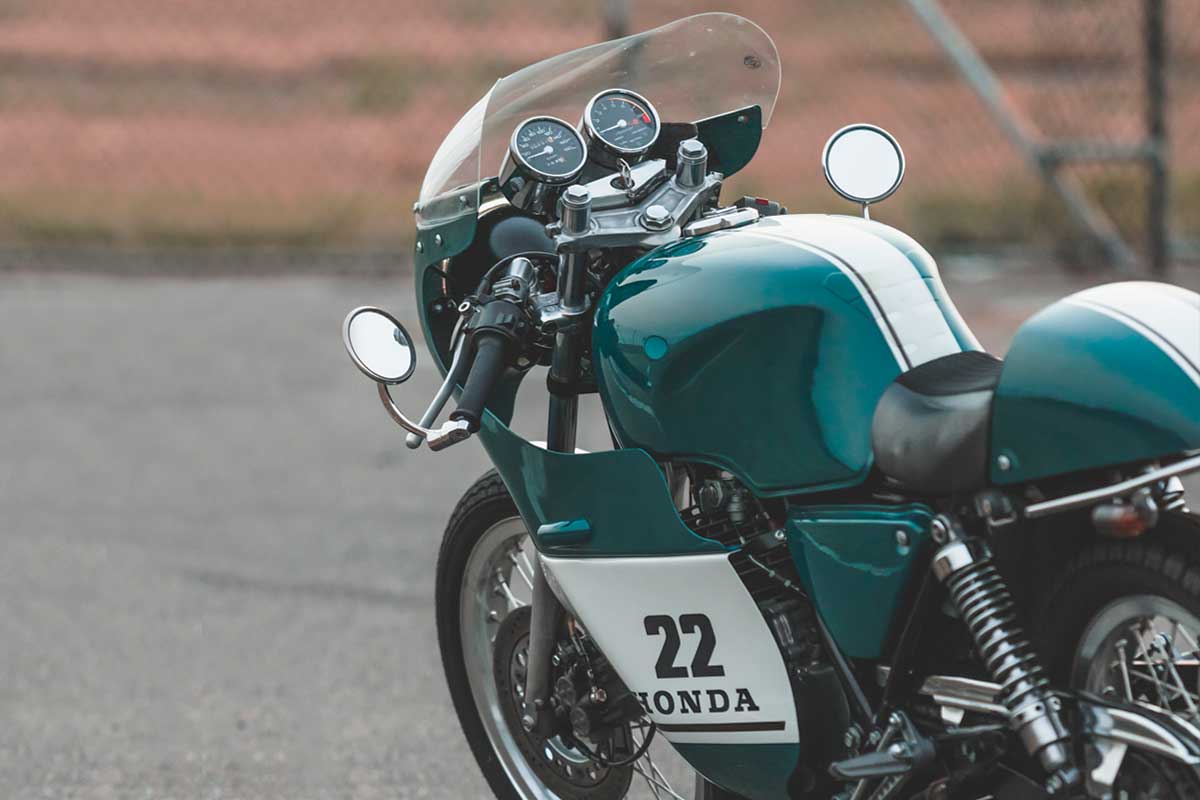 Today the Honda GB400 TT is well on its way to becoming a classic with pristine examples fetching decent money. The Honda also offers a good starting point for a cafe racer project, if you can bring yourself to modify one. For Sydney based backyard builder Sam Troy the decision to modify his GB was an easy one. Here's the story of how Sam transformed his neglected classic into a highly desirable custom…
"I've been keen on motorcycles ever since I was a kid. My Dad had bikes but I didn't get my licence until much later. I loved the pictures of the old Isle of Man TT racers and they stuck with me. I was keen on a Honda CB400/4 (I still am) because of a picture of my Dad on one in the '70s. He often talks about how much he loved it, which I am sure has fuelled my obsession. When I went hunting for a Honda CB400/4, I found out pretty quick that they were going for the kind of money I didn't have. When I discovered the GB400 TT, my good mate, Lach mentioned how he liked the classic styling. I gave it a bit more thought and decided that it probably had the right bones for the project I had in mind. I hunted the internet and found this bike very cheap.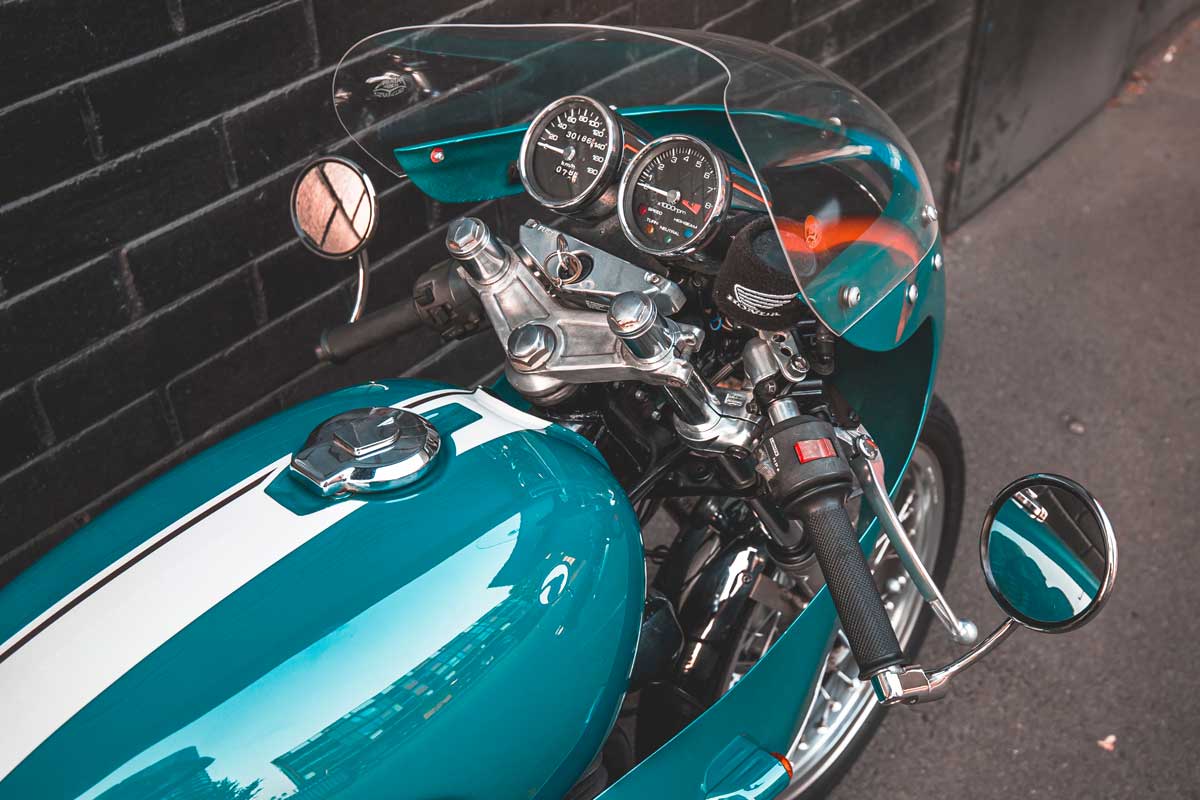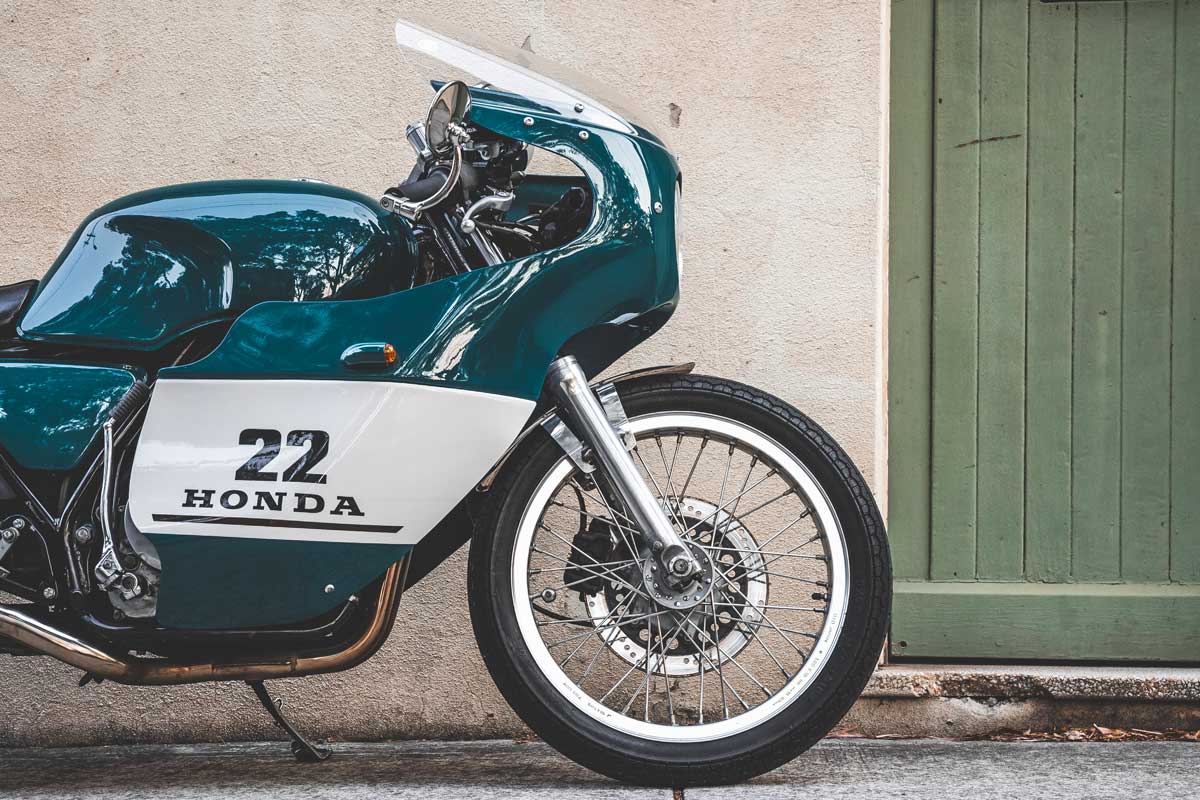 I've now owned my GB400 TT for about 3 years. It was in a pretty bad way when it came to me. It had been left out in the weather and had been dropped a couple of times with all the scuffs, dents and scratches to prove it. To add to that, there had been some questionable attempts at modifying the wiring.
Being the only motorcycle I owned, as well as being my first bike, I tried to reduce the amount of time it was off the road by working on sections at a time. I started by getting it to run better and then sorting out the electrical system. It was nice to finally have working lights in the gauges!
Once I had the basics under control, I commissioned Trev at Surfside Motorcycle Garage to perform a top-end recondition and to sort a few other mechanical gremlins. There was really no way I was going to take on those tasks with my limited experience. I also moved house 3 times during the build. I went from working out of a parking space in the underground car park to tinkering out in a garden shed. I chose my battles wisely, handing the Honda over to professionals when I deemed it best.
I fitted a new exhaust and later had Trev adjust it and fabricate brackets to properly mount it. Trev also relaced the rusted spokes on the wheels with fresh stainless ones. I then rode it around as it was. Still a bit rough around the edges, but running great.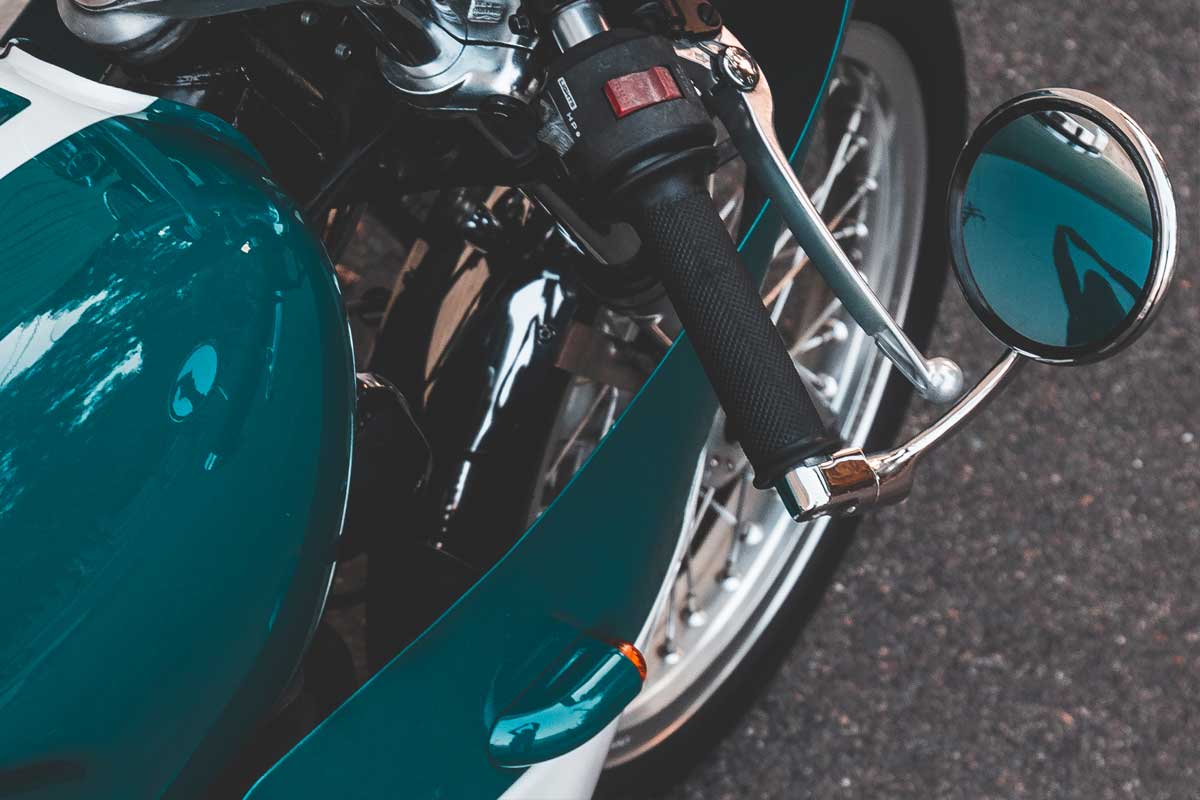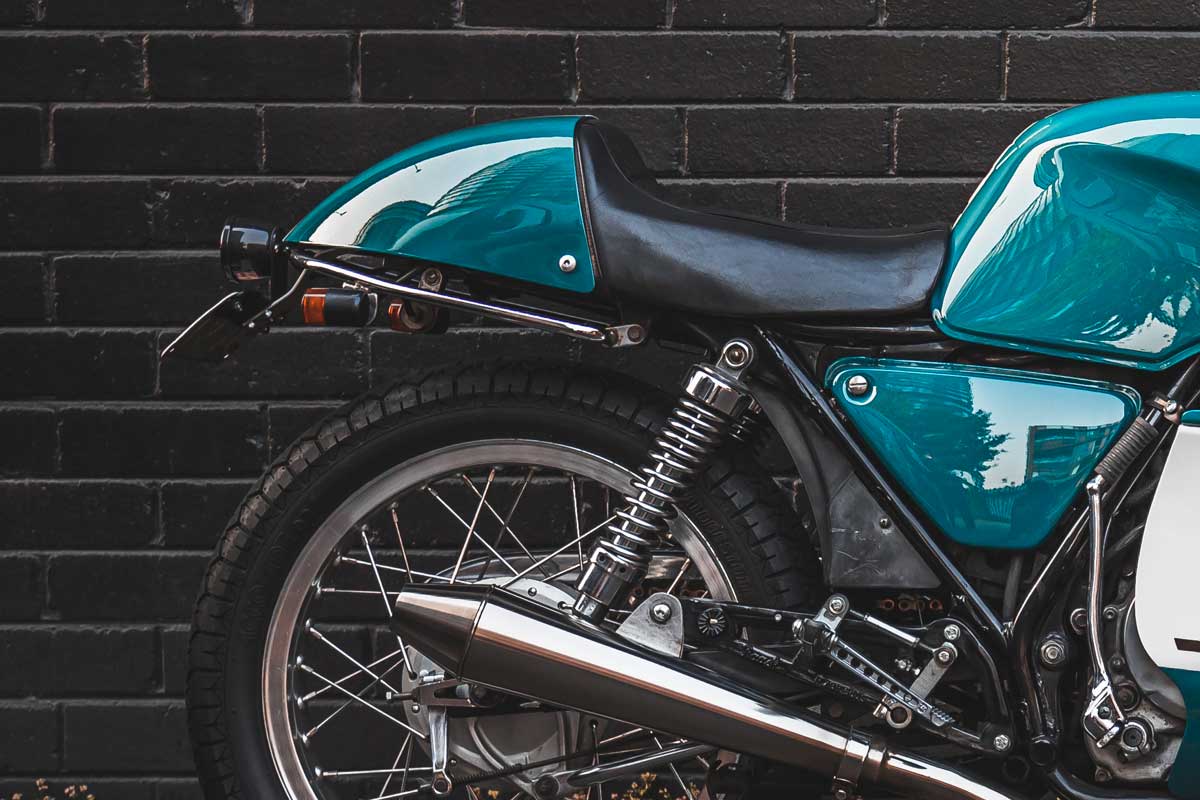 Eventually, I got to work fitting the fairing. It took several months of my spare time to get it right. This was the most challenging aspect of the build. Not only just mounting it on the bike, but making sure that the way it was positioned complemented the lines of the GB400 TT.  There was also the challenge of making it practical. I invested a lot of effort to ensure it didn't foul the handlebars, levers, front wheel, brake lines or electronics. I lost track of how many times I mocked the fairing up on the bike and took it off again. I then had the brackets made up to fit it with the help of a couple of mates. Once everything was working together I took it on a few test rides then pulled it all apart again and delivered it to Sam at Colourfuel to bring my paint scheme idea it to life.
The GB isn't a particularly powerful motorcycle but it is a lot of fun. Installing rear sets and lower bars make transformed the riding experience for the better. The exhaust system lets the bike breathe much easier and it's now more responsive and accelerates smoother. I don't know that the fairing is helping me bring down lap times but I think the style points are definitely worthwhile!"
Shop This Look
| | | |
| --- | --- | --- |
| Image | Product | Buy Now |
| | Cafe racer mufflers | |
| | Retro taillights | |
| | Aftermarket indicators | |
| | Bar end mirrors | |
| | Clip on handlebars | |
For those wondering what parts Sam utilised for this project, the list includes an Airtech Streamlining AJM7 front fairing with a Gustafsson windscreen. The bar end mirrors are by Halcyon and the clip ons are by Tommaselli. The exhaust system utilises a set of XBR500 Blackwidow header pipes and a pair of Cone Engineering reverse megaphone mufflers. The riding position was perfected with the addition of Raask rear sets and a repurposed GB500 seat. A small fender from Mostyn sits over the front wheel, a Suzuki master cylinder and lever replace the stock Honda gear and the vintage tail light was manufactured by Posh in Japan.
Honda's GB400 TT had timeless styling straight out of the factory. Sam's work on this bike has taken its classic appeal to a whole nother level. This is thanks to his steadfast determination, carefully curated modifications and a heap of hard work. Sam would like to thank Steve, Paul, Rob, Manfred and Doug for their support and advice, Trev at Surfside Motorcycle Garage and Jason and the team at Gasoline Motor Co.
Photography by Hamilton Media