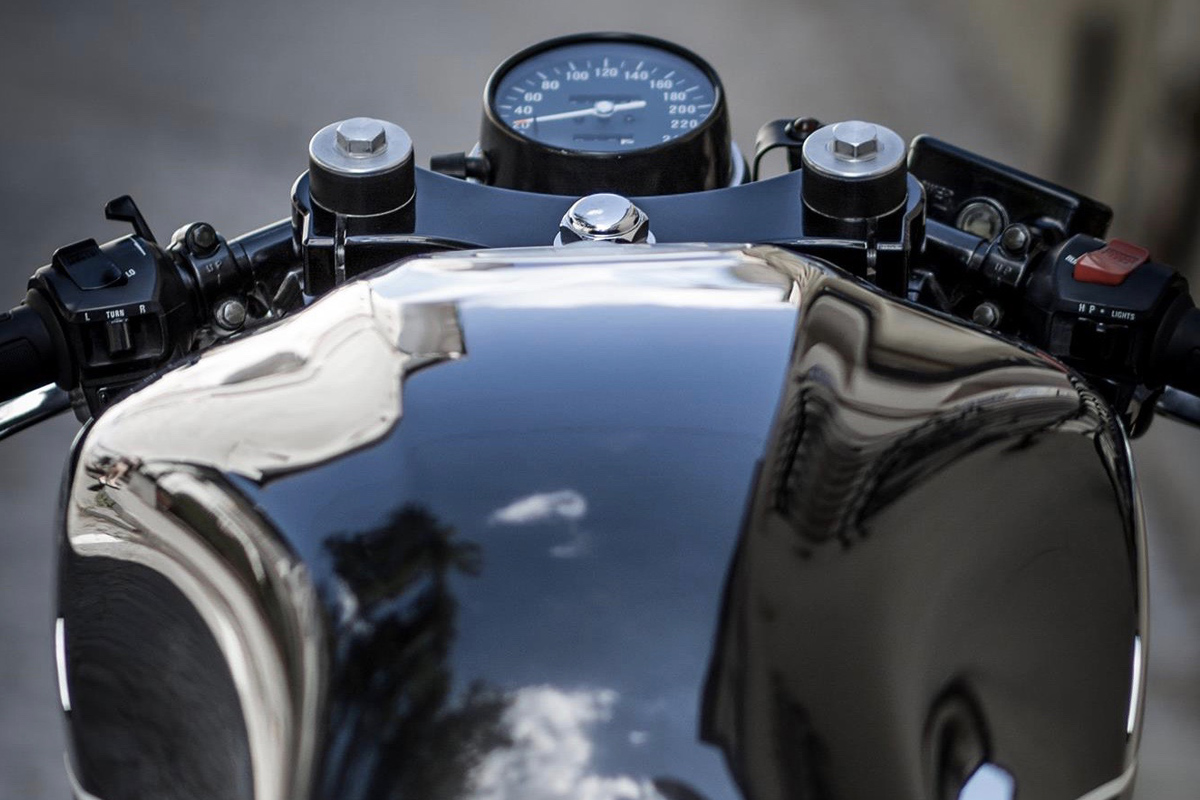 At first glance you may not think that the Wabi Sabi philosophy has been applied to this slick Honda CB750 cafe racer, Marcin begs to differ. "I personally love and draw inspirations from Wabi Sabi. We make sure that all of our projects are beautifully proportioned and well balanced while retaining elements of imperfection." Marcin believes that in striving for perfection builders risk stripping away the essential functional aspects of a motorcycle. Without function, the motorcycle loses its purpose and the owner the pleasure they can get from it.
The Rollin Bikes CB750 project represents the first motorcycle Marcin and his 2 colleagues constructed in their hometown of Golice in SE Poland. With a background in architecture, Marcin utilized his creative skills to redesign the Honda's stance while his colleagues focused on the mechanical and fabrication aspects of the build.
"I have always felt nostalgia towards the Honda brand." says Marcin "I had a lot of CBRs in the past and wanted the donor to be solid. I also wanted to ride it a lot so it couldn't be too old."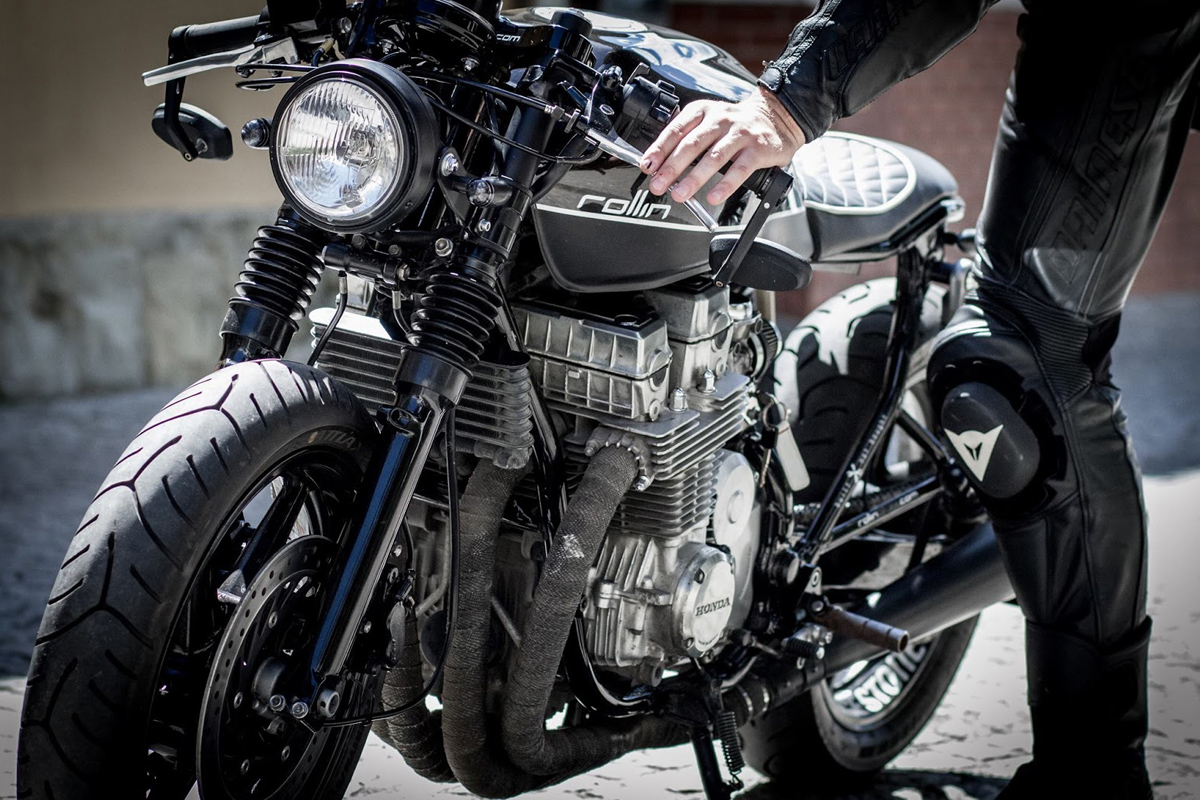 Marcin began the build by sketching up concepts that focused on revising the bike's proportions to create a more muscular stance. Using his knowledge of design he applied the golden ratio to the Honda, moving the bulk of the bikes visual mass forward and making the rear appear leaner and longer. Satisfied with his concept they began the project by reshaping the subframe and building a new seat-pan that would still allow for a rear passenger.
The bulky stock tank of the CB and its huge inline four engine already created plenty of mass up front, however, the stock headlight and controls threw things out of balance. In nature, the bull, an animal we associate with strength and aggression, has a hunched, forward-leaning stance which Marcin captured in his design. To achieve this he dropped the front suspension by 2 inches, sourced a smaller headlamp and positioned it low on the fork legs along with a set of clip-on handlebars. Underslung bar end mirrors help to further enhance the effect.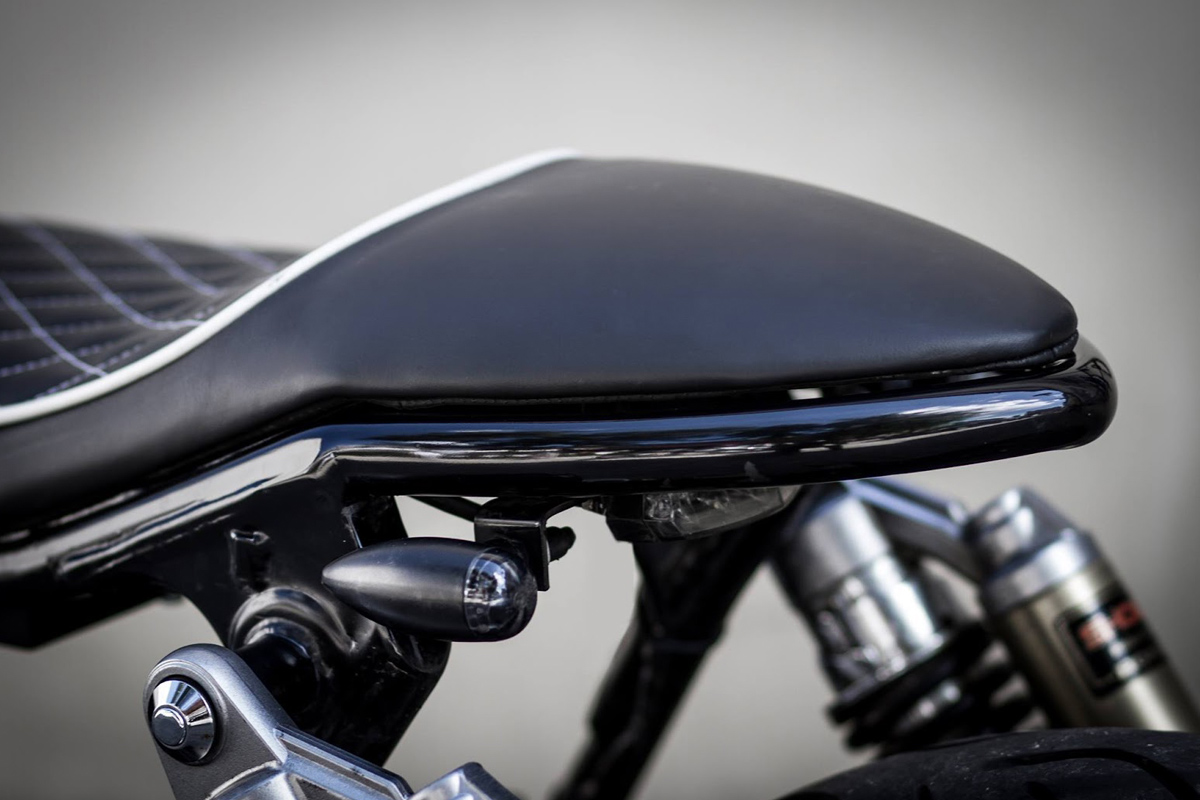 For the paintwork, he went for a classic gloss and satin black scheme using a single white pin line to seamlessly tie the tank and tail end together. The headers were wrapped to add visual weight and a pair of classic megaphone mufflers fit to them. The stock indicators were replaced with tiny LED bullets and the wheels powder coated black with bold Bridgestone branding for a touch a race track styling.
As for the Wabi Sabi side of his Honda CB750, you need to look closer. Marcin handmade the seat and since he is no upholsterer it isn't perfect, but he didn't want it to be. The rear set footpegs were left raw allowing surface rust to develop and the header wrap is already starting to show signs of wear which Marcin embraces. "Our bikes are ridden they should look good as they age," he says and we couldn't agree more.
The Japanese aesthetic philosophy of Wabi Sabi can be loosely translated as the acceptance of imperfection and transience. Applying this philosophy to a custom motorcycle build is a difficult concept for anyone who lives in a western culture where we constantly strive for perfection. But for Marcin Janusz of Poland's Rollin Bikes Wabi Sabi is something he and his team strive to embrace with each bike they build.