"I have a habit of going cheap at the start of a project and then blowing it out of proportion."
Those are the words of West Australian based builder Ben Weekes, but they could easily belong to any custom motorcycle enthusiast undertaking a build of their own. Once a project is underway it's hard to resist stepping things up a notch with each new task. In Ben's case, what started out as a cheap $600 purchase quickly got out of hand…but in a very good way.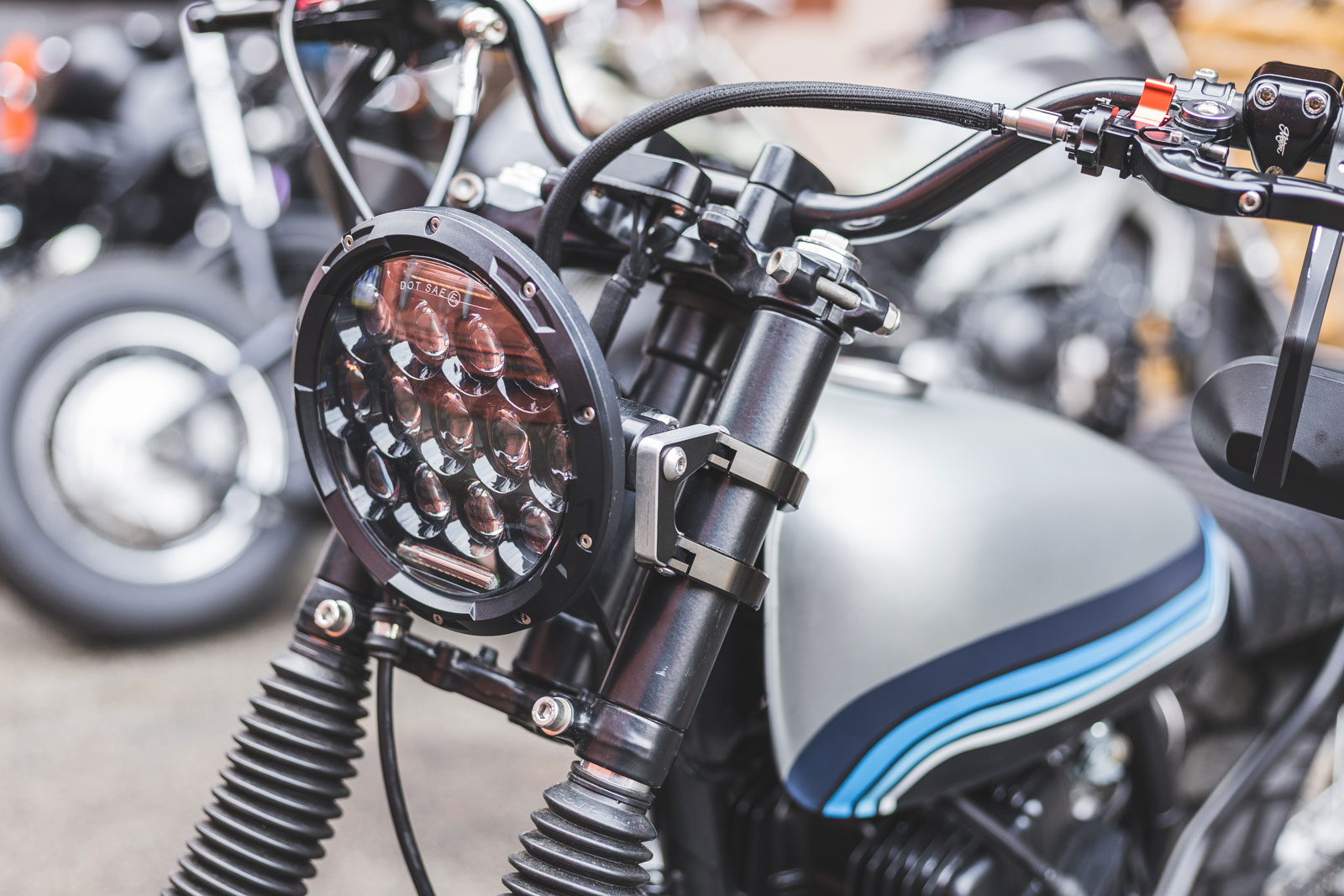 "It was supposed to be a project to tinker away on in the shed," says Ben. "Due to my move to an office job from a trade I missed being on the tools and working with my hands."
Ben's project kicked off with an impulse purchase online that secured him a registered and running Honda CB250 Nighthawk. Why only a 250? Because despite having a full motorcycle license Ben hadn't ridden in years. Feeling a little green around the gills he figured the 250 twin was a suitable steed for easing back into it.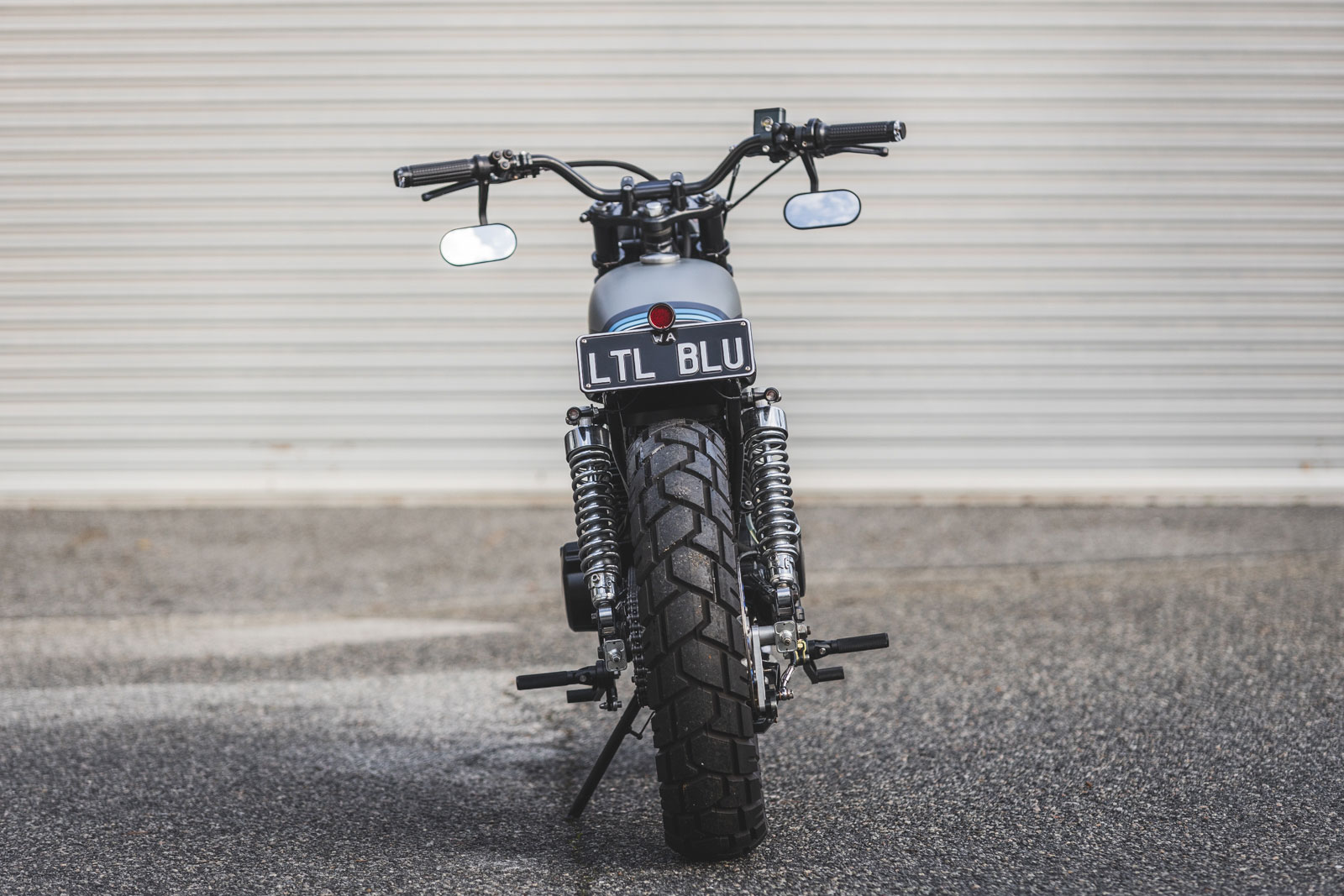 After countless hours of drooling over custom bikes on websites like this one, Ben was all set to build a ground-up custom built CB250 that didn't pull any stops. However, seeing as he hadn't undertaken such a project before he kicked things off with what he knew he could do himself – a slick new paint scheme.
When it was done the bike already looked infinitely better. To complete the look Ben painted his helmet to match then dedicated some time to enjoying his new ride and getting familiar with being in the saddle again. But it wasn't long before his desire to create something really special got the better of him.
One night, egged on by a good friend and some liquid confidence, Ben stripped the bike down completely. "I'm still not sure where all the parts went!" he confesses. However, despite that small oversight, he stuck to his plan and began completing the tasks he could himself. Then when he reached the limit of his ability, he decided to call in the big guns.
"I ended up taking the bike to Rogue Motorcycles in Perth for a few simple mods," he says. But when the engine of the bike needed to be rebuilt a 'few simple mods' turned into a complete overhaul.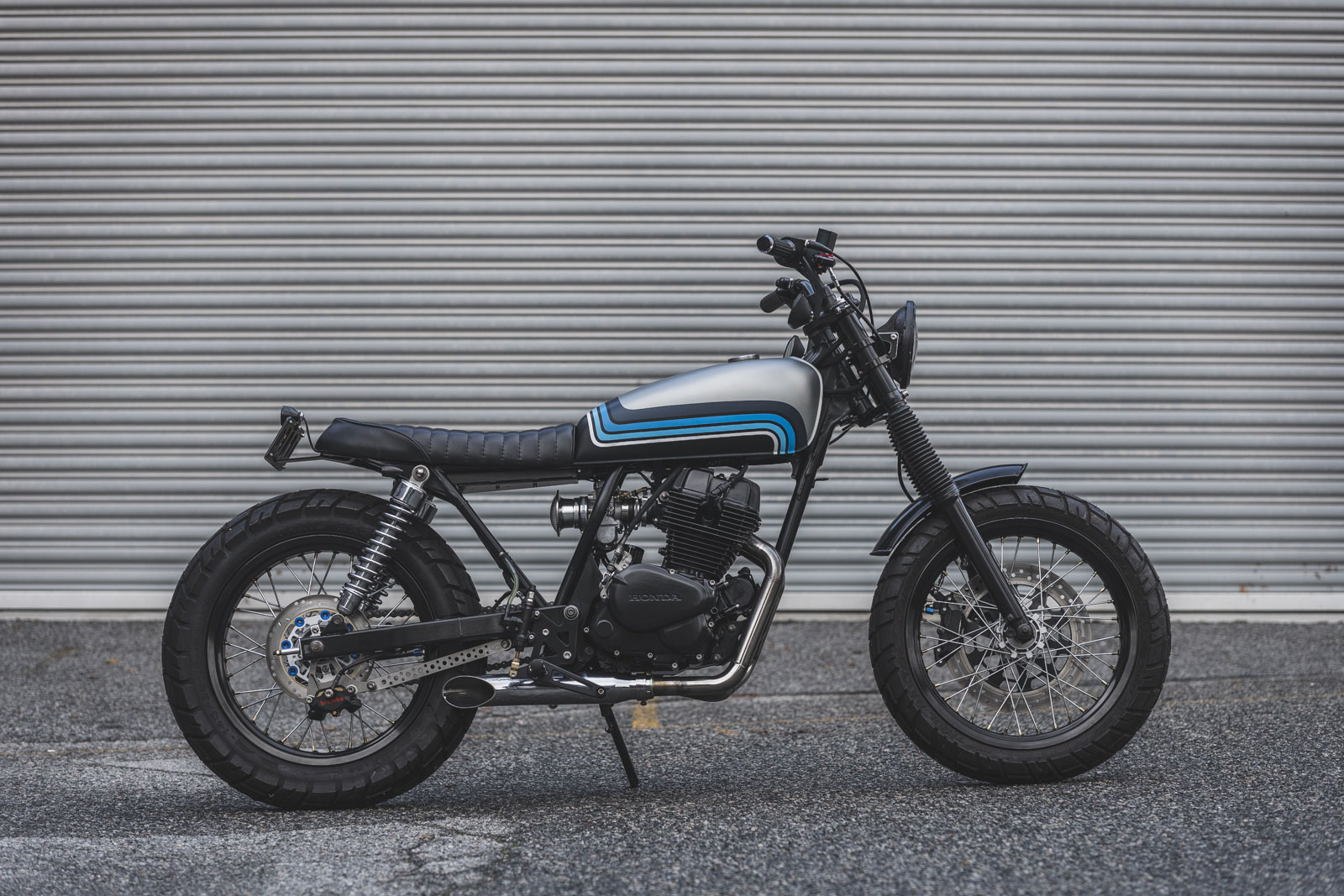 "Ben brought his Honda CB250 Nighthawk into the workshop in parts with the forks hanging out the back of his Wrangler," recalls Rogue frontman Billy Marijn Kuijken. "We fitted the new fuel tank and looped the frame to take his aftermarket seat. We then powder-coated the frame and swingarm and painted the forks."
On top of the fabrication and restoration work done by Rogue – Ben had his eye on a few other aftermarket tweaks. So while they were at it Rogue installed them too.
Starting with the front end Rogue installed rubber gaiters and upper fork sleeves to beef things up a bit. A set of Motone switches running internal wires were added to keep the bars nice and clean. A modern LED headlight replaces the original unit and it's held in place by a set of contrast cut brackets. The bar end indicators and grips come from
the Motogadget catalogue
as does the Motoscope mini gauge that's perched neatly atop the triple clamp. In the rear Rogue added a Purpose Built Moto Orbit taillight on a simple license plate bracket.
With those changes completed Billy handed the bike back to Ben for completion, but was never quite happy with the look of the skinny stock wheels.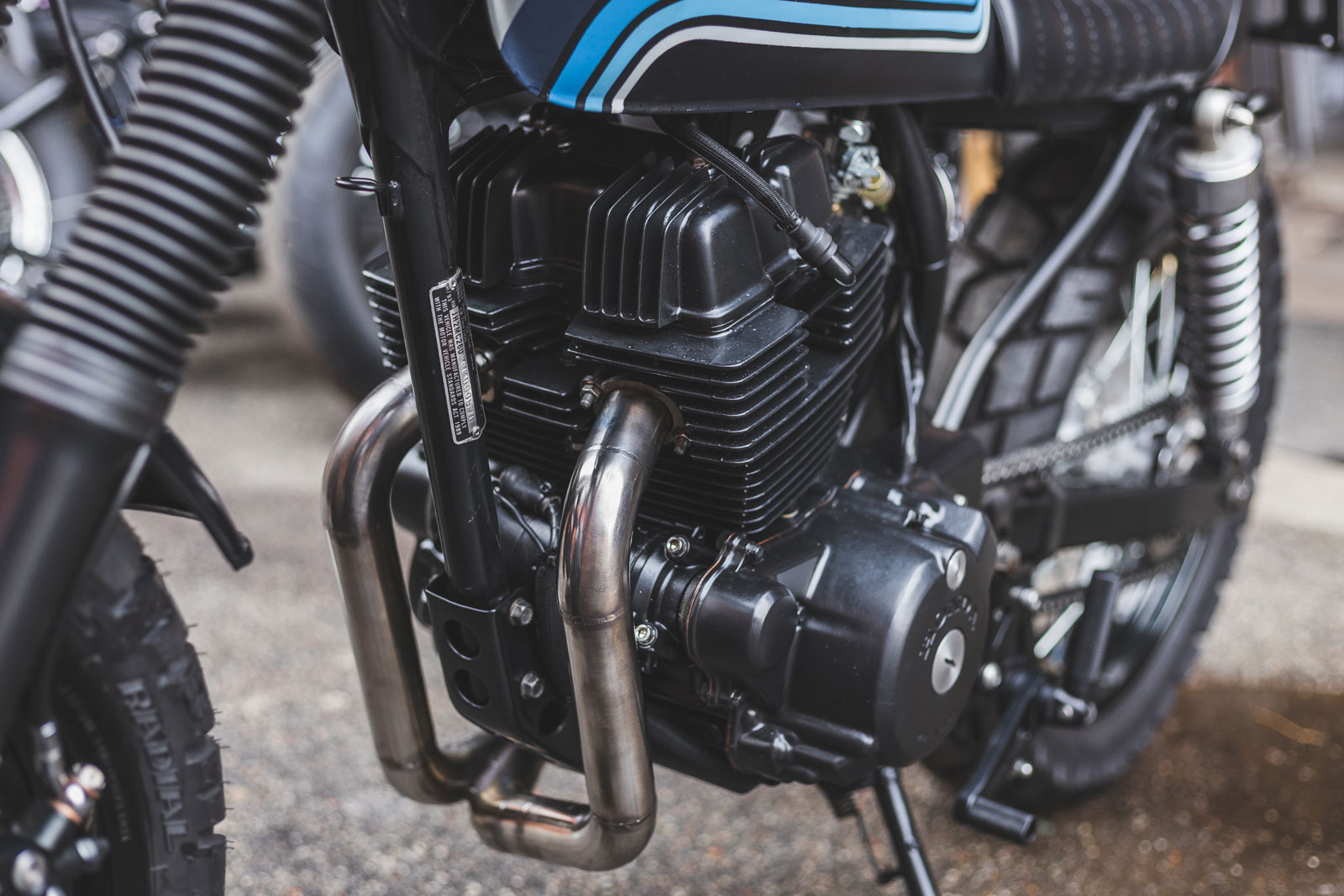 While the bike was at Rogue Ben had dedicated his time to sort out the engine issues. After having it completely rebuilt he cleaned it up with a coat of 2-pack black. To free things up a bit he then fit a set of custom pipes and a velocity stack. With everything back in the frame he then invested "a bunch of time" wiring everything up to a Motogadget M-unit Blue.
At this point, it had been about a year since the build began and out of the blue, Ben received a call from Billy.
"I gave him a ring to ask if he wanted bigger wheels," Billy explains. "I bought a lot of 17-inch motard wheels and was looking for a popular bike I could fit them to." Ben's CB250 Nighthawk seemed like the perfect test bed so Billy invited him back to Rogue to perform the install.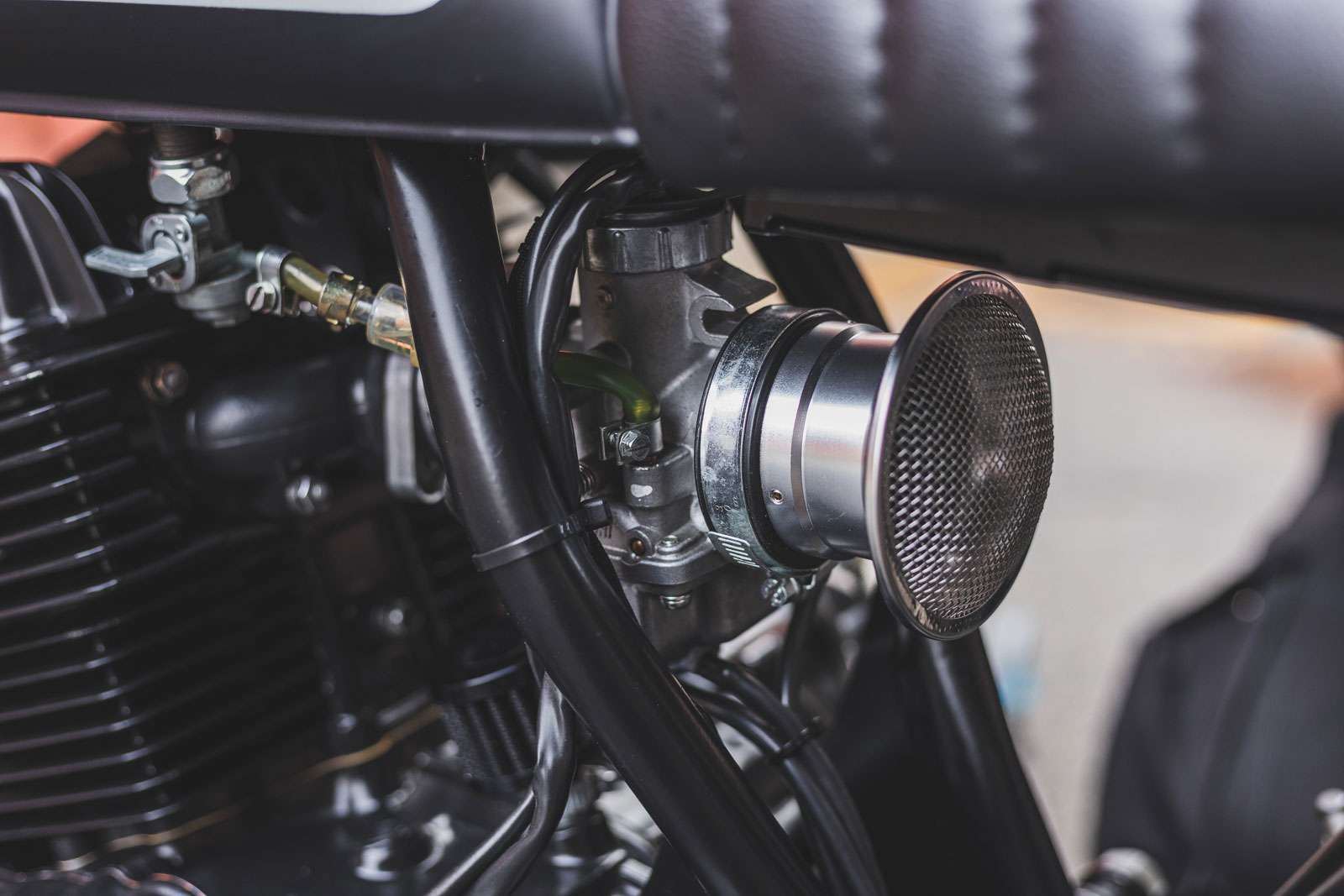 To fit the wheels Rogue first shortened the swingarm by a couple of inches. This relatively easy mod on the CB250 helped with both steering dynamics and the overall finished look of the bike. They then installed the wheels using a
specially designed Rogue Motorcycles kit
which Billy developed. The kit includes everything required for the install including the 17-inch alloy spoked wheels, an oversize front disc and matching rear disc, 2 brake callipers, the brake lines, TEC rear sets and all the necessary bolts, spacers and brackets. Ben then picked out a set of Shinko 705 110F/140R wheels to complete the look.
Since this was a complete overhaul Ben then enlisted the help of Ryan from Custom Mods to paint the fuel tank. "I think we have replaced 75% of the bike. The wheels completed look of the bike and she's a beauty," he gushes – and rightly so. Given the chance, I think anyone would jump at the chance to give Little Blue a quick squirt around the block…but they'll have to join the cue behind us first!
Photography by Regular Moto