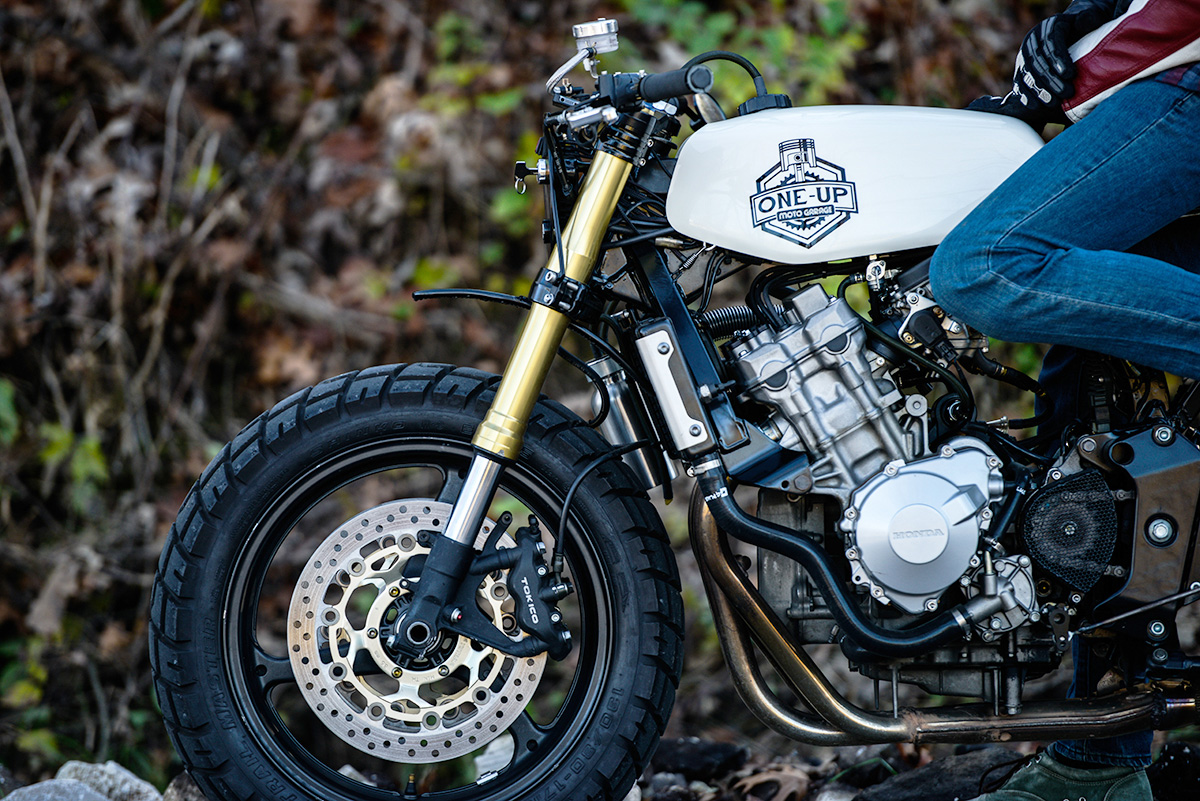 "The One-Up Moto Garage name is relatively new to the game" says workshop founder Taylor Henschell. "I've been working under this name for only 2 years, though I've been passionately building bikes for a lot longer than that. When I was 14 my father started a small scooter shop and I was his wrench monkey for a few years. It sparked my passion for repairing small engines and I was soon customising and upgrading my own motorcycles. I put myself through college doing service work and small custom jobs for people. Some friends at the time were into customizing old Honda CB350's and they influenced me greatly, fostering my love for vintage styling. However, the appeal of modern speed, reliability and handling was tenacious."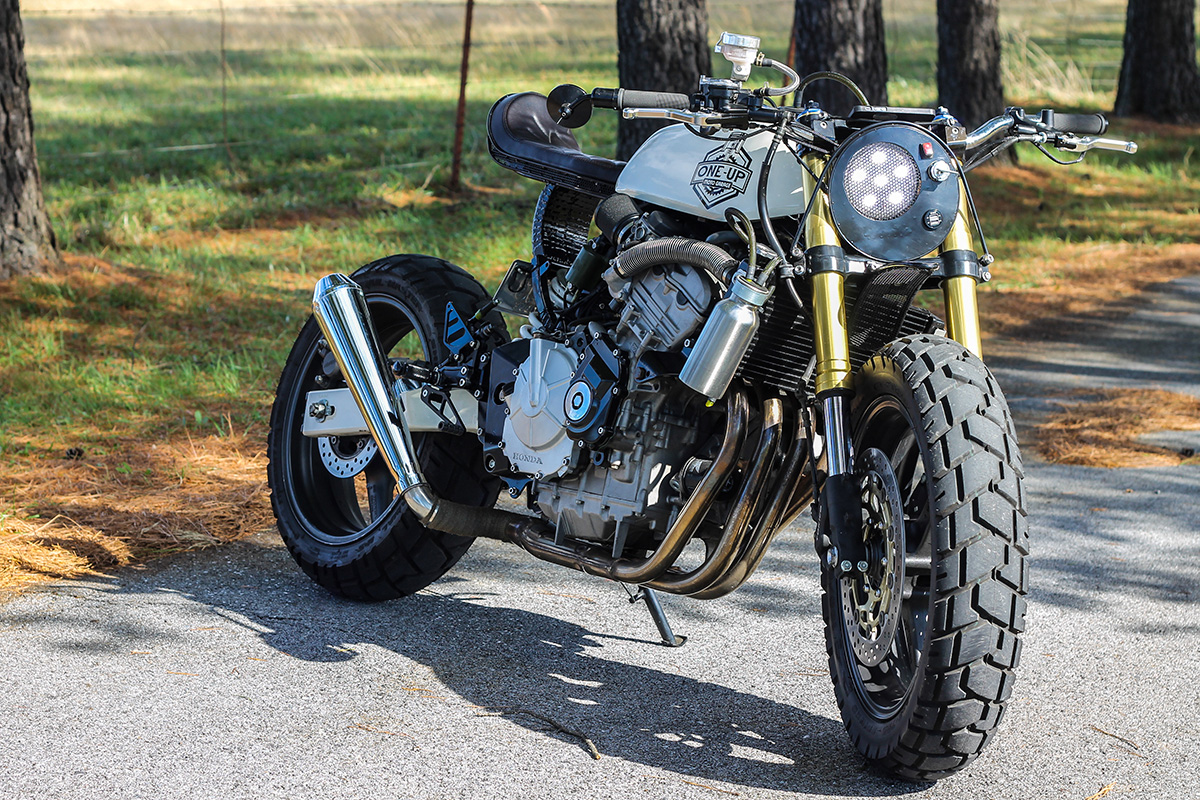 To sum it up in his own words Taylor says his motorcycles posses "All the perks of the new with the class and appeal of the old". It's a style he has coined 'neo-vintage' and one that he's been working towards over the last 8 years. "My first neo-vintage build was a 2006 Kawasaki Ninja 250 and it blazed a new path for the shop. My 2006 CB600f and Micah's 1992 Ninja 600 were the logical next steps." The process isn't as simple as selecting any bike from the chosen era though. It takes a particular frame design to make the grade. "There are a select few modern bikes that make ideal candidates for a neo-vintage piece. Most street/sport and dirt bikes by the 2000's utilized parameter frames made of aluminum. These frames don't lend themselves to the image I try to realize with my work. Bikes like the CB599 Hornet, the Ninja 250, early-mid 90's Ninja 600, and a few other bikes (you'll see when we finish them!) still utilize the simple steel back-bone frame that can hold a vintage gas tank…with some modification of course."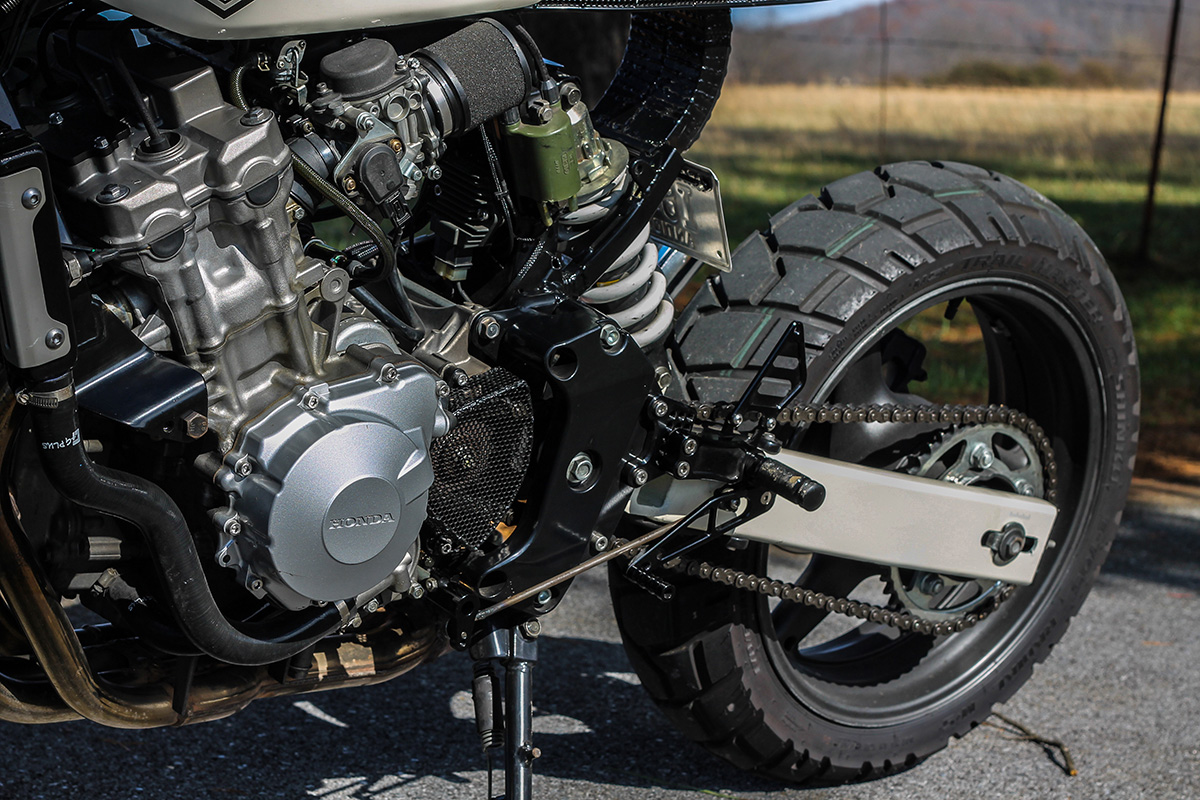 "The CB600 was a one owner bike that had been lightly damaged and stored for years, until I got hold of it and made it what it is today." Taylor's design process is what he describes as fluid. After tearing a bike down to its bare essentials (frame, engine, wheels) he looks to his extensive collection of vintage gas tanks for a match. "I usually test fit several before deciding which one fits the lines of engine and frame. At that point, I will have already developed an idea of what I want to do with the front and rear end and the seat." The front end solution for this bike was found in the form of a set of Honda CBR600RR forks and clamps, which were mounted by machining and welded an extension onto the CBR's shorter stem. The tank that was chosen is a Honda Enduro unit that was the perfect length and had the shape they were after. Getting it to sit right on the frame involved some widening of the tunnel, moving the C mounts to the rear and using a pair of exhaust mount springs on custom hooks to anchor the front down.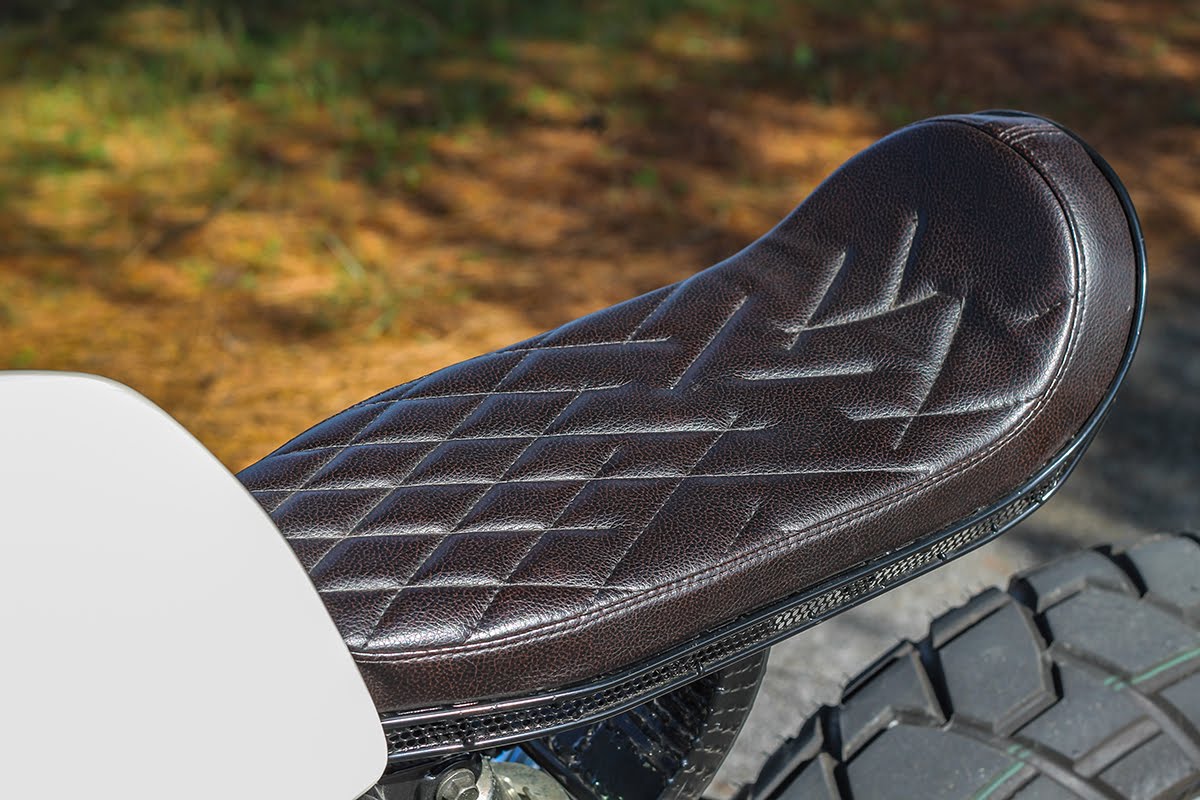 To form the subframe square tubing from a local scrapyard was cut into pieces and welded together to create the curved subframe that sits below the seat. The Sintra plastic and closed neoprene seat pan was shaped and cut as required and is held in place using threaded inserts that screw on to the frame. Taylor then upholstered the seat himself using patterns of his own design. "On the CB600 I used some dark chocolate vinyl and stitched a diamond pattern that breaks down from front to rear. The idea was inspired by M.C. Escher."
Every build has its challenges and for Taylor's CB600 it was the front face plate that really tested him. "I admittedly have some perfectionist tendencies so I'll get hung up on symmetry (or purposeful asymmetry, as the case may be). I made the plate without a specific idea of what I wanted it to look like, but after 3 prototypes I knew what I didn't want! I cut a round piece of sheet metal and made a hole for the 5″ LED headlight, another for the ignition, a slot for the fuel pump switch and a 3rd hole for the USB charger used to keep your phone/speedometer happy. Once I had it right I finished it off with perforated metal on steel dowels, which I also used to form the battery box under the frame, the small front fender (or the beak, as we call it) and the accents lining the sub-frame."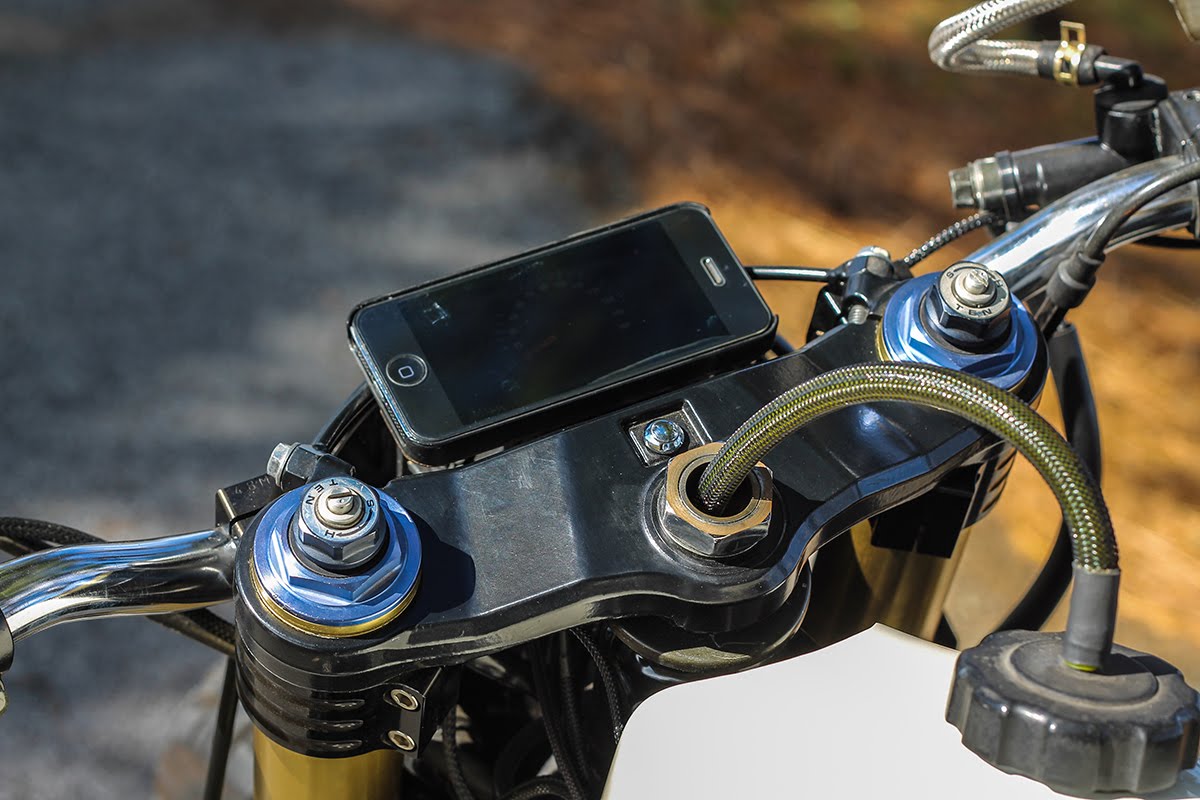 With everything sitting how he wanted Taylor tore the bike down again for painting. The frame and a few other parts went off for powder coating while he painted the tank and swingarm himself. With everything back together he then rewired the bike, concealing the loom inside a braided sheath. The CB uses low-draw LEDs for all of its instrumentation, headlight and tail lights along with a One Up signature feature, the cell phone dash, which is used in place of a speedometer thanks to some clever, readily available apps.
As with all of his builds the CB received the customary replacement of serviceable components. A new chain, sprocket, radiator, hoses, nuts, bolts, and tires (Shinko Trail Masters "because they're an aggressive street-heavy enduro tire that has a good reputation and looks MEAN") were all added along with new rearsets and hand controls. For the bars, Taylor cut up a set of euro bend, low rise bars which he mounted to clip on style clamps and used the thumb throttle from a Honda four-wheeler rather than a standard twist throttle. "I did it for better throttle control under various riding conditions… and because it's different."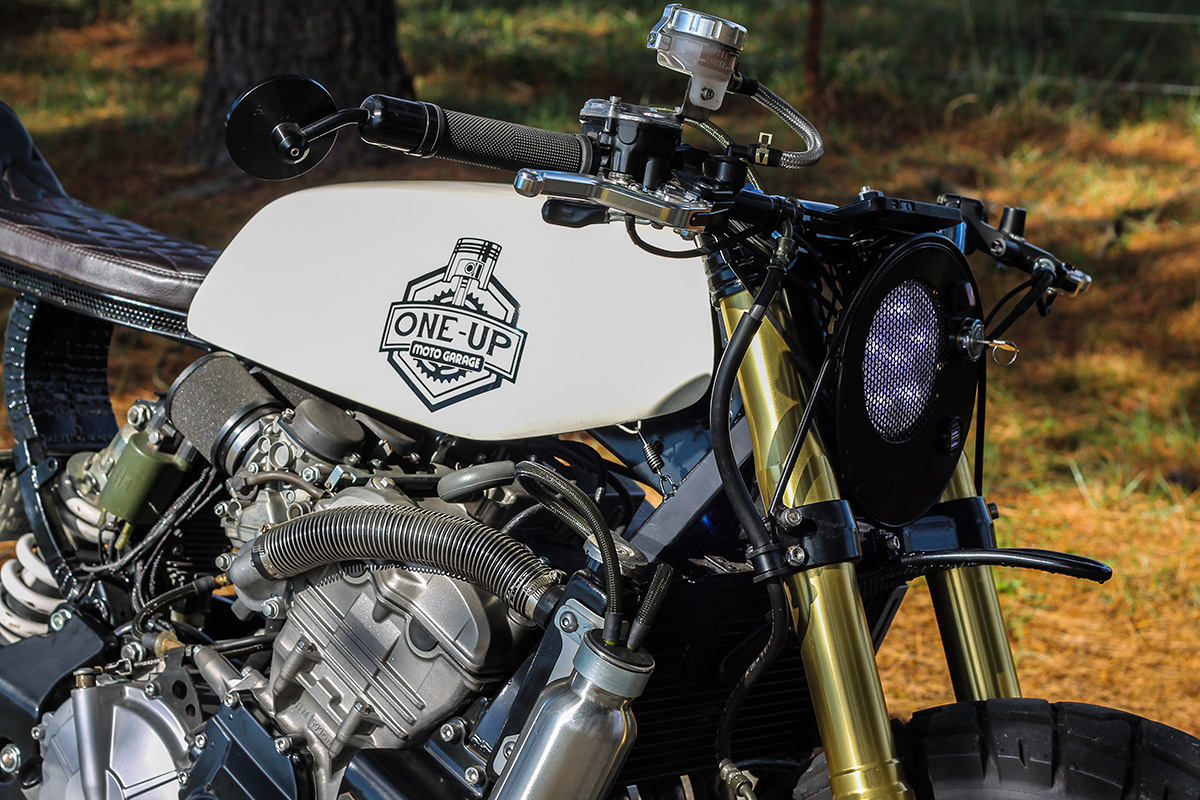 Once the bike was up and running it was time to tune. "I have a huge collection of jets, and with the CB600 I probably swapped them near 20 times before settling on a smooth/optimum tune to suit the UNI pod filters and reverse megaphone exhaust. With its light throttle response, golden brown plugs, and hard pull till redline, the only thing that was left to do was go riding!"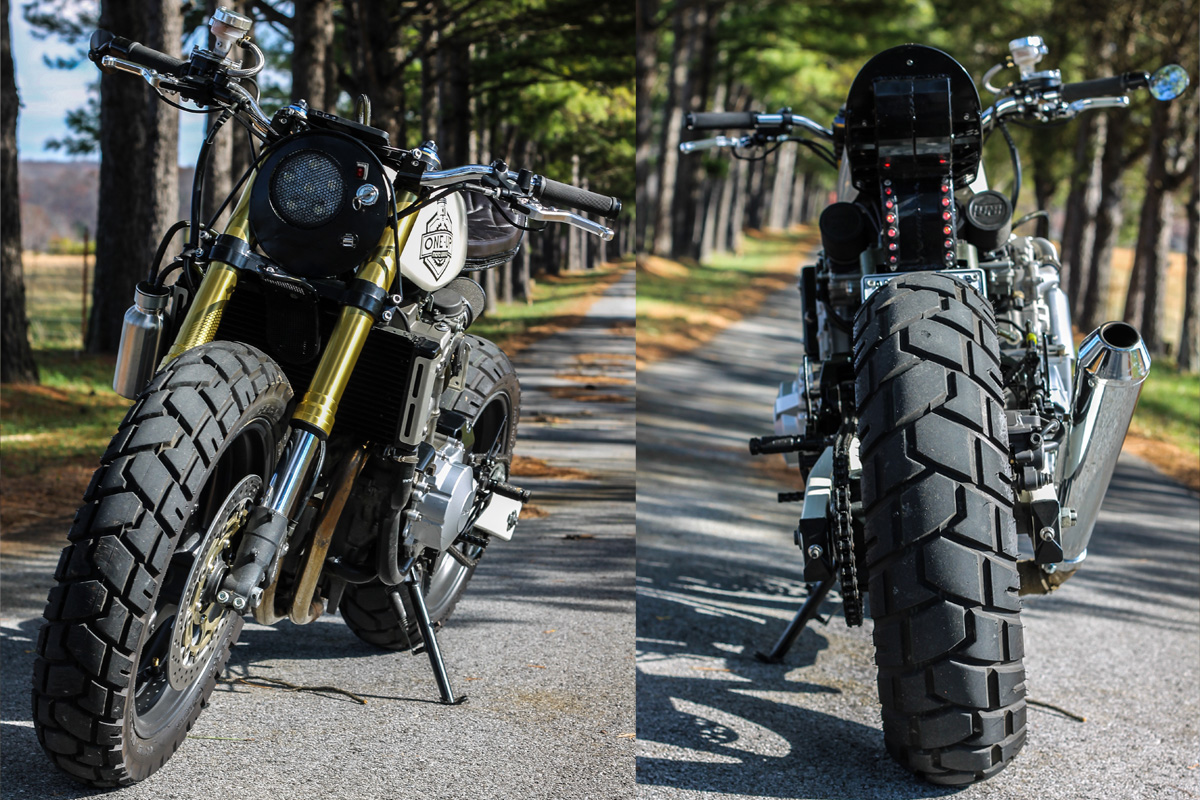 When I talk to builders about their custom creations I always like to know what it is they're most proud of. "My favorite thing about this build is that it embodies our own vision of what a custom motorcycle should be," says Taylor. "It handles, stops and goes just like the race bikes I love and it looks and feels similar to the vintage racers my father enjoyed, all while having the lines and styling that is indicative of a One-Up build."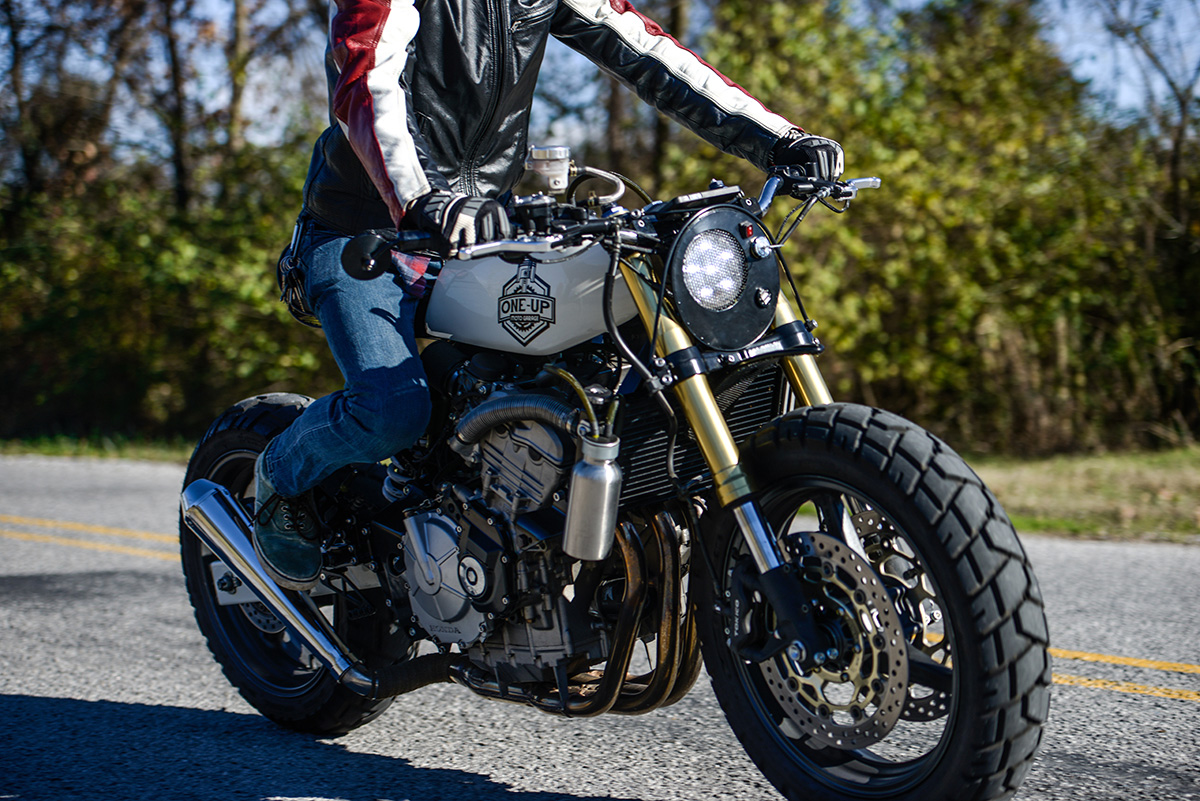 Neo-vintage is the unusual term Taylor Henschell of One Up Moto Garage uses to refer to their custom creations. Along with fellow One Up builder Micah Welsh, the pair hand pick motorcycles from the late 90s through to the mid-2000s and apply their unique custom style to them. Browsing their portfolio reveals the likes of a 250cc Kawasaki Ninja and a Honda CB600F that have been transformed into retro styled customs. This bike is the latest custom to roll out of their shop, a Honda CB600 which mixes elements of Scrambler and Cafe Racer styling. We caught up with Taylor to talk about this bike, the One Up workshop and how his Neo-vintage style has evolved.