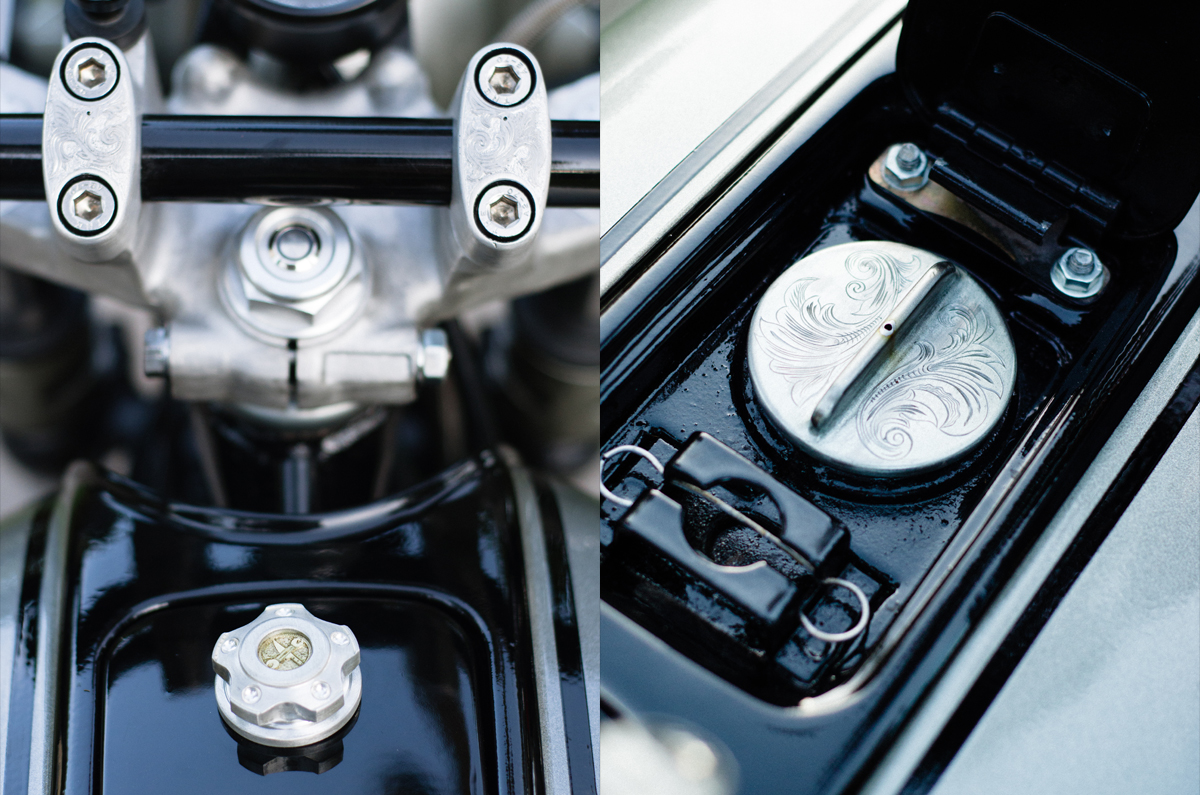 "In the fall of 2012 my good friend Brandon built a CB360. I saw the bike come together and I was in love with it. I had never known the feeling before and I was too curious for my own good. My boredom and desire to seek new adventures fuelled my new passion to create something with my hands and experience the open road on two wheels. I did some preliminary research and settled on buying a 1971 CB750 in non-running condition. I picked up the bike from a buddy in North Carolina for a really good price, running with a title. It looked decrepit. Someone had previously tried to make a cafe racer out of it, but failed pretty miserably and had left it outside for a few years. It was my first motorcycle. I did not own a shop or a toolbox, let alone a single tool. I was truly starting from the ground up. I bought screwdrivers, wrenches and loads of anti cease and carb cleaner."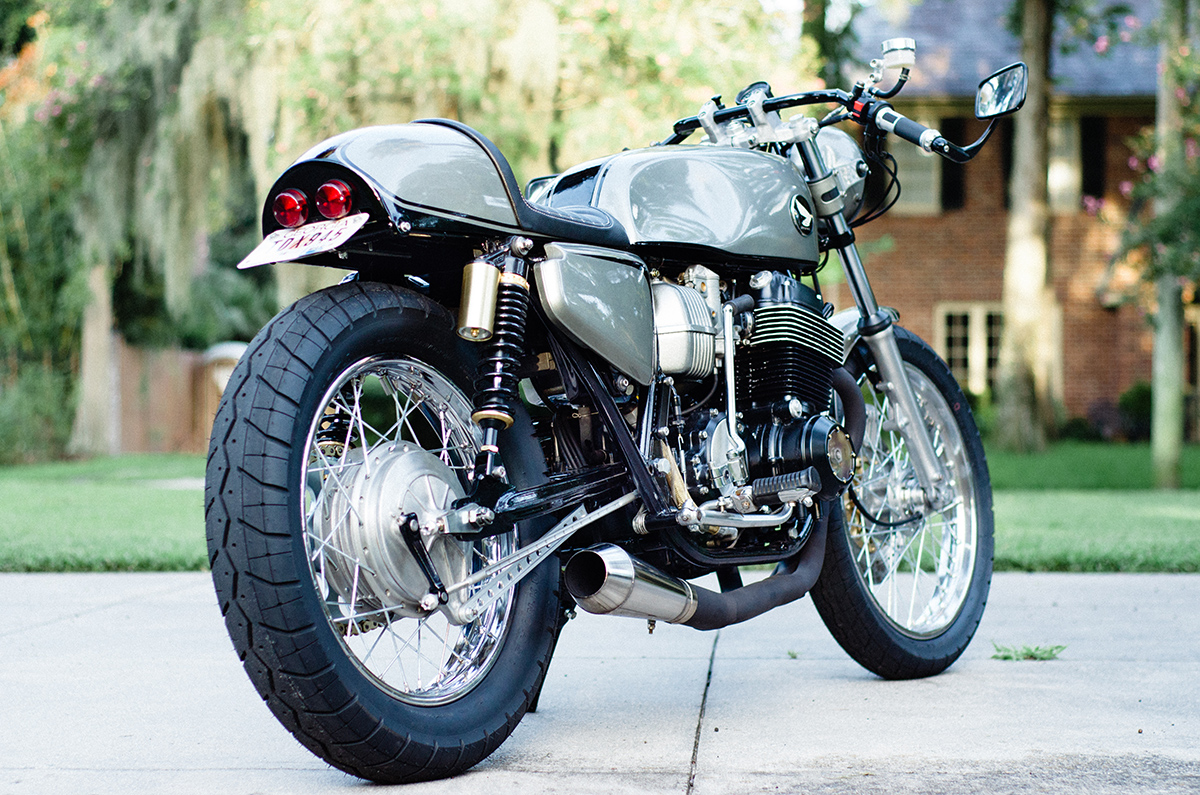 "During my first week of owning the CB750 I just stared at it in the garage thinking "How in the world am I going to restore this thing? I don't know anything about anything when it comes to mechanics!" On top of that issue my house did not have a proper garage. That didn't stop me though, after all I work in a kitchen everyday, so why not work in the kitchen at home too? My workshop became my kitchen, dining room, and living room combined. I went on to spend 8 months restoring the bike in my makeshift workshop with the help of many online forums and tutorials. I call the bike 'Nox Dominae'. The name loosely translates to "lady of the night" in Latin, which is apt since I spent many hours with it burning the midnight oil."
"Nox Dominae was a 1978 CB750k, the last of the single overhead cam engines. Omar Portigliatti, a good friend of mine, played a pivotal role in getting this bike finished. He is an Italian jeweller by trade, and a one-of-a-kind craftsman. We started the build with a thorough strip of all the parts and repainted the frame, swingarm, triple tree, and small brackets. Next we replaced the essentials like bearings, spokes, and rubber seals. We chopped the front fender to a shorter, but still functional length. We cut and rebuilt the rear frame to support the seat cowl and upgraded the original shocks using RFY units for a firmer ride. We got rid of the clunky OEM headlight bucket and picked up an early CB750 one for a more classic look, then converted it to use an LED headlight.
We wanted to go with a simple small speedometer, so we fabbed up a tacho plug on my friend's lathe. We trimmed the top triple tree by cutting off the original gauge mounts and drilled for mounting the choke cable. We then satin polished the triple clamp as well as the forks, carbs and just about every single piece of aluminium on the bike."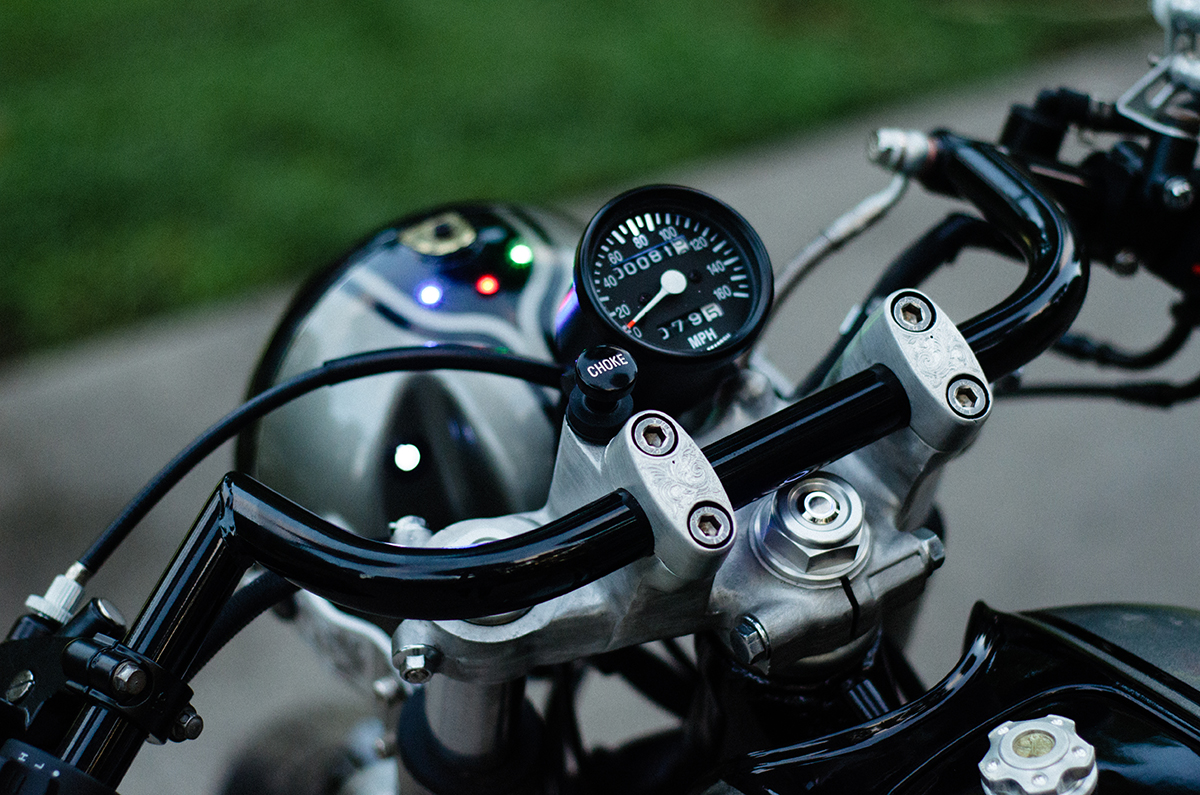 "The engine was low mileage (12k) and did not need to be messed with, so we left it alone. It did, however, need soda blasting and a repaint. We tried to achieve maximum contrast with satin polish and black paint, adding just a hint of gold on the cam chain adjuster and breather cover. We also painted the rotor backing gold and wrapped the oil hoses in gold to match the rear shocks. I sourced a clear points cover from a guy on the SOHC4 forum and added gold screws to tie everything together. At night you can see the points lighting up with ignition!
We used a Cycle-X 4-2-1 race exhaust and it has an incredible note to it. We kept the stock air box for properly tuned airflow and we left the side covers for practicality. Under the left side cover is a custom battery box that left us enough space for a large toolkit roll (better to be safe than sorry!)."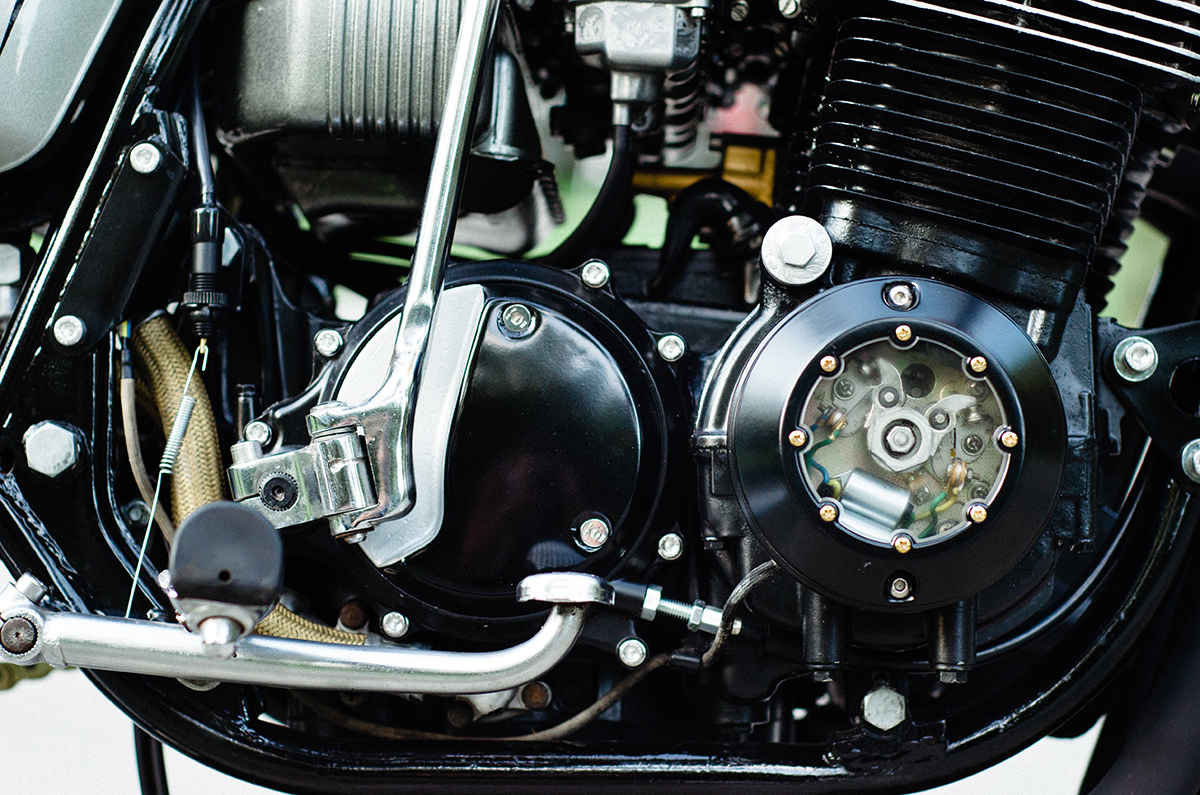 "The wiring is 100% custom and I did it all myself. We utilize a multi fusebox so each section of the bike (i.e. headlight, taillight, ignition, horn) has it's own dedicated circuit. Yes I did say a horn, something most cafe racers would never have. We stuck a Nautilus airhorn under the cowl and it does the job well when you need it. We added a cool keyless ignition button on the headlight bucket and the wiring runs through the neck stem. We wired up some LEDs in the headlight bucket for our 'idiot lights' and used minimal hand control switches."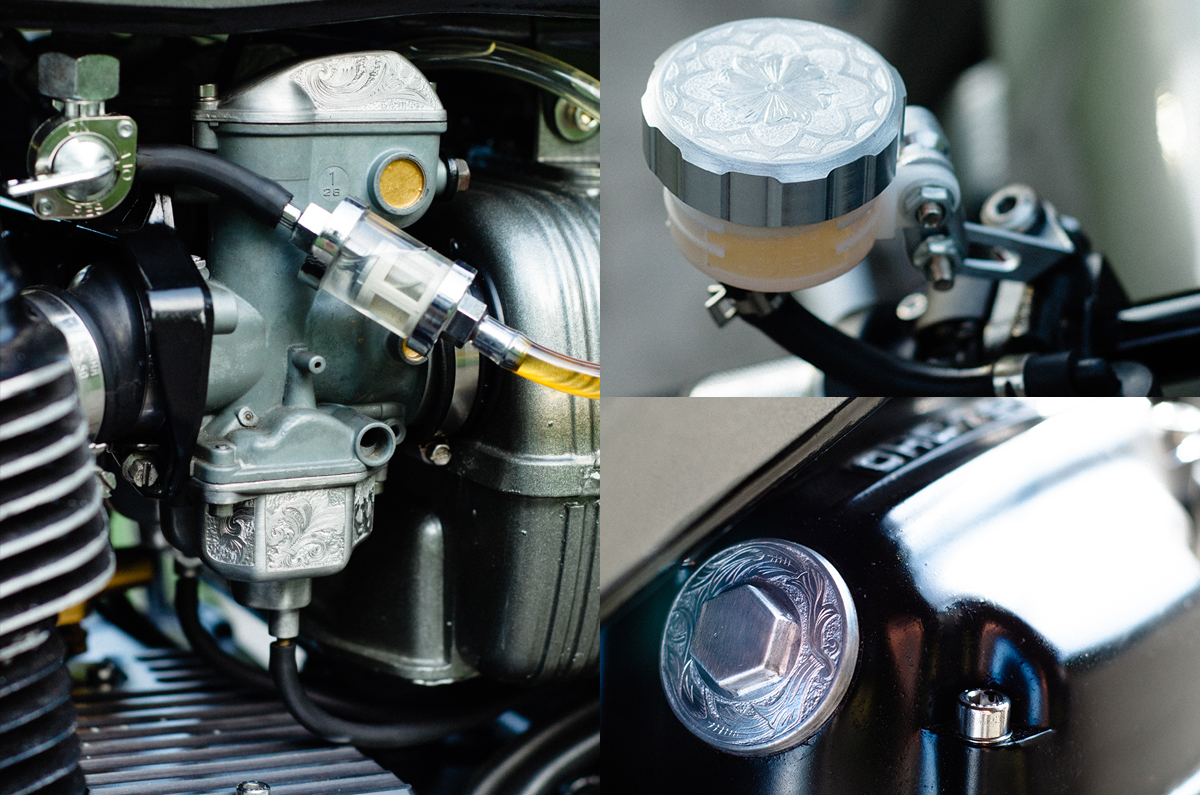 "The seat was done by a local upholsterer and he did a fantastic job creating my vision. We loved the tuck and roll design, but wanted an edge to it and a little bump at the front to smooth the line from the tank to the tail. We wanted to make sure the bike "flowed" from one end to the other, giving the eyes plenty to feast on along the way. The paint is Pepper Grey Metallic, the same paint code from Elanor in the film 'Gone in 60 Seconds'. I did all the paint myself inside my house. I wanted the bike to appear new as its coming towards you and fade into the vintage CB750 as she passes by. We used Honda dream badges on the tank to give it a modern minimal look, while still nodding to Honda's past."
"It is said that the Devil is in the details and that is absolutely true. Omar is a jeweller so he hand engraved many parts including the fork ears, carbs, levers, gas cap, handlebar clamps, and even the master link clip on the chain. We wanted to make sure that the details of the bike did not overshadow it as a whole and I am pleased with the end result. The bike is an absolute monster. The clubman bars sit low, and as you ride you can really feel the road zooming by. The sound is incredible and it inspires near redline shifting. It gets plenty of looks everywhere it goes, and someone asked me what model Honda it was because they didn't see it at the dealership. I told them it was from 1978 and their jaw dropped."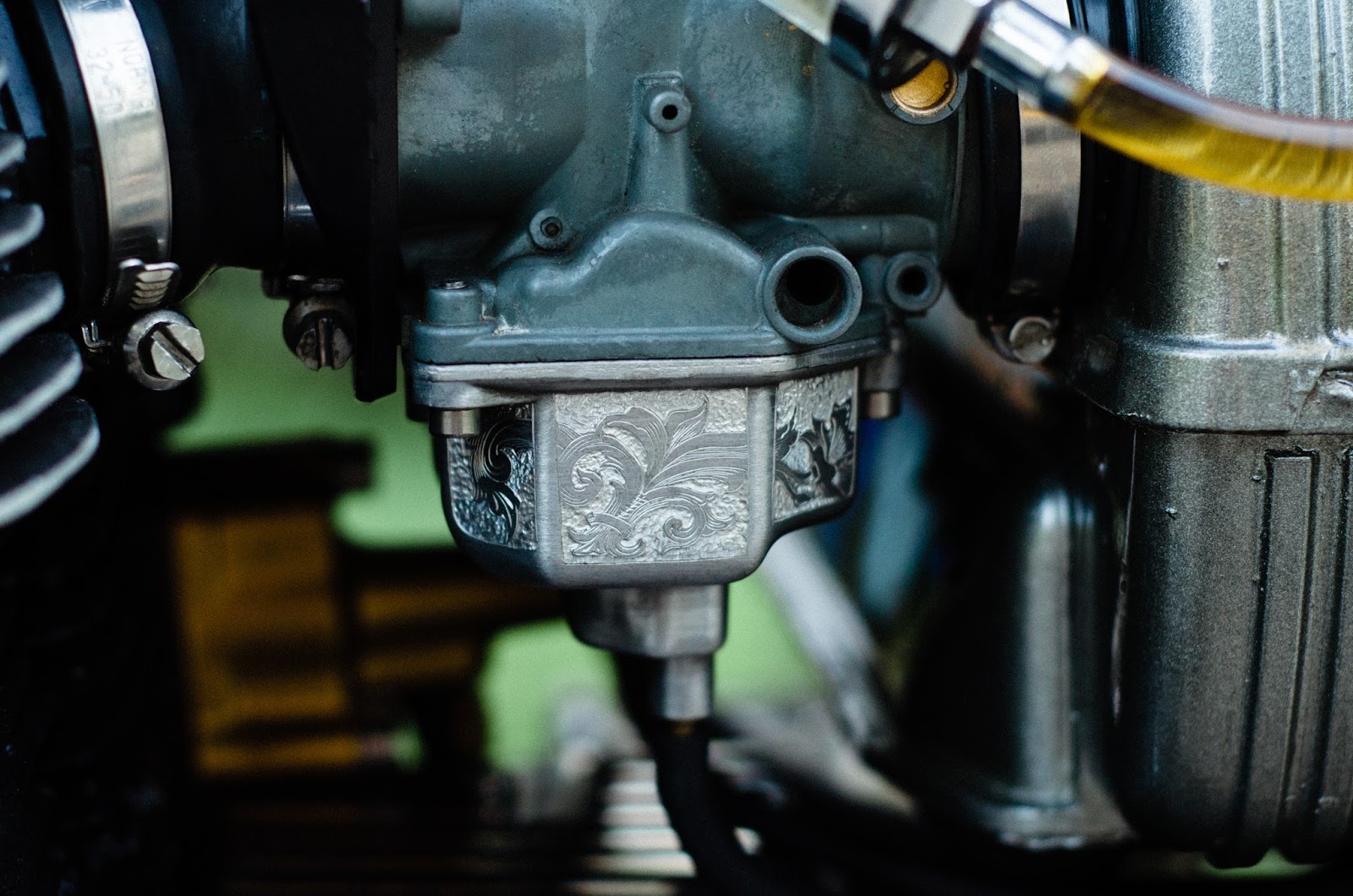 "In my "workshop" (inside my house) I've got work tables, vices, a polishing station, an electrical workbench, drill press, tool boxes, spare parts, shelves loaded with new parts. I have 5 bikes out the back of the house and 5 in the "garage" which is a converted spare bedroom. I actually have a bedroom for my bikes! I never dreamed in 3 years I would go from 1 bike to 11 bikes in the house. Expect the unexpected. The bikes get torn down and built in the house, because why not? Work with what you have. Don't make excuses, make bikes instead."
Photographer: Anna Heritage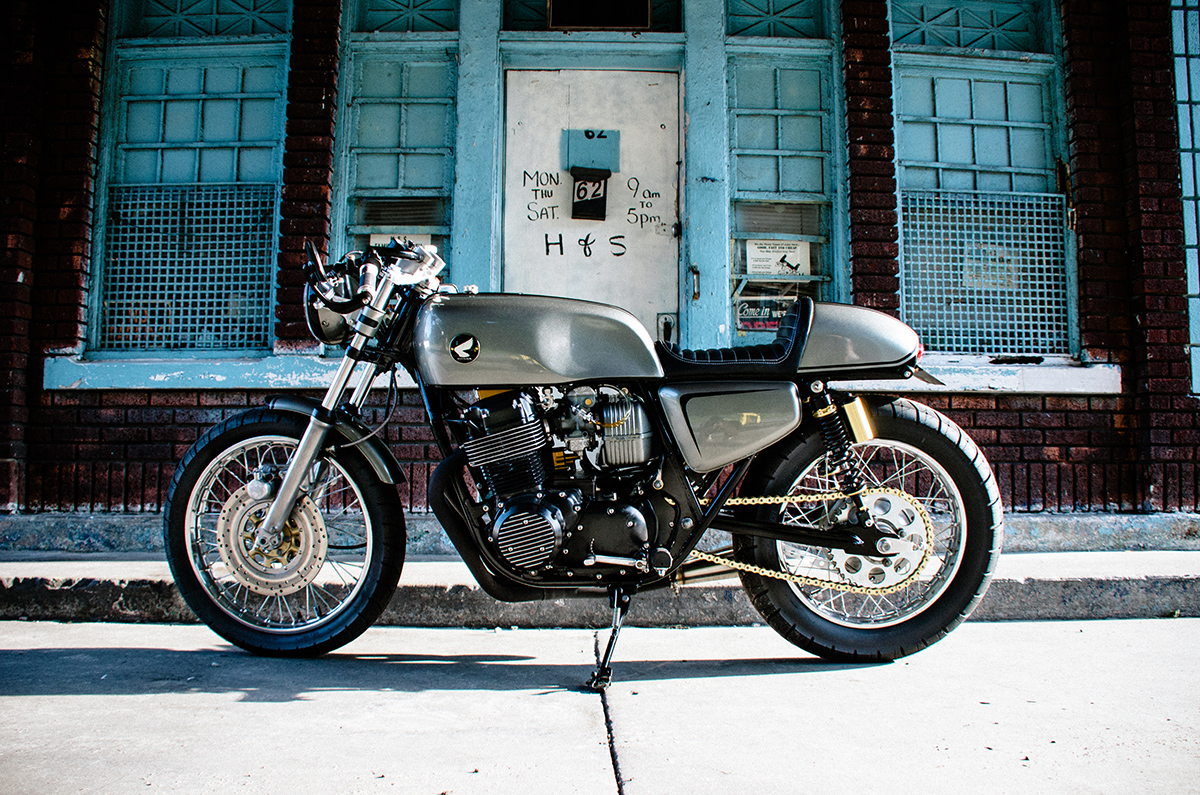 What happens when a professional chef turns his hand to customising motorcycles? In Justin Tuskey's case his new found love of motorcycles quickly evolved from a simple desire to ride into building custom bikes as an after hours business. His stunning <a href="https://www.returnofthecaferacers.com/category/honda-cafe-racer/">Honda</a> CB750 Cafe Racer was the bike that started it all. With no garage to work within he created a unique workshop space that started in his kitchen and slowly spread throughout his home. Fittingly he's named his workshop 'Kitchen Moto Custom' and this is the story of the Honda Cafe Racer that started it all…