Despite its modest performance and rudimentary design, the Honda Super Cub has remained in production since 1958. This is because the Super Cub is the best selling motorised vehicle ever made. What does that equate to in numbers? Try not to fall off your seat, but Honda has sold well over 100 million of them!
So influential is this modest little motorcycle that it has been attributed with "changing motorcycling in America" by popularising two-wheeled transport amongst the masses. And let's not forget that the Super Cub has largely funded Honda's success. Whether you're a motorcyclist or not you're sure to recognise a Honda Super Cub when you see one, but we doubt you've ever seen one quite like this.

These 2 custom Super Cub's are the work of K-Speed Moto. Over the past few years, K-Speed has arguably become the world's top modifier of the humble CT125. As a result, they now produce a catalogue of bolt-on accessories for the latest incarnation of the evergreen Super Cub and offer a handful of complete custom CT125 designs that can be specially ordered from their workshop.
With these 2 latest custom Super Cubs K-Speed has broken its own mould. Named 'Road Runner' and 'Rough Runner' the 2 Honda's are an exciting new take on how far the CT125 platform can be pushed.

After building dozens of custom Cubs in the past, K-Speed frontman Tanadit Sarawek wanted to create 2 new designs for their customers to choose from. The project began with a pair of brand new 2021 Honda CT125s. One bike was destined to be a road-going model with a touch of chopper-styling which they coined the Road Runner. The other would be Rough Runner, a Scrambler-esque Super Cub ready for off-road adventures.
To kick things off each of the Cubs was stripped down to the frame and engine. K-speed dispensed with the stock fenders, wheels, seat, lighting, exhaust, centre stand and swingarm. They then redressed the engines in black and added their own Diablo brand ribbed engine covers. A coat of black was also applied to the frame covers and fuel tank to tie it all together. The Cubs then received White ribbed side covers which set the tone for the pairs matching black and white colour schemes.
From this point on, the two builds headed in very different directions.
Nothing screams chopper like a Honda Super Cub. Well maybe not. But there's no denying this little lane splitter has plenty of aesthetic attitude.
For the CT125 Road Runner K-Speed installed a set of larger diameter shouldered rims wrapped in Firestone Champion Deluxe rubber.  To get the back wheel to fit, and to stretch the Super Cub out a little, K-Speed added one of their own extended Super Cub swingarms. The rear end sits higher thanks to a set of blacked-out aftermarket shocks. Up from you'll find the standard Cub forks but the big difference here is a set of custom riser clamps that accommodate a set of chopper-inspired narrow t-bars.
To keep the front end clean K-Speed has shaved the stock headlight supports. The remaining lower brackets hold a small LED headlight that sits snuggly between the stanchions. In typical chopper-style, the handlebars wear nothing more than a single brake lever and throttle and the Honda gauge cluster has been relocated to the left side of the frame.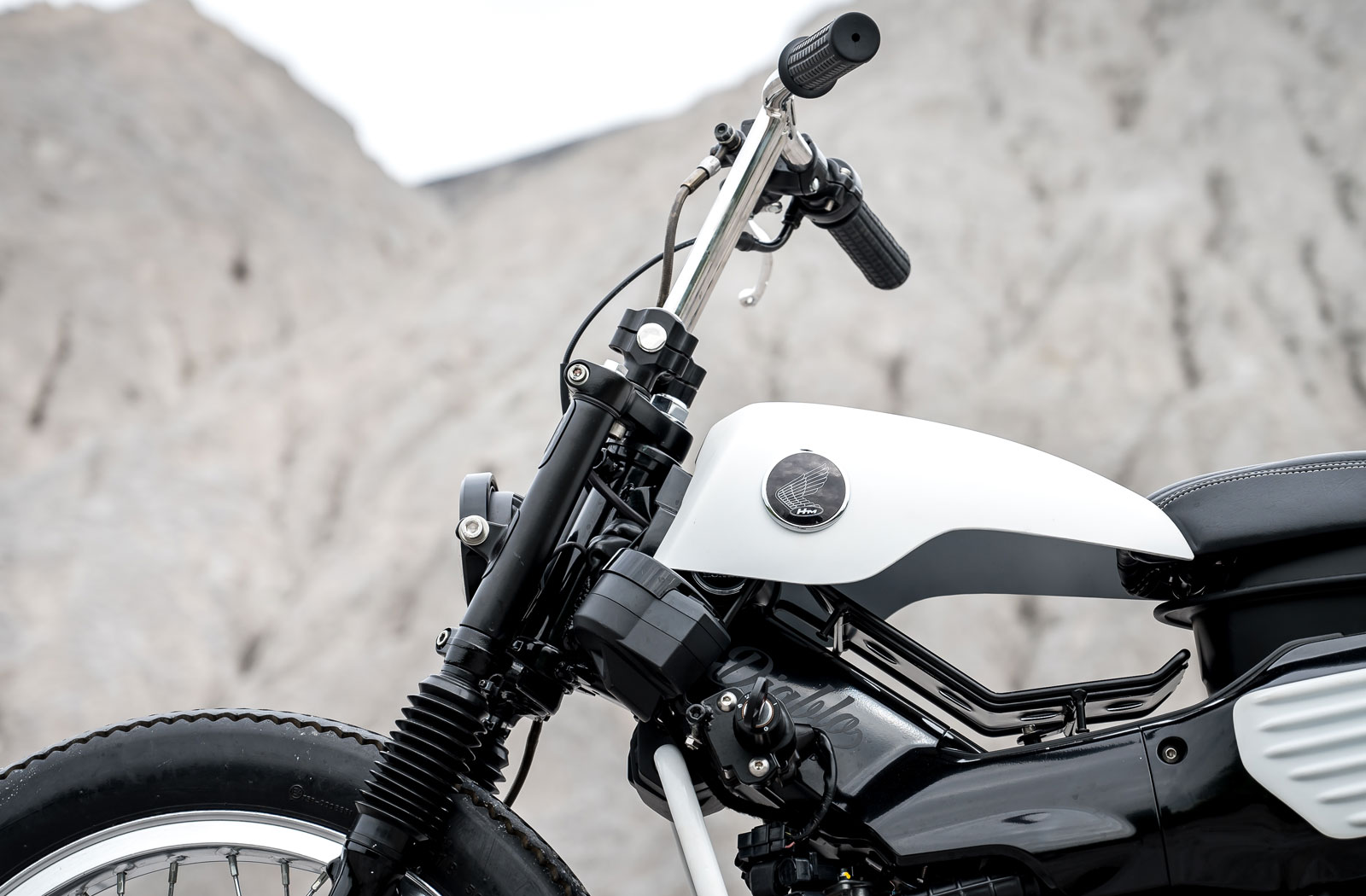 The most dramatic change to the Road Runner is the addition of a Sportster styled fuel tank. Looks are definitely deceiving here because the tank is actually a hollowed-out cover. It fills the step-through space in the frame giving the bike a traditional motorcycle appearance. Beneath it sits a handy frame-mounted rack for stashing a small bag or satchel. Behind the faux tank sits a slimmed-down Diablo seat finished in black leather with contrasting white stitching. Completing the new bodywork arrangement is a small custom rear fender that wears K-Speed's own take on the Super Cubs rear rack.
The finishing touches on the Road Runner came in the form of a gold chain, white painted engine frame rails, discreet smoked lens LED indicators and a custom made stainless slash-cut exhaust.

It's unlikely many people would consider a Honda CT125 a capable off-road motorcycle. Interestingly Honda actually sold an 'ag-bike' version of the Super Cub in Australia for many years. It was designed to handle the rigours of everyday farm use and judging by its success did so without skipping a beat.
With this build, K-Speed wanted their 'Rough Runner' to be capable of tackling all manner of off-road terrain. Although the Super Cub lacks the power of dedicated dirtbikes it's extremely lightweight which is always an off-road advantage. So all K-Speed needed to do was add some functional off-roading equipment.

The process began again with some rubber and suspension tweaks. In this instance, the rims are the stock items but they've been wrapped in chunky offroad rubber. This Cub's swingarm has been swapped for an extended K-Speed item too and the shocks are taller aftermarket alternatives that give the rear wheel plenty of room to move.
On the front end of the Rough Runner sits a high mount fender built in house by the K-Speed team. Above it sits a classic round headlight sporting LED internals. Sitting in a set of custom risers are wide Renthal bars and the controls are again limited to merely a single lever, throttle and some tiny aftermarket switchgear. Similar to the chopper the factory Super Cub gauge sits on the side of the frame to keep things clean.

Again the biggest change in appearance to this CT125 comes from the bike's faux-fuel tank. The shape has been revised to suit the theme and beneath it, you'll find extra frame-mounted storage. As for the seat, it's a wider unit better suited to off-road exploits and there's a custom tail unit sporting a tiny LED brake light. The final off-road upgrade comes in the form of the modified frame rails which have been widened to function as crash bars and fitted with PU Nylon sliders.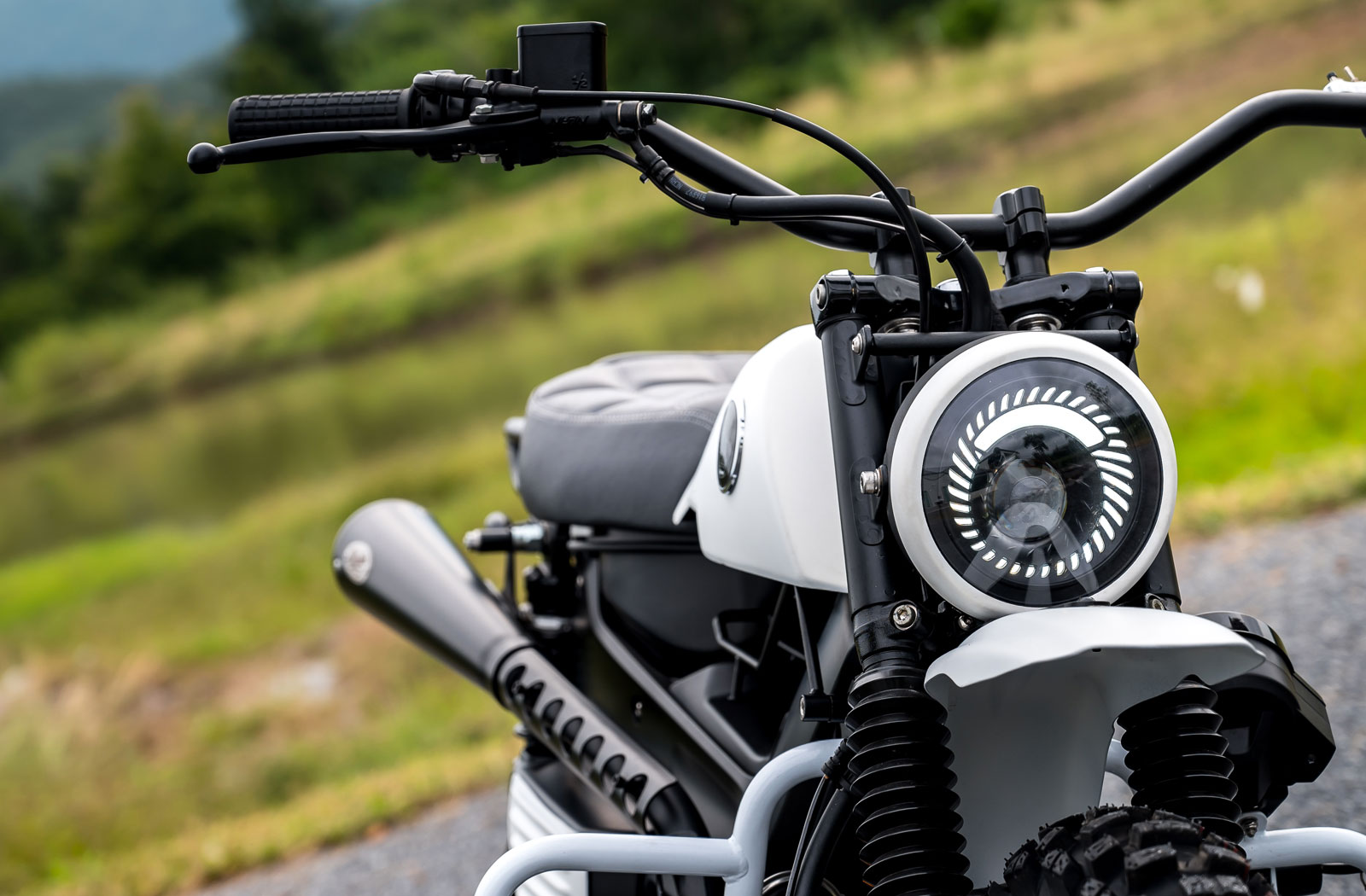 What is really impressive about this pair of custom Super Cubs is that building them took a mere 45 days. Because the bikes are to work as templates for customer orders the fit and finish had to be top-notch and from where we are standing they've definitely achieved that.
Comparing either one of these custom Super Cubs to a standard CT125 is like comparing apples with oranges. The visual change is so dramatic that even the most knowledgeable moto enthusiast would need a minute to figure them out. For that, we give our Thai friends top marks.
---
K-Speed Honda Super Cub Road Runner Gallery
K-Speed Honda Super Cub Rough Runner Gallery