"My bike, Paula Dean, was based on a '76 Honda CB550k that cost us $500 in May of 2015. Work started in August that same year and the maiden ride was just before Christmas. My husband and Tyson worked evenings and weekends to get it done and I would hang out adding my opinion and learning what it takes to build a motorcycle. The awesome thing about Tanner and Tyson is that they are totally self-taught. If they came up against a problem during the build, they would search for the answer or come up with their own solution. We did everything in our home garage armed with basic tools and the internet. The only tasks outsourced were the upholstery of the seat and powder coating."
"Anything that didn't make the bike go, stop or turn was removed. I think many people think this approach is as simple as just taking stuff off, but it actually means everything needs to be very carefully planned. For example, everything that used to be in the subframe triangle is now mounted somewhere else out of sight. This bike has no gauges, no dummy lights, no centerstand, no mirrors and no baffles (haha).  There's a new dyna ignition and updated electronics and the cowl is only just big enough to hold a lithium battery. The ignition is actuated with a remote and I love that people wrongly assume that it is a battery-less build. There's not a single electrical component visible aside from the headlight and LED running/brake/turn signal strip recessed into the tail hoop."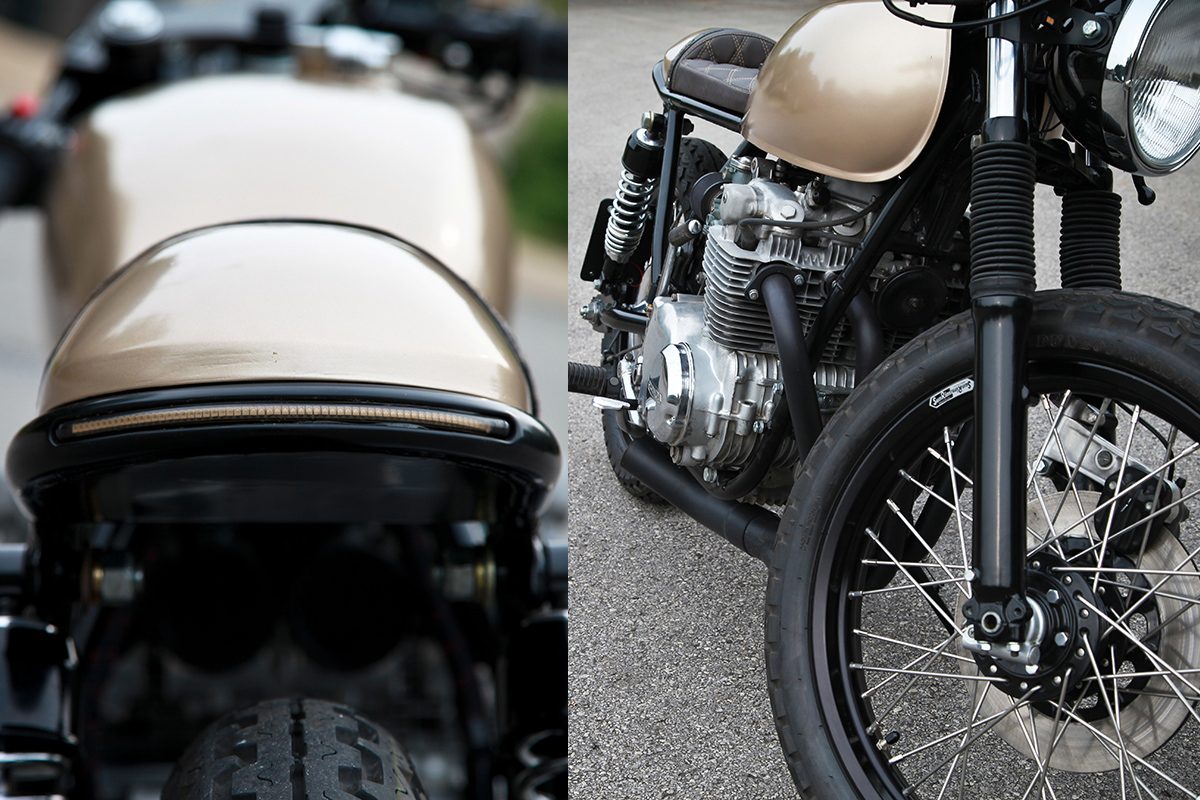 "A stock CB550 subframe dips down but you usually won't see it because it's covered up by the large seat. Great effort went in to achieving the hard line from the bottom of the fuel tank to the back of the bike. There wasn't going to be much to distract people on the bike, so a curved subframe would have looked odd. To get it looking right Tanner chopped the subframe at the tank and welded a straight section with upswept hoop and new shock mounts in its place.
We lowered the forks internally rather than sliding them up through the top clamp to keep everything looking smooth. The engine was completely rebuilt, but we didn't change it cosmetically. It's clean, but no one's surprised to find out its 40 years old.  I feel like vintage builds can look sterile when they are too polished. We matched anodised rims with the original, freshly powdercoated hubs and learning to lace and true was a real struggle."
"We made the seat and cowl using Fiberglass, bondo, and florists foam. Being a one off subframe and loop it was apparent that nothing off the shelf would work. It took several attempts, and more floral foam than I'd like to admit, but we made it ourselves from nothing. There are several scrapped versions in the garage that were awful. It's hard to walk away from something that you have 9 hours invested in, especially when there's no guarantee that the next attempt will be any better. Eventually we got it right though and 
painted it and the tank using a flat champagne gold.
My personal favorite detail on this bike is the seat strap. I lost my dad to lung cancer when I was a senior in college. He was larger than life and was a wonderful father. After the seat was made, Tanner had the idea of using one of his work belts as a seat strap. My Dad would be grinning ear to ear if he could see me on a motorcycle! He would never have guessed that one day I would own a bike, but I am positive he would be honored that I take him along with me on each ride.
Thank you so much Tanner and Tyson for my beautiful bike and for introducing me to this amazing motorcycling adventure!"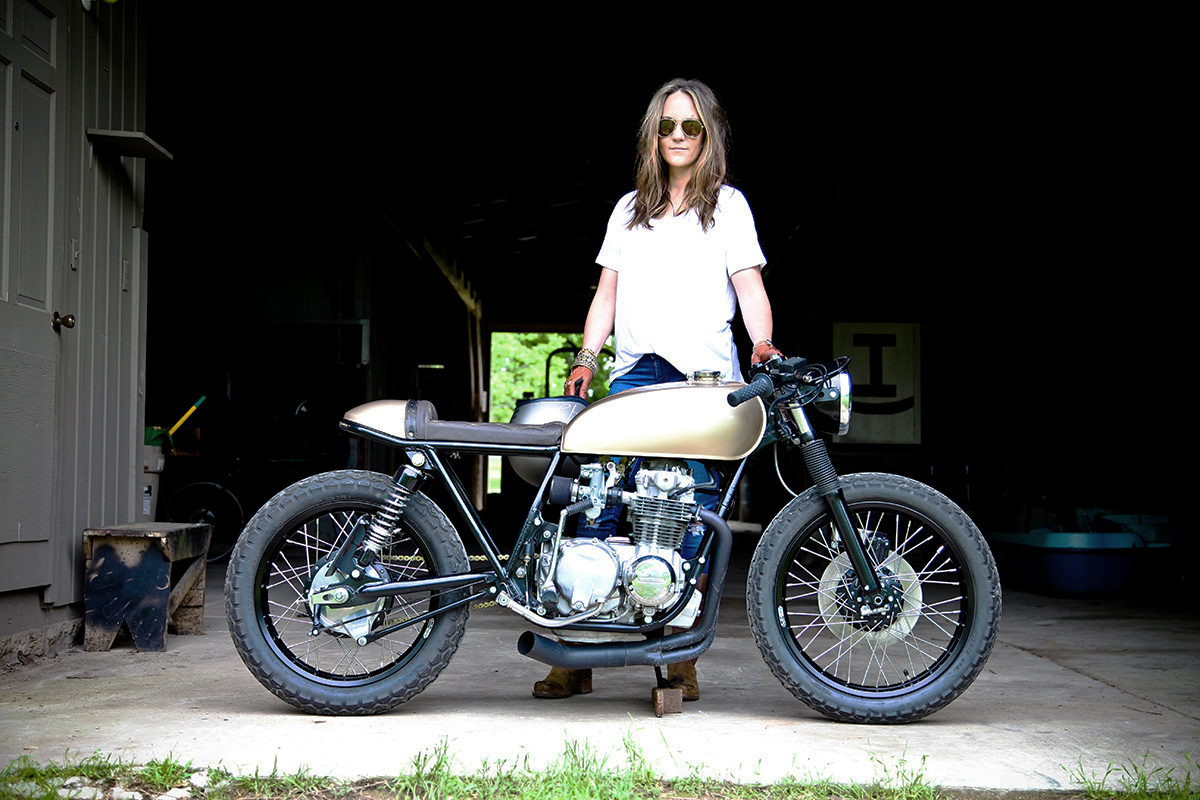 "I have zero history with motorcycles. My husband Tanner used to race dirt bikes and has owned several road bikes. We were high school sweethearts, but because we went to different colleges I didn't spend a lot of time on his bikes with him. One night over dinner, my husband and our good friend Tyson started talking about how I needed to learn to ride. At first, I wasn't all that interested, but after a few months of lessons, I started riding a scooter with the boys. It wasn't long before I was learning to ride a motorcycle and after getting my license Tanner gave my first bike for Valentine's Day. It was a stock <a href="https://www.returnofthecaferacers.com/category/honda-cafe-racer/">Honda</a> CL350 in great original condition that was just too cool to cut up. Being my first motorcycle ever, I was rather partial to keeping it how it was. However, two of my close buddies owned custom café racers and I loved the look of their bikes. Tyson had already custom built his own <a href="https://www.returnofthecaferacers.com/2016/05/tyson-carver-honda-cb750.html" target="_blank" rel="noopener">CB750 cafe racer</a> with help from Tanner. He was itching to build another and I had my heart set on owning one, so after finding a complete piece of junk CB550 donor our personal project began.
"