Having to endure cancer is something we all dread. Without having experienced it, it's hard to imagine the physical and mental toll it takes on a person. Those who survive cancer face a lifelong struggle with both the physical and mental scars left by the debilitating disease. Spanish engineer Luis Moratinos went through the nightmare of cancer 3 times. After being diagnosed with kidney cancer and then metastasis he suffered additional cancer diagnosis of both the spine and liver. After undergoing multiple treatments and operations he was left unable to work and permanently disabled. Worse still he was living in fear of the cancer returning.
To help him cope with the ongoing stress, Luis launched Kamikazes Garage, a space where he and other cancer survivors could find distraction by building custom motorcycles. "I decided to create a non-profit association with a group of friends," says Luis. "We do our own projects and this bike has been one of my personal ways to overcome the stress and fear of relapse." The first Kamikazes Garage build is this 1984 Honda CBX750 which Luis calls 'El Monstro' and he completed himself from the ground up.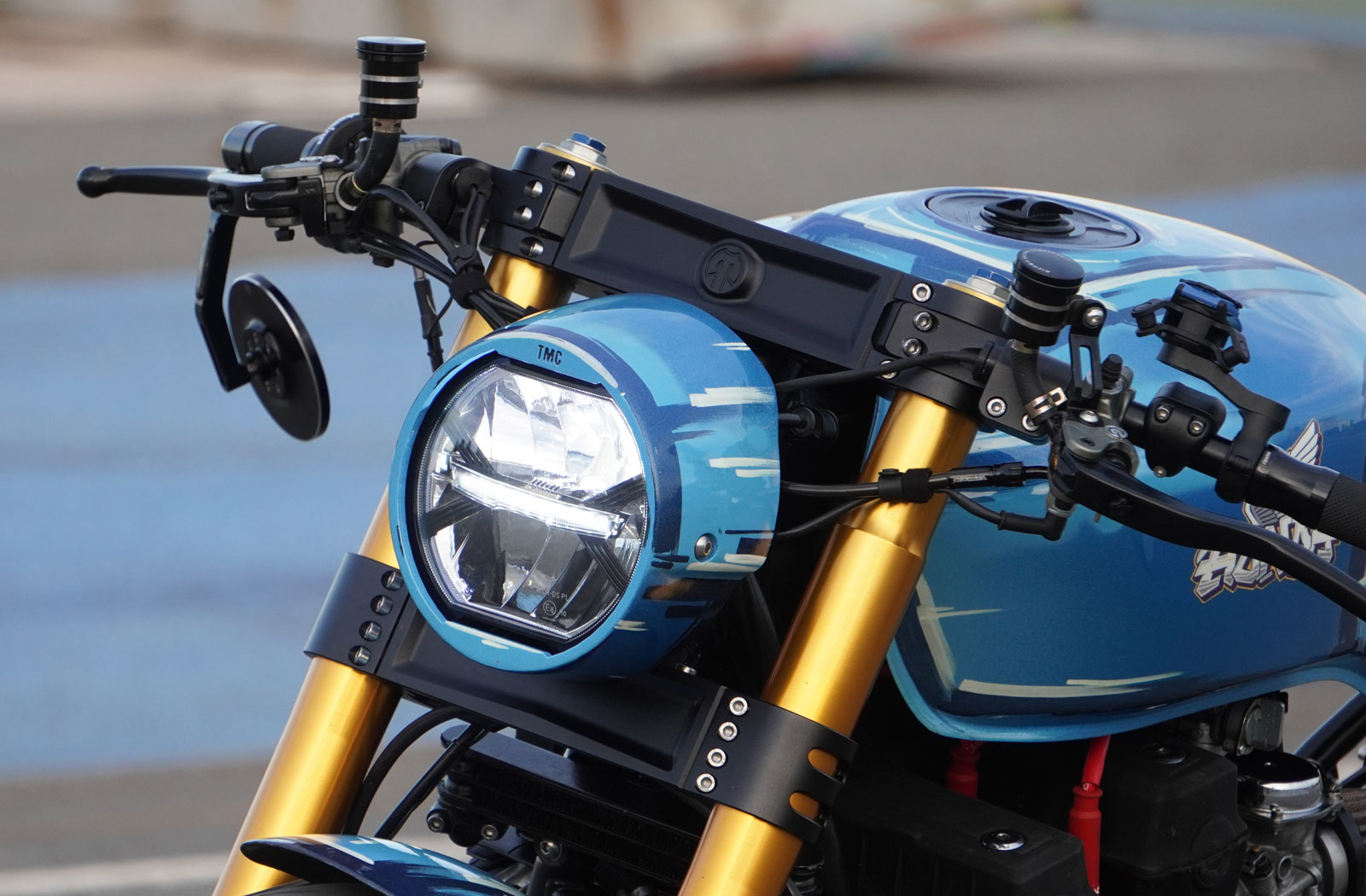 Luis undertook this build as a personal project and a way to promote his community-based workshop. With this in mind, he set out to build a bike that would leave a lasting impression and there's no denying that's exactly what he's achieved.
After a complete teardown, most of the Honda has either been restored or upgraded using modern alternatives and plenty of custom tweaks. Starting with the front end the bike is now running a set of gold anodised Suzuki GSXR600 forks. They sit in machined alloy triple trees by local CNC experts Tecnikal. The beefy top clamp has been cleverly designed to integrate the bike's clip-on handlebars and tiny Motogadget Motoscope digital gauge.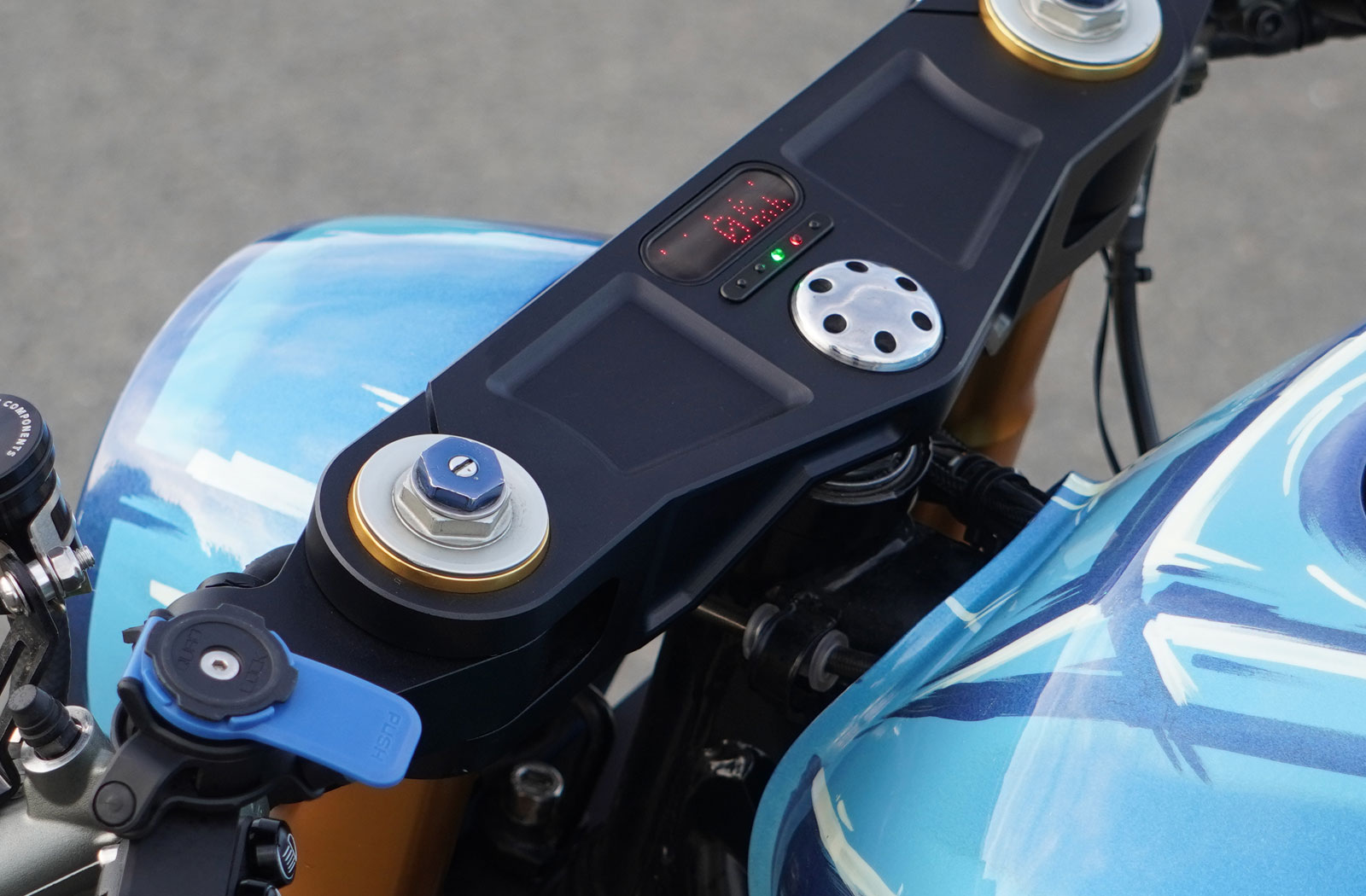 The clip-on handlebars wear all-new equipment with push button switch blocks, Ducati Panigale Brembo levers which enabled a hydraulic clutch conversion, and Motogadget glassless bar end mirrors. Tecnikal also provided spacers for adapting the forks and brakes to a Honda VFR750 RC35 wheel.
Luis has made more changes in the rear where you'll find the VFR750's single-sided swingarm and rear wheel. They too have been retrofitted using custom-made components from Tecnikal. To tighten up proportions Luis took to the CBX's subframe with a grinder cutting away the stock loop and replacing it with a shorter alternative of his own design. To help keep the new rear end looking clean the license plate and rear end lighting have been relocated to a custom wheel hugger.
El Monstro's bodywork is entirely new and made up of more retrofit components and custom-fabricated parts. The beefy fuel tank hails from a late-model Honda CB750 and it wears a trick Rizoma filler cap. A leather-clad custom wasps tail style seat and steel seat pan/electrics tray replace the stock tail unit and fender. With the rear end bodywork gone the tail hovers over the wheel like a modern sports bike and leaves Luis' Ohlins rear shock upgrade in full view. Between the forks sits the VFR fender and above it an LED headlamp sitting in a 3D printed housing.
During this extensive build, Luis replaced most of the bike's bolts and sandblasted the wheels and frame before recoating them in satin black. He also paid the engine special attention to ensure steadfast performance for years to come. After a thorough service, the rebuilt carbs wear K&N filters. To realise his vision for the exhaust, Luis jumped in head first and purchased a TIG welder with no prior experience. He then designed, cut, and welded the pie-cut 4-2-1 headers and finished them off using the muffler from a BMW R100RR. The Honda now produces a respectable 98hp at the rear wheel which Luis reports is "A real madness to ride with a very sporty position. It does not go unnoticed on the street!"
This bike's electrics have all been upgraded too. Along with building a whole new wiring harness, Luis added a Motogadget m-Unit controller, relocated the battery to sit beneath the swingarm for a lower center of gravity, and moved the ignition to beneath the seat.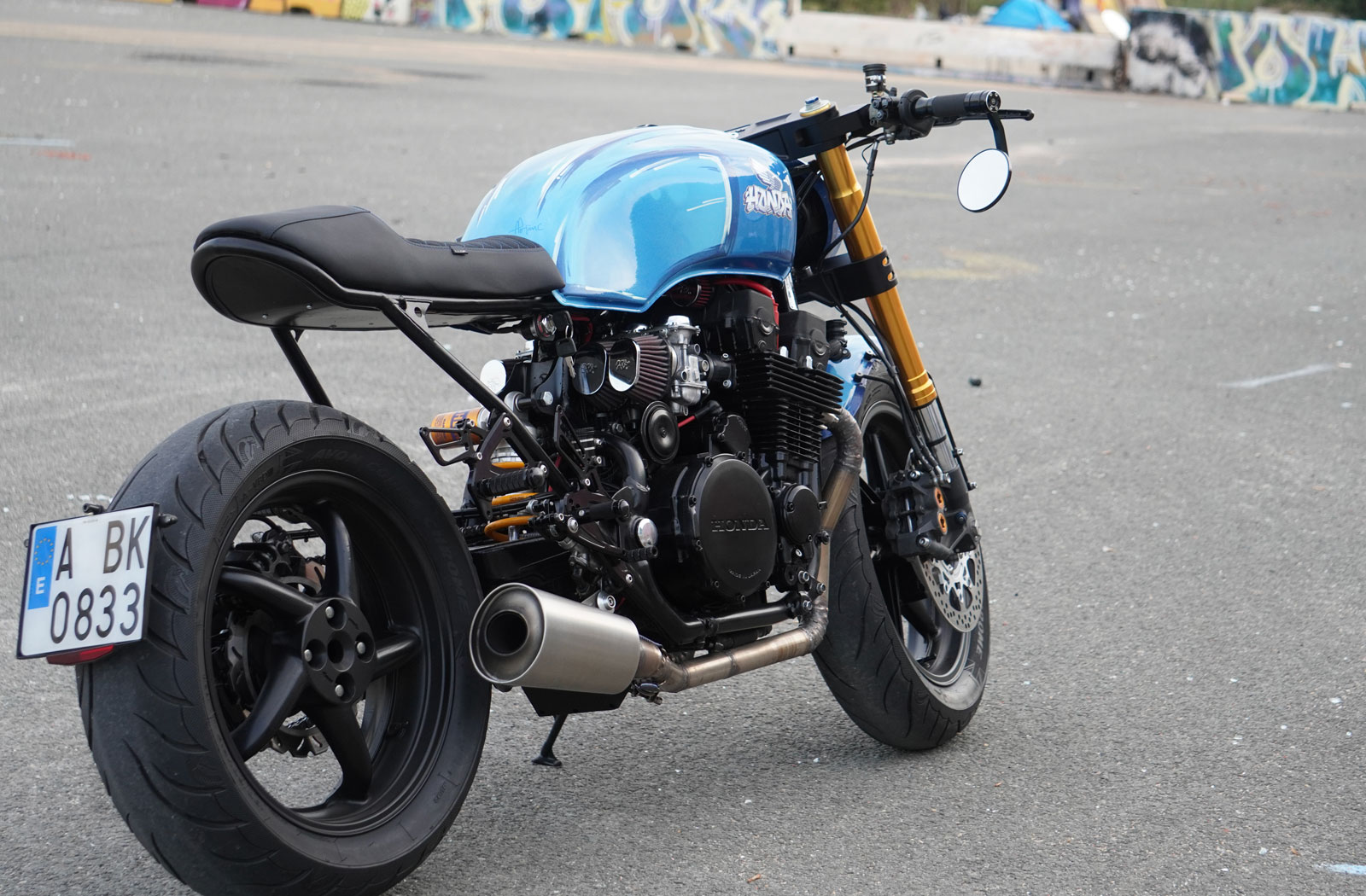 To complete his Honda cafe racer vision Luis enlisted the help of artist Andres Pojan who laid down a scheme inspired by Japanese animation and street art.
"I put so much effort and love into this project. The bike was disassembled and restored to the last screw," says Luis, and building a custom motorcycle like this with little prior experience is no mean feat. After beating cancer 3 times it's clear Luis isn't about to let any challenge hold him back and we wish him and his Kamikazes Garage venture all the best.
Photography by Naty Ramos