Honda's CX500. The Japanese manufacturers only venture into the world of horizontally opposed twins. In many ways, the CX was a groundbreaking development in the world of motorcycling with its water-cooled engine, electric start, and reliable shaft drive. While on paper it sounds like a milestone in motorcycle production history the CX is often looked upon with conflicting opinions. On one side there are the guys who knew the CX by its not so affectionate nickname of "plastic maggot" and by a rather unpleasant period when they suffered cam chain problems that lead to a factory recall. Then the opposing opinions are those of a new breed of custom builder who is taking stock CX500s and turning them into rather tasty looking customs, inspired by builds completed by the likes of the Wrenchmonkees and Moto Mucci. Mike Meyers (note the spelling…this isn't Austin's new ride) falls into the latter category. The story of his build is typical of those working with old machines that others have previously "tinkered" with, but as you can see his hard work has most certainly paid off. This is one of the best looking CX based builds I've seen to date.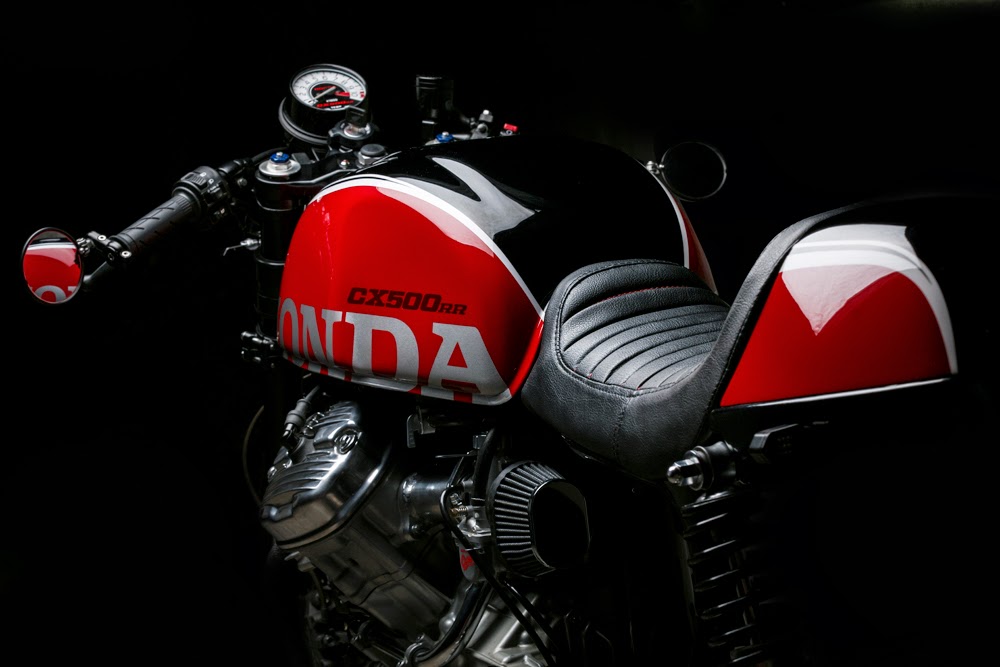 "My bike started out as a 1980 CX500 Custom. The engine is what intrigued me, I love how it does not have a supporting frame, just hanging there, making it the centre attraction of the bike.
When I found the bike it looked very clean with only 10k on the odometer, but once into the build, I found a lot of surprises. The first of many was green slime oozing from the pulser cover and there were several imperial bolts that had been forced into metric threads. Many of the parts were very clean though with no rust and I was able to sell off the extra parts to guys that were trying to restore similar models. I was able to make back the 1200 dollar initial purchases price and profit an additional 400 dollars on top of that to help fund my build.
After a thorough going over it was obvious that a full engine rebuild was in order. There were many worn components in the engine. Once the power plant was back together and it was running, it was ready to convert to a proper café racer. I had many people tell me I was stupid to start with this platform, but that only made me all the more determined to prove them wrong."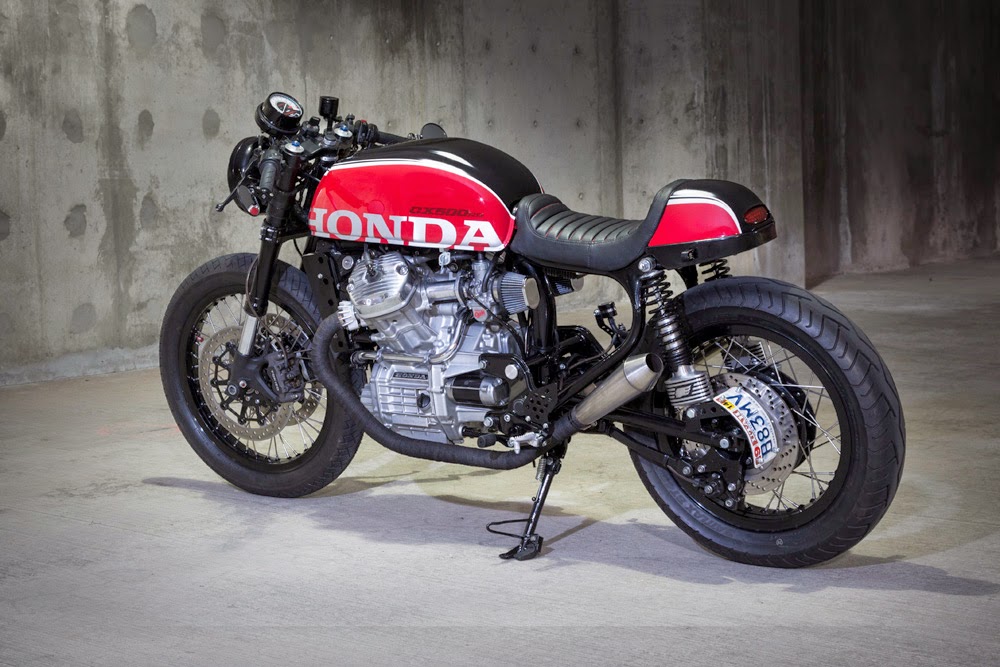 "A Honda CBR 600RR front end was the first major change; it was a perfect fit lowering the front end and giving it a more aggressive stance. Achieving better handling and stopping power with dual front discs didn't hurt either. The wiring of the new controls into the stock harness was a bit of a challenge but only added to its appeal. As the build progressed I found myself buying more and more parts from CBR600RR models. This led me to name my build the CX500RR. One of my favourite parts is the CX500 Deluxe tank with the CBR600RR gas cap grafted into it. The rear sets are off a CBR600RR as well.
Next, I moved on to tackle ugly mag wheels, they had to go. A fellow CX500 forum member told me that the 75-77 GL1000 wheels would fit the CX500 with a bit of modifying. The important thing was that the final drive splines had to match. The rest was milling, spacing and shimming to get it all to work. This was the hardest part of the build for me, well worth the effort in the end.
The new carbs I installed really gave it the extra power I craved and I got them custom from Murray's Carbs. Murray's tips on getting them dialed in specific for my build were invaluable. The only stock parts from the original bike are the frame, rear swing arm, final drive, tachometer and ignition switch."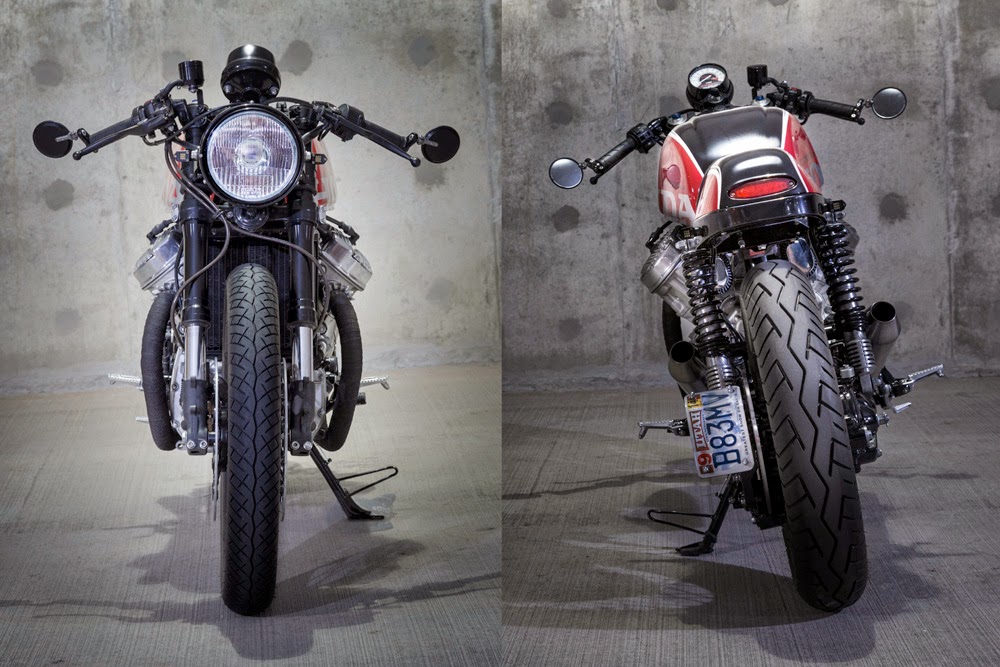 "Being my first build, I often felt like I was in over my head. It was nice to have a great friend to turn to, Tyler Schwarzkopf of BleedMachine Industries. He encouraged me to buy my first welder and fabricate my own parts. After a big learning curve, I was able to make many of the parts I wanted but when it came to the tank, tail, mufflers and paint I was more than happy to turn it over to Tyler and his mad skills. He was able to execute my designs perfectly.
In the end, my favourite part of the build turned out to be the rear calliper holder. I designed it, then crafted it in 3 dimensions out of cardboard to make sure it would fit and work before finally having it milled out on a CNC machine. It's funny now, that it is installed and painted black you do not even notice it, but I know it's there.
Having people stop me and ask what year is my bike and when did Honda start making cafe racers just puts a smile on my face and the story of the build unfolds."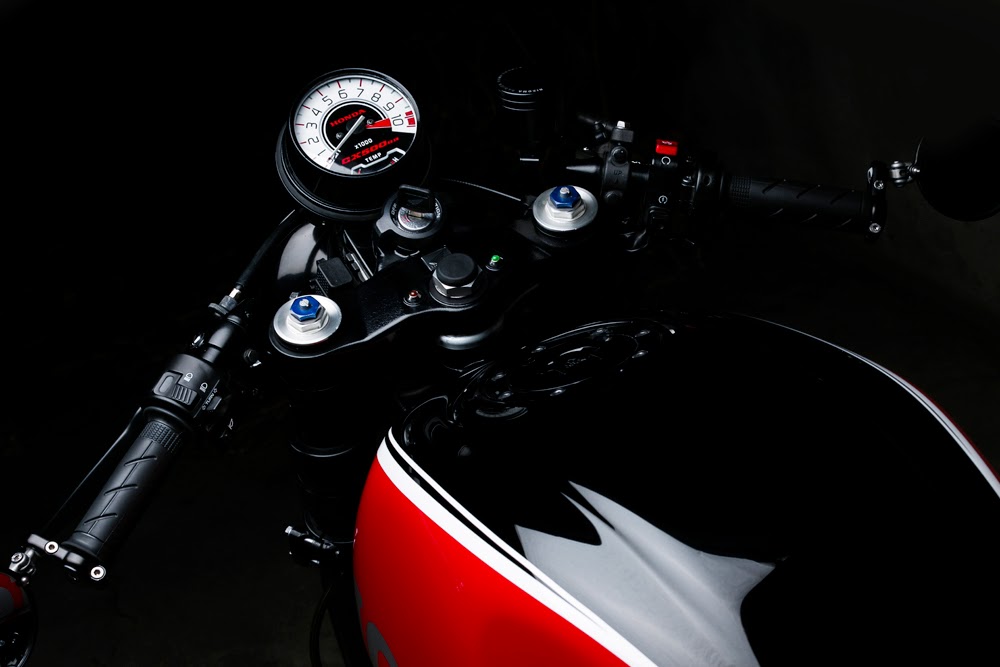 Upgraded Parts List:
2008 CBR600RR Front Forks, Triple Tree, Rotors and Controls
2008 CBR600RR Rear Sets
2008 CBR600RR Gas Cap
1977 Honda Goldwing 1000 Hubs and Rims
Buchanan's Stainless Steel Spokes
Rizoma Front and Rear Brake Reservoirs
Joker Machine LED Turn Signals
CRG Bar End Mirrors
2007 Suzuki Hayabusa Rear Brake Caliper
Front & Rear Stainless Steel Braided Brake Lines
47-49mm Stealth Headlight Brackets
Murray's Custom Carbs & Manifolds
Ducati 966 Radiator Fan
Honda CB750 Headlight
Bridgestone Battle X Tires
Hammer Head Rear Shocks
Cognito Moto 2 Cove Cone Reverse Cone Mufflers
Custom Parts List:
Front hub to rotor adapters
Front axel spacers
Rear caliper bracket adapter
Rear axel spacers
CBR600RR gas cap integrated in to a CX500 Deluxe tank
Rear Tail and Battery Holder
Seat Pan and Custom Seat Upholstery
License Plate Bracket
Radiator Shroud
Tachometer Bracket
Under Seat Pan Cover
Rear Rotor Milled Smaller and Drilled
Performance Upgrade List:
Murray's Carbs (34mm custom Mikuni's) More Toque and HP
Eliminated the H box and Stock Mufflers for straight pipes
Dual Disc in front and Single Disc in Back
CBR600RR frontend – lowering the stance and better handling