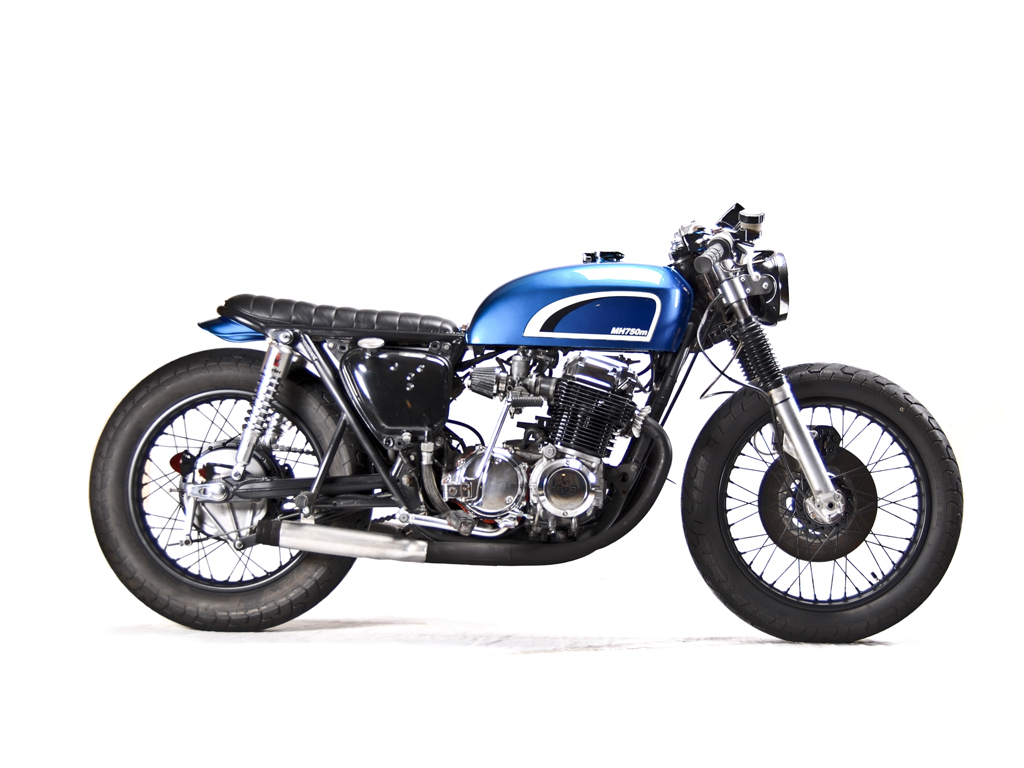 Here's the latest custom motorcycle to roll out of Moto Hangar's workshop, a tidy '76 Honda CB750 Cafe Racer. While this build isn't as extreme as their
Suzuki GT550 "Honduki"
it's got just as much street appeal and plenty of style. I was really surprised to learn that this bike is the first "client build" for Moto Hangar as they certainly don't have any problems building beautiful bikes. With the popularity of Honda's CB750 amongst Cafe Racer builders I'm sure this bikes going to bring them plenty of new business.
The original forks of the CB750 were replaced with a set from a CB550, rebuilt to take the heavier load. At the rear you'll find a set of NOS "Leveler" gas filled shocks and the rims have been wrapped in Bridgestone Spitfire's, upgrading the bikes ride and handling. Performance upgrades to the CB were minimal aside from a good tune and a pair of free flowing, stubby mufflers with "retro end caps".
The rest of the changes to the CB come in the form of Cafe Racer styling tweaks. A smaller headlight from a Suzuki GT380 and classic bullet tail light replace Honda's goofy looking factory parts and the indicators have been stripped away completely. Clubman bars lower the riding position without sacrificing too much comfort and a single speedo mounted in the center of the top clamp has been modified to match the bikes electric blue paint scheme.
The new low profile seat was influenced by Japan workshop Brat style and a die bond cut side cover adds a hint of street tracker style. Moto Hangar also dispensed with the bikes front fender (no wet weather riding for this one) and trimmed the rear fender nice and short to show off those lovely Spitfires.
If you like this bike I also advise checking out the Moto Hangar '77 XS400 (see below) on their Facebook page.