It's not uncommon to hear people referring to a motorcycle as being bulletproof, but it's not that often that it literally is. Ken Glenn, the man behind motorcycle fibreglass body shop KG Cycles is the kind of guy that doesn't do things by halves. Rather than building fibreglass bodywork for personal CB750 Cafe Racer the "Black Heart", Ken opted for a mix of two of the strongest and lightest materials known to man, Carbon fibre and Kevlar.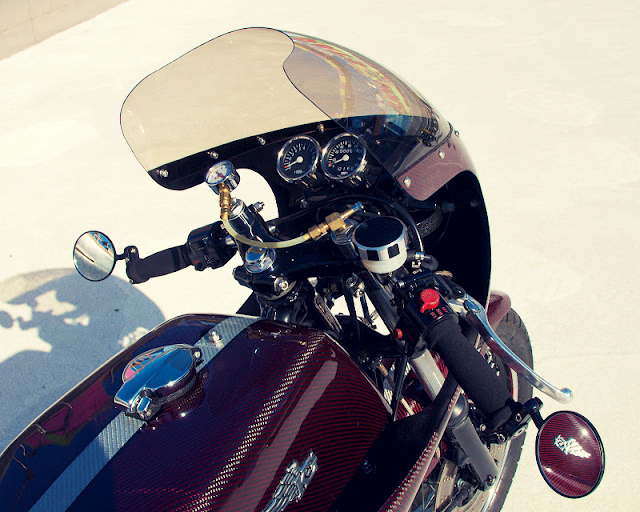 The '74 CB750 K2 was built to be debuted at the 2012 Daytona Beach Bike week and to showcase in trade publications as a demonstration of his ability with these unique materials. The unique red finish was achieved using Ken's own dyeing process and by all accounts (including the photographers) you have to see it in the flesh to really appreciate how well it came out.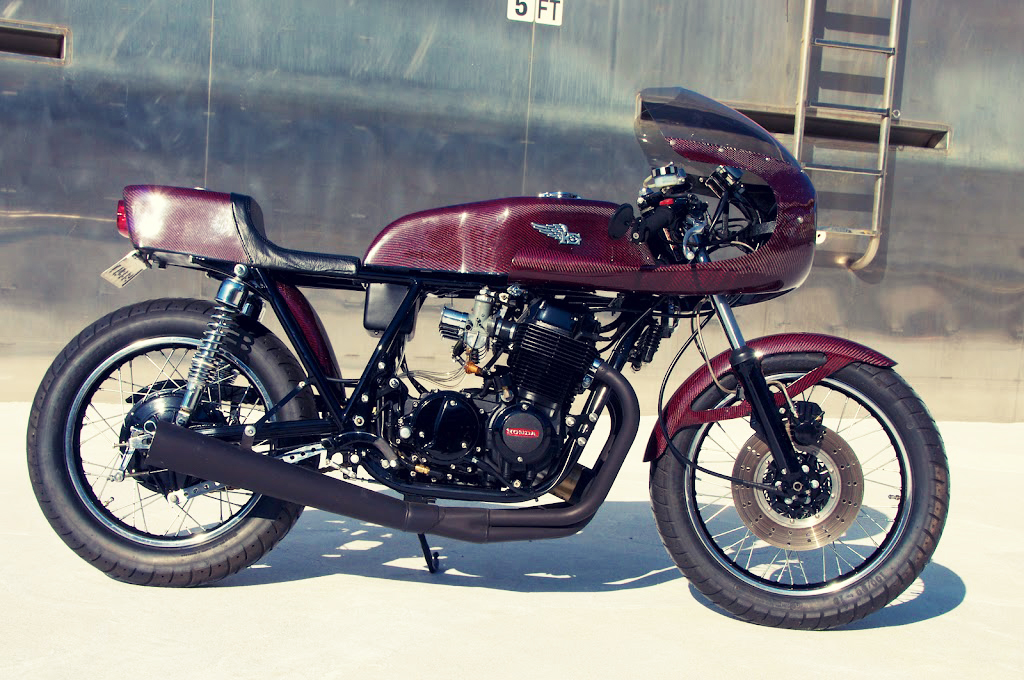 Even with Kens 40+ years of experience shaping fibreglass fairings, the strength and impact resistance properties of the Kevlar made cutting and grinding no easy task but like I said the man doesn't do things in halves. Along with the extensive custom bodywork, every component on the bike was rebuilt or replaced and all of the original fasteners were swapped out with stainless steel items.
The bike's engine remains essentially stock, but a set of velocity stacks, rejetted carbs and a high flowing exhaust keep the retro racer pulling hard through the gears. Other noteworthy modifications to the Honda include the shortened and shaved frame, Cycle X forks, smoothened top clamp, "old school" air suspension on the rear, dual front disc conversion, freshly laced stainless rims, an oil tank concealed in the tail section and the custom-built and upholstered leather seat.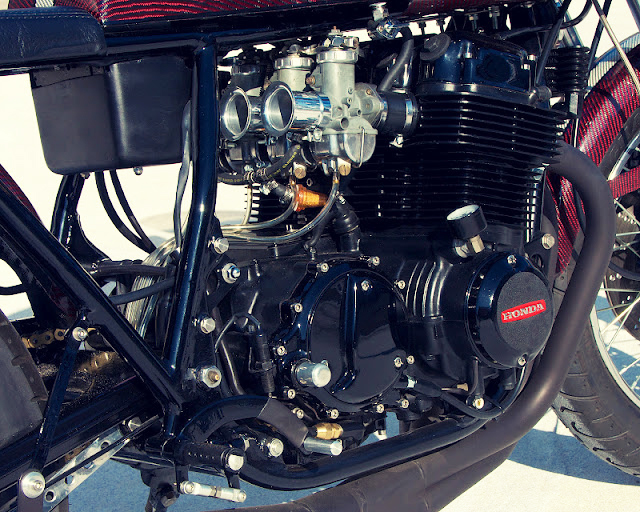 Although I'm sure many of us would like to be rocking Carbon Kevlar bodywork it's not likely to be an available option on the KG Cycles website. The cost of producing and purchasing a set like this would be above what some of us would be prepared to spend on the donor bike alone. However, Ken has added a similar fibreglass series of fairings to his KG Cycles catalogue.