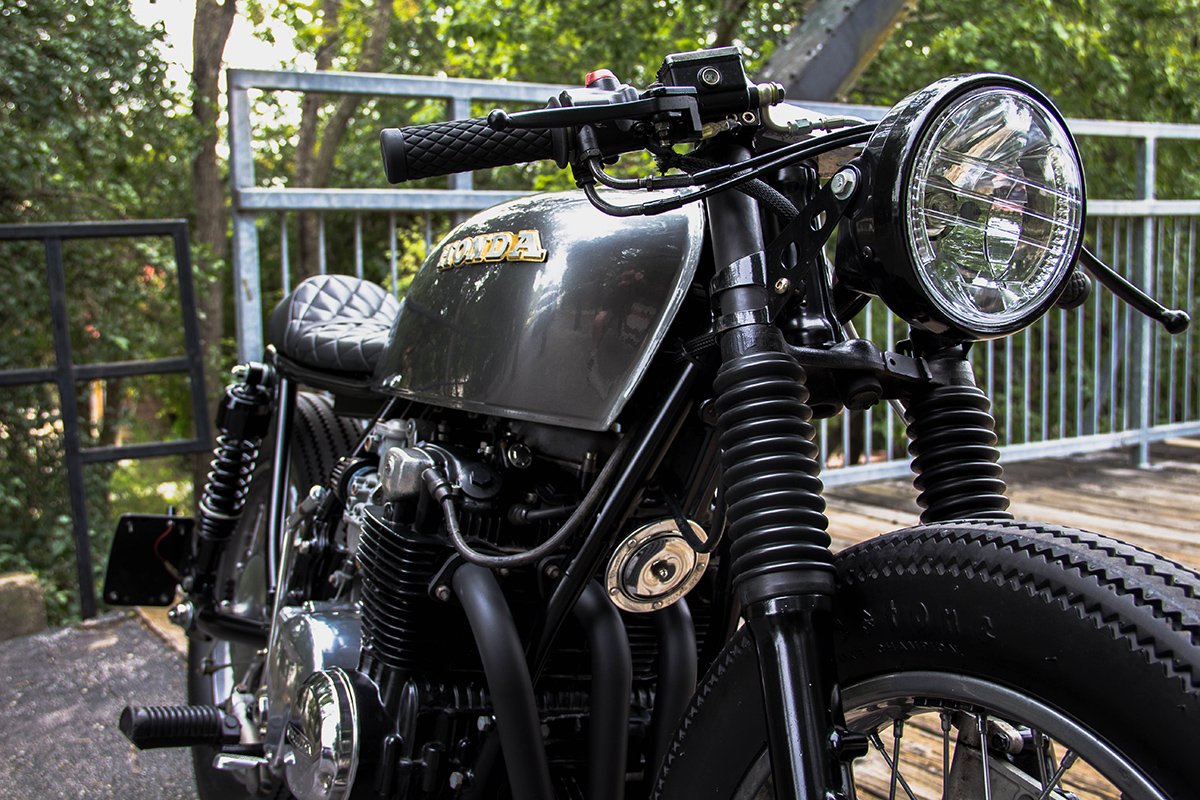 Shortly after moving to New Braunfels, Texas we became friends with Karly Kothmann and her husband Tanner. Blake and I both rode her CB550 cafe racer and agreed it was one of the smoothest riding and sounding vintage bikes we'd ever encountered. The replica Yoshimura race exhaust had a sound we absolutely fell in love with. Literally the next day, Blake showed up to our house with a beat up '74 Honda CB550 he bought for me. It only ran on 2 cylinders and was leaking fuel and oil out of everywhere, it was a freaking disaster, but we loved its style.
We found inspiration for our build in vintage Isle of Mann TT bikes, the sound of a Ferrari v12 engine, and, to be honest, a little bit of Tron to top it off. To achieve the new look we removed the sub frame and all unnecessary tabs with a grinder. Then we fabricated a rear seat pan and hoop from steel.  The custom diamond pattern seat was made by some shifty internet guy in Thailand and we replaced the stock triple tree with a new one from Dime City Cycles. We installed new clips on handlebars, a new headlight and a rear LED brake light. The tank and wheels have been powder coated in Black Chrome by Overland By Design and we fit the rims with Firestone rubber. To get the sound we wanted there's a 4-into-1 race exhaust from Carpy and we installed pod filters. Squeezed into the tiny space beneath the seat is a single anti-gravity battery with plenty of crank to fire the bike up and all of the bike's electronics mounted to a Cognito Moto tray.
Towards the end of the project, I was getting impatient and just wanted to ride my new bike. Blake was crazy busy with Motobailey so we enlisted the help of our new friends, Tyson Carver and Tanner Kothmann to finish the wiring and some random reassembly requirements. They did an excellent job. Soon afterward I heard the most beautiful sound out the front of my house. Sure enough, I opened the door and saw my incredible new Honda cafe racer and all my new friends standing there waiting to see my reaction. I was crying hysterically and grinning from ear to ear at the same time.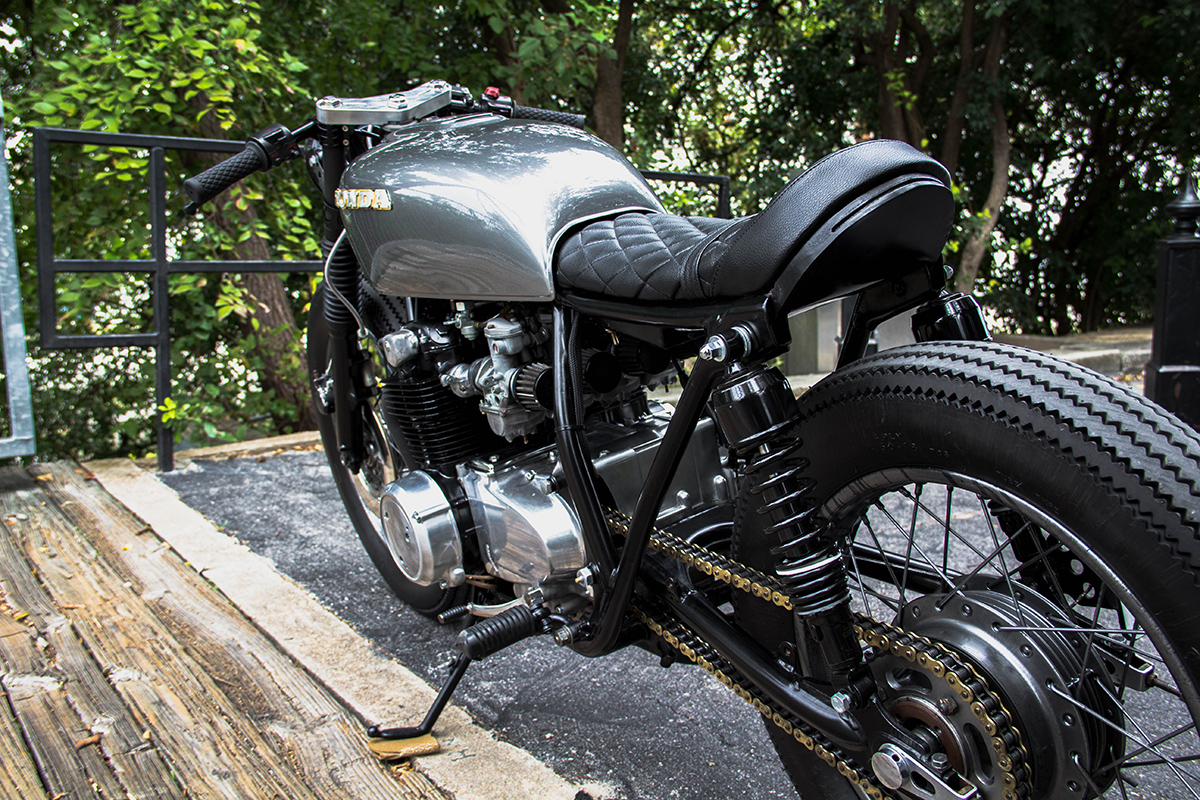 We're not bike builders or out to dazzle anyone with our crazy builds. We are simply enthusiasts that want to ride our own creations. If you have questions about our work, great places to ride in Texas, or even where to grab a good beer and burger contact us on Instagram.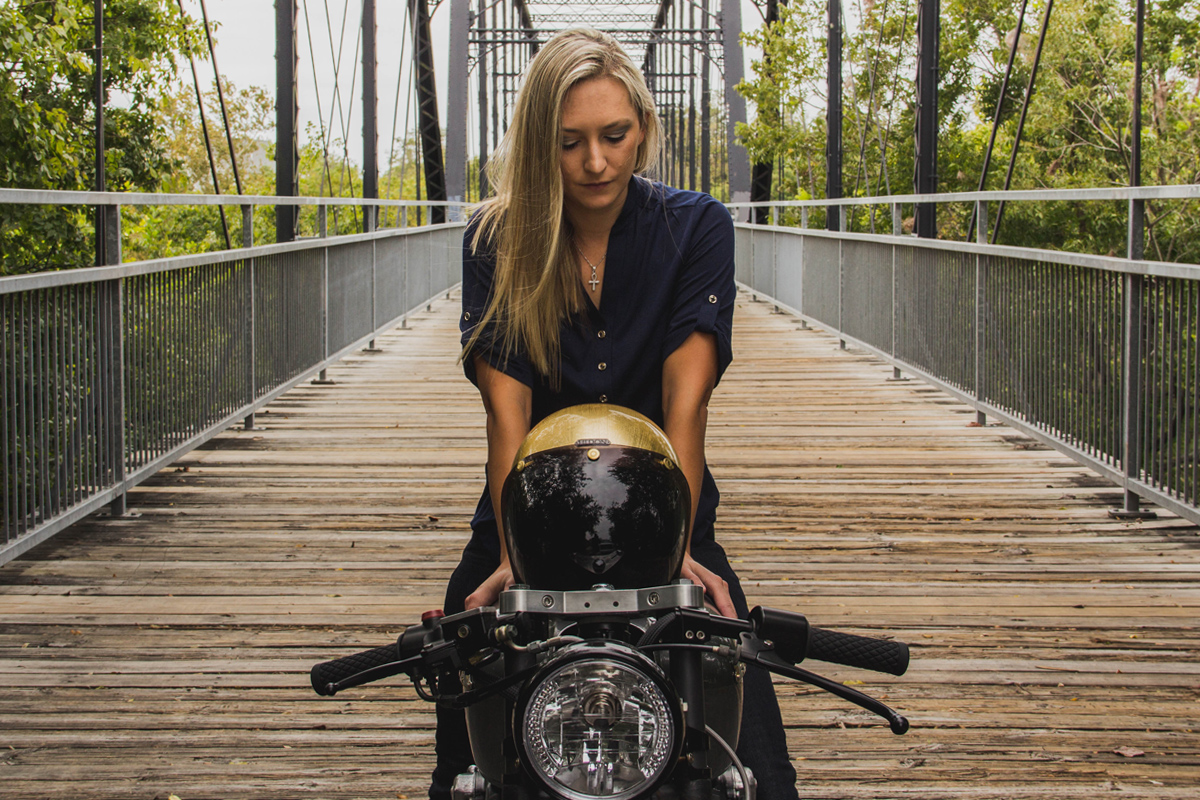 This whole adventure began when my partner in crime, Blake Bailey, a recreational custom motorcycle builder and founder Motobailey Shoe Co. bet me that I wouldn't get my MC license. After I proved him wrong I went out and bought a Ninja 250 and quickly became addicted to motorcycles. It was an outcome that surprised us both. The combination of adrenaline and the peace that camewith being on a bike was one of the most incredible feelings I've ever felt. From there, I said goodbye to yoga…and a new life passion was born.