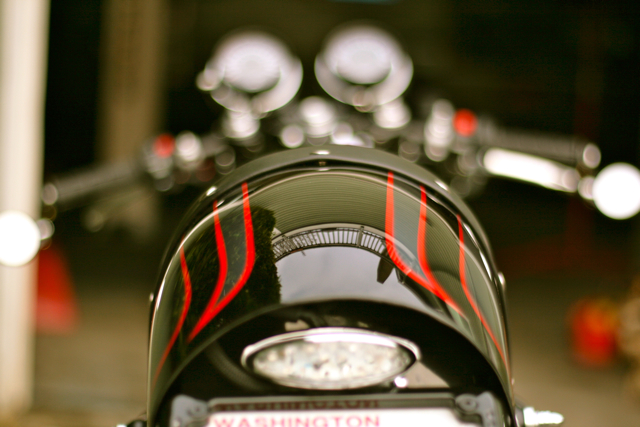 I never get tired of seeing
Honda CB750
's converted into Cafe Racers. Not only is the CB750 a magnificent base for a stripped down street racer they also really suit classic Cafe styling. This '77/'78 Honda CB750 F based Cafe Racer was built by
Mike
Tige from
DC
Tahoma, WA who's done a lot more than simply fitting new rubber and apply a fresh lick of paint to pull this beauty together.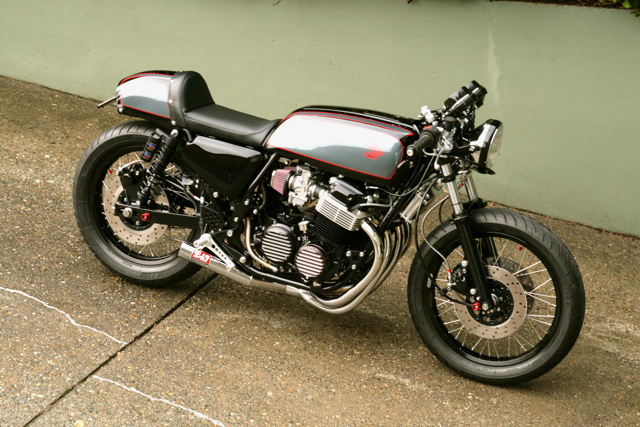 Starting with the engine the CB now has a stage 3 head with a 5mm valve conversion, heavy duty cam and primary chains and heavy duty studs. An APE clutch manages the shifts while a Mega Cycle cam and APE race crank with Super Rods transfer the power from the big bore 915cc engine to the rear wheel.
The fuel intake has been upgraded with a set of Mikuni RS 34 Carbs ensuring there's plenty of boom juice feeding the thirstier 915cc engine. At the other end of the combustion process the four header pipes wrap around the engine to meet at the hi-flowing Yoshimuira exhaust.
With all that extra oomph on tap some big upgrades to the handling were next. A boxed swing arm, Works Shocks at the rear and Race tech springs and emulators in the front tighten up the ride; while the drilled discs and Brembo rear master cylinder help him to pull it up fast.
To compliment the Hondas awesome performance Tige has given the bike a full Cafe Racer inspired face lift. All the unwanted embelishments ended up in the bin while everything else was stripped, polished and painted. All the fasteners have been replaced with fresh stainless ones and braided hoses replace unsightly rubber. The Cafe Racer look was finished off with a set of Vortex clip-ons, knurled rear sets and a fibreglass tail conversion. If you happen to be out riding in Tahoma it'll be easy to pick out Tige…he's the guy up in front.