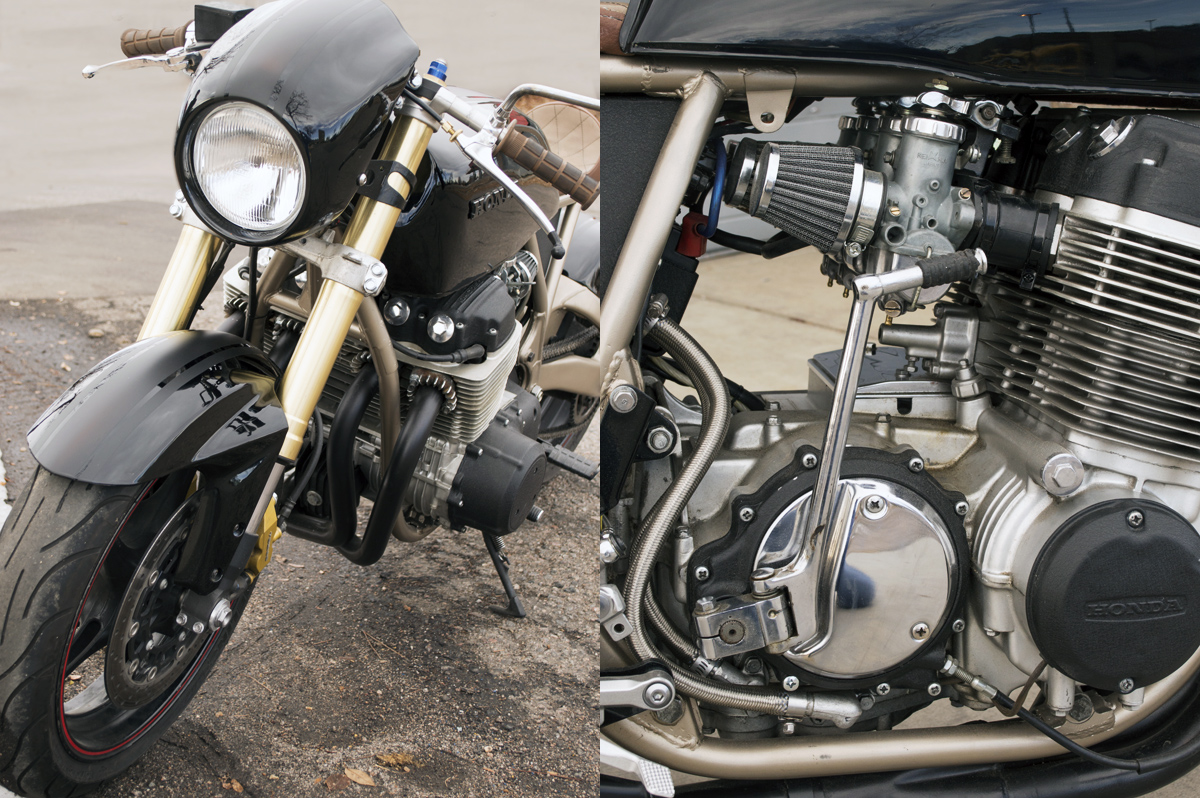 The 'Super CB750 Cafe Racer' is Dario's demonstration of what can be done to solve the rider size conundrum. "I always had the "bigger" guys asking questions about my bikes, but when they sat on them they looked like a bear riding a tricycle!" explains Dario. "The Super Cafe Racer was built for a bigger person to feel comfortable while still retaining that Café feel."
Dario's Super Cafe Racer started out as nothing more than a 1974 Honda CB750 frame he purchased off a friend. For the engine he scoured Craig's List until he eventually came across one not far from his workshop. To get it ready for the bike the carbs were re-jetted to function with a free flowing Yamaha R6 exhaust and the pistons rings were replaced along with all of the engines worn gaskets and bearings from the bottom end up.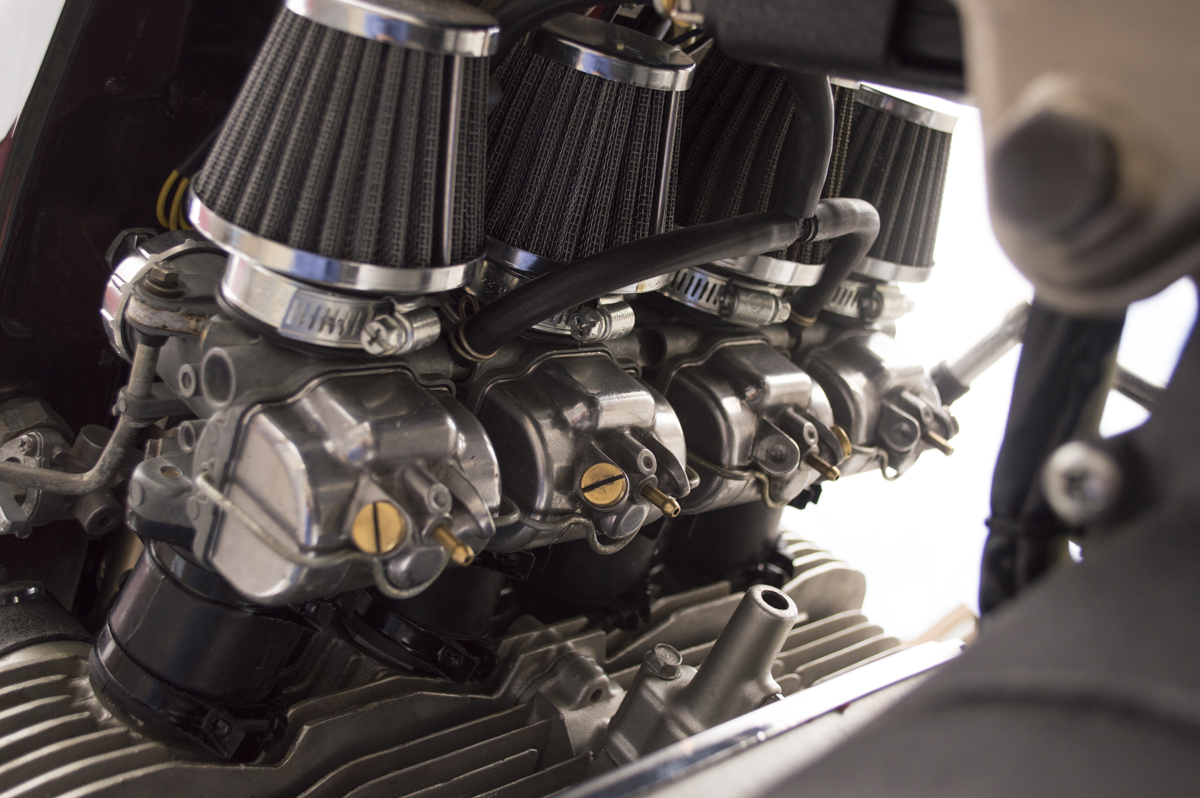 After welding in a shortened rear subframe Dario fabricated a custom seat and oil tank to fit the modified frame. A CB750 Super Sport tank was then mounted and a Harley Davidson V-Rod bikini fairing sourced for the front end.
For the CB's suspension Dario wanted modern performance, which presented him with a few challenging problems. The first was getting the huge 2009 Yamaha R6 swingarm and monoshock suspension to fit the 1974 Honda frame. "It took a lot of work to get it right. It was a tough fit and I almost bailed on the idea a few times, but I ended up machining a couple of pieces which I graphed into the rear of the frame." For the front suspension he sourced a Suzuki GSXR750 set of USD forks which were also custom mounted to the neck of the frame and to an R6 rim.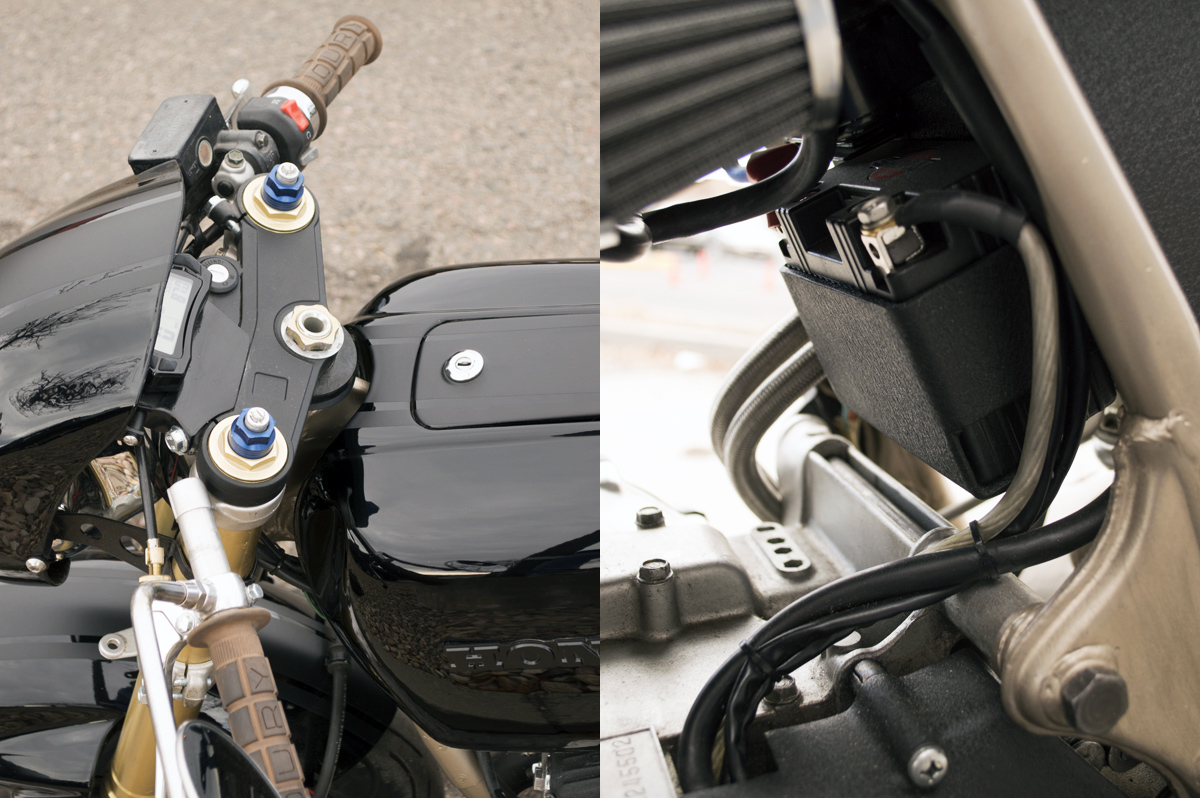 When I asked Dario about the bikes handling he replied, "I'm very proud of the ride quality. It truly feels like a newer bike. It handles the big sweepers very well and the suspension is just right! The R6 brakes are also fantastic, locking up the rear tyre if I just tap the brake pedal!"
The D-Town Cycles Super Cafe Racer is certainly an interesting approach to modernizing Cafe Racer styling and while some purists may be shaking their heads, I'm sure there's plenty of big guys out there who'd love to throw a leg over this beast.
Photography: Deasembra Garcia
I once saw a Chopper that had been built for Shaquille O'Neal. The thing was enormous! Huge rake, huge wheels, huge bars, huge everything. It was like something from a comic book, but strangely when Shaq sat on it everything made sense and it didn't look so out of proportion anymore.
Denver based builder Dario Diaz Jr of D-Town Cycles knows exactly what I'm talking about. After seeing many a burly customer walk away because their scale didn't suit regular sized Cafe Racers he decided to build something much more appropriate.