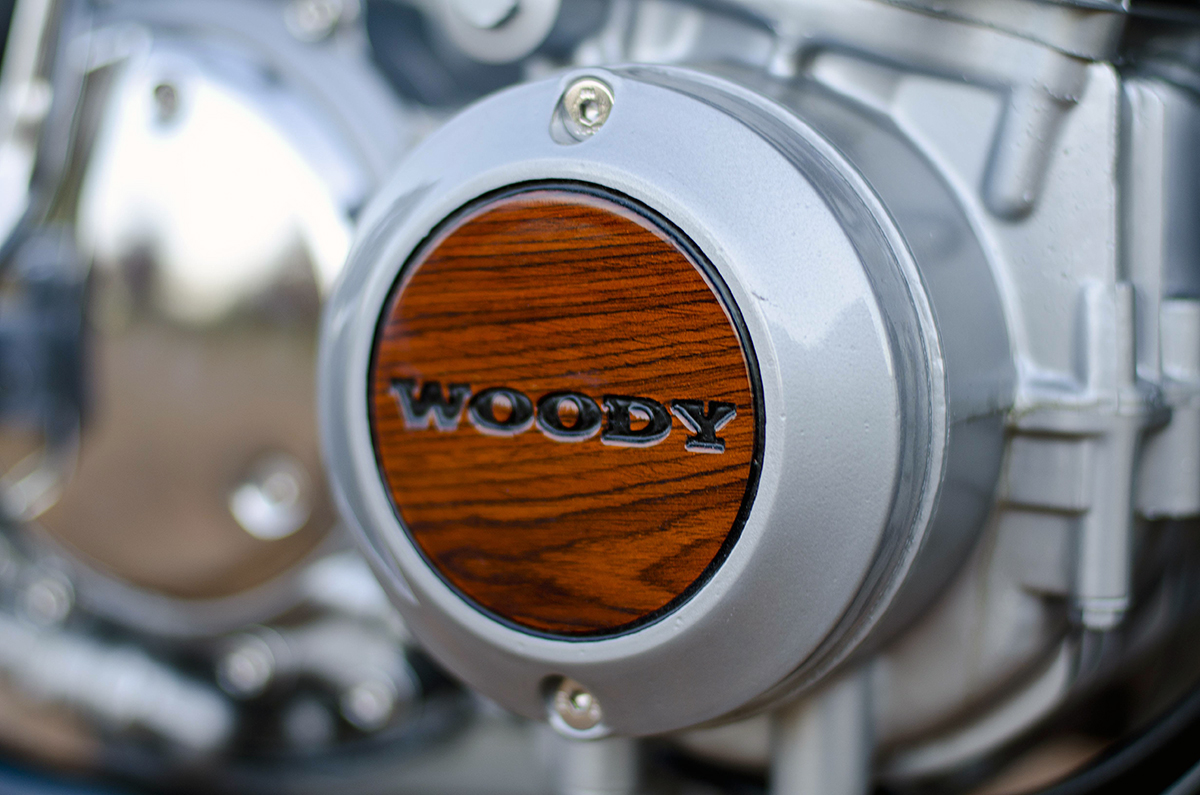 "I studied industrial design in university where I developed my own design aesthetic" explains Spencer. "During my studies I also learned fabrication and finishing skills, spending extra time in the university workshop. A few years later I now have my own 1200sqft shop where I build custom headlamps, paint bikes and cars, fix and flip things and build cool stuff in my spare time."
By "cool stuff" Spencer is referring of course to Woody and a rather intriguing 1960's Ferrari replica running a Jaguar V12 engine. With side projects this grand you can imagine just how skilled Spencer has become.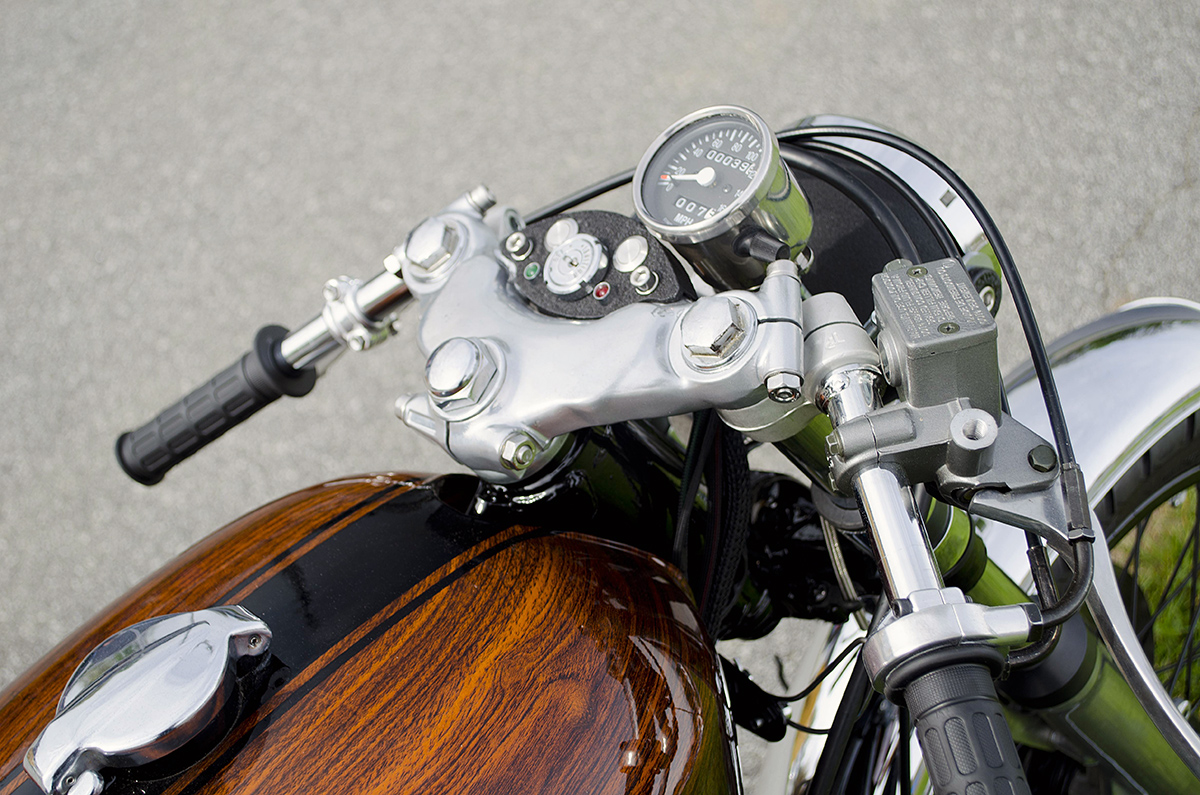 "I didn't startwith a particular direction just kind of jumped in head first." Spencer happily admits, but that didn't stop him from challenging himself. First completed in 2012 this is the second time he's rebuilt the Honda CB. During round two he's paid special attention to improving upon things that didn't turn out as well as he would have like the first time round. During this version of the build the tore the bike completely down to give it a thorough clean and rebuild.
To kick off the list of things Spencer has done to the bike I feel it's important that we first address the elephant in the room, the wood grain. While the idea of a wooden fuel tank would no doubt be alarming to many people, worry not as Spencer used a process called immersion printing to apply the pattern to the bikes original steel tank and modified aftermarket tail. To then add longevity he applied 8 coats of clear which also helped to add depth and realism to the finish. The same process was also applied to his 3D printed "WOODY" points cover before filling each letter with black and applying a black pinstripe down the center of the tank.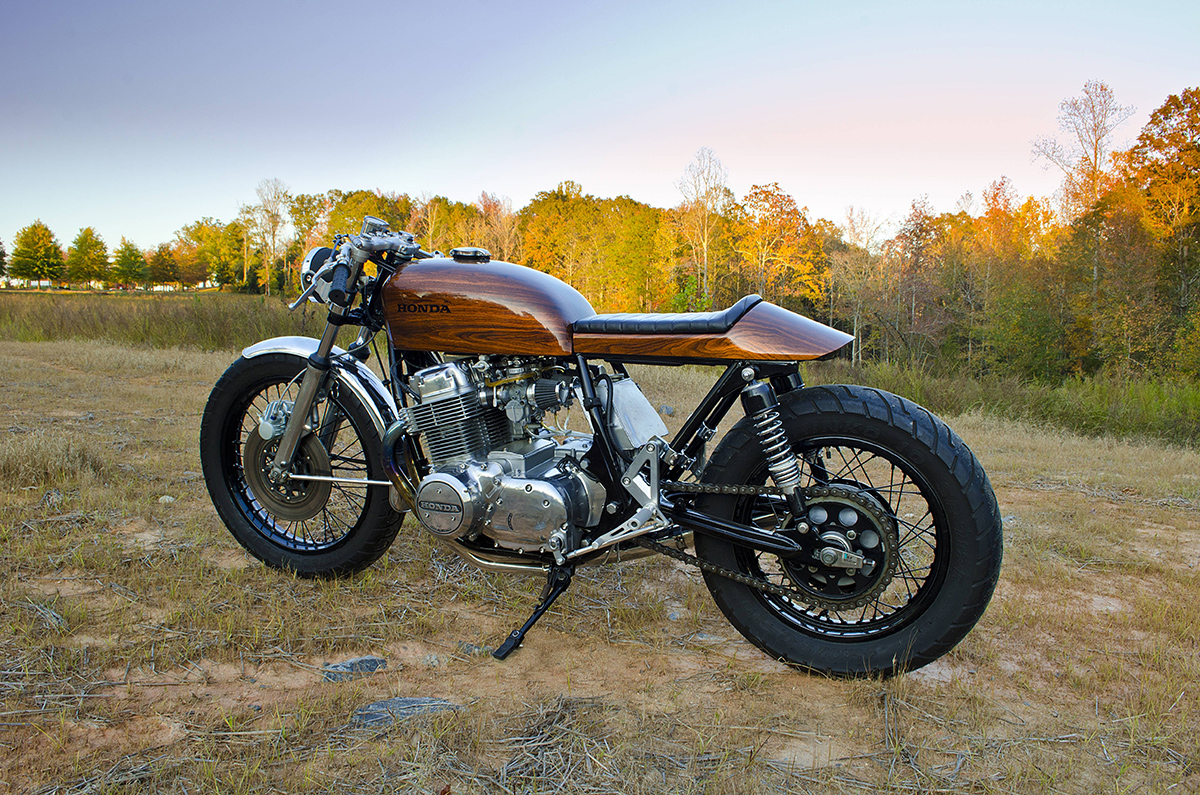 To help hero the bikes iconic SOHC engine, Spencer gave the frame a thorough clean, removing redundant tabs and opening up the space previously occupied by the airbox and oil bag. To carry the oil he then constructed an alloy tank that doubles as a shield for the pod filters and feeds the engine via braided lines. Oversized Shinko 712 tires were then mounted to the blacked out rims to give the bike a more aggressive stance. The front fender now hugs the rubber tightly with just enough space to allow for freeway expansion. For suspension, he's gone with classically styled aftermarket shocks in the rear and mounted a CB550 set of forks up front to drop the nose just enough to level out its bone line.
The engine itself was also given an overhaul. The top end is from a '78 CB750K and all of its cases were either cleaned, painted or polished to get it looking its best. With pod filters and a Mac 3 inch straight muffler the carbs have also been overhauled to balance out the fueling and maximise its performance.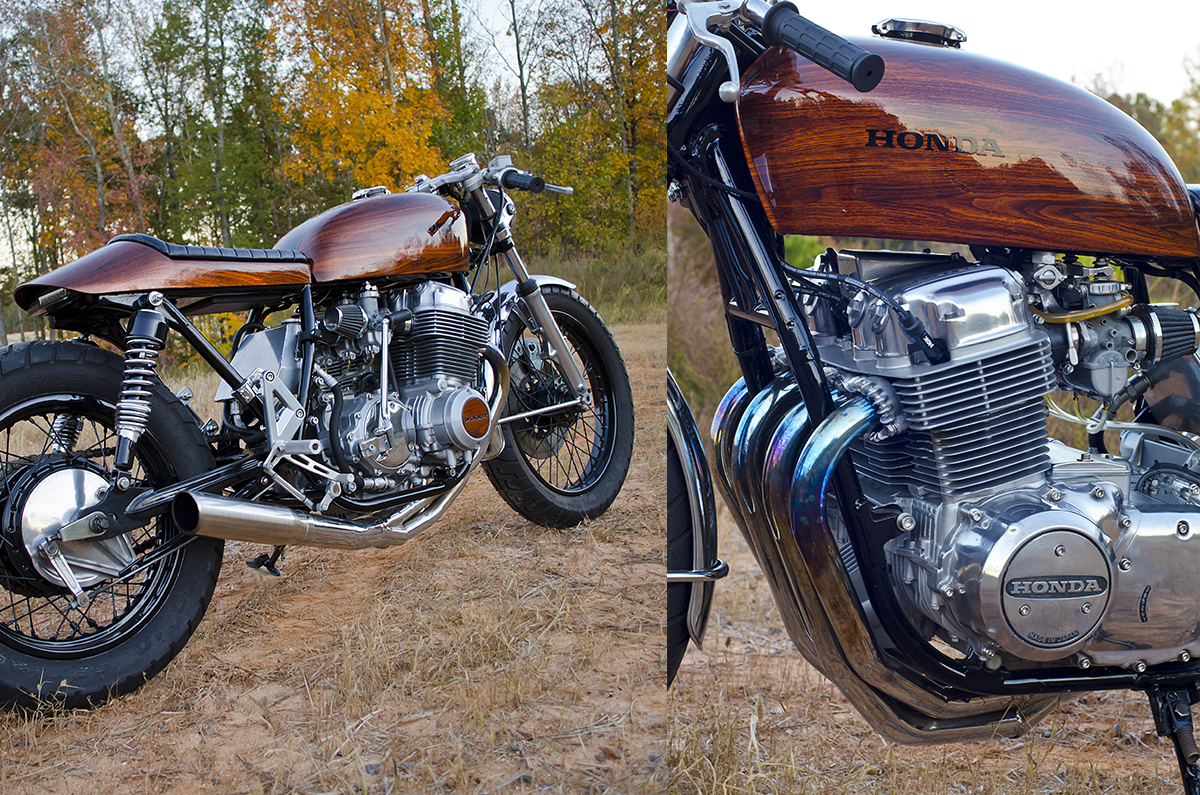 The finishing cafe racer styling touches came in the form of Tarozzi clip on bars wearing low profile grips and a Yamaha slanted master cylinder. The top clamp was shaved to remove the old bar mounts and a 3D printed dash fabricated to hold the mini aftermarket speedo, idiot lights and ignition button. The foot controls are a vintage style set of CNC rearsets mounted using custom brackets and linkages.
Despite wanting to retain the look of an original bike there were some components on the bike that Spencer insisted on upgrading. To do this he paid special attention to hiding the modern touches from view. A 3D printed headlight bucket holds an HID bixeon projector headlamp which sits hidden behind a BMW E30 lens. A ZX6 LED taillight sits up under the tail where it can't be seen until it illuminates and the electronic ignition system and its components were also carefully concealed.
The result of Spenser's hard work speaks volumes. Although it may not be real, the wood grain looks as classy as a cigar boat moored in Milan and his decision to retain retro running gear is one that we're certainly not going to disapprove of.
Follow Spencer's other builds on this Instagram page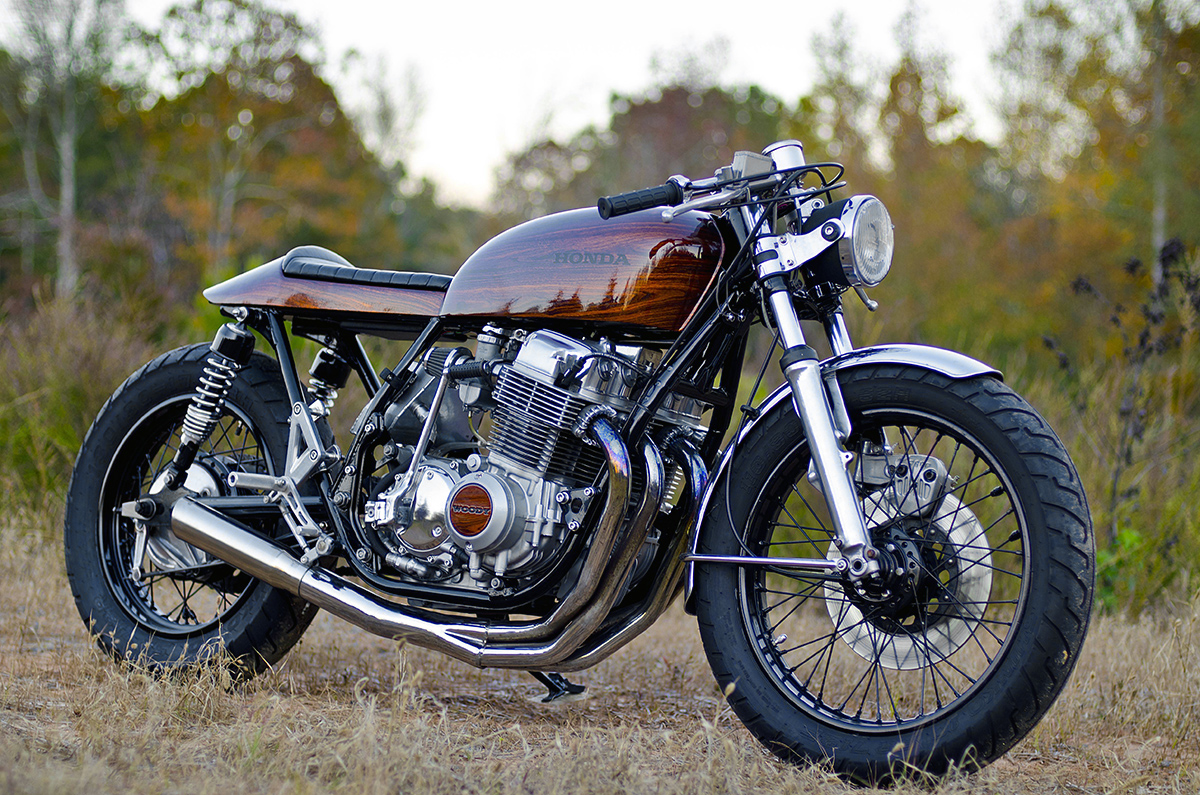 A lot has changed in motorcycle manufacturing since this CB750k rolled out of Honda's factory in '75. From their brakes to their electronics these poor old CBs are becoming rather archaic. As a result many of the
Honda
CB cafe racer builds we see here on the site feature retrofit modern parts. While that approach may bring their performance up to modern standards, it can detract from their classic good looks. Industrial designer Spencer Tull has an affinity for retro Japanese rides. His personal taste prevents him from making such modifications, so he instead utilises his background in design, proportions and ergonomics to fine-tune his motorcycles. Although his 'Woody' CB750k cafe racer may be rolling on original running gear, it's packing parts that were made using some rather modern techniques.