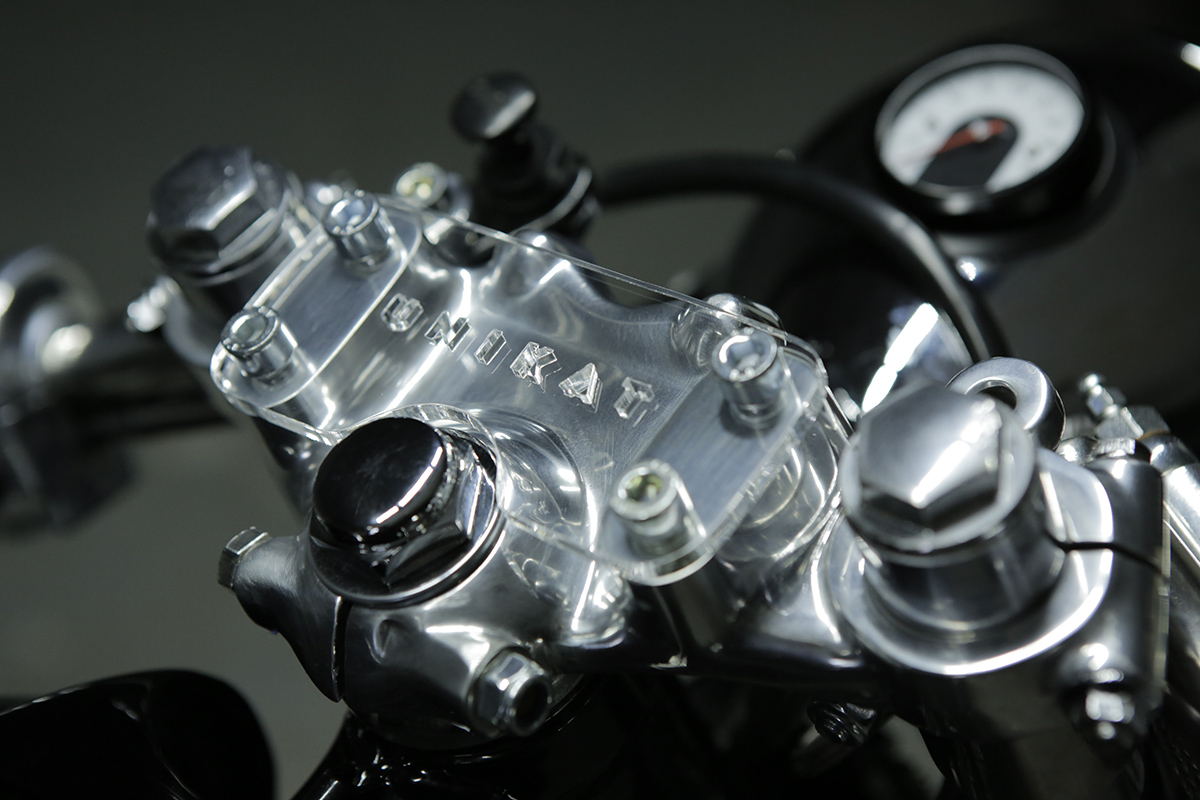 Unikat, which translates to 'Unique Piece', opened its doors a mere 18 months ago. It all began when Grzegorz completed his own custom build and started showing it around town. After getting nothing but great feedback and a few potential customer requests, he took the plunge and Unikat Motorworks was born. As each new Unikat build was completed more orders rolled in and he was soon employing staff to help meet the demand. Unikat now boasts a portfolio of over 20 custom Cafe Racer and Scrambler styled builds and there's no sign of things slowing down.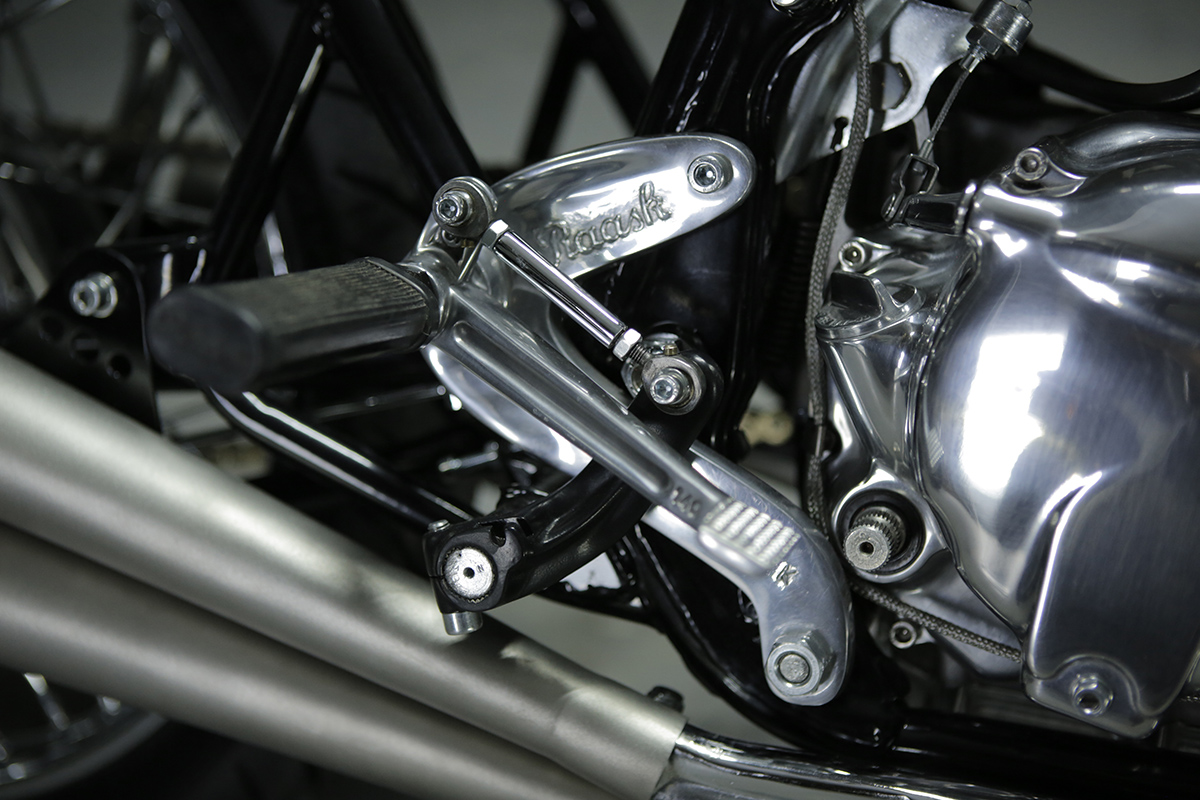 Every business owner knows the value of repeat customers and Pascal, the owner of this 1978 CB550K, is easily Grzegorz best. "I came to Unikat one day and explained to Grzegorz that I couldn't find any bikes that seduced me. So we started to talk about a custom build." explains Pascal. "I was so into the ideas he had that I decided to make 2 bikes not 1. So I purchased the Honda CB550 and a CB350 Four. With the 550 I wanted him to create a vintage styled café racer, light and of course, fast!"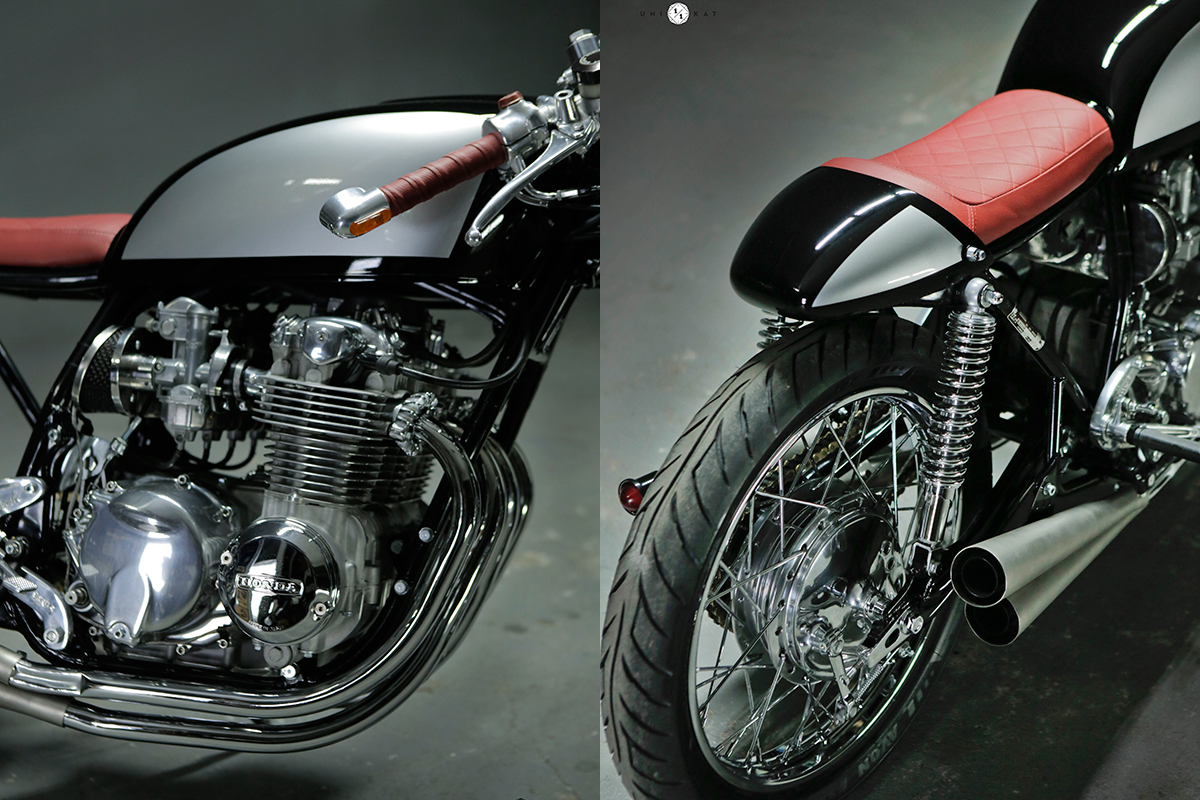 "I have a friend who works with old Mercedes who offered me the vintage leather from a 1950's Mercedes 300sl Gullwing so we decided it would become an important feature of each bike. For the CB550 we used a red leather and for the 350 we will use tan. I wanted a colour palette that reflected the 50/60's era and Grzegorz understood perfectly. When he presented me with the first concept I fell in love with his vision and the 550SL was born."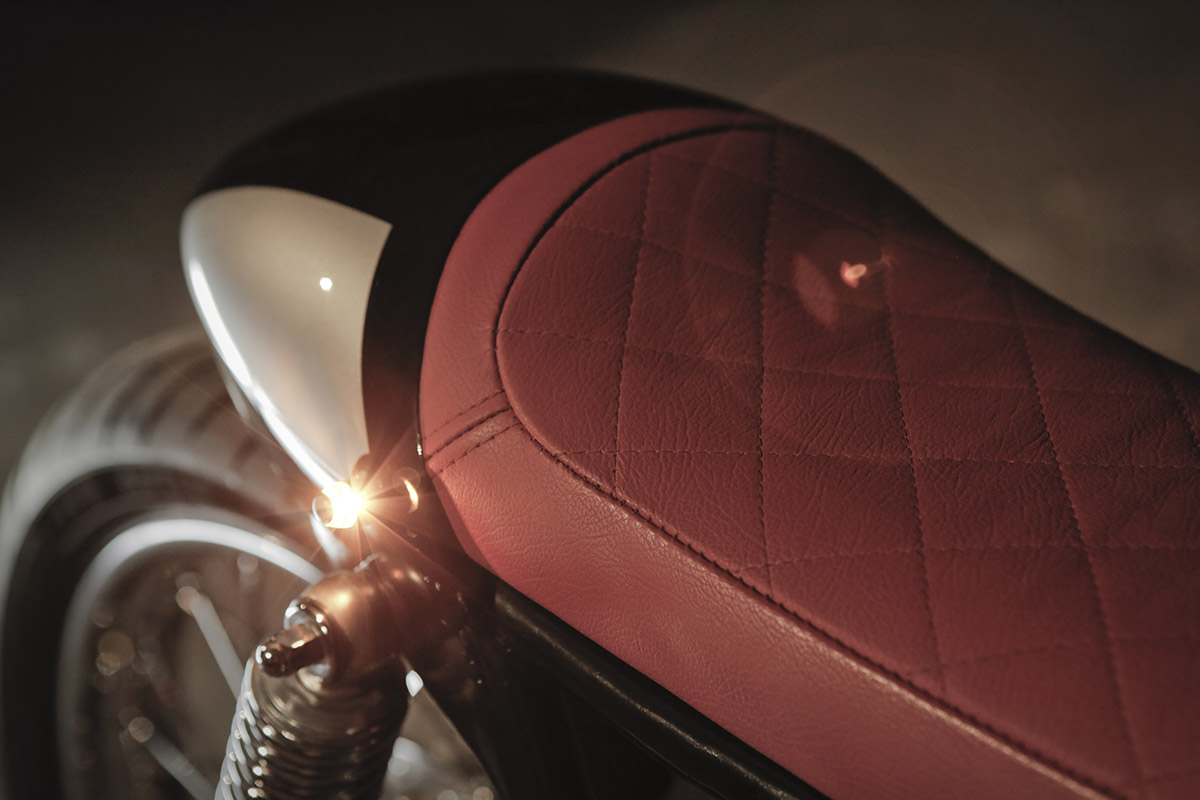 The build of the 550SL took 4 months (approximately 680 hours) and the efforts of 18 different people to complete. The 38 year old engine was dismantled and completely rebuilt after a rigorous clean. The head, barrels and crank cases were blasted, to get them looking as fresh as they did the day they emerged from Hondas factory and the cases were meticulously polished by hand. To improve performance the airbox was replaced by handmade, free flowing pancake filters and a set of custom mufflers mounted before dialing in the carbs.
To round off the bike's rear there's a shortened loop which has been paired to a custom seat and rear cowl that houses the bikes electrical components. Clip on bars and vintage Raask rear set foot pegs recalibrate the riding position to be more suited to cafe racer styling and an extra disc on the front end adds additional stopping power. Both hubs were relaced to fresh rims which have been wrapped in performance focused, Avon rubber. On the top clamp you'll find a clear acrylic plate boasting a laser cut Unikat logo and the single Motogadget dial has been frenched into the headlight bucket for an uncluttered finish. All up Grzegorz counts 100 parts on the bike that have been customised or modified in some way, and looking at the 550SL it's a number I'm not about to dispute.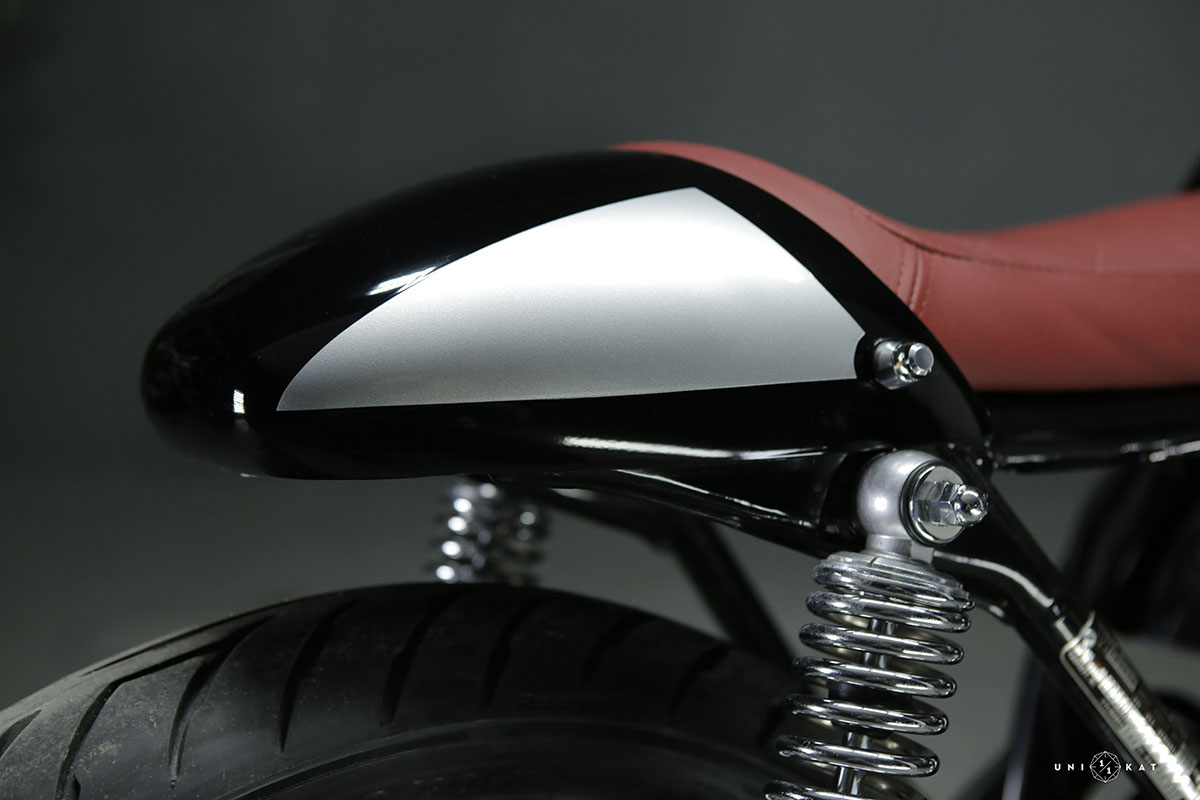 The most elegant of the bikes features is the paint which has the same deep glassy finish of a grand piano thanks to 3 coats of hand sanded clear. It's just another item on the list of work done to the 550SL that make it so impressive.
Next up Pascal is having Unikat customise his Honda CB350 four and after that his Moto Guzzi V7. According to him "Poland got's talent" and Unikat Motorworks is where you'll find it.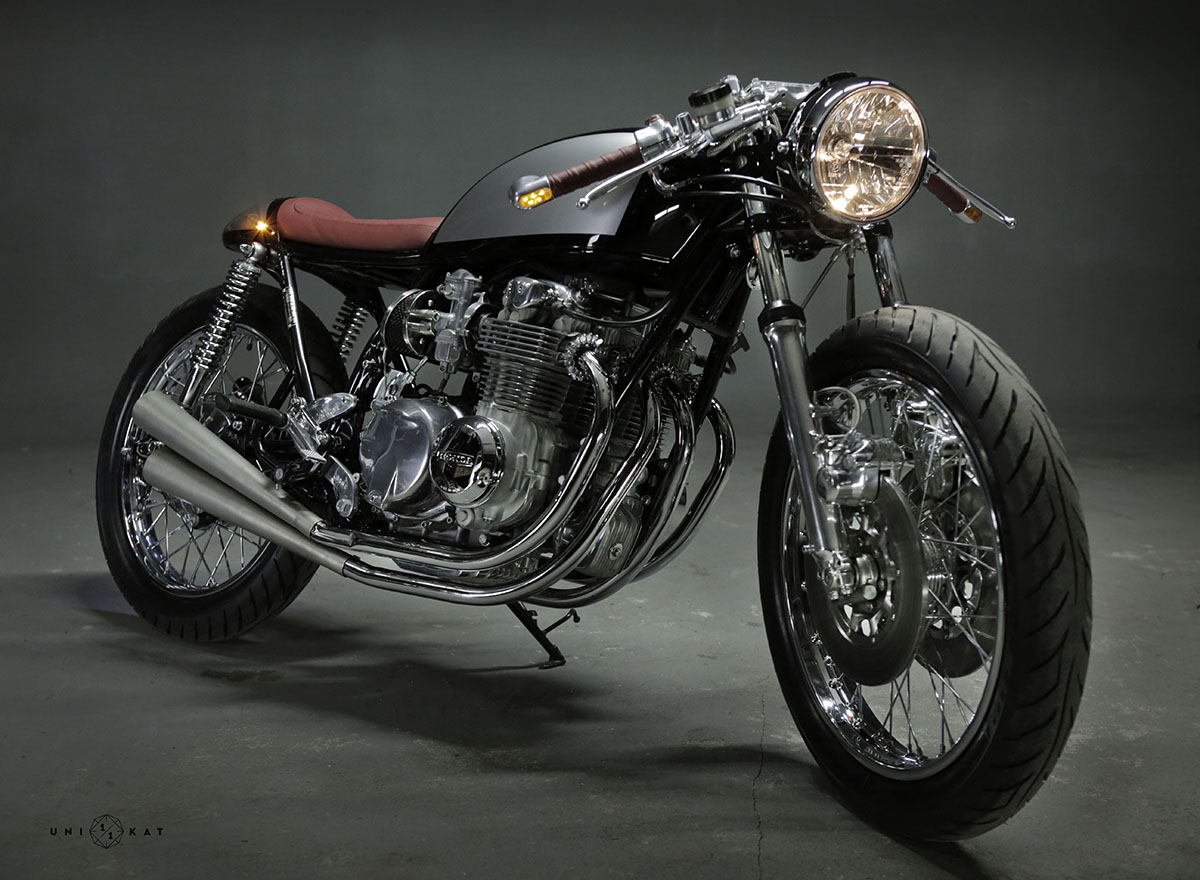 Today's Cafe Racer hails from the 2016 European Capital of Culture, Wroclaw Poland, but that isn't why it looks so incredibly refined. As it turns out this Honda CB550 Cafe Racer has been built by a man whose talents extend well beyond the workshop. In fact, he's an accomplished cinematographer, Oscar-nominated special effects director and visual artist whose work can be seen in galleries around Poland. His name is Grzegorz Korczak and his workshop is Unikat Motorworks.