"I bought this motorcycle from a friend at the end of November 2013. After riding it around for 2 months I decided I would like to change the whole look and frame design its Café Racer style to a classic flat tracker. The main reason is that it wasn't a comfortable riding position and it was designed with a lot of sharp edges and lines that didn't appeal to my aesthetic. The revised design idea came to me when I saw vintage photos of these bikes being raced as flat trackers. After sketching out several designs based on reference images I had collected I decided to go ahead and change the bike using classic flat track looks, but with modern materials such as carbon fiber."
"I took the bike to Protechnic Workshop to do a total rebuild and frame modification as they are known well for their work on motocross and dirt bikes. Rather than using the original Honda frame we used a Yamaha XS650 unit because it had a more upright stance that suited my design. We started off by taking all the parts out of the Yamaha XS650 frame and the dual cradle design into a single cradle using a thicker seamless pipe to support the engine. This gave the engine more presence and made it a more dominant design feature. Then we remodeled the sub-frame and swingarm giving it a more appropriate stance for a flat track bike.  We opted for the same seamless pipes with the same diameters and thickness that we used on the front of the frame.
We considered the safety aspects of the ride a priority so we added telescopic shocks for improved handling and twin, large-diameter Brembo 4 caliper disc brakes up front.  These were sourced from a Honda CBR 600 along with the Ohlins rear shocks. The clutch system was changed from a mechanical set up to a hydraulic system using parts from Magura Germany and we rebuilt the engine by changing all the old or worn internal parts."
"After that, the next step was to make the bodywork, which we set up in fiberglass. This included the tank, seat and tail, left and right side covers, front and rear fenders and front shock covers like a motocross bike.  Once these were all mocked up I decided to remake them in carbon fiber for a much more modern look.
Finally, I named the bike the 'Black Bomber' after the classic nickname of the first Honda CB450 K0 back when they were produced in 1965. They may only be 450cc, but they produce more than 100hp per liter and are great fun to ride."
For the complete story on Tommy's Black Bomber and more photos of the Black Bomber grab yourself a copy of Tank Moto issue 6. The new, bigger A4 format means more photos, more content and as always you'll find nothing but killer custom motorcycle content.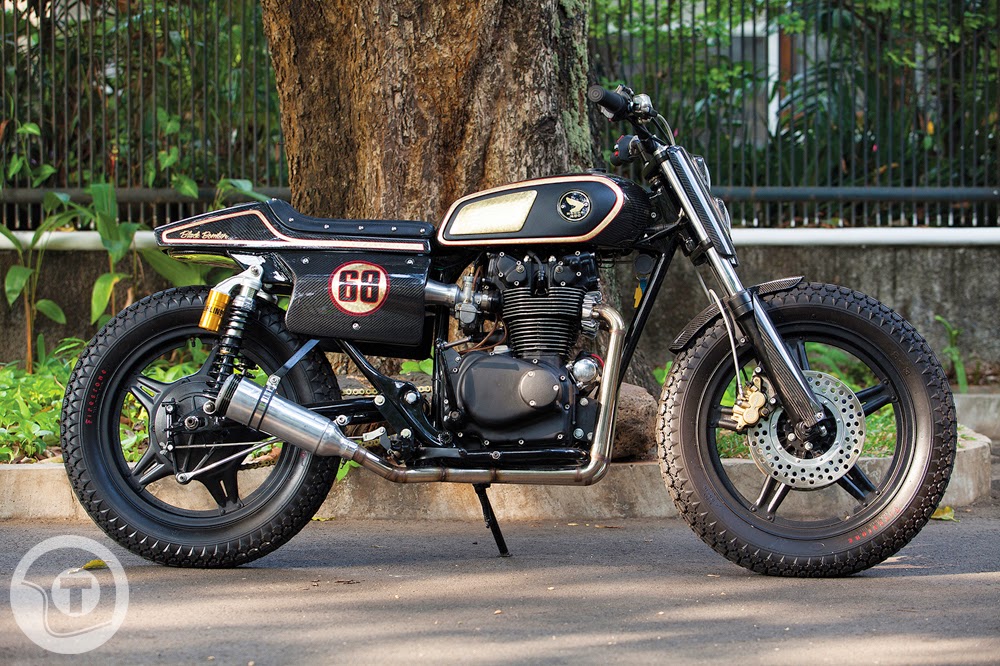 Another of the great workshops I had the opportunity to rub shoulders with at Kustomfest in Indonesia was Jakarta's 'Gearhead Monkey Garage'. At the show the Gearhead crew took out several trophy categories for their custom carand bike builds, but it was one particular bike of theirs that caught my eye. With a Honda CB450 engine nestled snuggly into a Yamaha XS650 frame their "Black Bomber" Flat Track Racer had me heading back over to their stand several times over the weekend for a closer look. Before the show wrapped up I asked the bike owner Tommy Sunu to give us the lowdown on the bike and their workshop. Here's what he had to say…