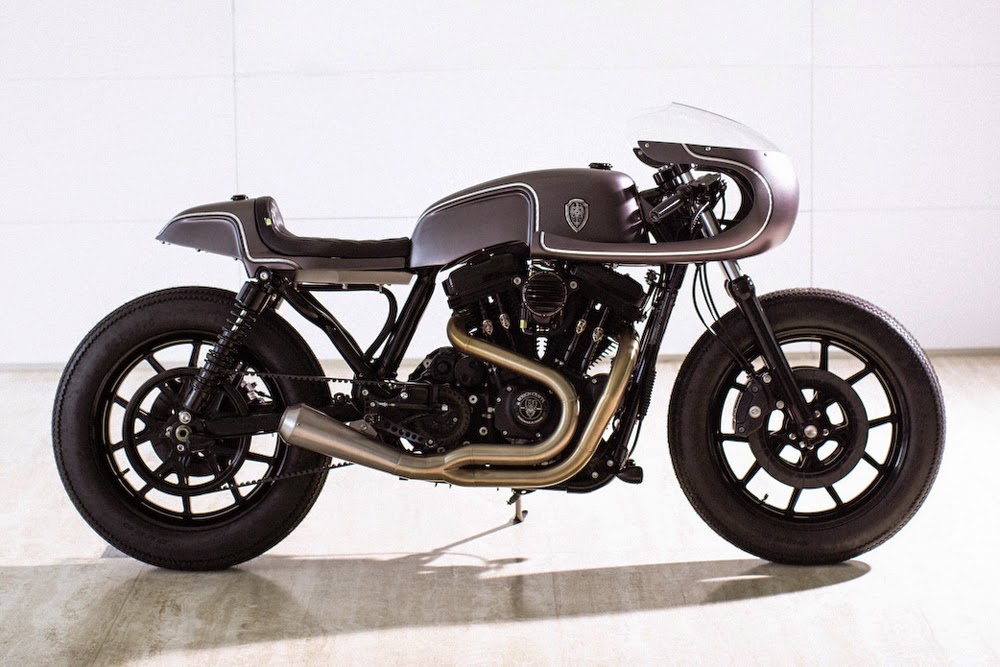 Over the past few years Taiwanese workshop Rough Crafts have achieved amazing things in the world of custom motorcycles. Their dedication to American marque Harley Davidson is evident through their HD dominated build portfolio and their range of Rough Craft 'Hard Parts' (custom parts and accessories) for late model Harleys is ever expanding. Their builds grace the pages of international print and digital publications making them a regular name drop amongst enthusiasts and rightly so, as they are world class. Although their latest creation steps away from their traditional bobber/hardtail style it's as well designed and executed as any of their builds and I'm happy to say it's a Cafe Racer inspired creation that has left me wanting more.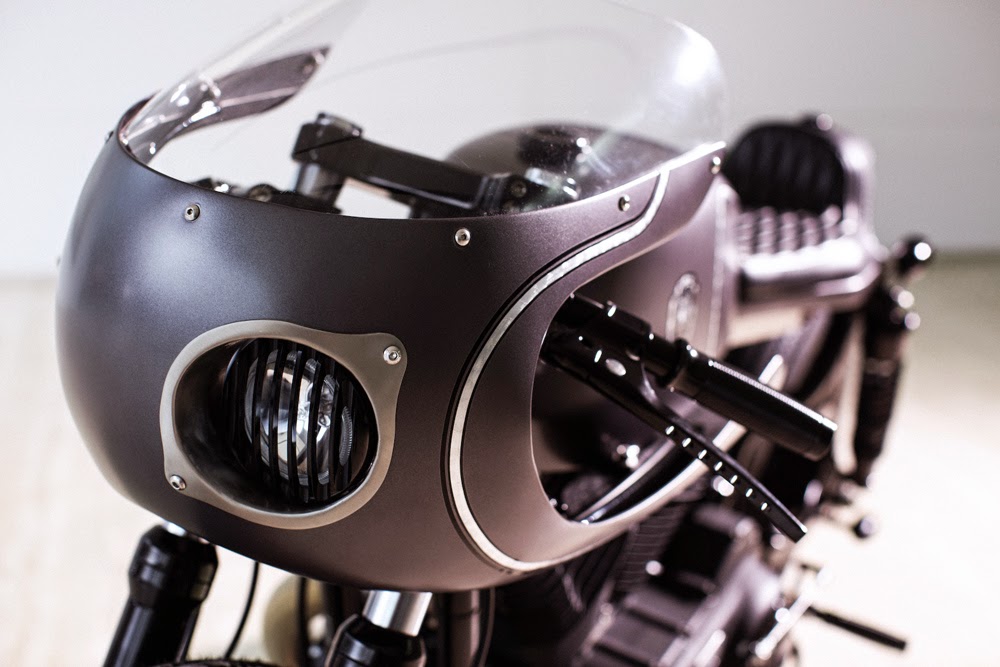 I'd been watching this bike, which Rough Crafts owner Winston Yeh named 'Slate Hammer', evolve on Instagram for weeks before its unveiling and knew it was going to be a good one. Winston transformed the 1200cc, 2012 48 Sporster for a customer/friend who is the owner a clothing brand "TAKI". Although his friend admits he was "never really into bikes" he had visited Mooneyes Yokohama and Joints on recent trips to Japan and had caught the custom bike bug. After a few discussions Winston had some simple instructions to go by; make it a Café Racer, clean and grey-ish in colour.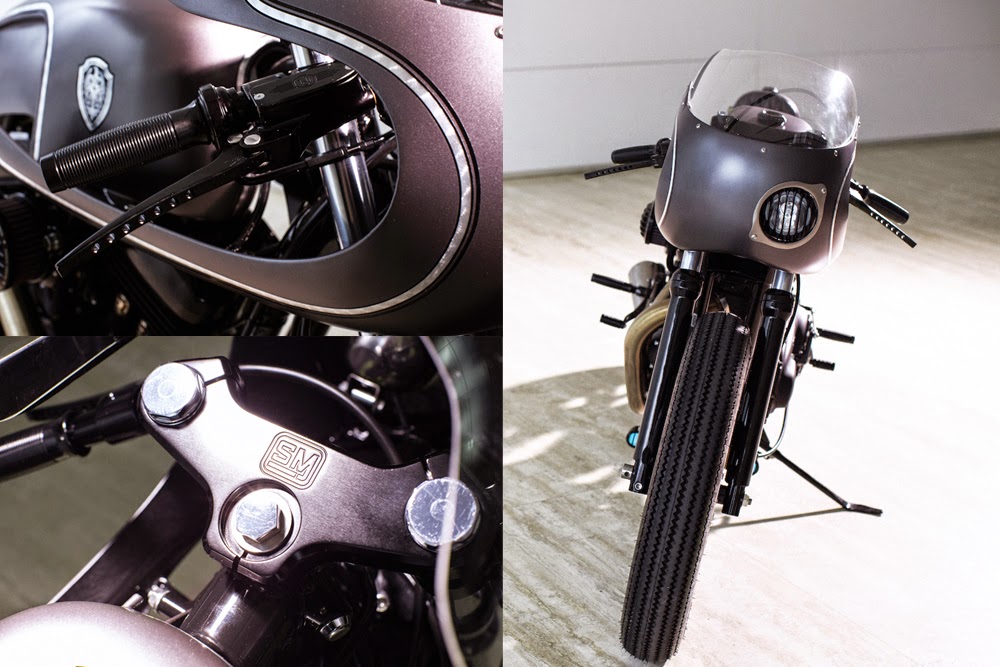 As Winston explains it "The key component to the Slate Hammer is the vintage replica Dunstall GT half fairing by GFTP. It was the perfect size, but the windscreen was too high for the slick look I was after. So I heated the screen and tilted it lower until it sat how I wanted". The bikes Cafe style tank with knee dents and an engine hugging base actually started out life as a stock Sportster tank. As it turned out with some chopping and changing the stock unit could be transformed into perfect Cafe style tank mounted nice and low to hug the V-twin and follow the lines of the front fairing. To open up the rear of the frame Winston decided to relocate the oil tank into the tail section and tuck a lithium battery away under the tank and the remaining electrics went under the bellypan in a custom made, water tight stainless steel box.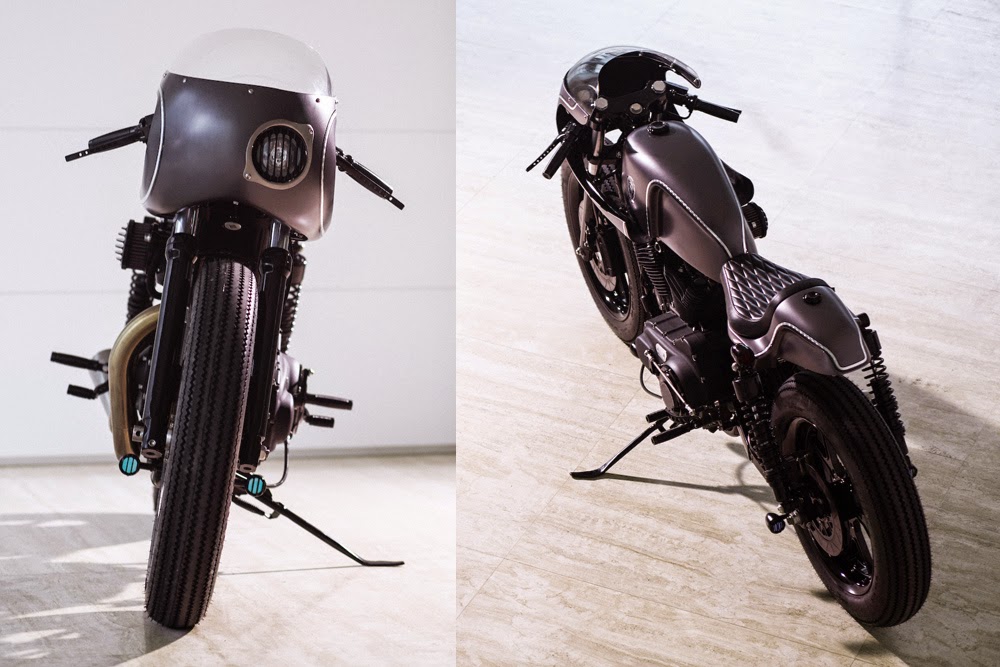 Winston then looked to US based custom parts manufacturer The Speed Merchant for a riser-less top clamp solution which they mounted a set of Sportster 883R to. A special mix of parts from San Diego Customs and Lyndall Racing Brakes was used to complete the wheel set up and a pair of Progressive springs went on the rear end for improved stability. The fuel system was also swapped to run a Super E S&S carb for a touch of old school engineering.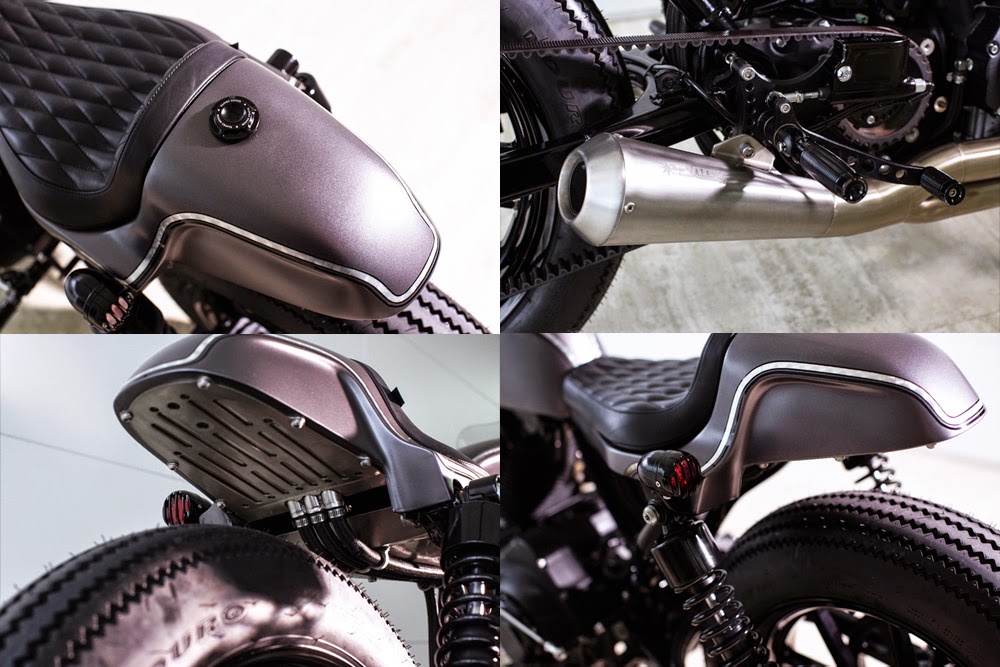 One of my favourite features of Rough Crafts builds are the exhaust systems and Winston looked to his regular supplier Spark in Italy for the headers to he mounted their own, Rough Crafts short and fat, Stainless steel reverse megaphone muffler. Other Rough Crafts made styling modifications on the Slate Hammer include the engine case covers, clip on bars, hand controls, grill headlight and indicators, gas cap, grips, air intake cover and the blacked out rear set foot pegs.
The final design touches to the build came in the form of leather work by Back Drop in Japan, silver push rod covers by jewellery experts 2Abnormal Sides and the slate grey with silver foil pinstripe paintwork by the talented Air Runner Custom Paint workshop.