Harley's continue to be the underdog in the Cafe Racer scene. Although I've featured plenty of Harley Davidson Cafe Racers here before they always seem to be received with mixed opinions, many of which tend to be negative. People talk about them being too heavy or handling horribly, but I can't help think there are many bikes made by other manufacturers that could easily be described the same way, but for some reason avoid the negative comments when they are customised. Is it because there's a strong divide in the motorcycle scene between Harley owners and the rest of us?
Or perhaps it's because people just aren't used to seeing a Harley customised in such a way? Regardless of what the cause may be, I am glad to see more Harley's undergoing the Cafe treatment. One of the latest Harley Davidson Cafe Racers to appear in my inbox is this beast from Matt Black Customs. Not only does it knock all of the common complaints on the head it's one helluva good looking machine!
Here's what Anthony Partridge from Matte Black customs had to say about their 'Cafe Racer 57'.
"The bike started life as 2 bikes. A 2003 883 Harley Davidson Sportster and a 2006 Suzuki GSXR 600 Track bike. It was supposed to be a quick in and out project build. The plan was to just put the forks and wheels of the GSXR on the sporty, but as you can see I took it a wee bit further than that."
"The build took over a year as the project kept evolving and changing and had to be fit in around many other builds. In the end, the Cafe Racer 57 became our prototype and testbed for research and development that is now going to be our own Matt Black "Cafe Racer" bolt-on kit for all models of Harley Davidson Sportster."
What exactly did that build include? Well for starters Matt Black upgraded the Sporty's 883cc v-twin to a 1200cc capacity with an Andrews cam, S&S Super E carb and a Crane Ignition system. The standard loom was replaced by a Motogadget M Unit system and a matching Motogadget Speedo was mounted to the V-rod headlight up front. The triple trees are a Matt Black custom made part as is the rear swingarm and the exhaust system that vents to a MIVV Ghibli race muffler.
The stock GSXR forks have had their internals upgraded using parts from Maxtons in the UK and the WR26 rear shocks are also Maxton made. LSL clip-on bars with Puig levers sit high on the fork uppers and all of the wiring has been run internally wherever possible. The wheels are stock GSXR items that have been treated to an overhaul and a fresh set of Pirelli Supercorsa SC street-legal track tires. The tank started out as an aluminium Norton Manx unit that was modified to sit on the Harley frame and the tail and seat are hand made parts that will soon be available as part of the Matt Black Sportster Cafe Racer kit.
"The final touch was kickass paintwork done by our in house painter Ray Hill (Spray Hill), who has made a name for himself as one of the best in the industry, painting for Chip Foose and many other world-class car and bike builders around the globe."
Heavy? Bad handling? How about an awesome Cafe Racer built using the old school technique of combining the power of one bike with another one's awesome handling. Job well done.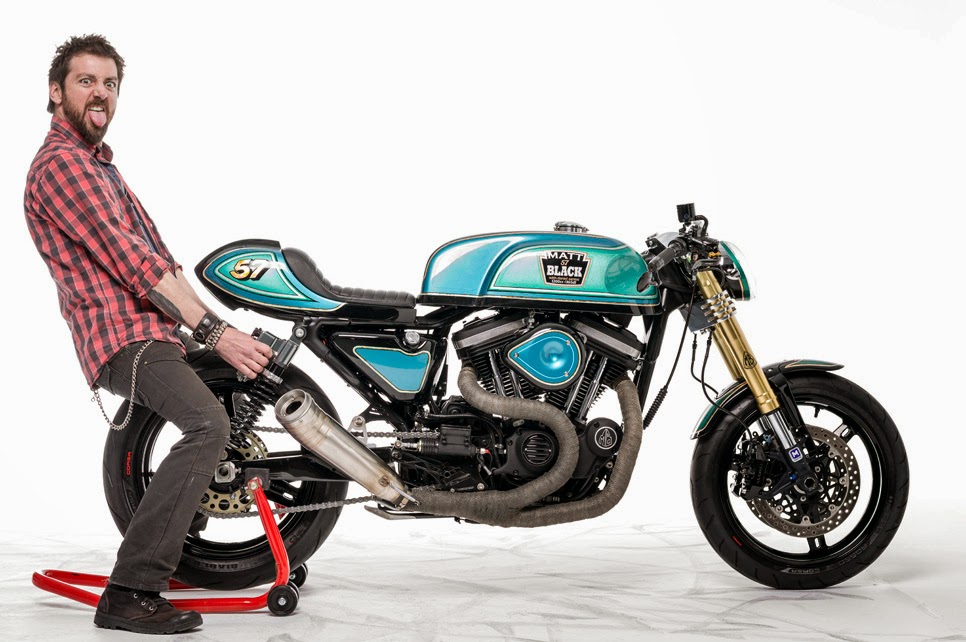 Anthony won't take anything you have to say seriously.