For most of its existence, the AMD World Championship of bike building has focused on chopper styled builds. Thankfully in recent years that's changed. AMD has cottoned on to the fact that there are other styles that are just as popular as choppers…like, for instance, cafe racers. As a result AMD now includes a category, especially for cafe racer styled builds. In keeping with AMD tradition, many of the bikes entered into the cafe racer category are rather outlandish, but every year there's at least one or two that deserve a closer look. Take for instance 2018's fifth-place winner this Harley Sportster built by AC Calella Customs.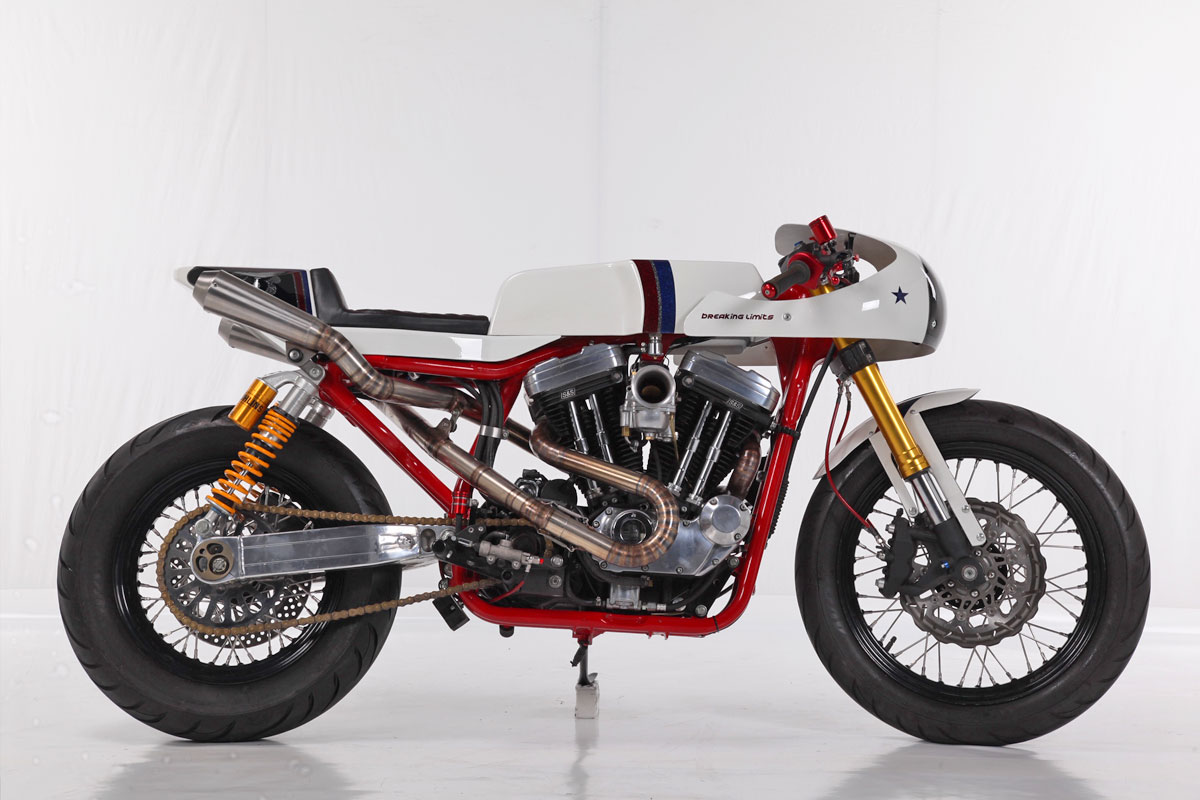 Located in Barcelona AC Calella are a dedicated Harley Davidson dealership, rental company and custom builder. For their AMD World Championship build they decided to enter a bike into the cafe racer category and spent around 12 months piecing it together. While the obvious choice for AMD would have been a high powered V-rod or similarly sized model from the H-D lineup, AC Calella opted for something a little more challenging. A 2003 model Harley Sportster 883.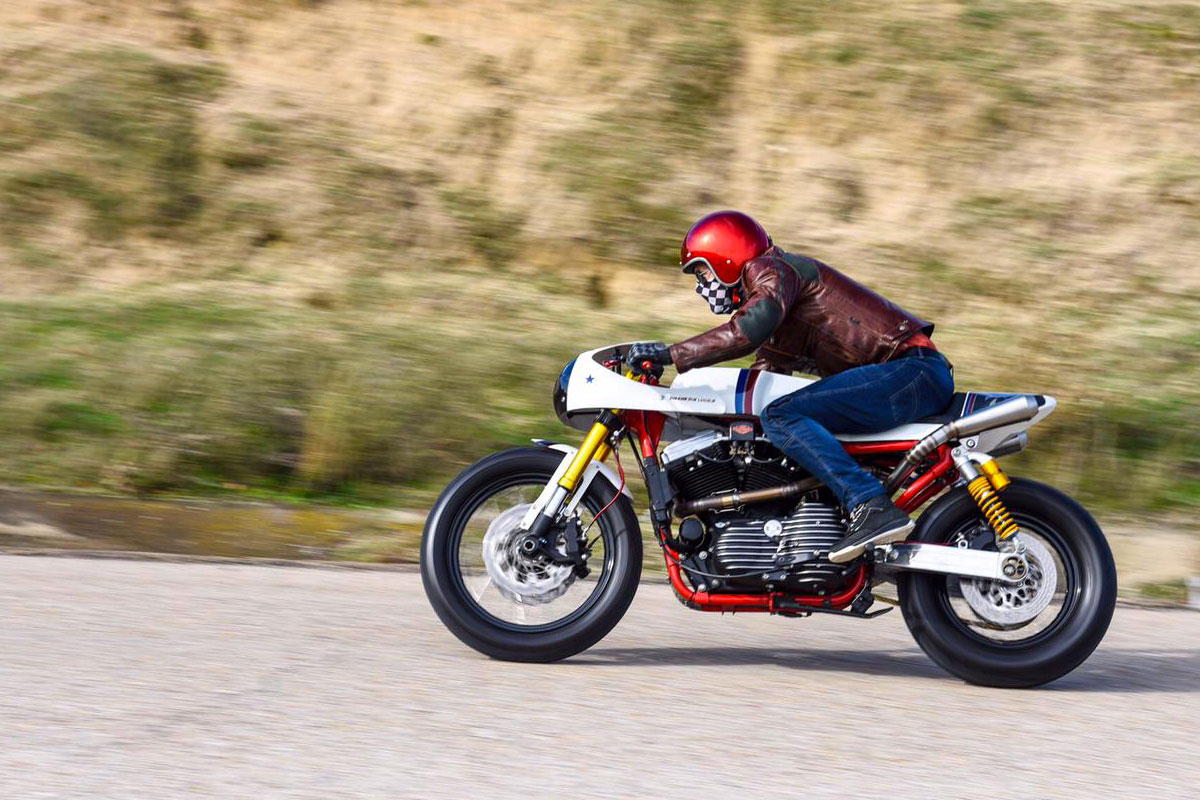 Anyone that's attempted to build a Harley Davidson cafe racer knows getting a level bone line is a real challenge. Sportsters have a slouched rear end and an awkward hunch midway down the backbone. To overcome this issue the AC Calella crew had to do some careful planning. So the bike now wears a completely revised suspension package. The wheels, which are spoked to match the classic theme, are 16 and 19 inches rear and front. The gold USD forks hail from a Suzuki GSXR and they've been retrofit using a CNC top clamp and revised stem. In the rear are premium Ohlins piggyback shocks but to get the stance just right they're bolted to a reinforced Krüger & Junginger aluminium swingarm. Along with now sitting nice and level the Sportster also has the handling characteristics of a sports bike, which it needs considering what they've done to the engine.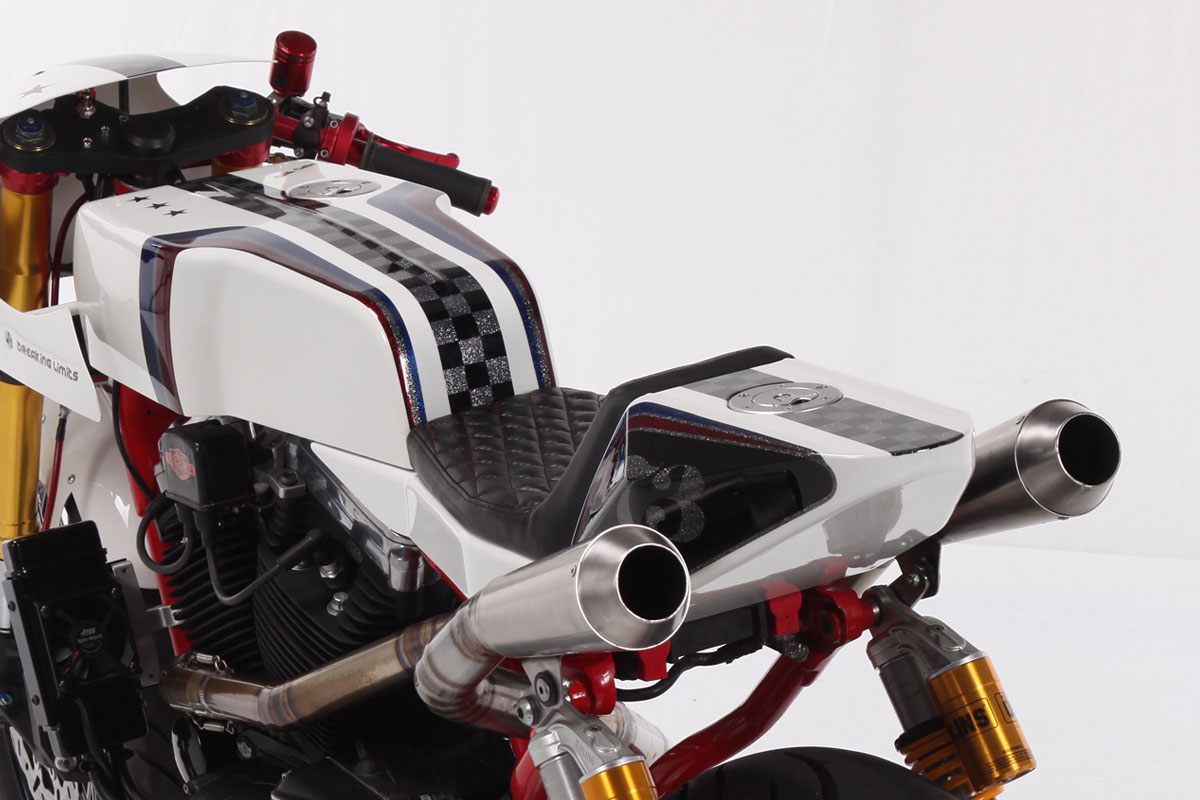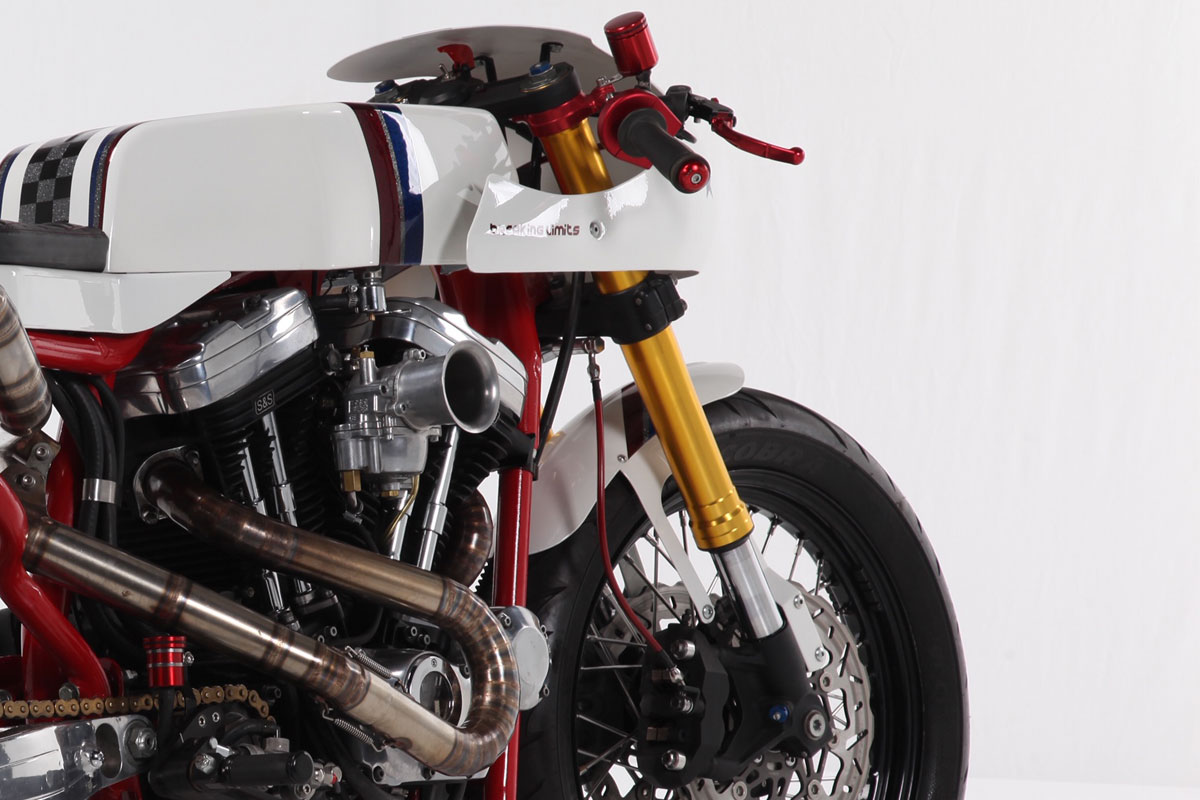 Harley's poor 883cc v-twin has never been known for being a high performer and as a result, it often gets overlooked. However, with some fairly straight forward modifications, the 883 can be converted into a 1200, but that wasn't going to cut it for what AC Calella had in mind. After stripping away the entire top end and pulling the guts out of the crankcase they began installing a lengthy list of go-fast bits. But first, they had to shave some meat off the case to make enough space to fit it all.
Crammed into the modified 883 crankcases are larger camshafts, rods and an Andrews performance gearbox. Moving upwards the performance upgrades continue with an S&S top end that increases capacity to a whopping 1460cc. Setting fire to the fuel is managed by an Ultima ignition and it's delivered to the cylinders by an S&S Super E carburettor. In keeping with the cafe racer theme, the carb wears an alloy velocity stack and AC have installed an EMD ribbed primary cover for a bit of engine eye candy.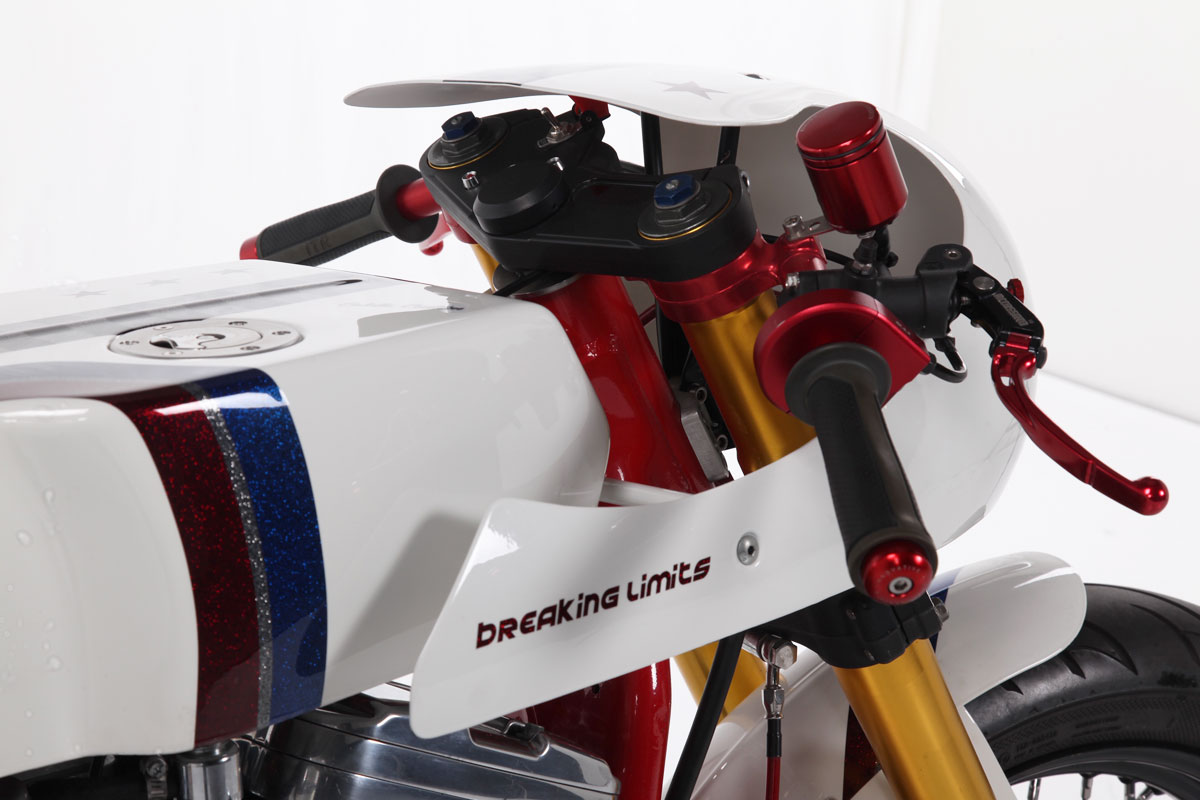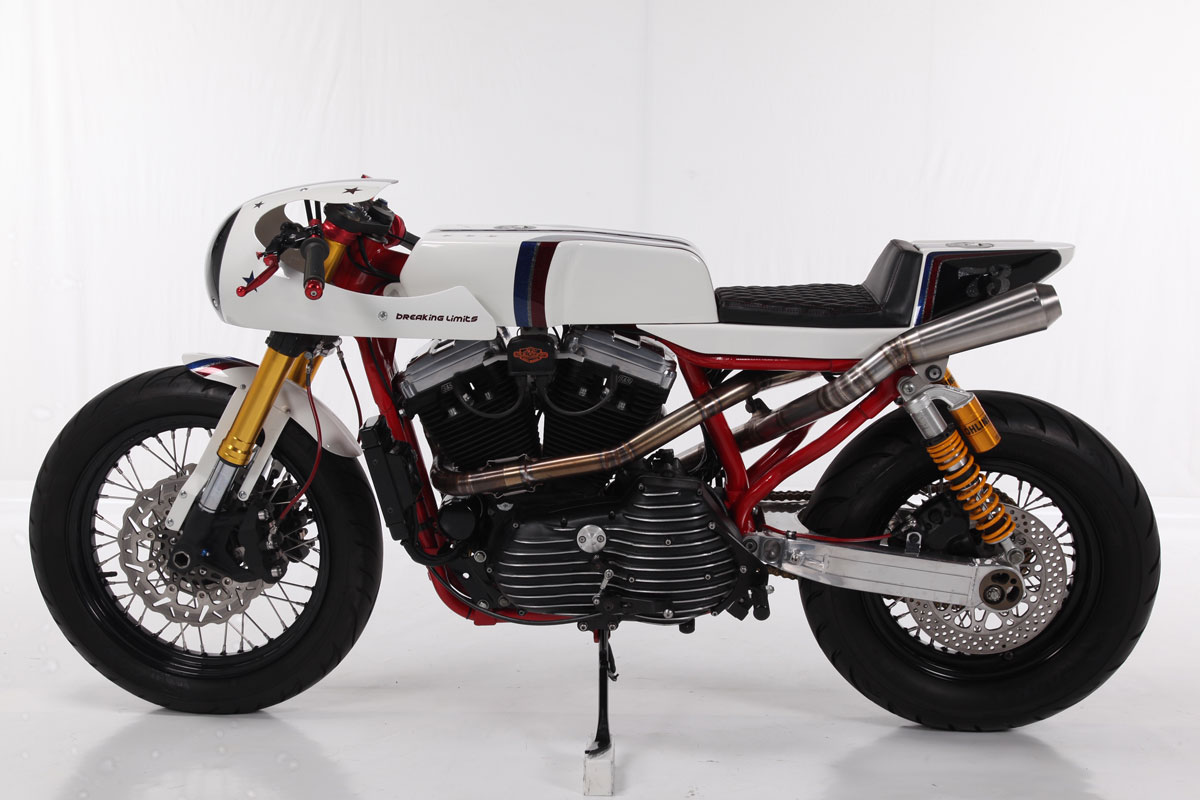 Despite its unorthodox appearance, the crisscrossed exhaust is another carefully considered component. Each pipe runs to an identical length to prevent either cylinder from running hot. The decision to pass it through the frame also means the bikes rider needn't worry about burning their legs. Now, according to the bikes test pilot, it lifts the front wheel in first, second and third gear. When it's time to slow things down the upgraded GSXR front brakes and Yamaha R1 rear handle the job with confidence.
The icing that AC Calella laid on this two-wheeled cake is the all-new bodywork. The modernised cafe racer design was drawn up in-house at AC before heading to a local composite expert who shaped everything from fiberglass. The design cleverly deals with the hunched Harley Davidson frame by matching the line of the front fairing to the seat pan. The angular tail also follows the line of the frame perfectly and housed within it is the Sporty's oil tank. As a nod to the bikes American roots the paint is a red, white, blue combo with flaked stars and stripes.