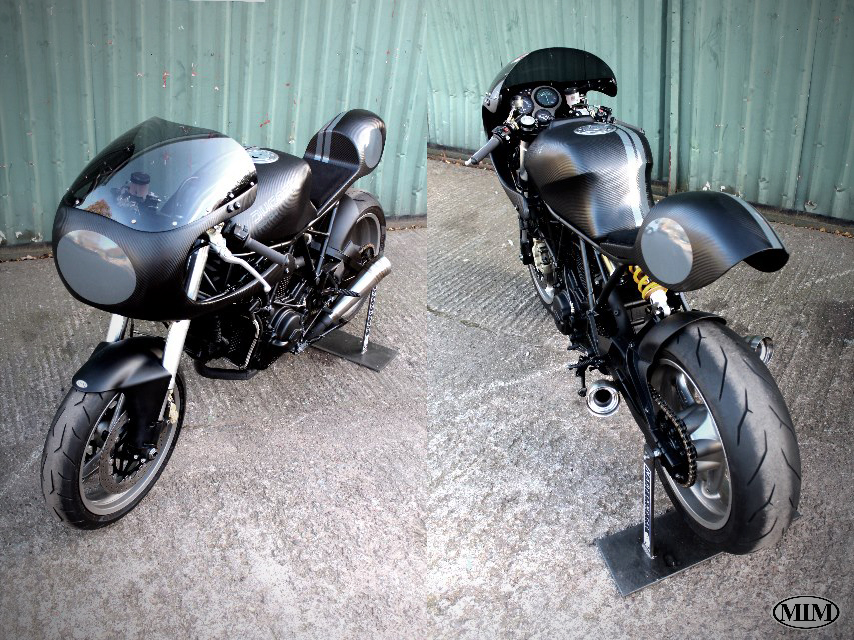 For some time now I have considered the use of carbon fibre on many custom motorcycles as being rather clichéd. Ducati were one of the manufacturers who jumped on the carbon fibre band wagon a few years back by adding a multitude of bolt on carbon parts to their accessories range. Currently they have around 140 carbon accessories available on their site most of which have a dress up purpose rather than functional. Luckily UK workshop
Made in Metal had grander plans than simply looking good when they started their latest carbon covered Ducati 900SS custom.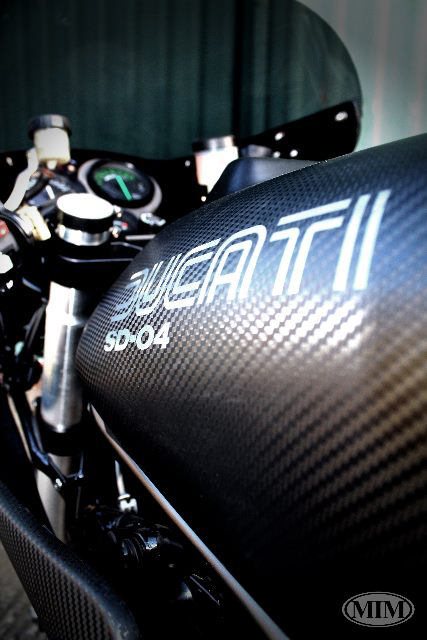 The SD04 is Made in Metals latest incarnation in of their SD flagship design. Unlike the previous version, however, the SD04 has full custom carbon fibre bodywork, from the front guard right back to the tip of its tail end and it's sexy as hell.
Starting with a Ducati 900SS IE they stripped the bike back to its motor and rebuilt it according to their SD theme of retro styling, impeccable handling, modern mechanics and of course light weight. The twin mufflers are custom parts produced by MiM (available via their website), brakes are from Brembo and the suspension comes from Ohlins.
"Our bikes are not for the shy, they all draw a huge crowd wherever they go…"
The most obvious weight reductions come from replacing the Ducati's bulky stock fairings with the custom carbon fibre pieces but that's not where they stopped. The frame was trimmed and redesigned, all parts for accommodating a pillion were removed and lighter wheels were added. From its original dry weight of around 188kg the SD04 now weighs about 1/3rd less, not bad for a bike pushing out in excess of 80hp!
The SD04 is currently for sale on eBay with the price set at £7,995.00. It's ready for the track but the MiM guys will gladly prep it for legal street riding if you're game.