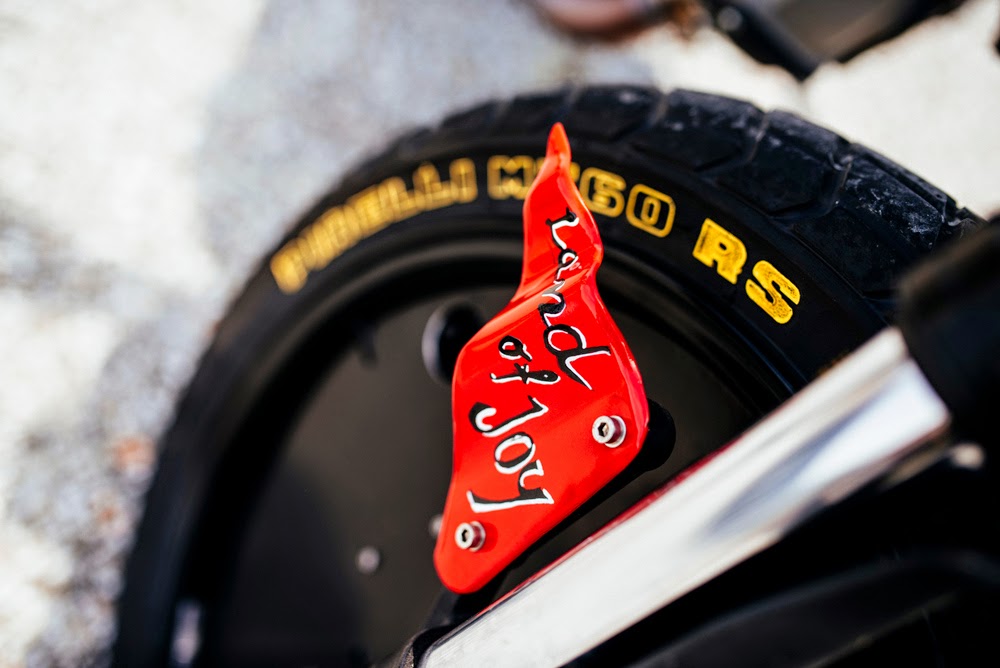 Pirelli's MT60 RS was Ducati's tyre of choice for their new Scrambler. The super-moto/recreation style pattern of the MT60 RS delivers great handling on asphalt and loose surfaces where the Scrambler is at home. On the SC-Rumble the tyres have been mounted to solid, blacked out rims and using classic Pirelli yellow the lettering on the walls of the tyres has been highlighted. As an additional nod to Pirellis involvement in the build a set of rubber tank inserts with the MT60 RS tread pattern and Scrambler emblems laser cut into them were also added.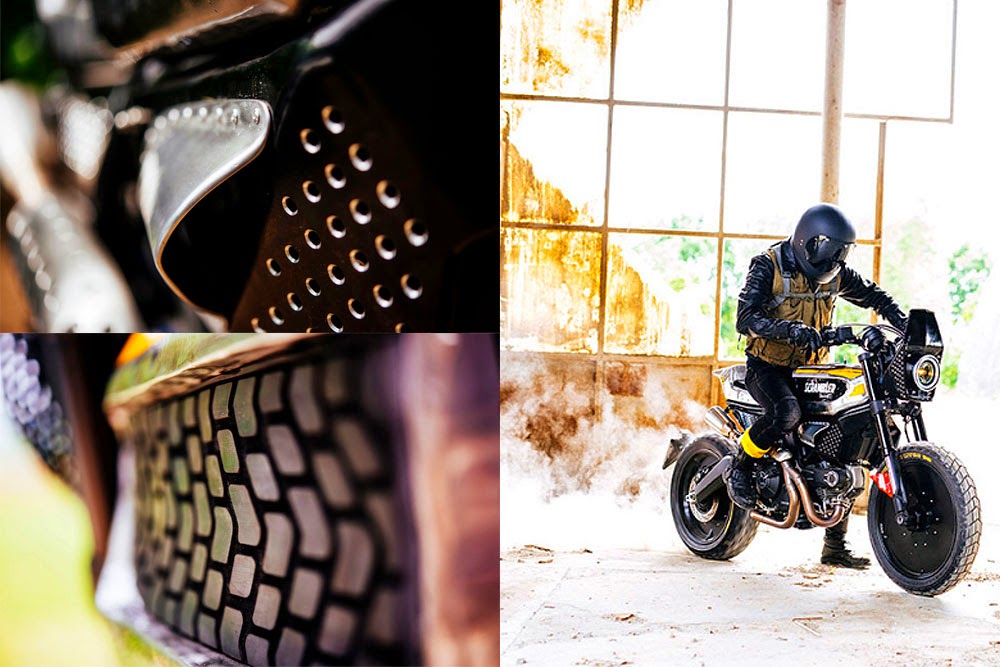 Using their signature style Vibrazioni fashioned the SC Rumbles bodywork from reclaimed street signs and aluminium sheeting. Each piece was hand beaten prior to welding or riveting them together to form the monocoque style bodywork. The unique front fairing was also made from aluminium sheet to house the smoked lens LED Scrambler headlight along with the radiator surrounds and rear side panels. To finish the body parts off the original sign paint was sanded back to allow for welding and left raw using only a clear coat of paint to protect them from the elements.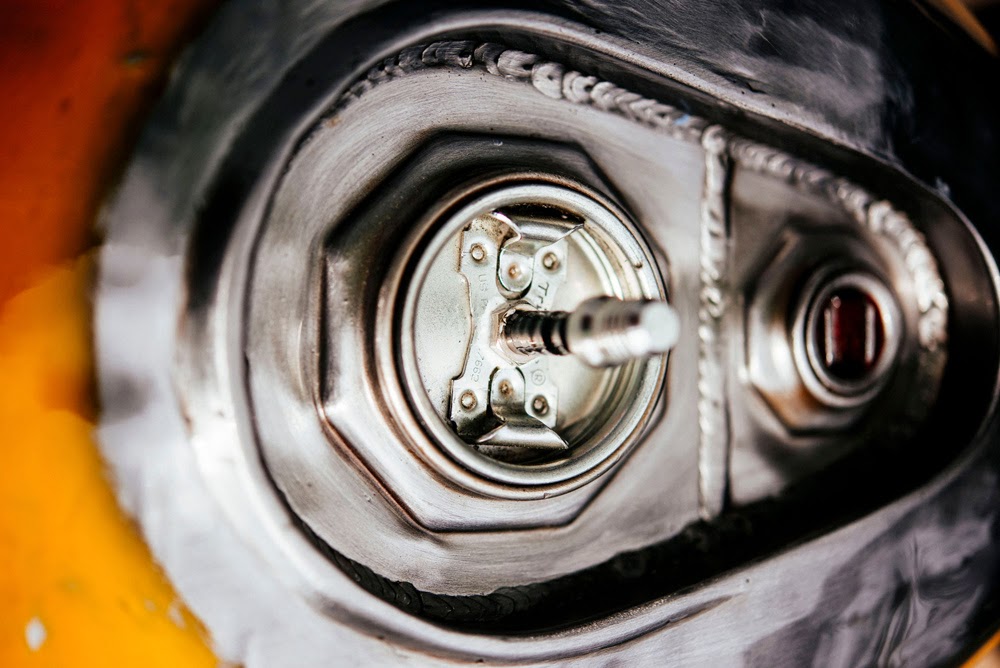 As I mentioned this build actually features the high pipes everyone was crying out for when the Scrambler was released. Based on a Termignoni system that Ducati will be offering as an aftermarket accessory for the Scrambler, Vibrazioni added their own, free flowing stainless muffler to dramatically improve the bikes bark.
If you happened to be in London over the weekend you would have been one of the first to see the bike in the flash at 
The Bike Shed's
 latest show at Tobacco Dock. Next stop for the bike will be 
Wheels and Waves
 in Biarritz where we'll hopefully see it take place in their annual 'Punk's Peak Race'.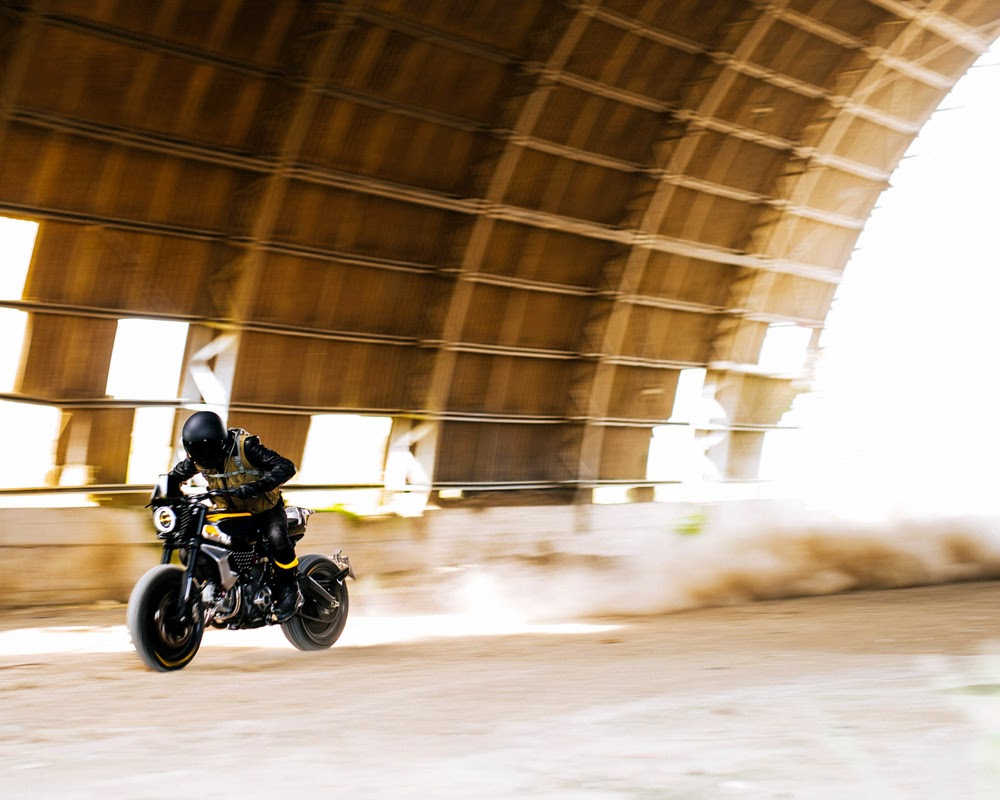 Two greats in Italian motorcycling, Pirelli and Ducati have collaborated to produce one of the most radical Scrambler conversions we've seen since the bikes release (aside from the Deus Milano Spongebob Squarepants version). Working with Italian custom furniture and motorcycle makers 'Vibrazioni Art Design', they've created a rough and ready Scrambler touting Vibraziono's unmistakable recycled aesthetic. Similar in looks to Vibraziono's CB750 the 'SC-Rumble' Scrambler utilises reclaimed materials for it's bodywork while retaining Ducati's original running gear, but best of all they've added those high pipes everyone's been crying out for!