If I was to sum up the Glemseck 101 event with one sentence it would be; "Looking good and going fast." The events spectacular 1/8th-mile drag races are unlike any other. Reading through the Sprint race entry requirements conjures up memories of the Wacky Racer cartoons from my childhood. It's all about larger than life characters racing ostentatious high powered machines. What could be more fun?
This year was the 13th instalment of Glemseck 101 and the event doesn't show any signs of slowing down. There were, as always, an eclectic collection of purpose-built Sprint bikes, but none stood out as vividly as the Helmade 'Noir' Ducati 999S.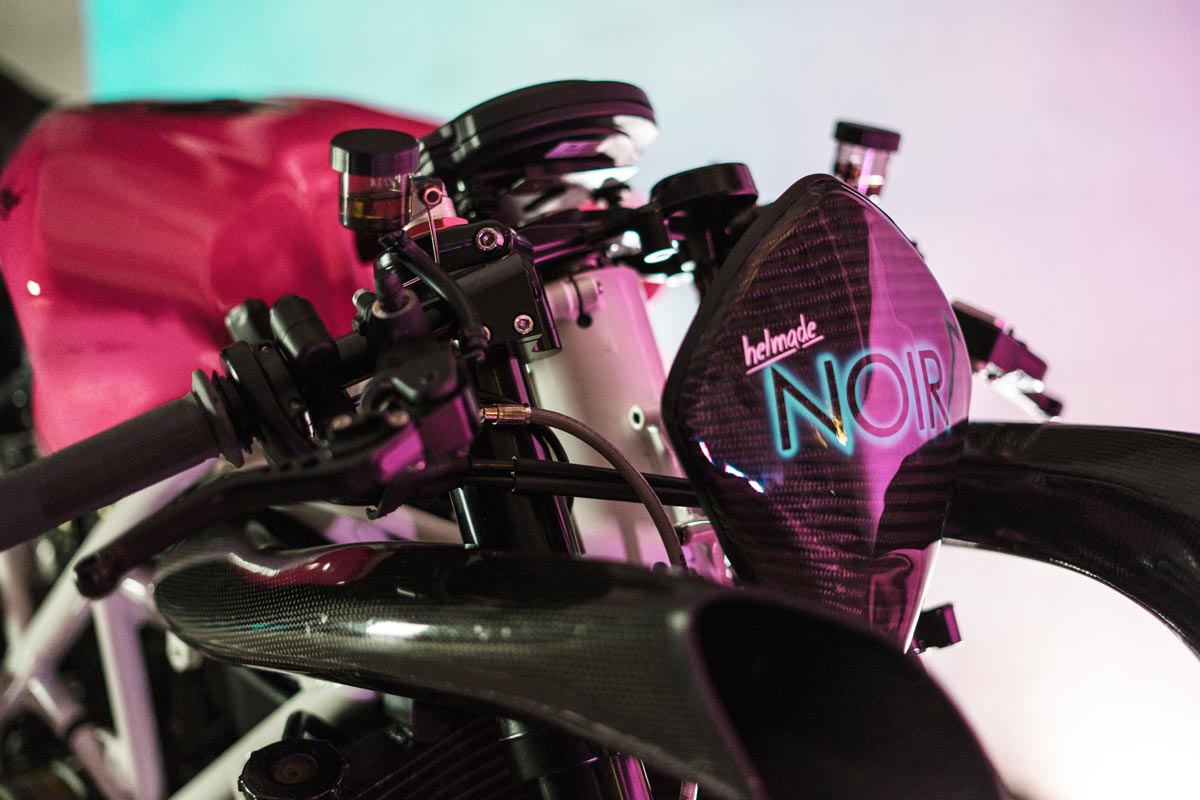 Helmade is a helmet store that offers unique customisation. Using their online design tools you can create your own one-of-a-kind helmet based on a range of different models from Bell, Arai and Bandit. As regular attendees of Glemseck, Helmade approached Adrian Majewski aka Vengine with a collaborative sprint racer concept for the 2018 series. As you'd expect from a company who specialise in customisation their concept was anything but bland and would be complemented by one very unique helmet.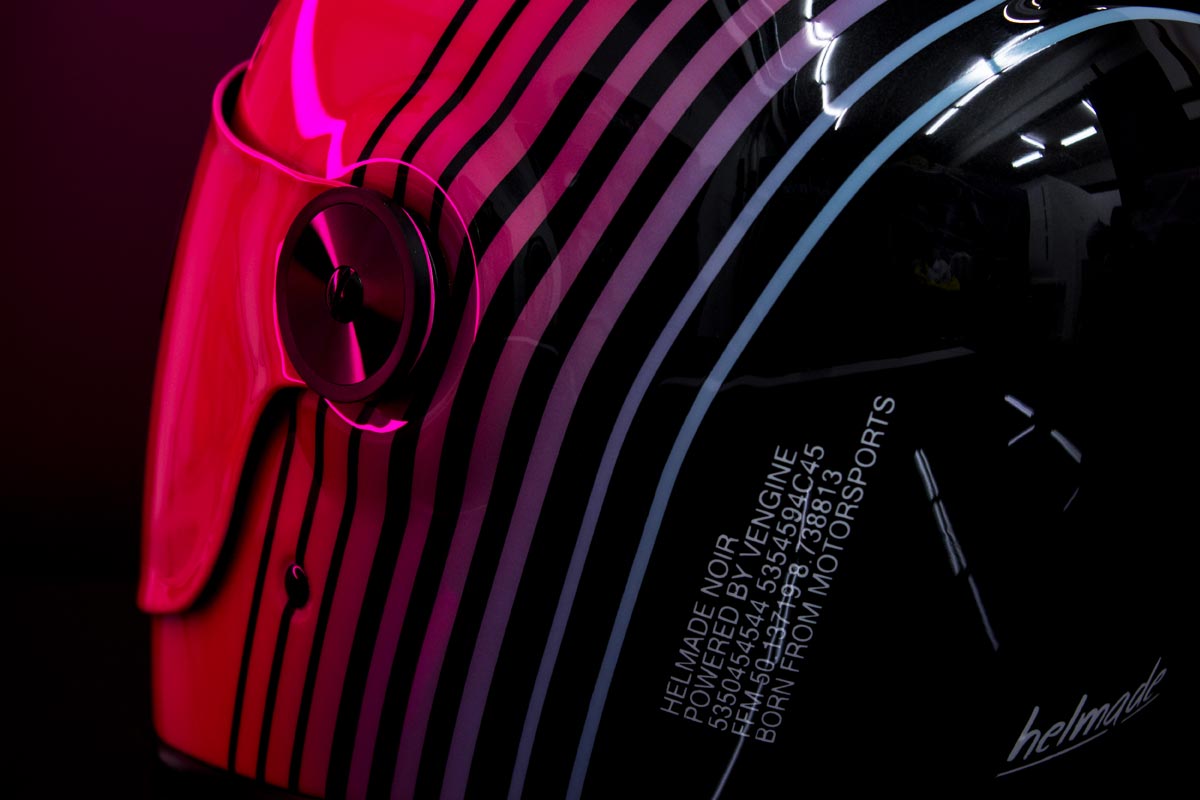 The inspiration for the Helmade project came from Neo-noir film, in particular, the modern remakes of both Blade Runner and The Ghost in the Shell. As a result, the Ducati and helmet were both given a neo-noir colour treatment. Helmade applied a bold Neon Magenta and Turquoise paint scheme on a metallic black base with graphic elements inspired by the films. The helmet, which started out as a standard Bell Bullitt, is fitted with a unique carbon fibre visor. Its twin eye port design is a homage to the XF GP, one of Bells first Formula One helmets.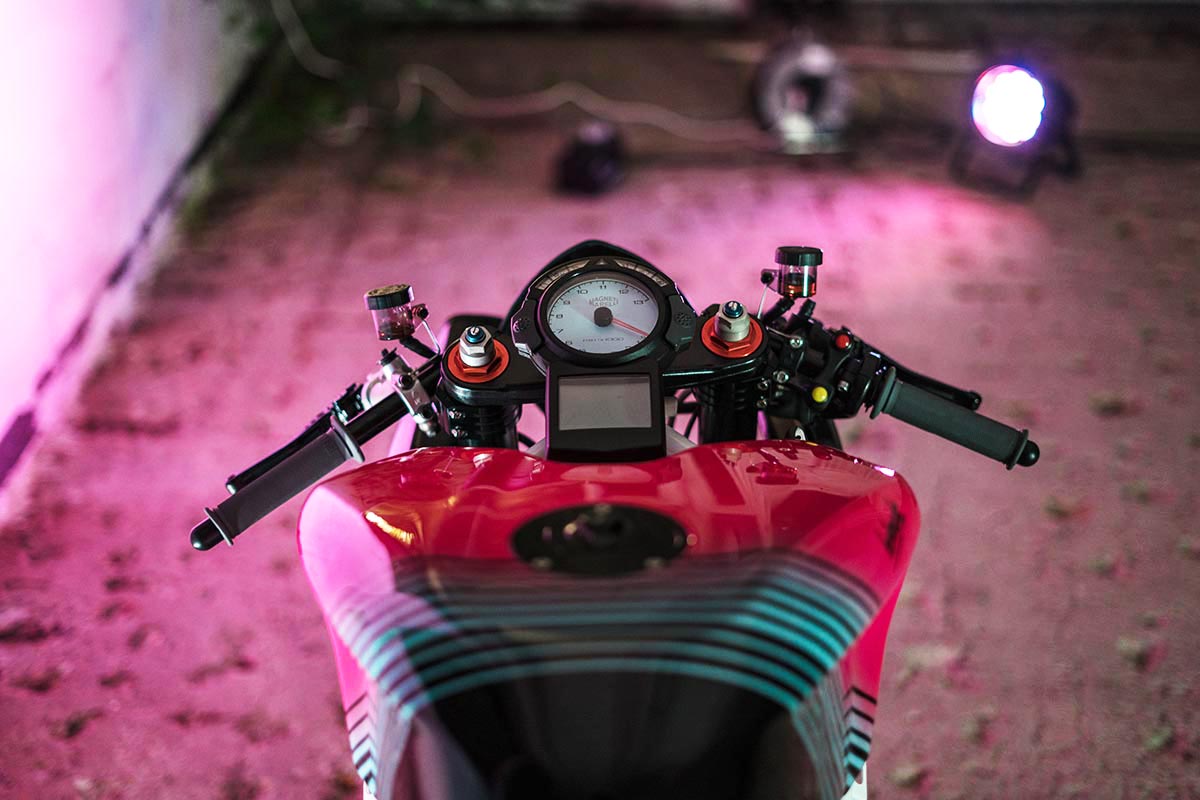 The Noir sprint bike, a Ducati 900SS was built by Vengine. It first raced at Glemseck 2017 and was rebuilt for this year's event. It features the same bold Helmade livery as the helmet and a plethora of Vengine carbon fibre components. Stripped of any unnecessary weight the 999S now boasts a naked design that exposes its vivid white trellis frame. Ducatistas will recognise the fuel tank as a 1098S unit while the carbon tail section is a bespoke item. The carbon theme is carried across to the bikes front end. There you'll find a custom carbon screen in place of a headlight. Wrapping around it like a pair of alien arms are carbon ram air scoops channelling air straight to the engine. To avoid any complex rewiring the stock dash was retained but Vengine has mounted it using a custom carbon dash. With the bodywork gone the Desmodromic v-twin is in full view so it has been appropriately dressed to impress with exposed belts and an anodised dry clutch basket.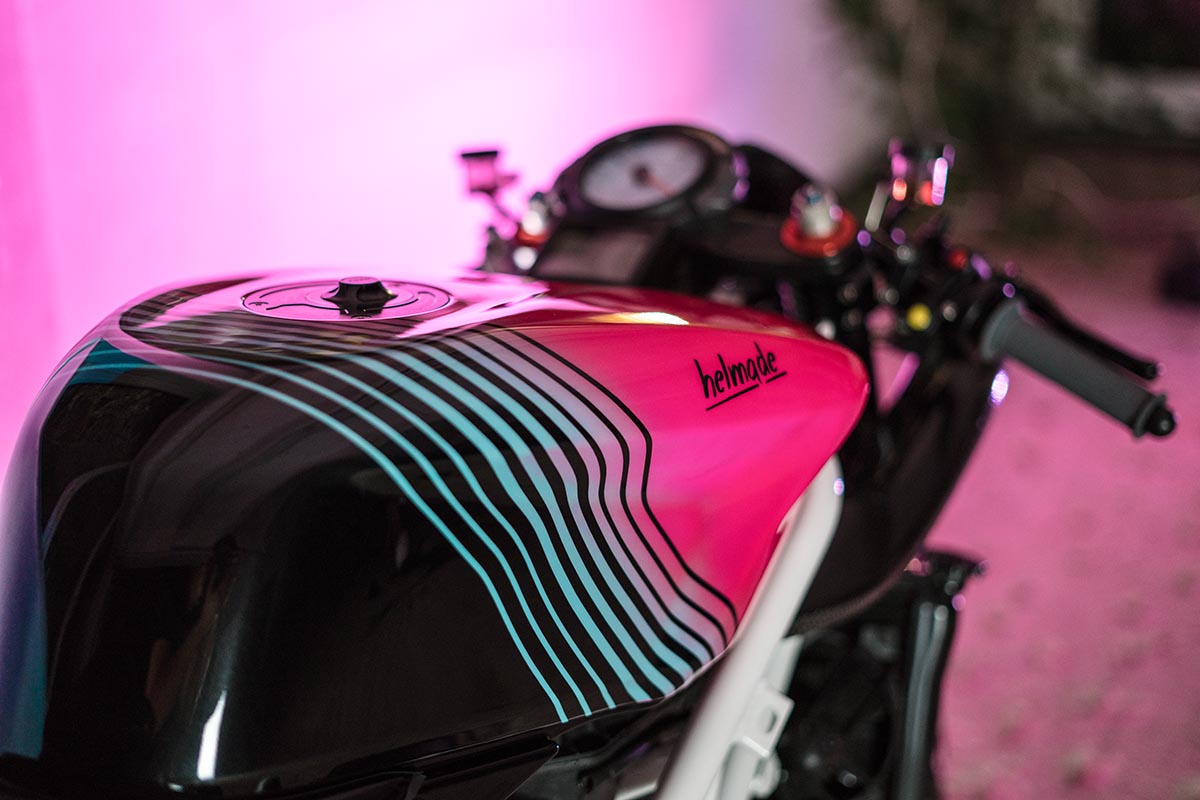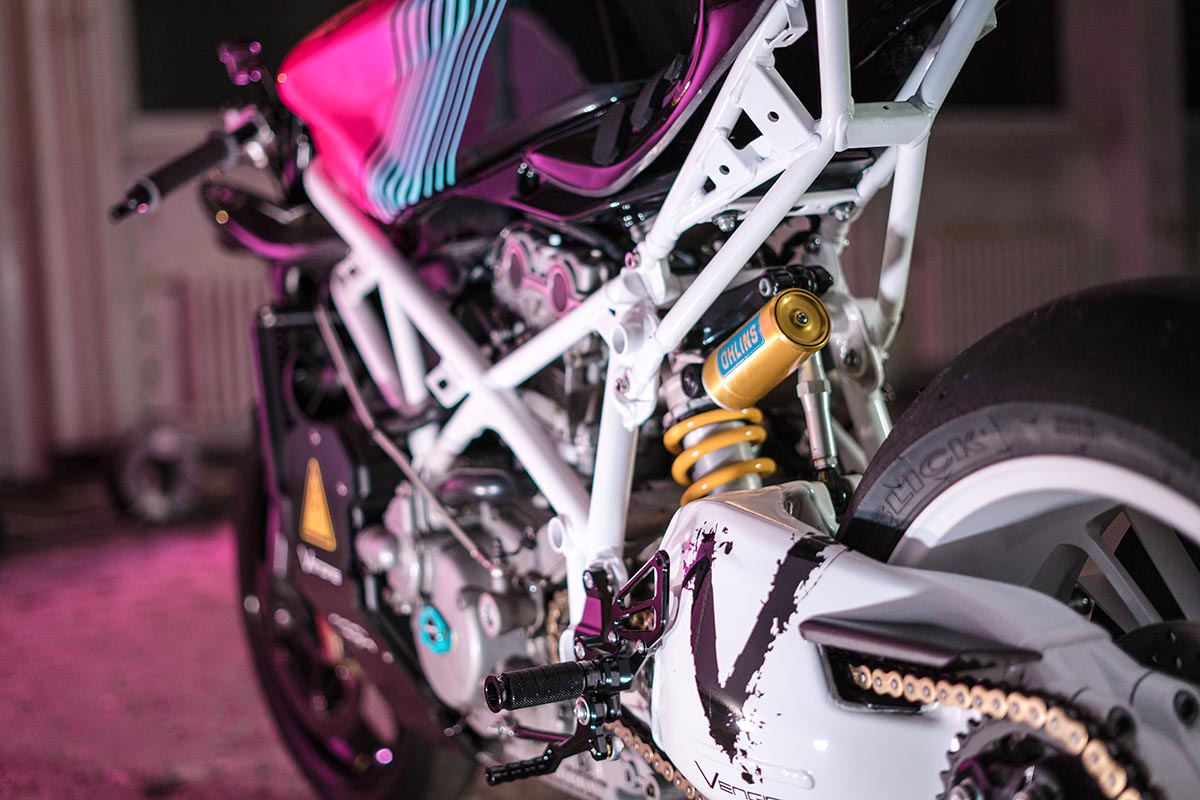 Brightly coloured paintwork does not win races, so the Ducati has also undergone plenty of performance modifications. Using his experience on the racetrack Adrian has given the Italian an extensive overhaul. Starting with the suspension there's a Ducati 1098S Öhlins rear shock and swingarm while the front end hails from an Aprilia RSV4. The new wheels are a 1098S and RSV4 combo which have been wrapped in sticky track ready rubber. The handlebars and rear sets are CNC machined items positioned for aggressive riding and there's plenty of stopping power thanks to Brembo. Finally, to garner a few more ponies from the v-twin Vengine put together a one-off exhaust system. The front section was pulled from a Diavel and the muffler is a GP70R supplied by SC-Project.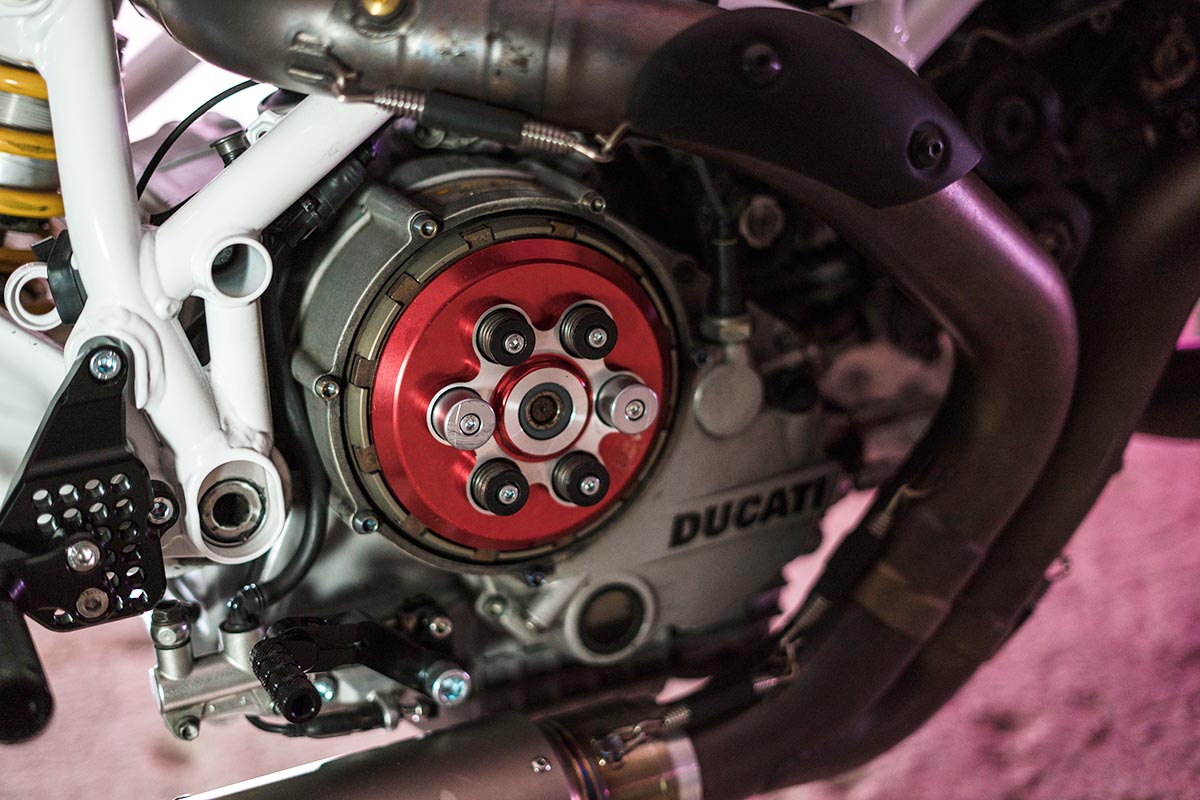 With 136bhp at the rear wheel, Noir was well equipped to take on its challengers. Alas, the Helmade Ducati 999S Noir went home empty-handed. What it did win though was plenty of kudos from event goers. At other racing events that may not mean much, but at Glemseck 101 that's a crowning achievement.