Similar to cafe racers, streetfighters were originally all custom-made creations. The similarities between cafe racers and streetfighters isn't a coincidence. They were both built by riders who wanted specific looks and performance characteristics from their bikes. In many ways, the streetfighter is the 1980s equivalent of the 1950s cafe racer. Unlike their British relatives though streetfighter motorcycles tended to be based on Japanese built inline fours.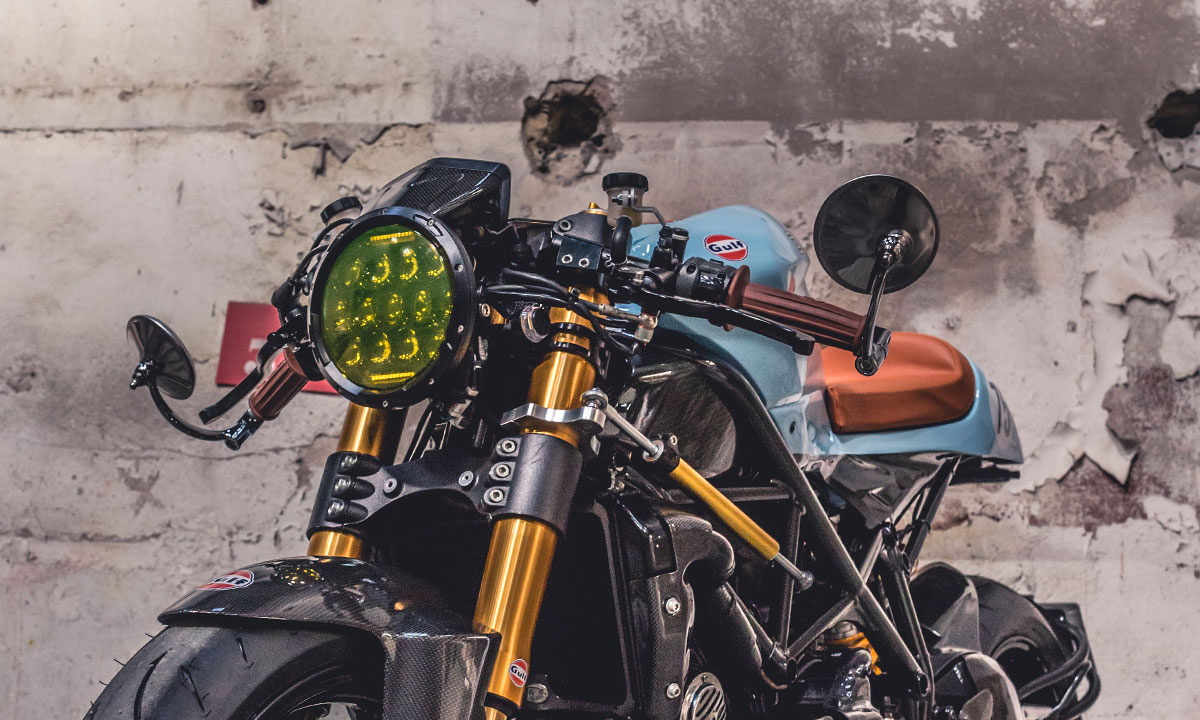 The streetfighter style was all about stripping bikes back to achieve an aggressive look. It was also done to limit the number of parts that could be damaged in an accident. This was because streetfighters were commonly ridden by stunt riders (aka hoons). Other modifications included frame sliders, upright handlebars and even frame modifications to strengthen a bike's chassis. The streetfighter also had a handful of defining styling mods, the most recognisable being a twin headlight setup.
During the nineties, the streetfighter style had gained popularity around the globe and British manufacturer Triumph Motorcycles wanted a piece of the action. In 1994 they released their own interpretation of a streetfighter named the Speed Triple. It was a huge success. 15 years after the Speed Triple was released Ducati wanted in on the action. The result was the inventively named Ducati Streetfighter.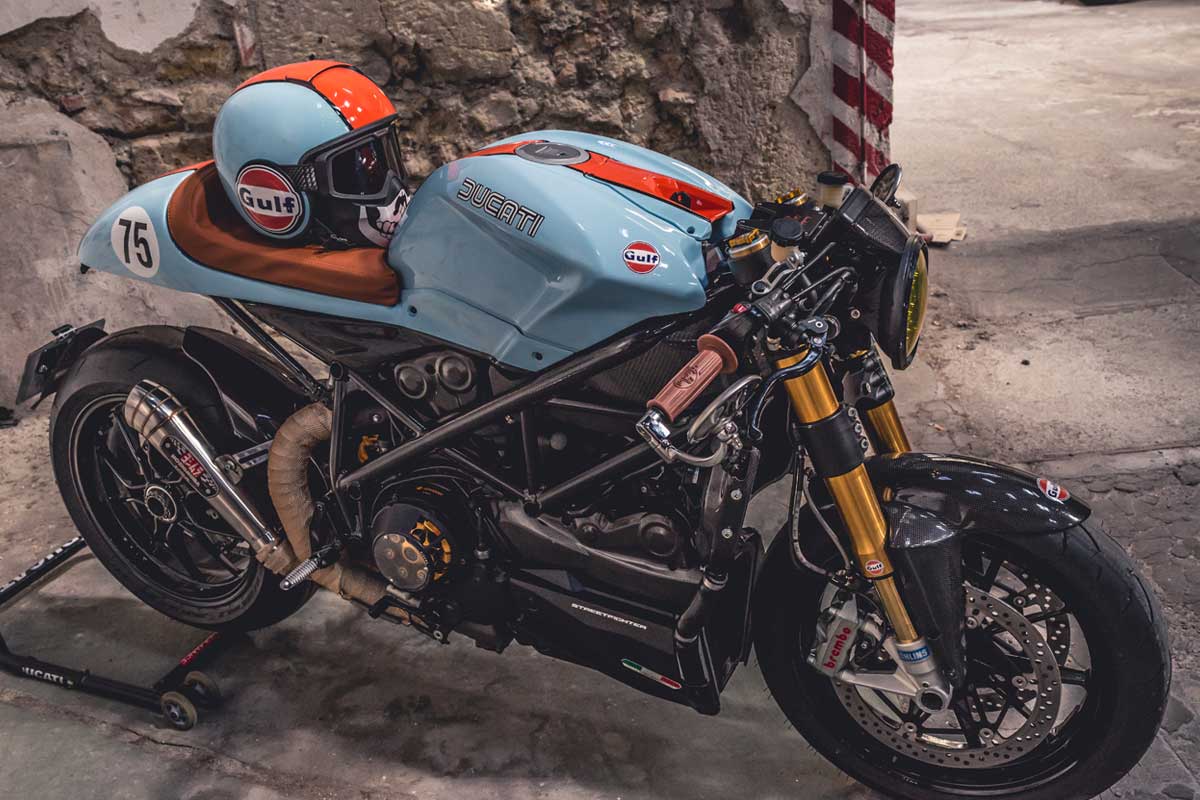 With so much in common between streetfighters and cafe racers, one Ducati Streetfighter fan has decided to give his 1098S a vintage makeover. Jérémie Duchampt is an automotive enthusiast from Béziers, France. In the past, his custom work has been focused on 4 wheeled vehicles making this Ducati Streetfighter cafe racer his first attempt at modifying a motorcycle. The project took him around 160 hours to finish with him completing most of the work himself.  Why transform a streetfighter into a cafe racer? Because Jérémie hadn't seen it done before and that's a good enough reason for us.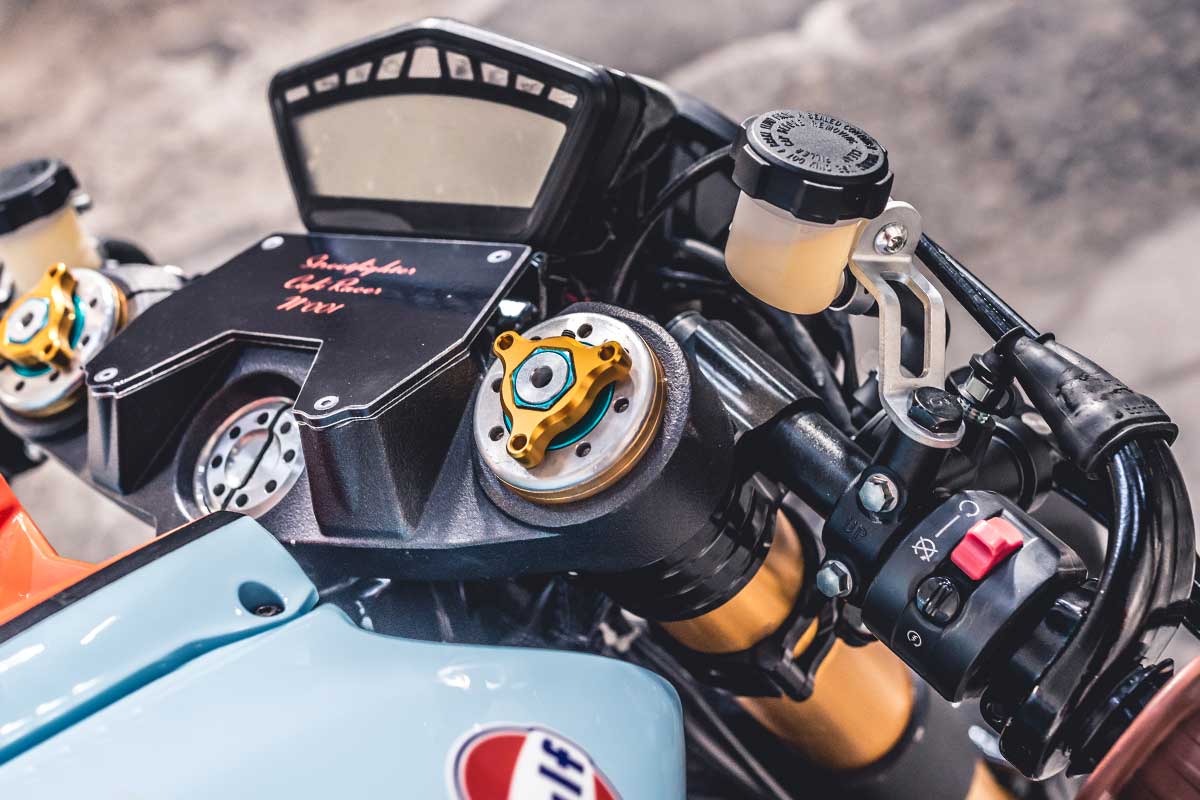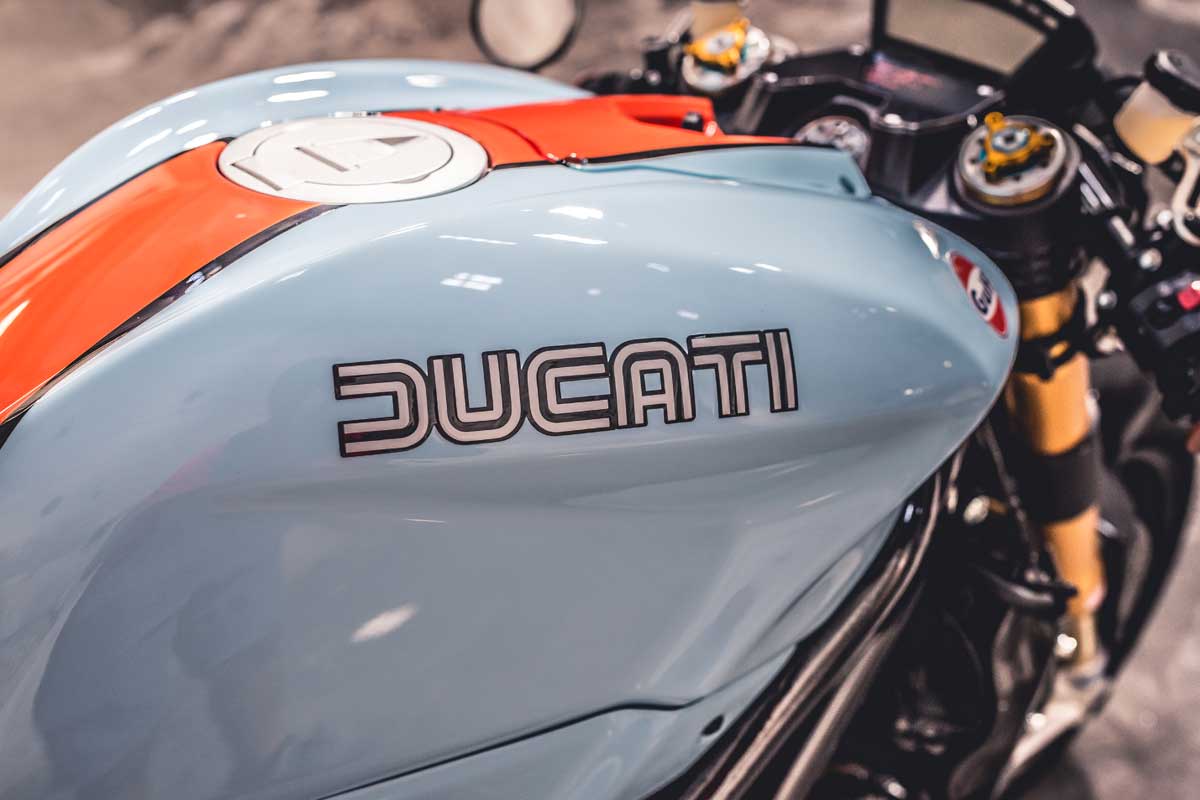 Jérémie began the build with a tear down so he could study the basic shapes and structure of the Ducati. This process allowed him to figure out a way to set up the ideal cafe racer bone line. The first step in achieving this involved fitting a whole new subframe. This step was made slightly easier thanks to the Ducati's factory setup being bolted to the bike rather than welded. Jérémie's revised subframe bolts on using the same points as the factory unit, but levels out the aggressive kick in the rear. His design also incorporated a custom seat pan and space to stash relocated electronics.
With the frame levelled out, Jérémie turned his attention to the bodywork. The decision was made to retain the original fuel tank but everything else had to go. The bike's new tail unit was designed to both match the proportions of the tank and to fill in areas that used to accommodate unappealing plastic panels. Of particular note is how the tail unit stretches out beneath the fuel tank to create a balanced line. Showing excellent attention to detail, Jérémie has also mimicked the shapes of the tank in his side panels for a factory-like fit and finish. As for the paintwork, he went with his 1960s favourite racing livery, a powder blue and orange Gulf Racing theme.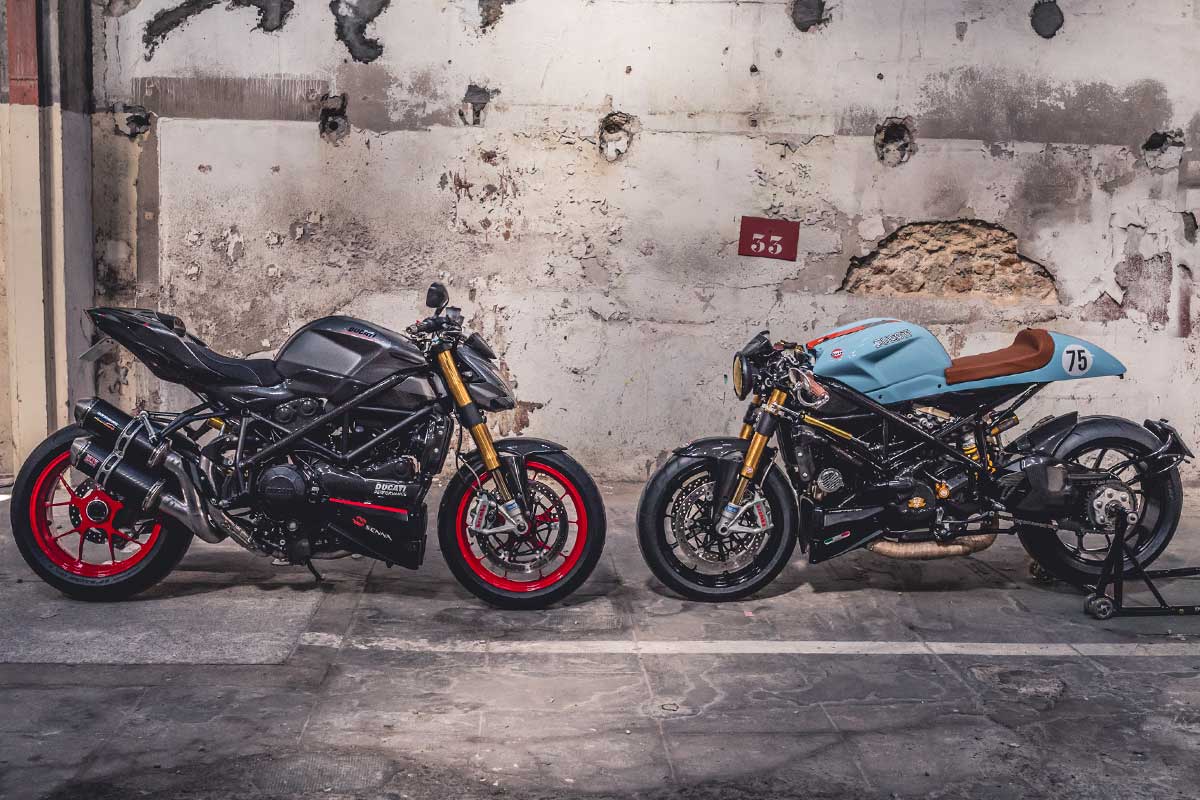 In the place of the triangular Streetfighter headlight is a more appropriately shaped round LED unit. Mounted either side are LED indicators and above is a carbon fibre shroud for the factory dash. Triple clamp mounted handlebars have been swapped out for clip-on units wearing retro bar end mirrors and F.B Mondial grips. Rear end lighting is managed by a dual-function LED strip and the tail is kept clean by moving the numberplate to a hugger mounted off the Streetfighter's single-sided swingarm. To finish things off Jérémie had his seat pan wrapped in tan leather.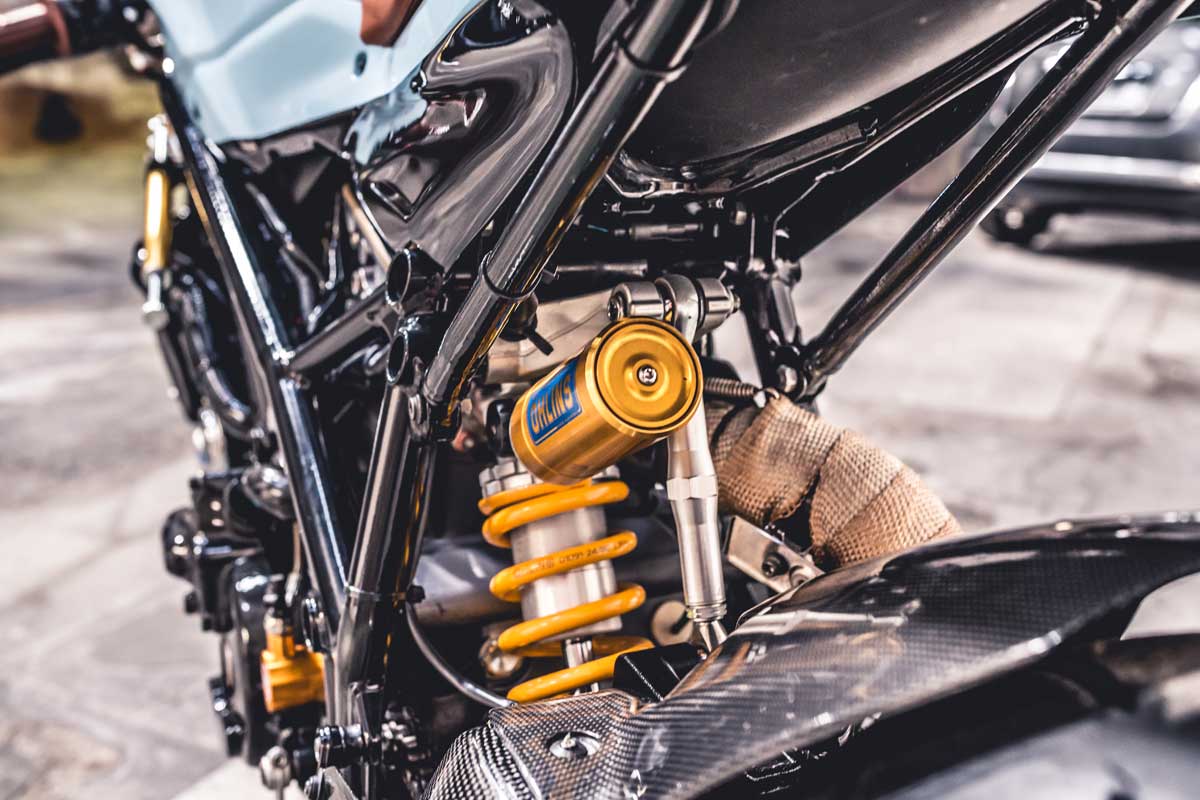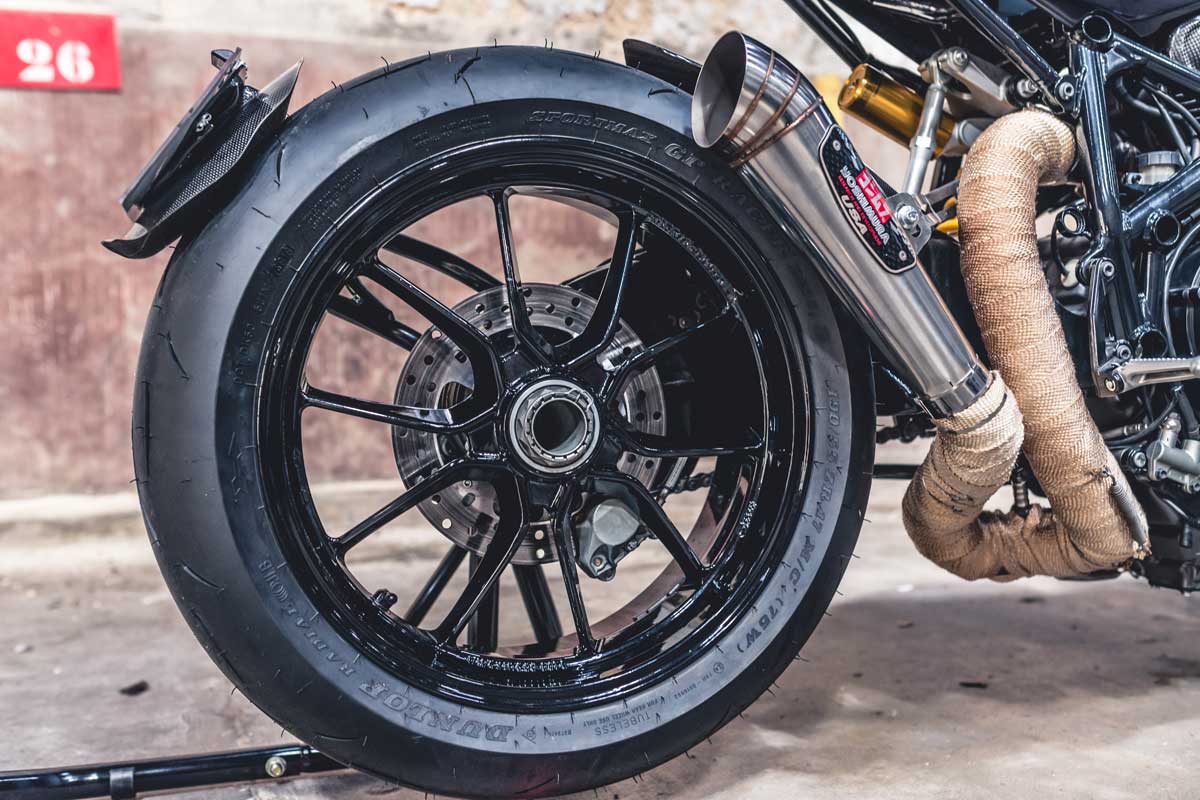 Despite the fact that the Ducati Streetfighter 1098S was already built to be a performance machine Jérémie wanted more. Dropping weight was a good place to start. Along with the pounds he saved with the revised bodywork he's also installed a spattering of aftermarket carbon fibre components and a lithium battery. Next, he upgraded the handling using components from French suspension experts Delcamp Energie. An additional steering damper helps to keep the front end in check during spirited jaunts in the French countryside. And finally, to add a touch more bite, the 155bhp L-twin received a free-flowing custom exhaust system wearing Yoshimura upswept mufflers.
Turning a streetfighter into a cafe racer isn't something we expected to see, but we're certainly glad its happened. As far as first time builds go this bike is top-notch and we'd love to see more from Jérémie in the future. Perhaps his next build will be another unexpected pairing. I guess we'll just have to wait and see.