"Smiles per hour"
These are the words of custom motorcycle builder and owner of HMR motorcycles, Jim Mott. He uses this phrase when referring to both the motorcycles he chooses to own and the custom bikes he builds out of his Queensland-based workshop. So, when a customer dropped in his tired old Ducati Darmah off at the shop this is exactly what Jim set out to deliver.
Jim describes the list of modifications on this Cafe Racer conversion as endless. While the Ducati's heart and soul remain the same it's physical characteristics has been given a more than welcome upgrade. The custom twin pipes are centrepiece of the bike design with the bodywork taking shape around it. The front end was replaced with a polished set of forks from a Yamaha FZR1000 along with the brake assembly to improve the bikes handling. The FZR rear wheel also made it on to the bike with the help of a new rear sprocket. Engine performance was boosted with the addition of 40 mm carbs that feed the rebuilt 860cc Desmo motor (rebuilt at H.M.R).
Improving the Darmah's looks was a priority of this build. An all black colour scheme helps to focus attention on all the polished, billet and braided parts that have been added. The fuel tank and seat are custom items built at HMR and were designed around those awesome twin pipes. Other custom HMR items on the Ducati include the chain-guard, breather, handlebars and dash cluster.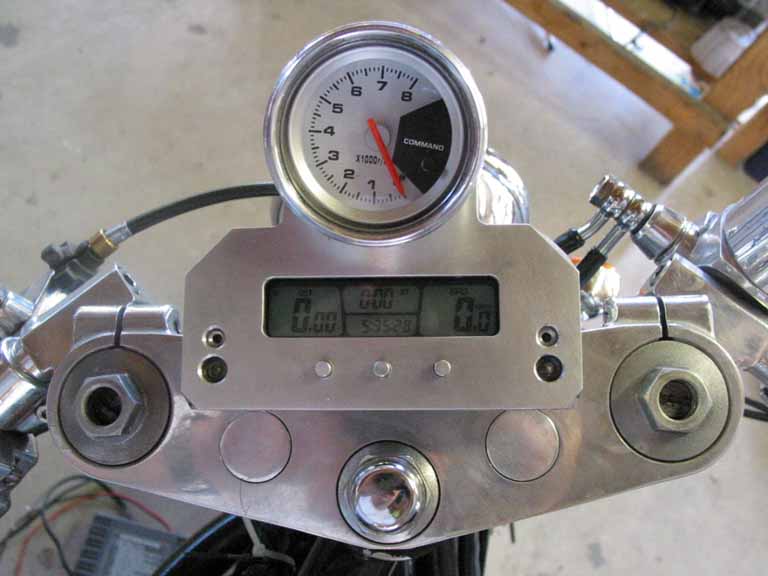 The Darmah is one of Jim's favourite Cafe Racers to roll out of HMR and rightly so. Best of all Jim states that it's not just because of it's looks, as he sates on the HMR website, "One tweak of this throttle has you falling for the V-twin all over again".