Back in 2013 Ducati collaborated with Italian fashion label 'Diesel' to create a limited edition of their Monster 1100 evo. Along with a unique, military inspired matte green paint scheme the 'Ducati Monster Diesel' had both weight and power improvements over the standard version, tipping the scales at just shy of 170kg and packing 100bhp of torquey L-twin muscle. Marzocchi adjustable USD forks and upgraded Brembos provided improved handling and unique styling changes by Diesel founder Renzo Rosso gave the bike its distinctive appearance.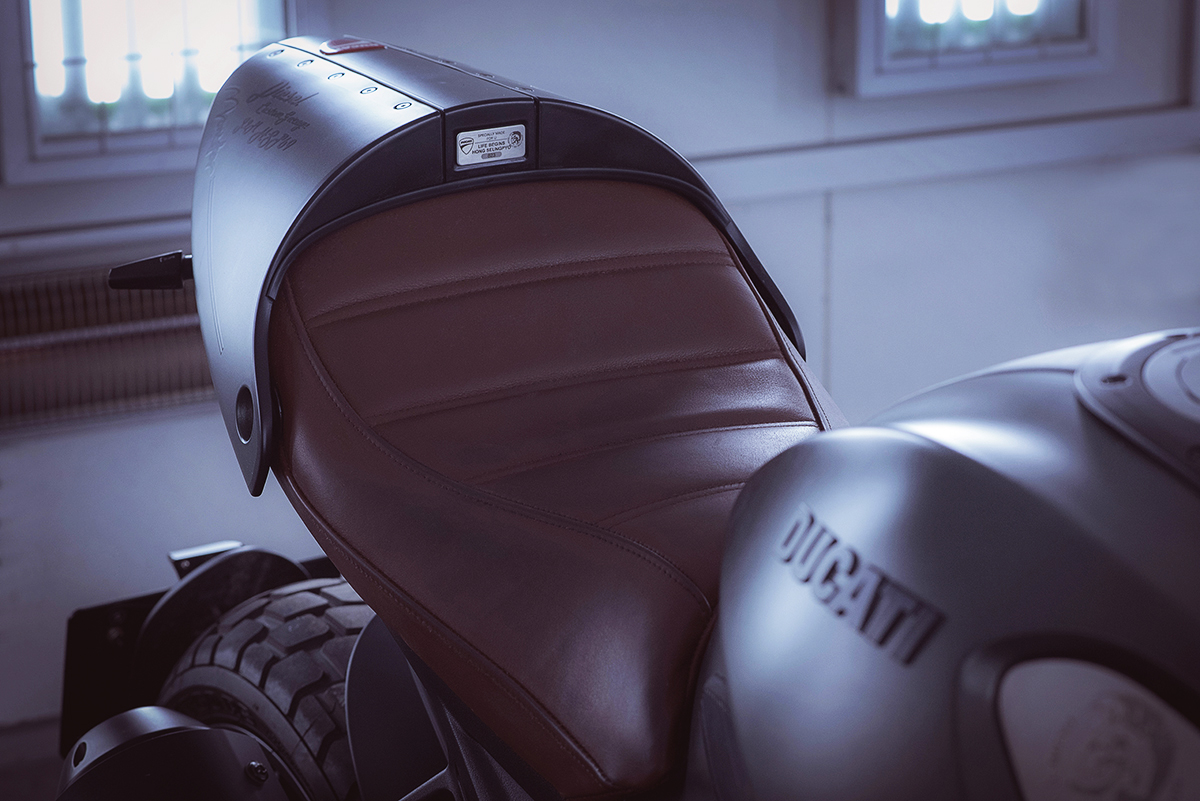 As awesome as the Ducati Monster Diesel was Korean interior designer Hong Seungpyo wanted more. After previously building a pair of Scrambler styled bikes under his HSP.69 brand, using a BMW R nineT and an XJR1300, Hong decided that when it came to customising this unique machine it should be a Cafe Racer styled creation.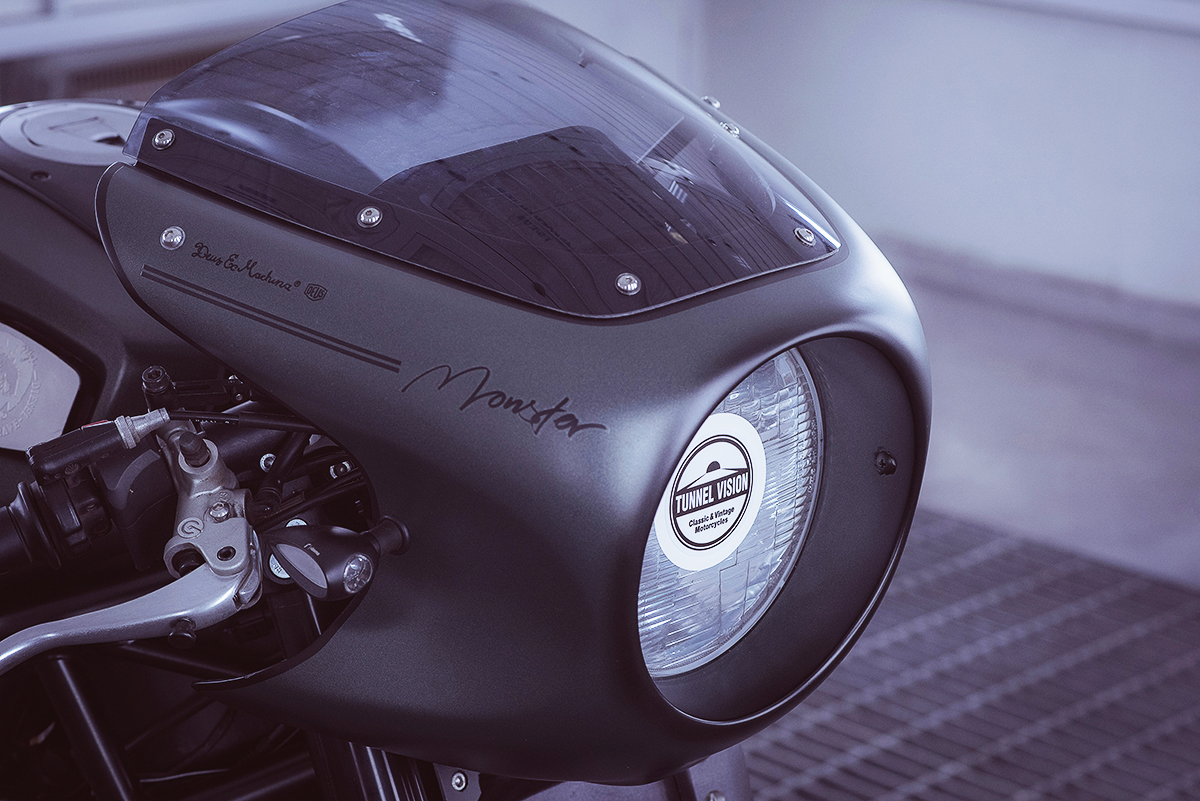 At 180cm tall Hong felt the Ducati looked small beneath him, so his first goal was to give the bike more visual bulk. Working with his good friend Dokube Sungjin, a member of the Korean classic motorcycle club 'Tunnel Vision', they devised a new design. At the pointy end they swapped out the diminutive Ducati headlight for a bikini fairing, similar to that found on Yamaha's 2015 XJR1300 Cafe Racer. Custom made mounting gear was fabricated to secure the fairing to the top clamp, utilising the original handlebar riser positions to hold it all in place.
To accommodate the fairing clip-on bars sit at the top of the forks and a pair of Rizoma indicators have been  tucked into the recessed sides of the fairing. Rizoma's catalogue also provided a set of anodized black fluid reservoirs and a single bar end mirror from Motogadget completes the list of front end modifications.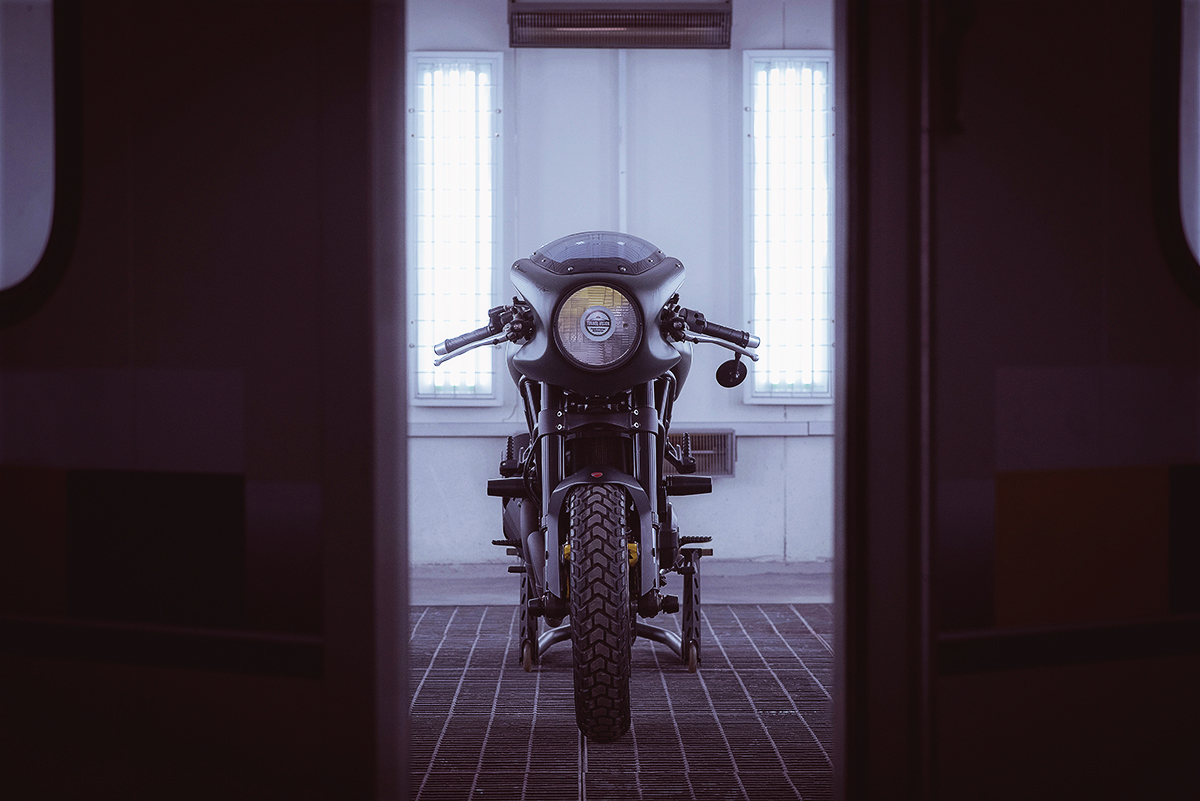 In the rear there's a Rizoma tail tidy kit andcarbon fibre rear fender. Hong's also added an Ohlins shock to match the performance of the bikes Marzocchi forks and swapped out the original rubber for Pirelli MT60RS tires. The new gunmetal grey paint work with its satin black accents was laid by Korea Custom Garage and is kept safe in the event of a spill thanks to a full set of Moto Rossa frame and fork guards. Kong also had the seat recovered in brown leather to add another touch of individuality to what he calls his "Diesel Cafe Racer".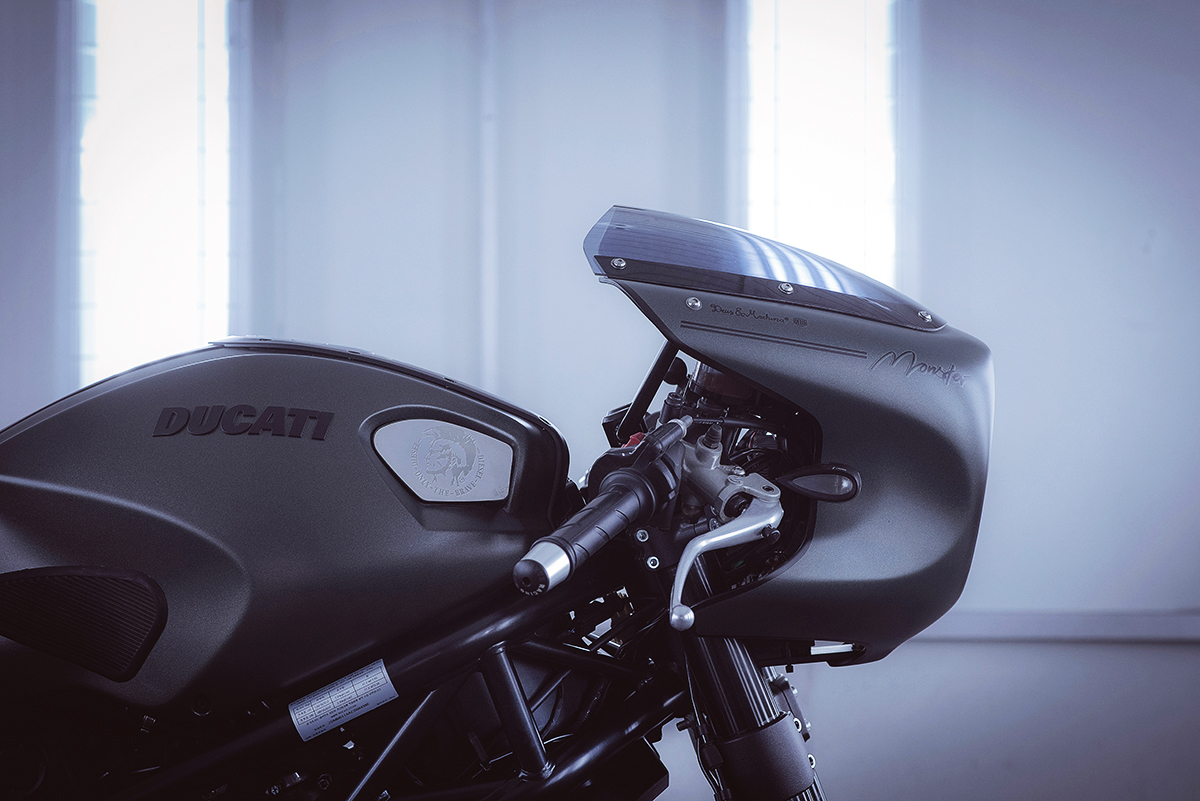 I've been saying it for years now, and I will say it again. The Ducati Monster is destined to become a popular choice of donor for custom motorcycle builders. The Monster is after all credited as being the motorcycle that spawned the modern 'naked bike' movement. Its styling makes it the perfect candidate for a Cafe Racer conversion and there are literally thousands of secondhand ones available worldwide. For now though it seems that my words have gone unheard, so perhaps this custom Monster from HSP.69 in Korea will do the trick.