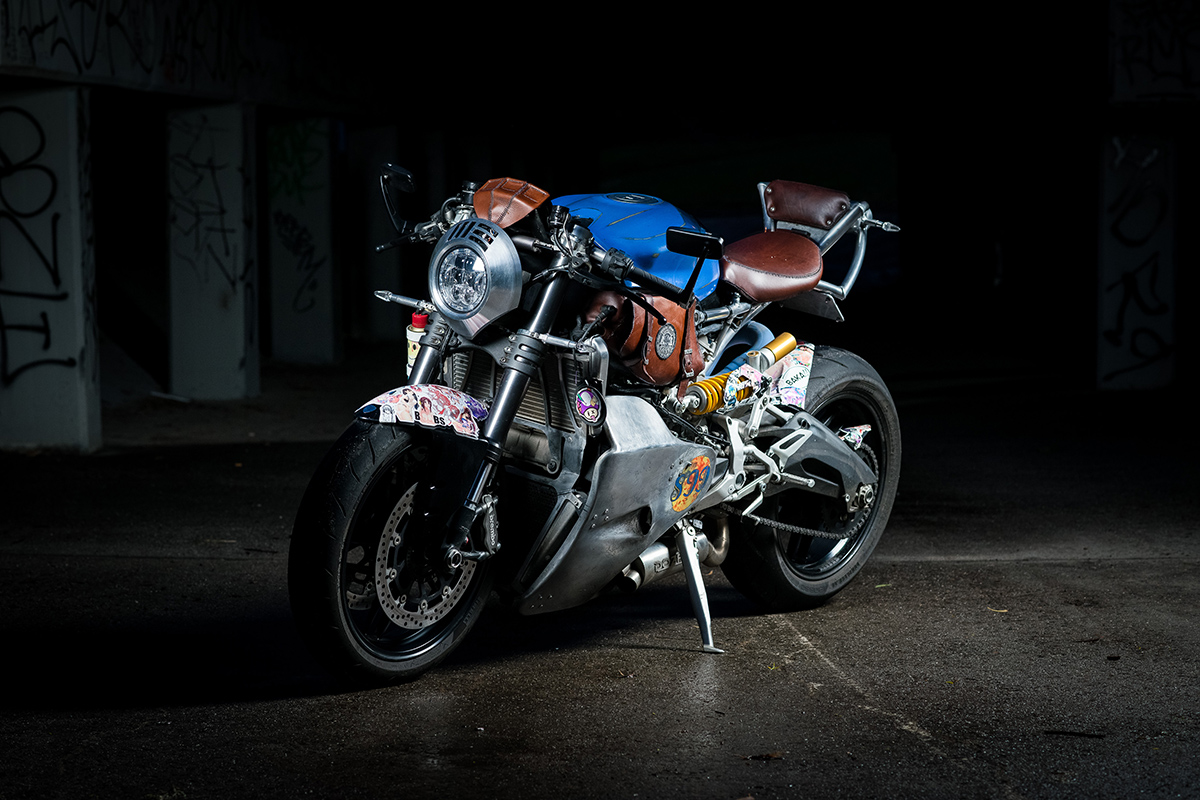 Most projects you see are collaborations amongst several people with different parties completing different parts of the build or sections been outsourced, but my plan was to complete as much of the project myself as possible. I would learn different techniques along the way and only seek assistance from my dad John and my brother CJ, as I completed the build in either in my garage or dad's shed. The Ducati was stripped down with just over 2000kms on the clock, removing all the plastics and electronics over several nights in the garage and storing the ECU and other sensitive equipment in a drawer. Then I stared at it for hours mulling over all the different ideas that I had.
It started with the rear of the frame being re-worked using 25mm aluminium bar, replicating the stock frame and then opening up into a Jetsons-inspired open tail. All the wiring would run internally and would include Motogadget indicators and a LED brake light. The stock exhaust headers were sent off to get ceramic coated inside and out to keep the heat down as all the shielding had been removed. The headers were assembled back onto the bike and the whole thing sent to master welder Ben Doswell at DOZFAB to make up a set of stainless forward exiting mufflers.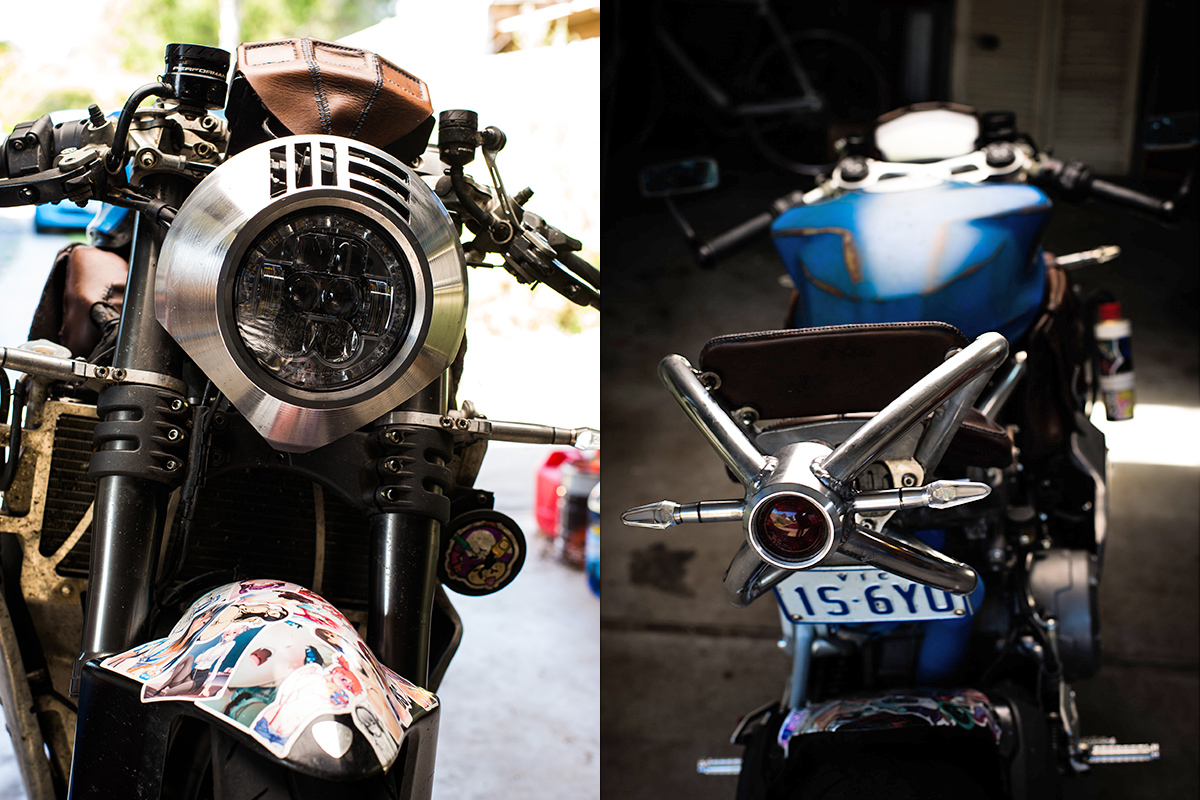 While the mufflers were being made I modified a JW speaker surround to go around an LED headlight bucket that was machined from 230mm solid aluminium. It's a two-piece surround with no visible fasteners to form the front of the bike that took well over 20hrs to make. A new radiator support bracket was laser cut from stainless with CNC machined posts that were designed in the shed and then made by Hammond Engineering in Bairnsdale before being welded in place.
After that I sank a lot of time into designing new bracketry for the OEM components that had to go back onto the bike. They were all created in CAD and welded up by DOZFAB out of stainless steel before being painted and fit back onto the bike. The electrics were the most time-consuming part of the build. The Ducati has sensors everywhere and a black box recorder and it all runs through a CANBUS system that you can't mess with so a lot of it had to stay where it was. Then came the leather work.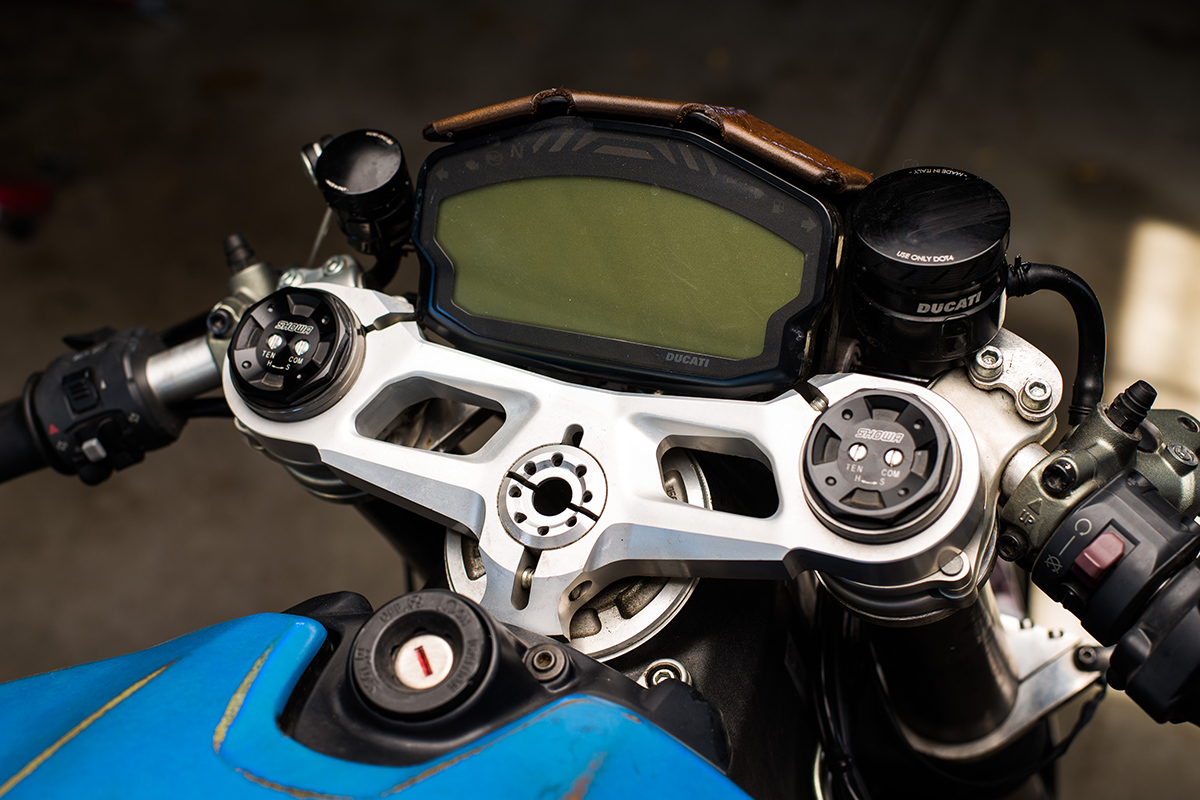 I sourced some 2mm thick natural tan leather, a stitch roller and some sewing awls and proceeded to teach myself over many, many hours to hand sew baseball stitch for the new seat upholstery, dash cover and saddle bags. The saddlebags themselves contain the stock electrics for the bike and are good for over 260kph. Everything on the bike is still where the service technicians would expect it to be. Despite all the fabrication work still going on, the engine didn't go untouched. The emissions gear was removed, the bike received a new tune and a lightened generator kit installed for quicker throttle response.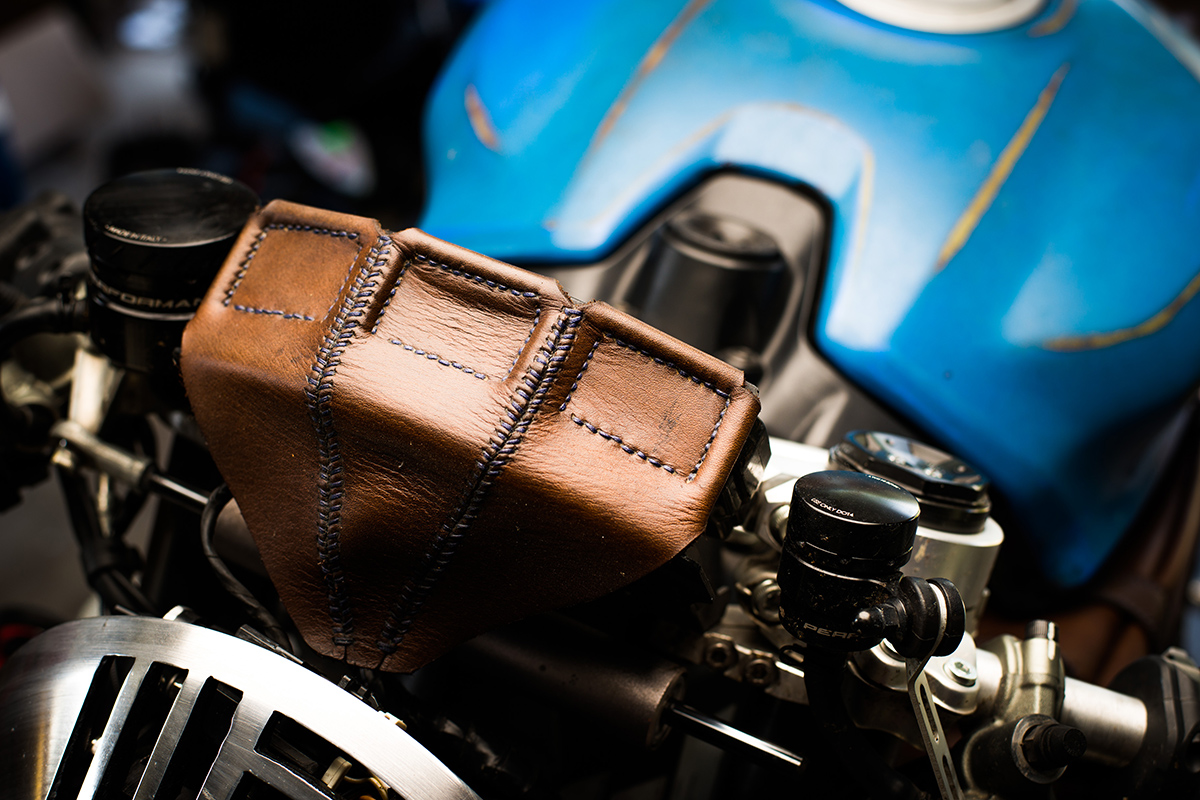 The stock seat was levelled out and jacked up for a more comfortable riding position before being given an extra layer of foam and re-covered in leather. The remaining stock plastic was then covered in anime stickers just to raise the eclectic level up a bit more.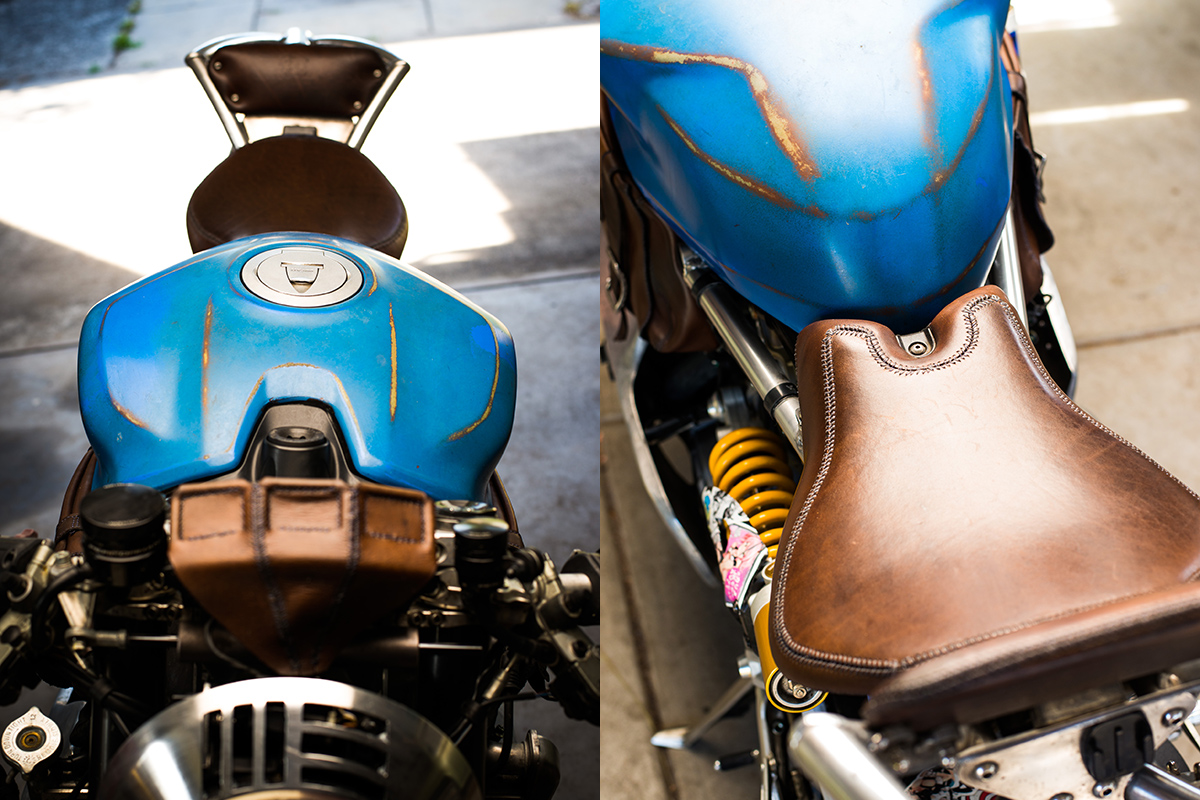 The side panels were hand beaten out of 1.6mm aluminium to cover up the ABS system and battery. I only had a week until a major ride was taking place and I wanted to take the bike along so I didn't have time to make a beater bag and do them properly, so, they were made with a ball-peen hammer and an old couch cushion.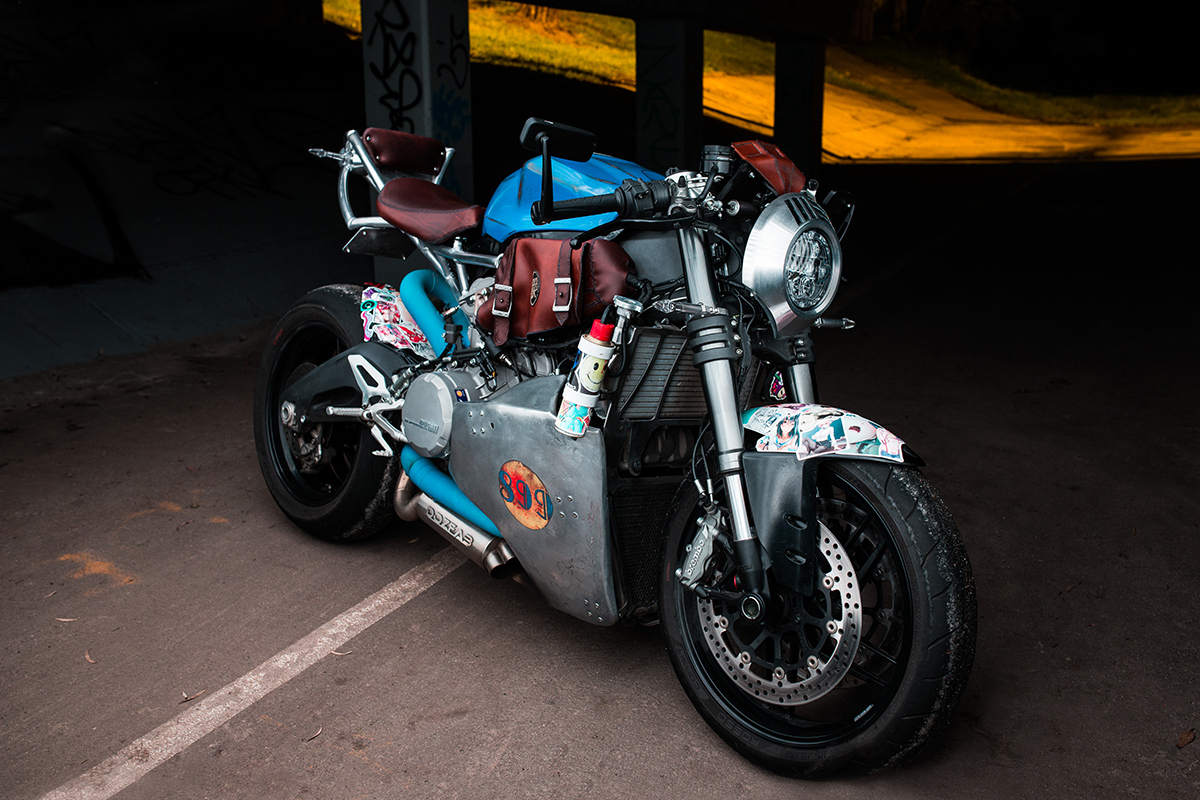 The first few rides were pretty interesting. I had to wind the suspension settings right back to suit the 15kgs I'd dropped off the bike, but since then it's done 8000kms, including a 3000km trip around Tasmania. It's performed flawlessly through all weather conditions, and the leather has aged nicely with the addition of a few thousand dead bugs. The only issue is that it takes forever to fill with fuel because I'm constantly interrupted by people wanting to know what it is.
Oh…. And the purists, they don't like me so much.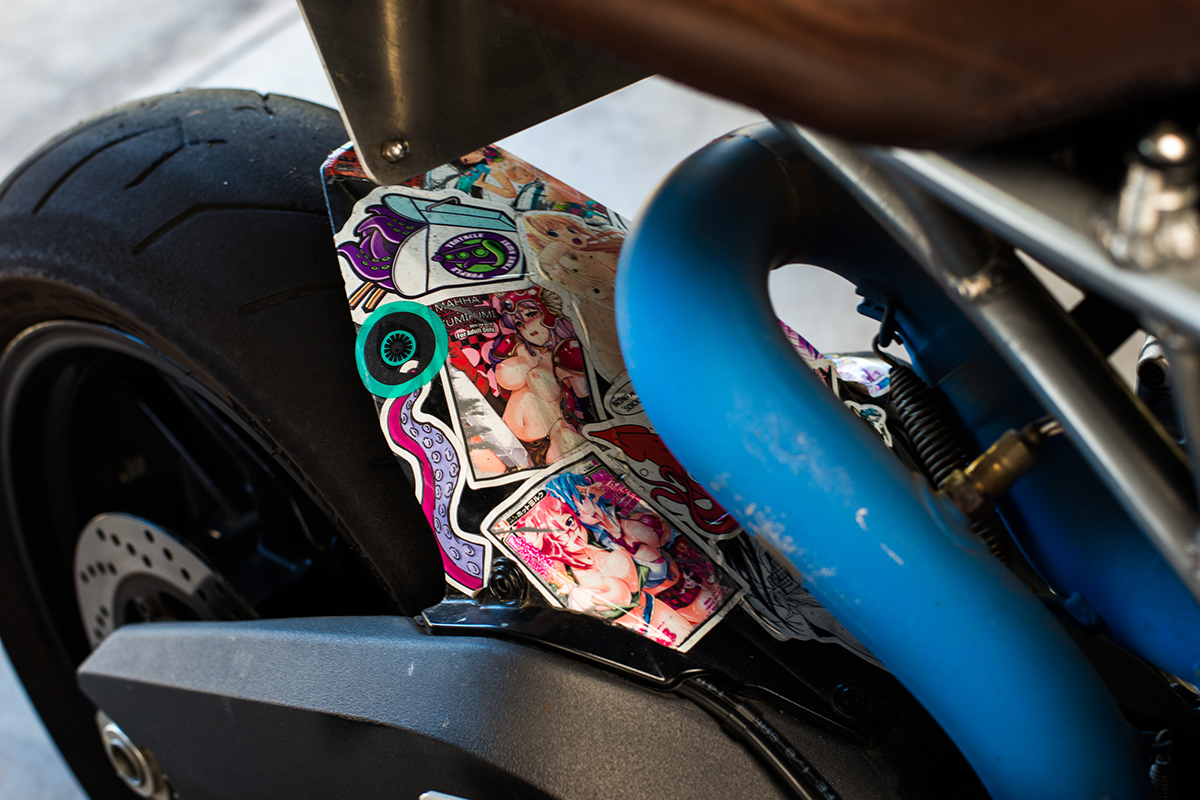 Words by Matt Errey
Photography by Ben Mulligan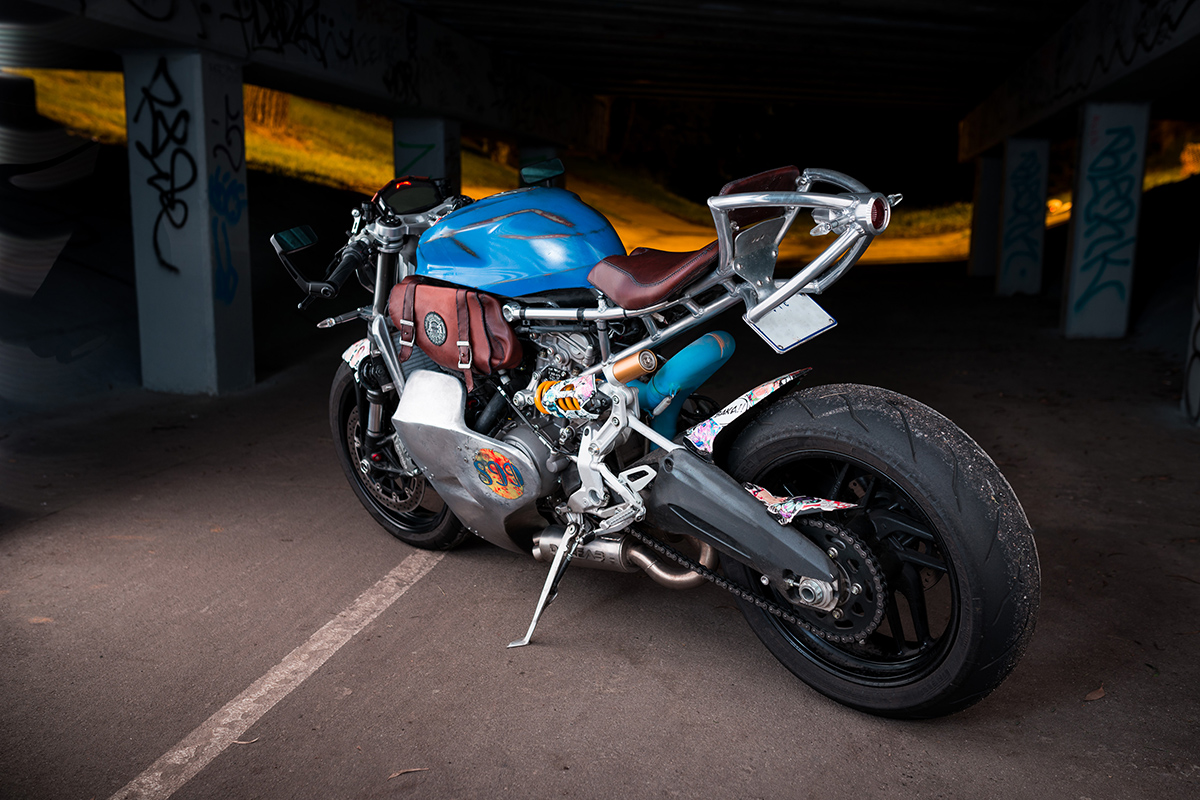 I'd been talking about modifying a <a href="https://www.returnofthecaferacers.com/category/ducati-cafe-racer">Ducati</a> as my next project for a few years with my sights firmly set on the streetfighter 848, trellis frame, naked bike… easy. Then the Panigale came out. It was perfect. Light and fast with all the electronics you could want and a monocoque frame just to make things difficult. Salvageable wrecks were nearly impossible to find and second-hand bikes were only marginally cheaper than new so in October 2015 I picked up a brand new Panigale 899 as a birthday present to myself. It spent about a month on the road being run-in, including a day at the track, then it was off to the garage to get pulled apart.