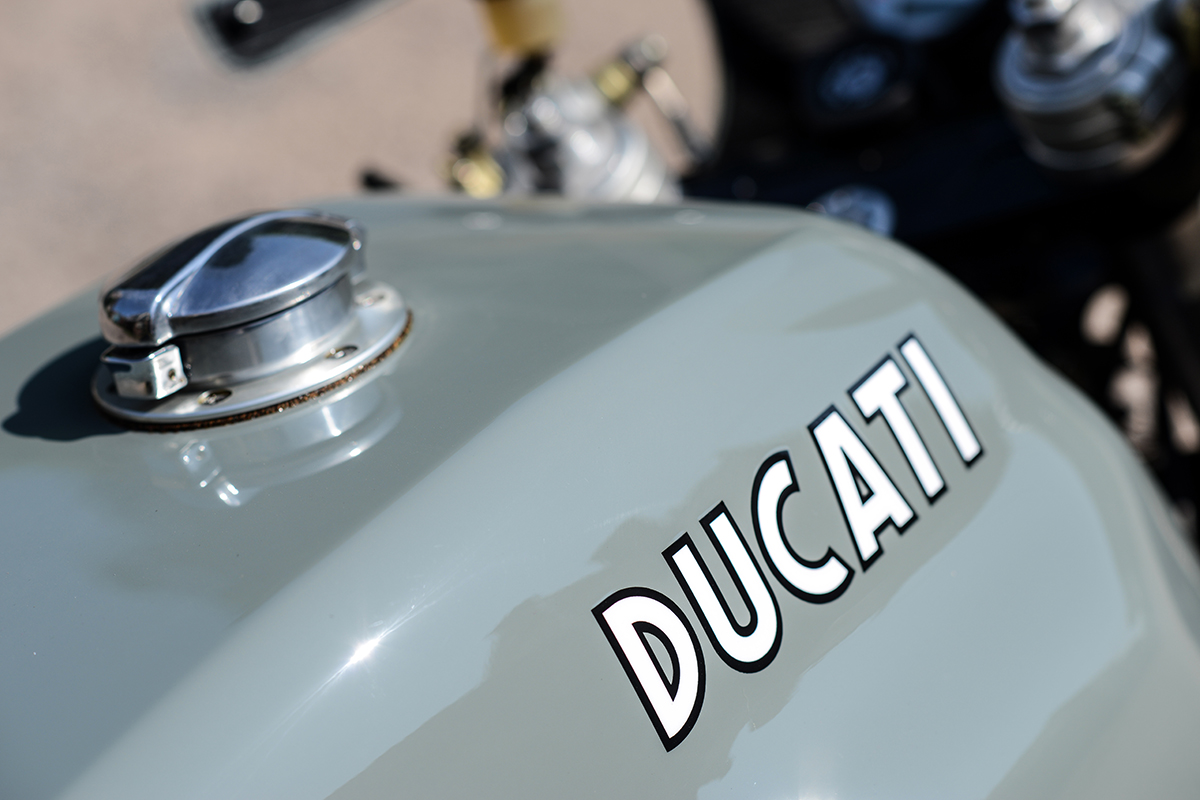 When Dan, who is a designer by trade, approached Steve about reviving his damaged Duke he had a very clear idea of what he wanted the bike to become. His concept took styling cues from retro racebikes with an unmistakable cafe racer bloodline. Thankfully when selecting a workshop to do the job he couldn't have chosen better.
With a rich motorcycling history that includes Supermoto, flat track, drag, sidecar and off-road racing Steve and his Redmax Speed Shop team really know their way around motorcycles. Steve also happens to be a devoted cafe racer and custom enthusiast who always finds time to attend London's big Rocker events. When it comes to Ducati's he developed a love for them on the drag strip. The engines he built put them at the top of their field on the 1/4 mile and this interest eventually grew to see Redmax developing replica bodywork to fit late model Ducatis. A match made in heaven? We think so.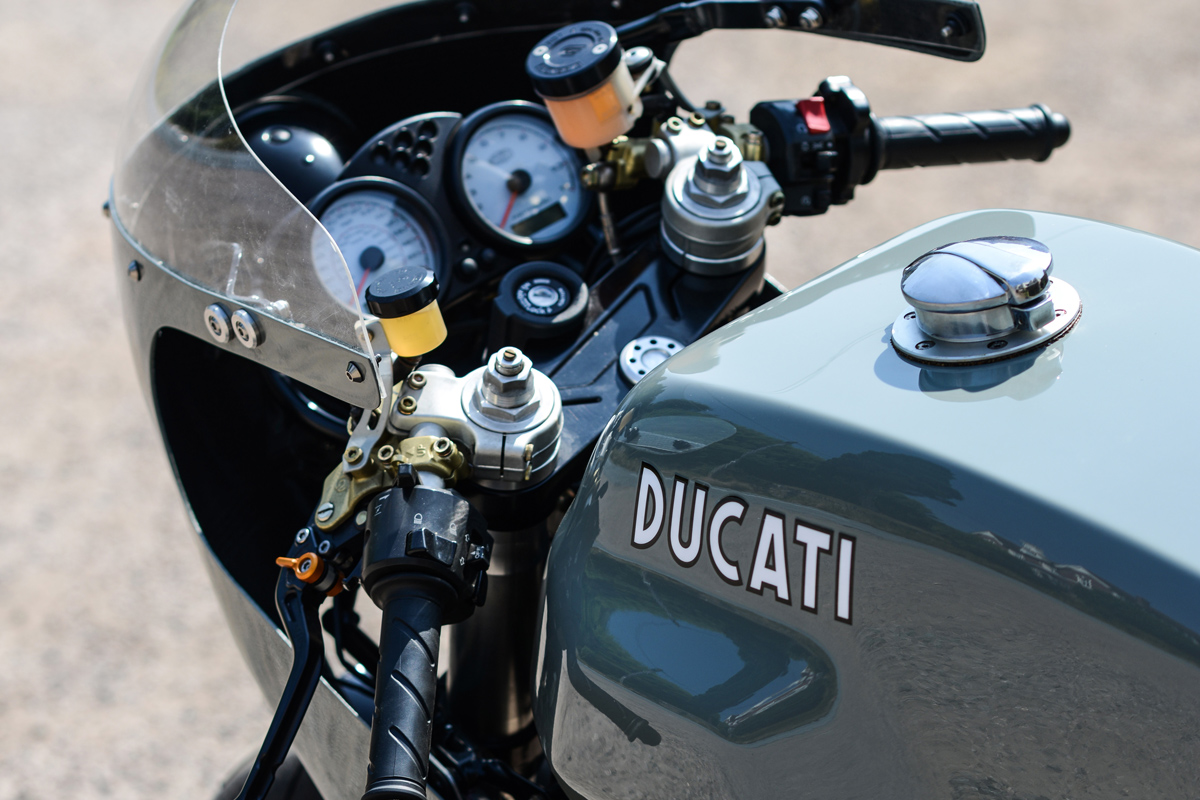 To achieve the look Dan was after the Redmax team put together a delectable recipe of dress up and go fast components from their own parts catalogue. The list included a Redmax Sport Classic Style fuel tank, Redmax Bullet 70s Flat Track tail, clip on handlebars, an Imola style full front fairing and a hand-made set of stainless steel headers and mufflers.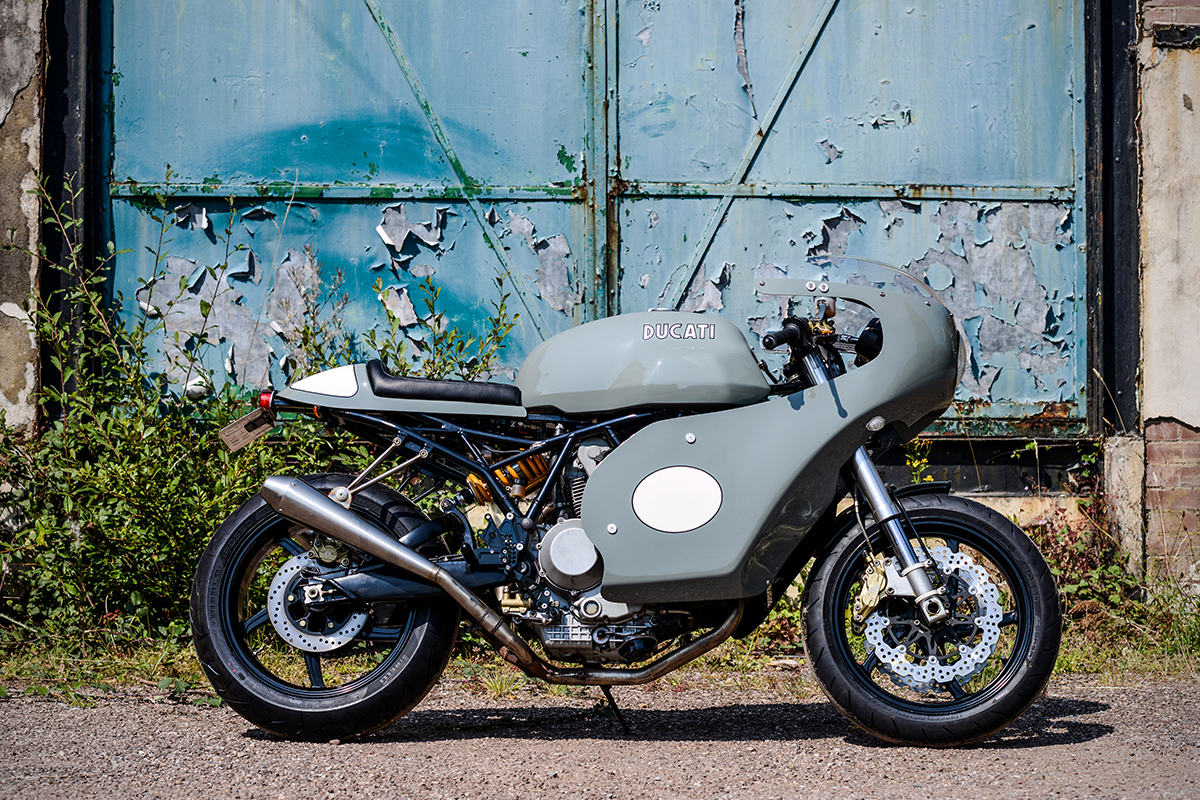 To fit the bodywork to Dan's SS1000ie the Redmax team made a series of modifications to the stock frame. Adapting the Bullet style seat the subframe was made possible by shortening the subframe and welding in custom made brackets. The fuel tank was also secured using custom mounts and with them in place, they worked on positioning that lovely front fairing.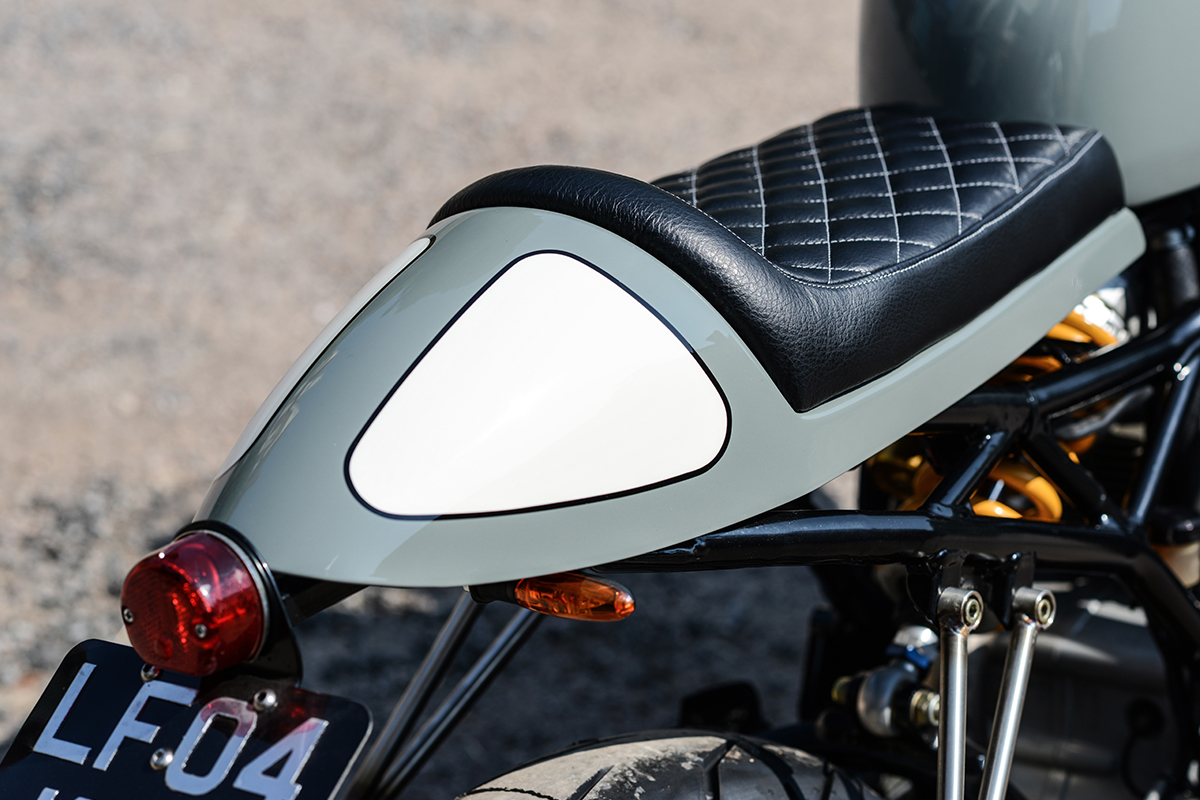 With a bit of adjustment and customisation, they had the cowl in place. For lighting, a hole was cut into the front end to fit the Bates style headlamp while at the rear they fabricated a bracket to support the numberplate and a vintage style taillamp. New indicators were mounted inconspicuously to limit their aesthetic impact and the decision was made to stick with a low profile windscreen for tighter proportions.
Hidden beneaththe seat and trellis frame is the bikes external fuel pump and fueling has been tweaked to work best with the freer flowing pipes. To complete the revised riding position a set of black rearsets sit high on the rear of the frame. For a racier look, Steve kicked the mufflers up at the rear and secured them using stainless steel round bar brackets.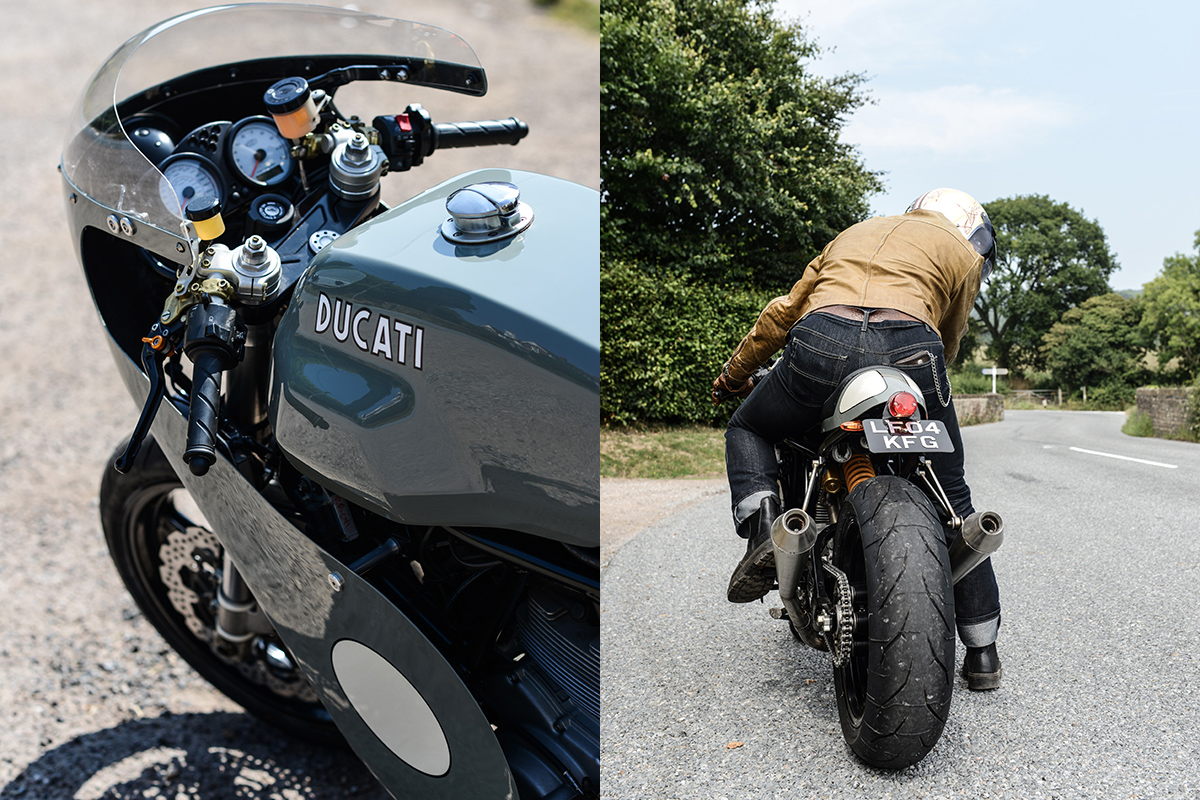 With plenty extra grunt on tap, thanks to the exhaust system and the huge loss in weight, a set of floating brake discs help to pull the bike up hard while track style rubber keeps it stuck to the road.
At Redmax function always outweighs form so a custom fender was fabricated for the front wheel, finished in satin black to disguise its presence. The rebuilt 5 spoke rims were also treated to a coat of satin black.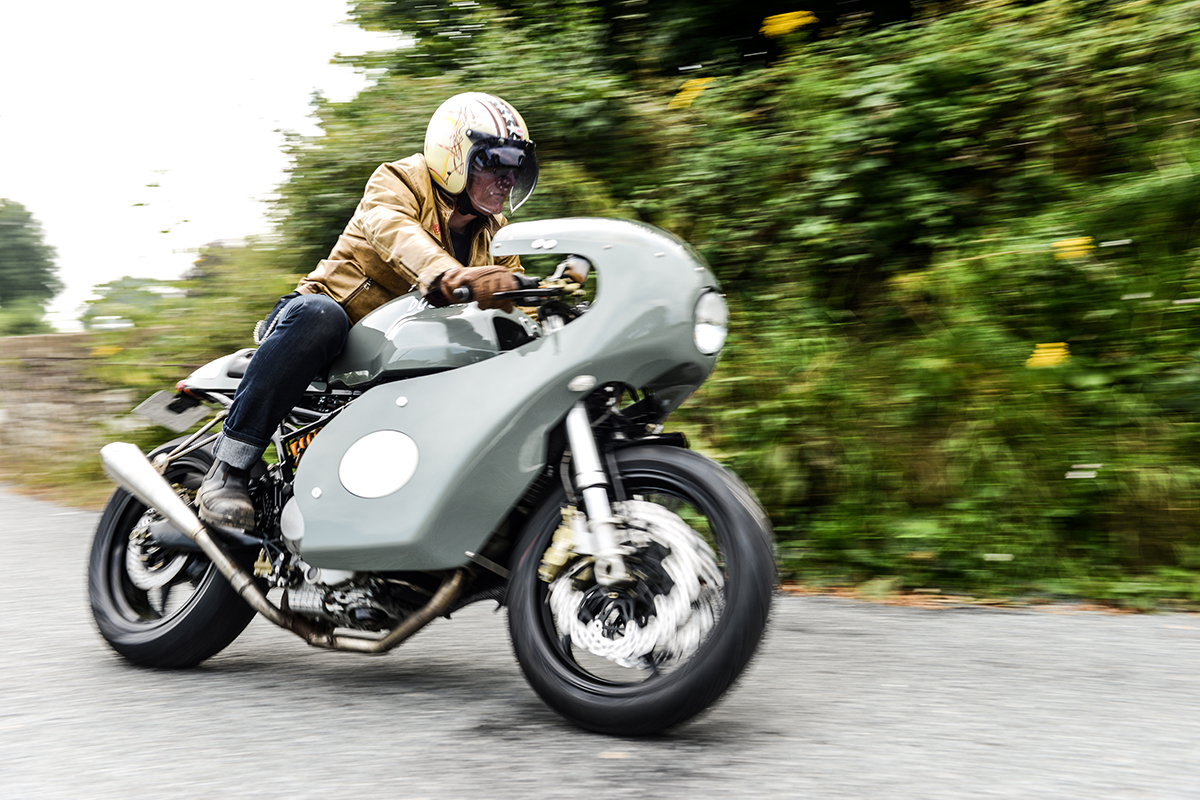 Finally, a timeless battleship blue/grey paint scheme was applied to the bodywork along with white panelling and Ducati livery that's all been pinstriped in black. Redmax's own Glenn Moger wrapped the seat pad in black leather and added silver diamond stitching for a touch of class.
If ever there was a perfect example of how to turn a bad situation into a good one we think Dan's Ducati might just be it.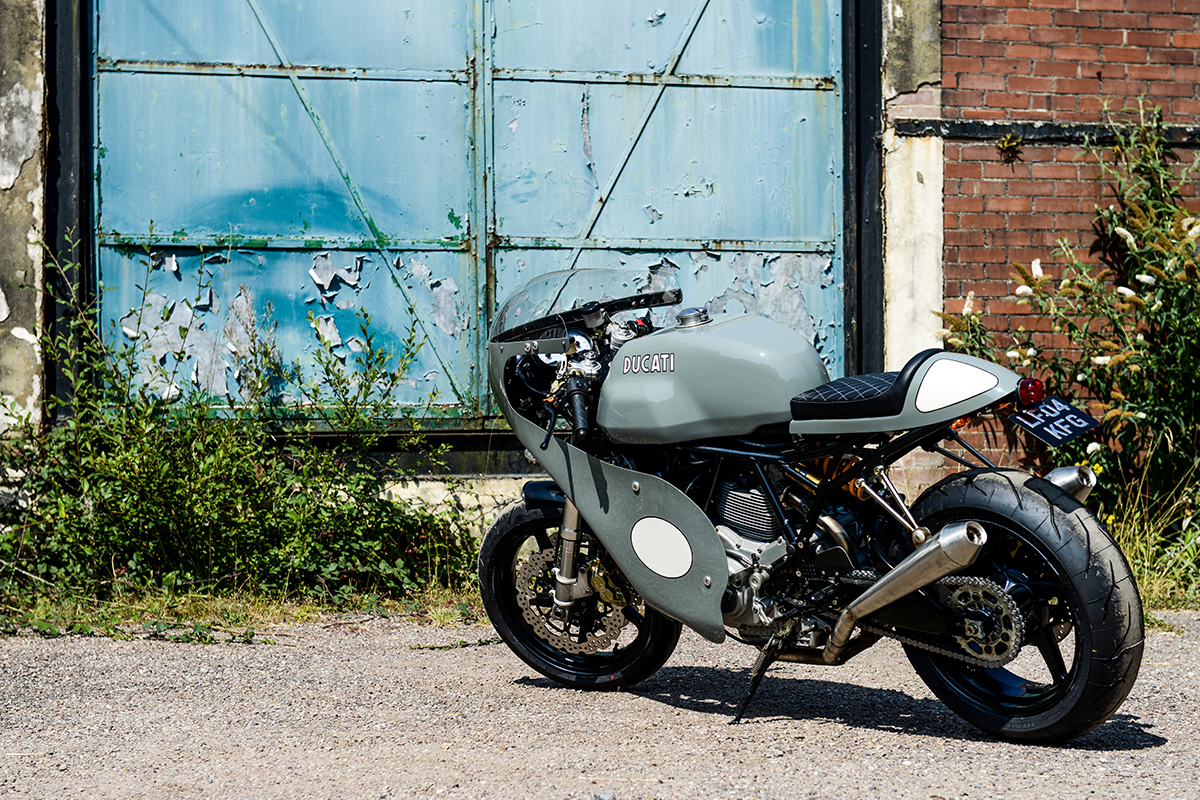 Dropping your motorcycle is upsetting, but having it mindlessly vandalised by some low life degenerate is heartbreaking. Dan, a Ducati owner living in central London knows too well how painful the experience can be after his pride and joy, a 1000SSie, fell victim to vandals. Fortunately, with the help of Steve and the crew at Redmax Speedshop, heartbreak became custom bike bliss.