Austria's NCT Motorcycles are this week's 'talk of the town' with 3 of their awesome builds appearing on custom motorcycle blogs. On Pipeburn it was their Scrambler-styled BMW K100, the venerable BikeExif featured their wild Ducati 848 and today we're taking a peek at their BMW R100 RS cafe racer.
Based in Carinthia, Austria NCT motorcycles is still relatively new to the custom scene after being established by David Widmann in 2015. Along with his two staff, Kurt and Manuel, they specialise in modifying "old timers" and rather impressively, this bike is the 13th they've completed in 2 years. Their 'Classic Racer' is based on a '79 model BMW R100 RS and was put together in only 4 short weeks for a discerning customer from Salzburg.
David explains that "Manuel is really good at rebuilding and customising frames and seats. Kurt is a genius with the electronic components." so the two were put to work on the BMW managing the tasks they each do best. David and Kurt rebuilt the bike's engine together and upholstery was outsourced to a local, family operated business.
The bike's owner requested a "classic racer with vintage looks" so the NCT team sourced a Mike Haliwood front fairing that became the spearhead of the build. After Manuel made some modifications to the frame he shaped a seat cowl and seat pan by hand to match the lines of the fairing. To level the bikes stance the front end was lowered by 2 inches and a pair of clip-on handlebars were mounted to clear the fairing. Custom rear set footpegs were milled on the NCT CNC and a pair of black Ohlins shocks went on the rear.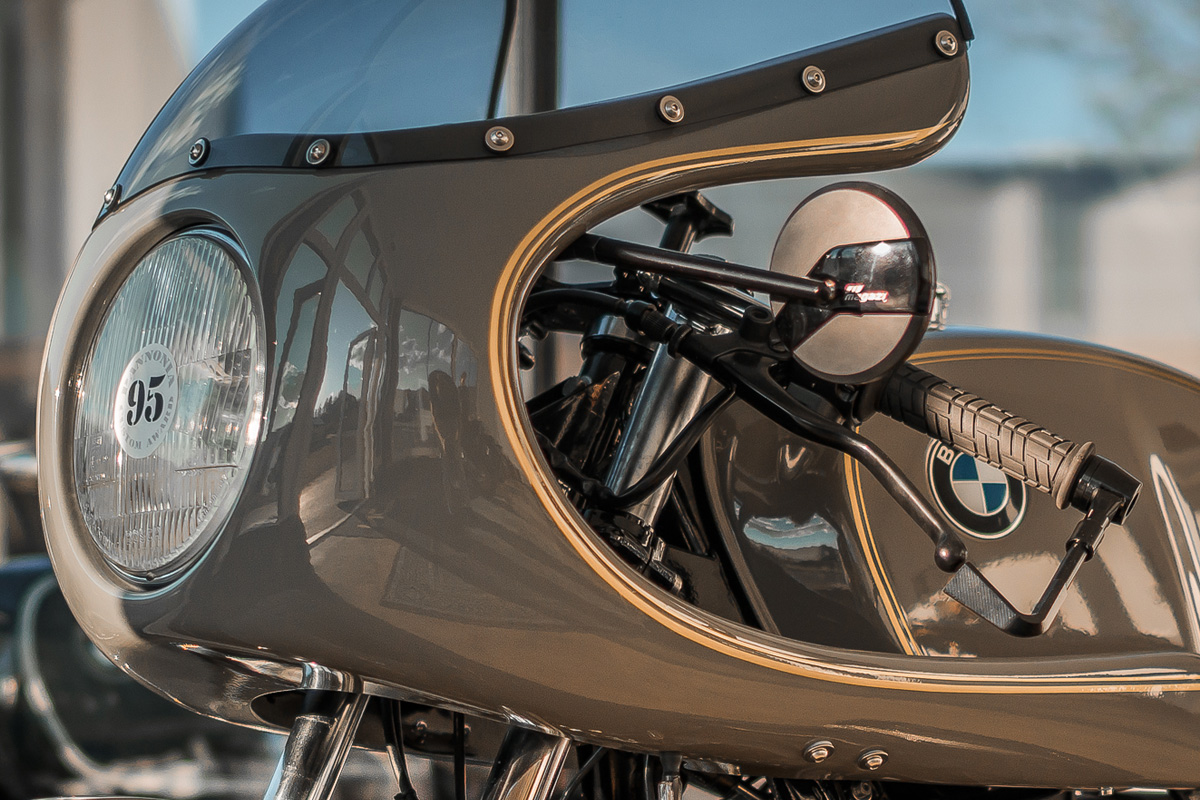 While the boxer engine wears a custom 2-into-2 exhaust with classic reverse megaphones the standard airbox was retained to keep the bike looking period correct. To open up the frame all of the electrical components and a lithium battery were hidden under the seat cowl and discreet LED indicators help to keep the lines of the bike clean.
Once the fabrication work had been completed on their Classic Racer, Manuel rolled the bike into the NCT spray booth for a fresh lick of paint. The frame, fork legs, wheels and cylinder heads were all shot in timeless black while the bodywork received a coat of military grey outlined with a classic BMW twin-line pinstripe of gold.
For those who are superstitious, I think this confirms that 13 is in fact, lucky for some, especially if you happen to be a customer of NCT Motorcycles.