Located in New York City, The Suited Racer considers himself a 'living piece of conceptual art'. The multidisciplinary artist creates paintings, sculptures and shoots photographs based on themes of social justice and political awareness. Through his social media channels, he's also turned himself, or rather his masked alter ego, into an Instagram star.
Disguising his face with a mask and tinted sunglasses glasses, always dressed in a well-tailored suit and often accompanied by a motorcycle, The Suited Racer Instagram account is a statement about social media and society's obsession with physical appearance. As he puts it, "I would like the world to know that it really doesn't matter what we look like. Race/ethnicity, pretty, ugly… we are all just human. Brothers and sisters." and it's an approach that's amassed him an Instagram following that's nearing 250,000.
Along with a wardrobe stocked with high-end suits, The Suited Racer has an impressive motorcycle collection. Amongst them is the 'Butler', a one-of-a-kind 1980 BMW R100 cafe racer that regularly features in his Instagram posts. Today we're chatting with The Suited Racer to learn more about this mysterious man and his enviable BMW cafe racer.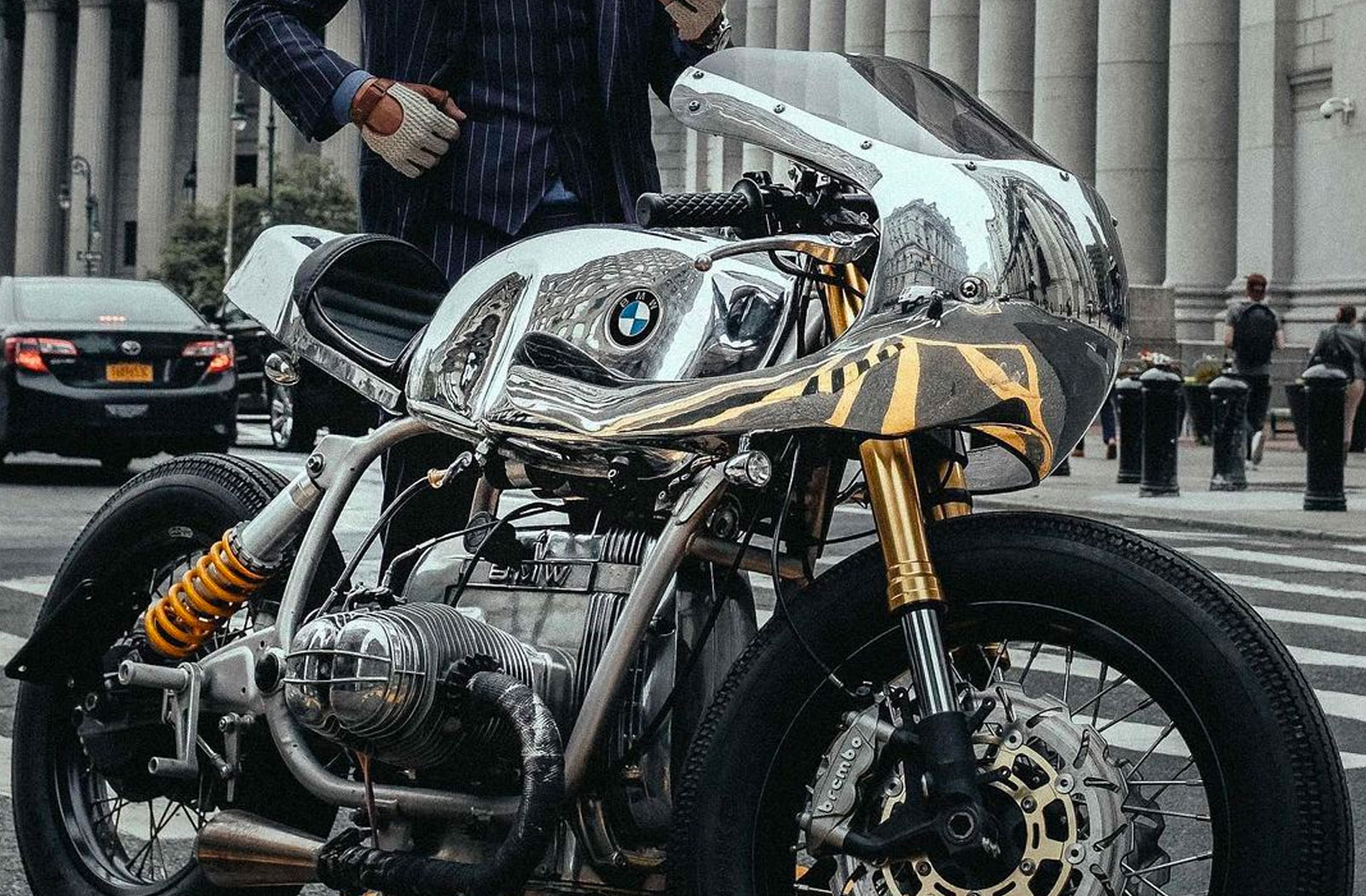 Who is The Suited Racer?
My fake name is Lando Griffin, most people who know me, call me The Suited Racer. I've been riding since I was 5 years old. My first bike was a little Honda 50cc.
Why did you create your BMW R100 Butler?
As an artist, I'm visually stimulated by mirrors. To some, they are the epitome of vanity but to me, they signify self-reflection and looking inward. I wanted a bike that was visually unlike any other out there but with enough familiarity that its existence felt natural.
How long did the project take to complete?
Covid threw a wrench on the build time. It took 2.5 years.

Where did your donor bike come from?
The donor bike came from Craigslist. It wasn't running. The guy who owned it before me said it had gotten him through a lot of financially tough times since it allowed him to move around for work at little cost. He was a Brazilian who had moved here looking for a better life and worked his ass off in landscaping. He said he did find a better life. He owned the BMW for 20 years.
What was your design concept for the Butler?
I had just come off an art show I did called "All Americxn" that dealt with reflections, removal of self, and unconscious biases… so I wanted the bike to completely reflect its surrounding. I sketched the bike in pencil to a T. I knew exactly what the end result would be and am very happy with how it turned out.
The vibe of the style of the bike was inspired by Jim Redman's Isle of Man days. BMW never made a bike with these lines, so as a big fan of Motorrad, I wanted this bike to exist, and now it does.
How did you decide which performance upgrades to go with?
Most of the upgrades were chosen for reliability and to bring the bike relatively in line with the performance of other motorcycles that are available now. The electronics were completely redone and replaced with Motogadget accessories. The brakes and front-end conversion were by Cognito Moto. The rear suspension is by Ohlins. They are the typical familiar performance brands. I say relatively because the tires themselves aren't really aimed at performance.
What was the most challenging aspect of the build?
Knowing when to stop!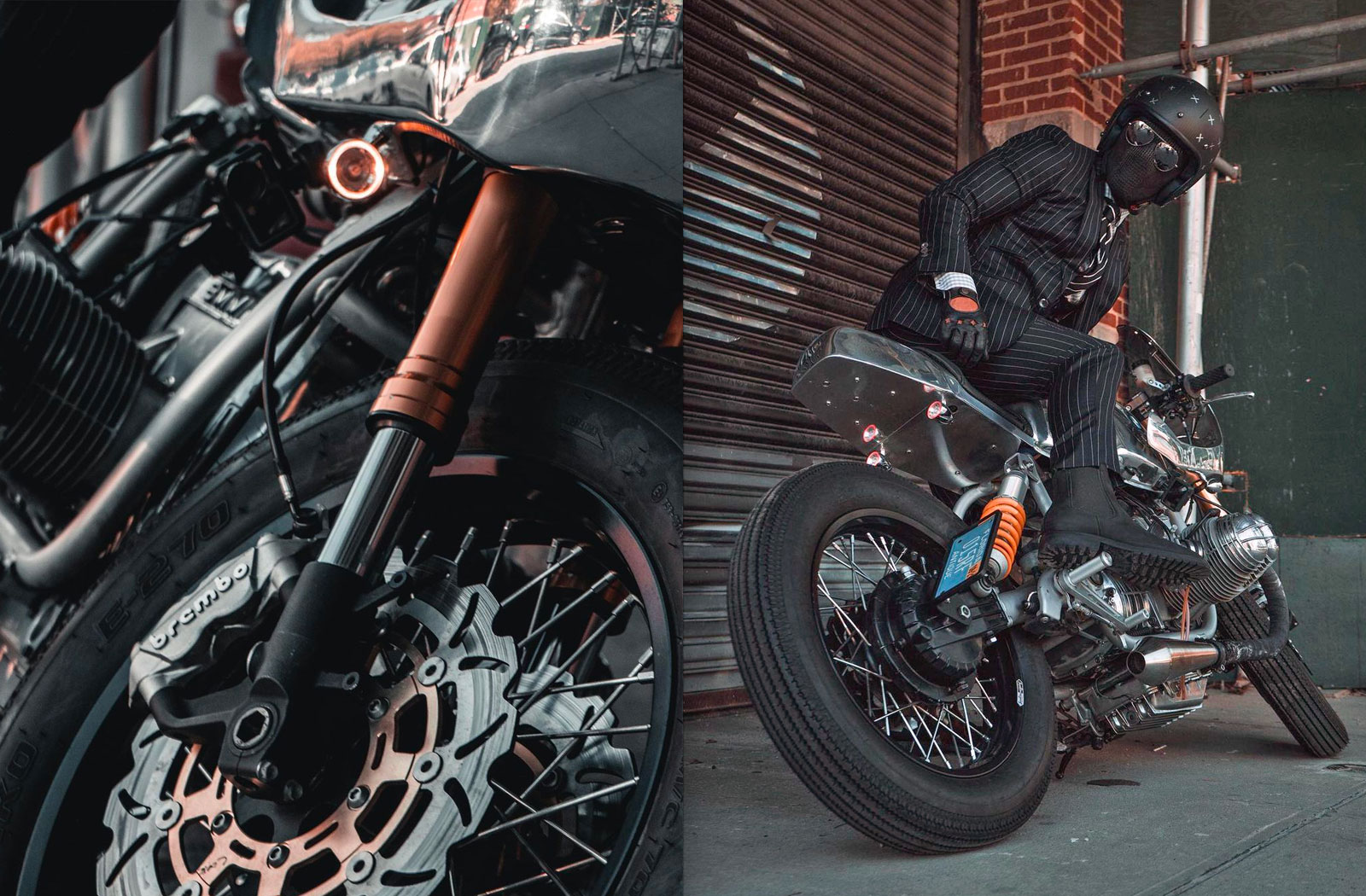 Along with the modifications Lando mentioned above, this BMW R100 has undergone an extensive aesthetic overhaul. In keeping with his reflective theme the R100 Butler wears a custom aluminium fuel tank, fairing and rear cowl that are polished to a mirror finish. In order to fit the custom bodywork the frame was modified to suit. The process included the removal of the stock subframe and installation of a bespoke alternative that is hidden within the enclosed tail unit. With the use of a Cognito Moto front-end conversion kit, the R100 is now sporting a set of modern upside-down forks, Brembo stopping gear front and rear and classic spoked wheels.
As for the power upgrades, The Suited Racer BMW R100 wears flat slide Mikuni carbs which inhale through foam filters. There's also a custom, shortened exhaust system with reverse cone mufflers, which also ensures that if the bike isn't seen it'll definitely be heard!
As a homage to the iconic Japanese comic book 'Akira', Lando has released a limited photo print of the Suited Racer and his motorcycle named 'Akira Kaneda' (shown below) which can be purchased via his website.