After the success of his first custom bike series, Fran Manen of Lord Drake Kustoms knew he was on to a good thing. The release of his limited edition BMW R100 'Survivor' resulted in bikes being shipped around the world from his workshop in Malaga, Spain. Built using a cocktail of different styles the Bobber/Cafe Racer R100 clearly had a look that appealed.
Now Fran has launched a new limited edition BMW R series based directly on his Survivor. However this time around, it's had a utilitarian overhaul.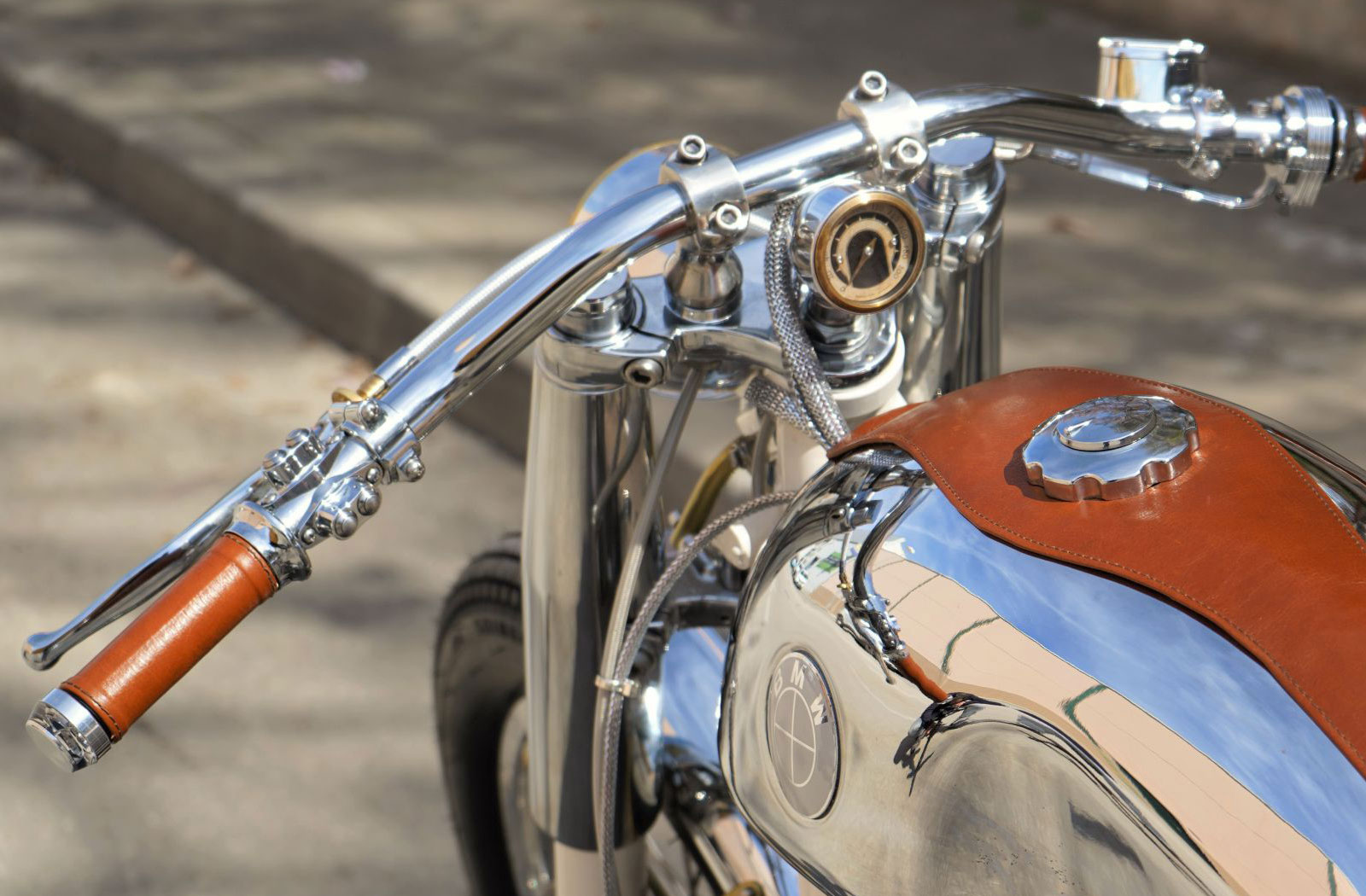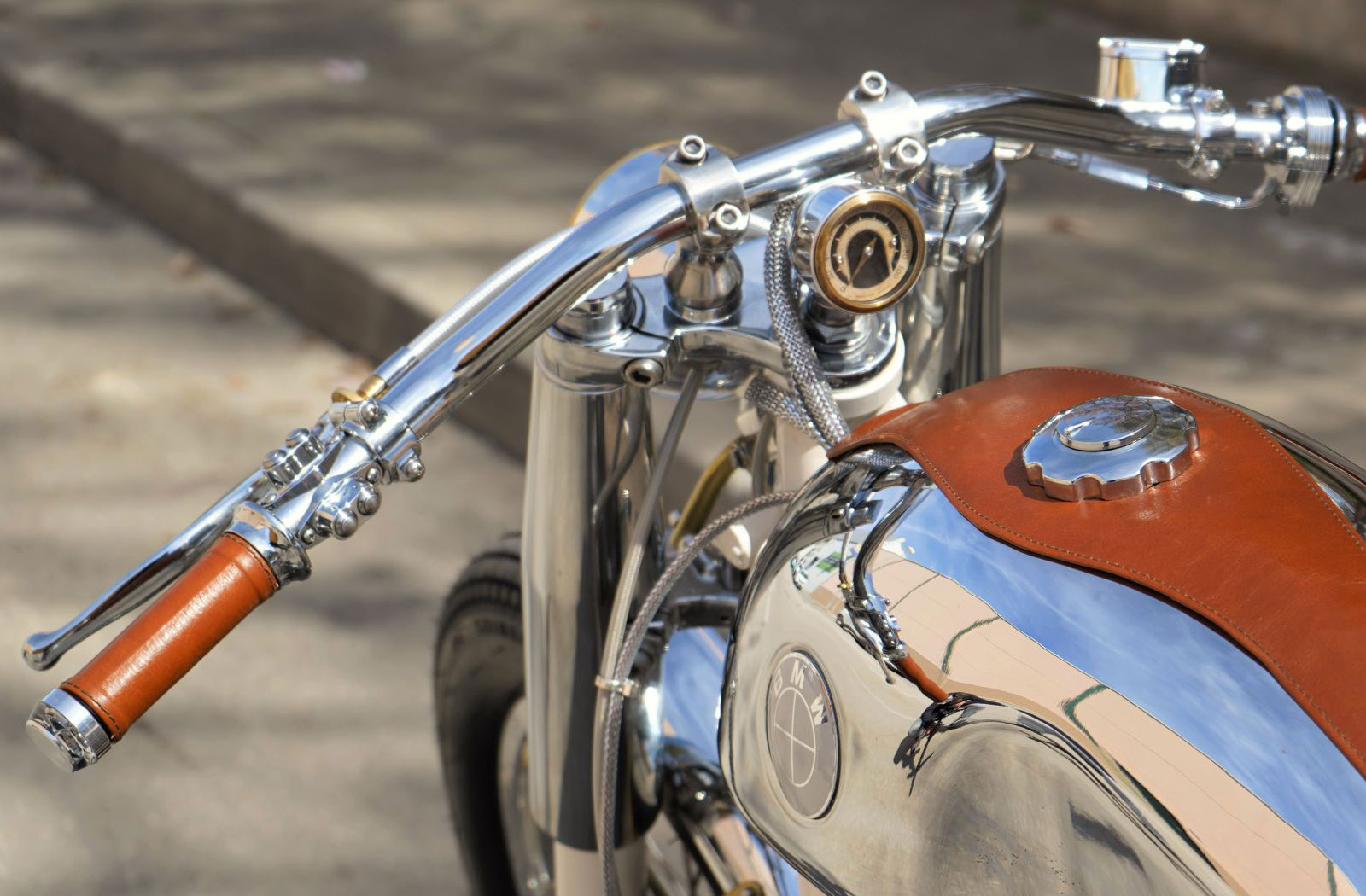 Named the BMW R Sports Edition the Lord Drake Kustoms cafe racer permutation uses the same styling formula as the Limited Edition Survivor. Where it differs though is in both its practicality and affordability.
"We decided to bring out a cheaper and, above all, more versatile and street version of the Survivor hence the new BMW R Sport Edition was born," says Fran. "All the work has been carried out in the cafe racer workshop in Malaga. From there, more units of this new modified BMW R have already begun to be sold."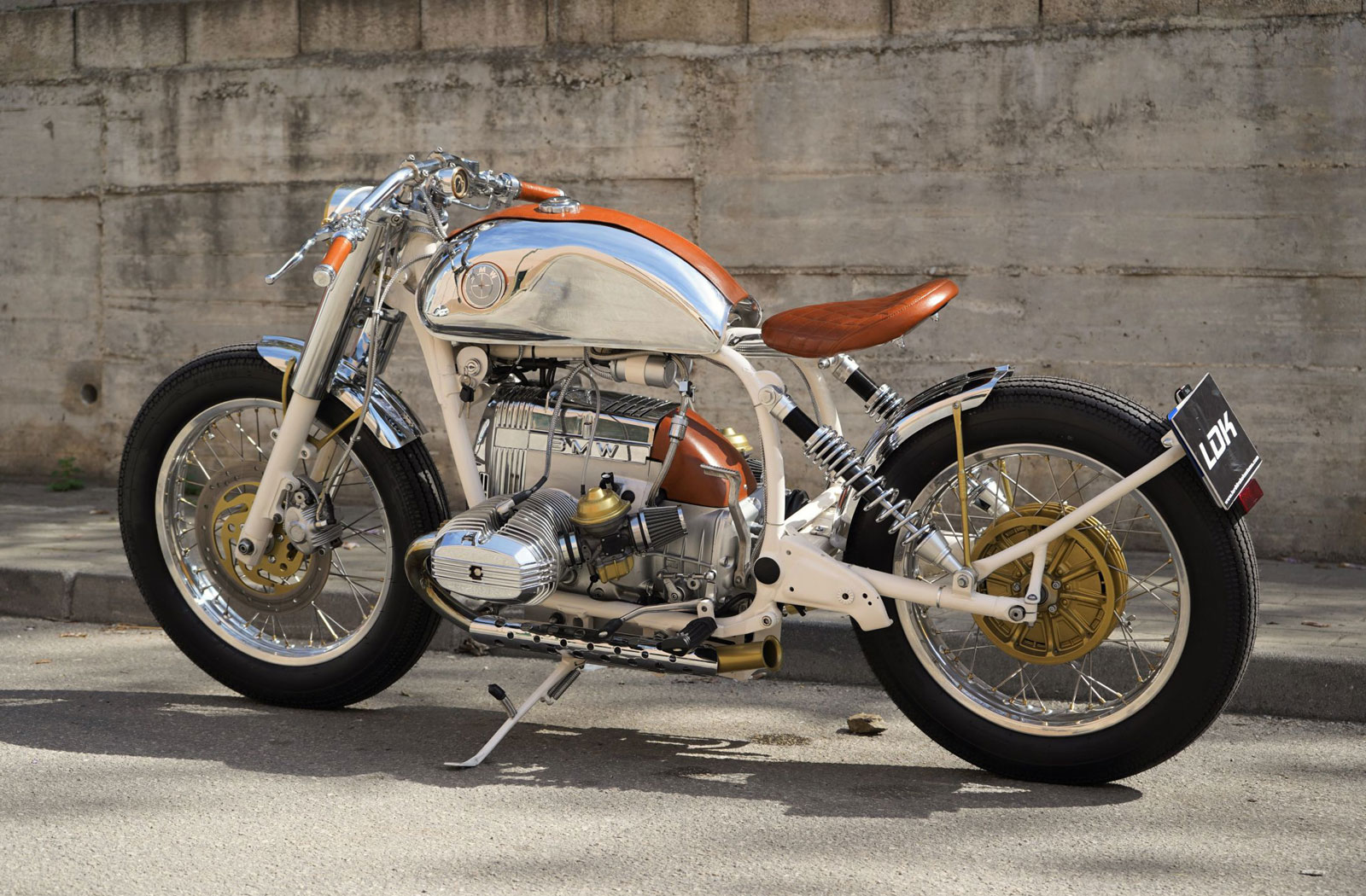 One of the stand out features of Lord Drake's original BMW R100 Survivor was the bike's suspension. That bike featured a vintage look springer front end and wore a modified front drum brake. The rear also wore a bespoke setup with twin centrally-mounted shocks and a custom swingarm. While this arrangement looked great it didn't offer the kind of riding dynamics someone would want from their regular ride, so it all had to change.
The BMW R Sport Edition retains BMW's factory suspension setup in the rear with the addition of modern shocks. Up front things have had an upgrade too using conventional Showa forks. Adding to the handling improvements is a front disc brake. But the differences between the two limited versions of the bike don't stop there.
Sitting in the top clamp you'll find the same downward swept handlebars as those on the Survivor, but they are adorned in completely different accessories. Starting with the levers they're standard chromed units with a fluid reservoir for the front disc. Custom push-button switches perform all the functions a street bike needs and there are Motogadget m-Blaze LED turn signals at the bar ends for homologation. There's also an all-important front fender to keep road debris at bay – which is sure to make daily riding more pleasurable.
Making this bike street legal was imperative if it was to be intended for regular use. To help achieve this goal the R Sport Edition comes with a hugger style license plate bracket that doubles as a mount for Motogadget m-Blaze pin LED turn signals and an LED brake light.
Thanks to these changes this bike can be legally registered in Spain- with the exception of the short exhaust which can be easily swapped out.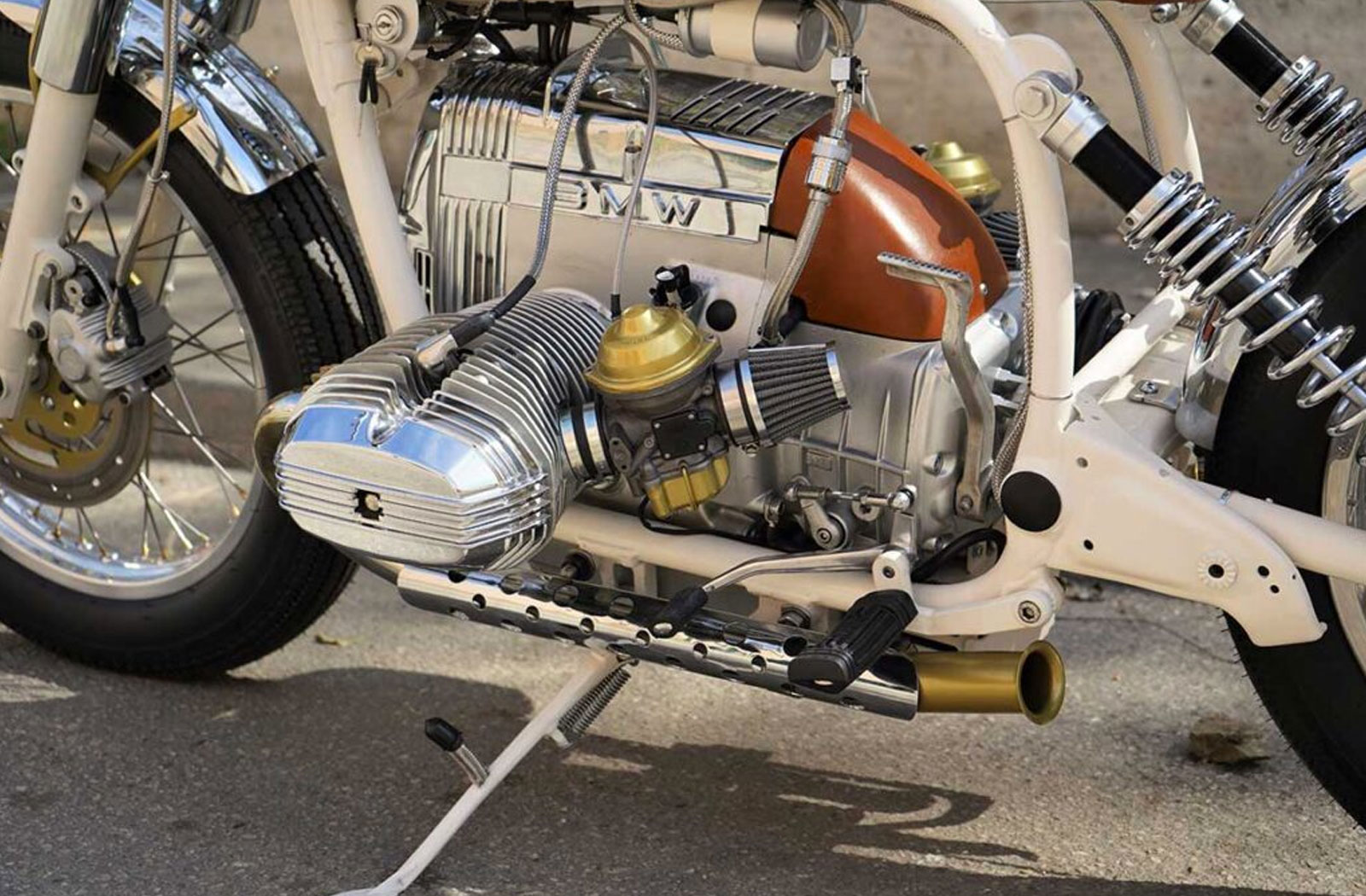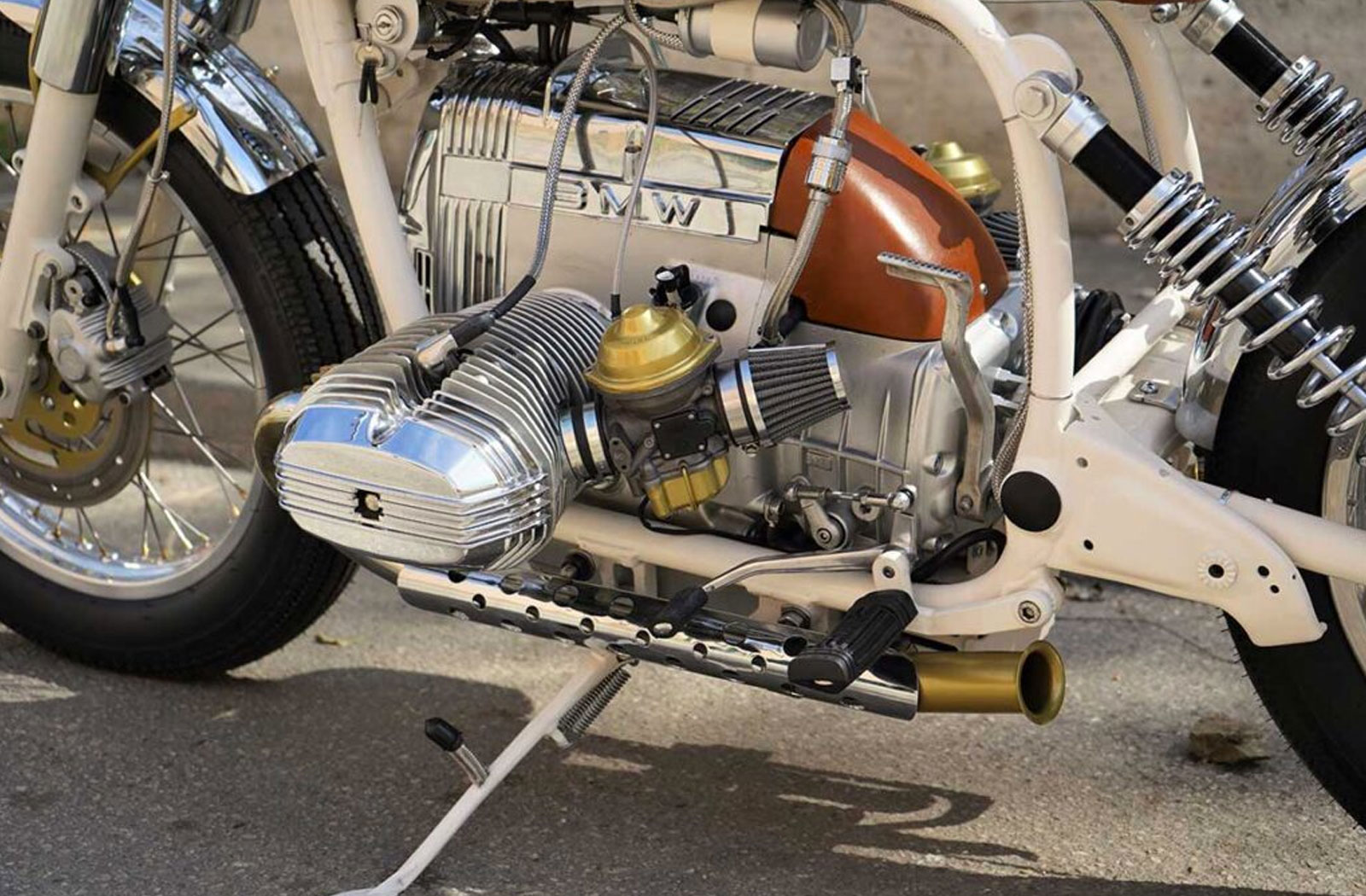 When addressing each bike's Boxer twin, reliability is a top priority. Each donor bike's engine receives a thorough overhaul and tune to get them running like new. In terms of aesthetics the factory air box has been replaced by a cover, the battery relocated to a custom box at the rear of the engine and there's no shortage of polished embellishments. The one major difference here though is the fitment of cone filters rather than the brass velocity stacks of the Survivor to keep the carbs internals free from road grime.
As for the rest of the BMW R Sport Edition, it's a dead ringer for the Limited Edition BMW R100 Survivor.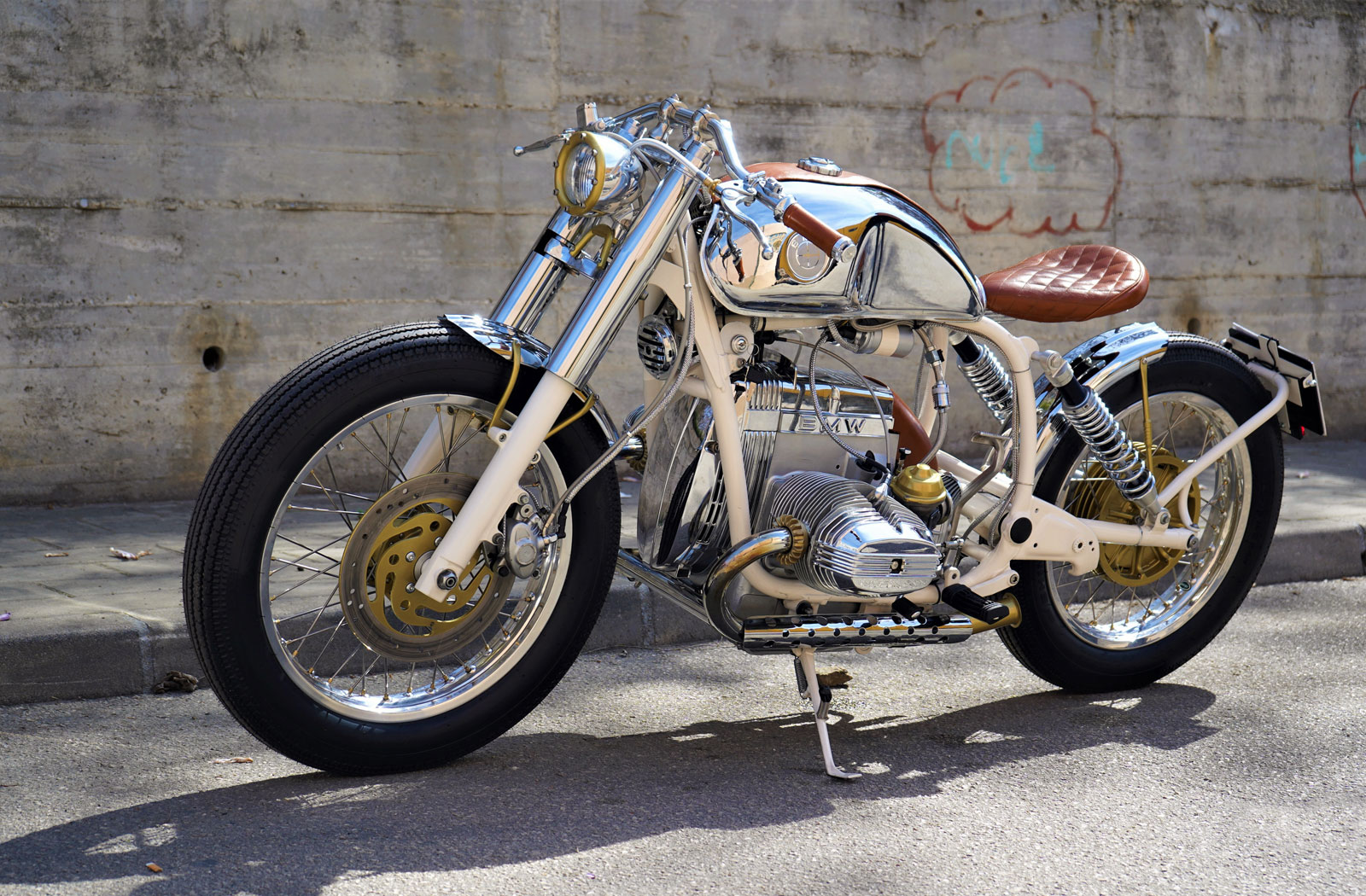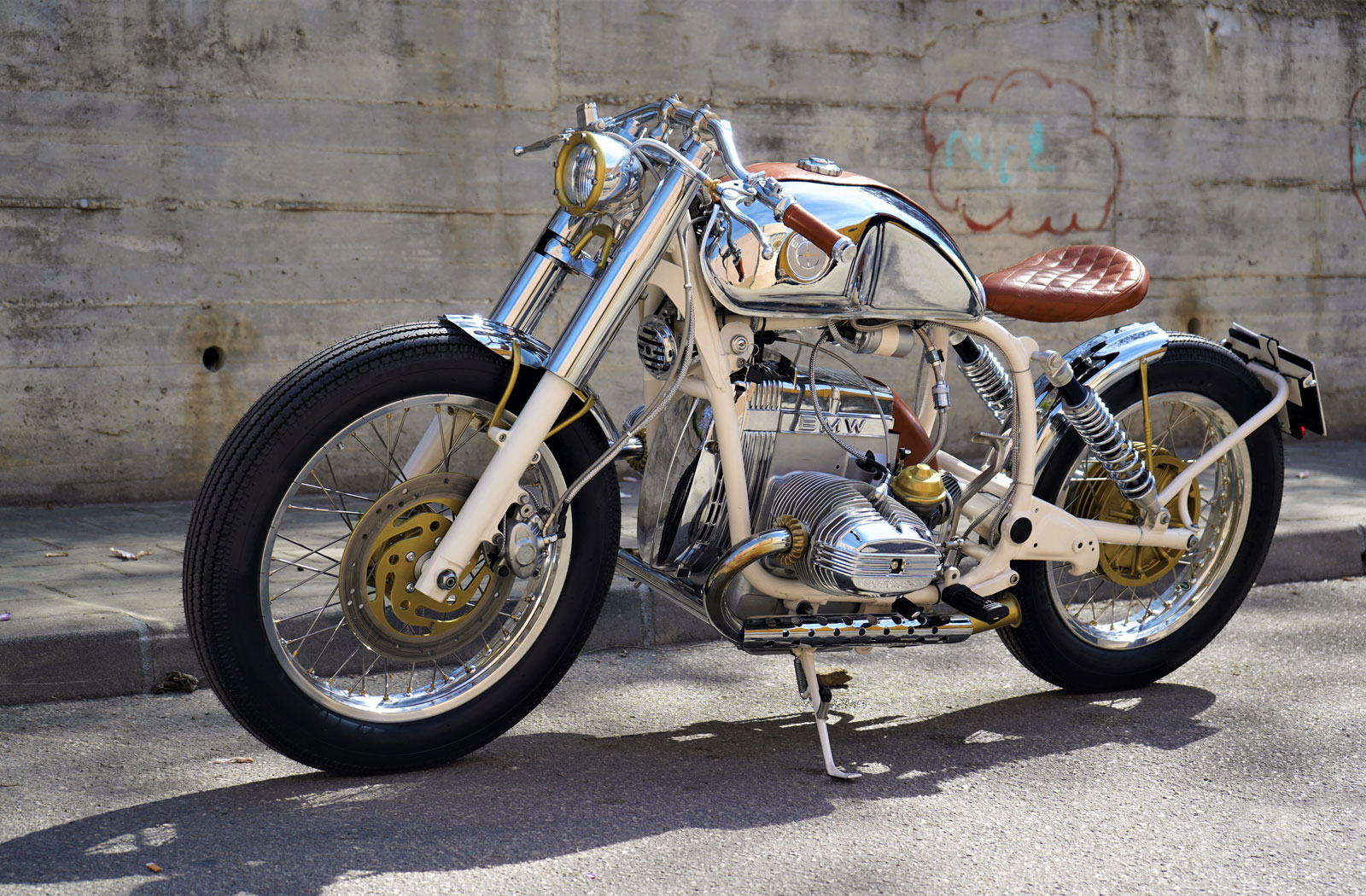 Sitting atop the backbone of the frame is the same chrome-plated Mojave style fuel tank. The Bobber-esque seat is held aloft by a clever leaf spring assembly and it's wrapped in the same tan brown leather with diamond stitching. The seat is complemented by a set of matching grips, a tank strap and airbox cover. There's also no shortage of gold details like the headlight surround, exhaust tips, and brake components. Even the single gauge, which is a Motogadget Motoscope Tiny Vintage speedometer, follows suit with its brass bezel and needle. Completing the bike's fresh new look is an electrostatic powder coat in 'broken white'.
As with anything, it's the small details that make this BMW truly special.
To step up the fit finish of this limited edition BMW R, Lord Drake Kustoms have added braided brake lines and matching cloth spark plug leads. The handlebar wiring is run internally for a cleaner finish and there are new fasteners throughout. Vintage look Shinko E-270 Super Classics complement the overall looking without drastically sacrificing performance.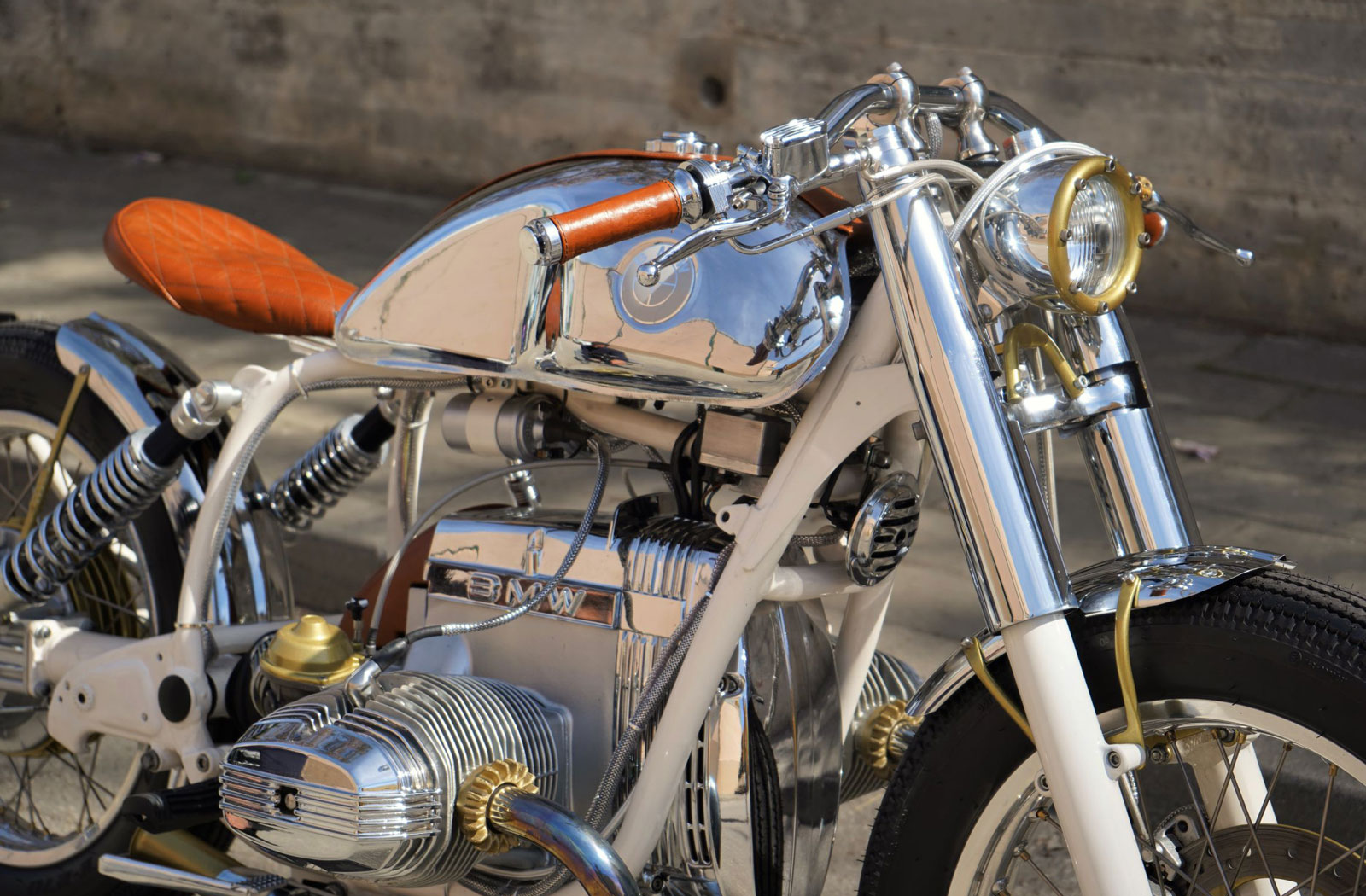 If you're interested in ordering your own Lord Drake BMW R Sport Edition they offer customers the choice of a preferred donor. Options include the BMW R100, R80, R65 and R45. You'll also be given the option to put together your own paint/leather combination to make your bike truly one of a kind.
Pricing for a Lord Drake Kustoms BMW R Sport Edition starts at 27,000 Euros and Lord Drake Kustoms will gladly arrange shipment worldwide.