Back in 2017, French builder Ortolani Customs wowed us with his metalworking prowess. His polished Ducati 1199 S earned him a place in our 'Top 10 Ducati Cafe Racer Builds' list and caused quite a stir on social media. Today he's back with another metalworking masterpiece, this time tackling the Bavarian poster-child of the custom motorcycle scene, a BMW R Nine T.
This unique build was completed for a customer who wanted a change but didn't want to let his beloved R Nine T go. To satisfy the customer's request Ortolani frontman Olivier had to give the bike an entirely new look. More importantly, he had to do it without adversely affecting the bike's performance. "I redesigned the entire body; fuel tank, front fender, and rear end which I then formed from aluminium," he says. "One of my guidelines was to make it a little more sporty visually. As a result, the tank now sits lower than the original unit and the seat is more aggressively angled and moved forward."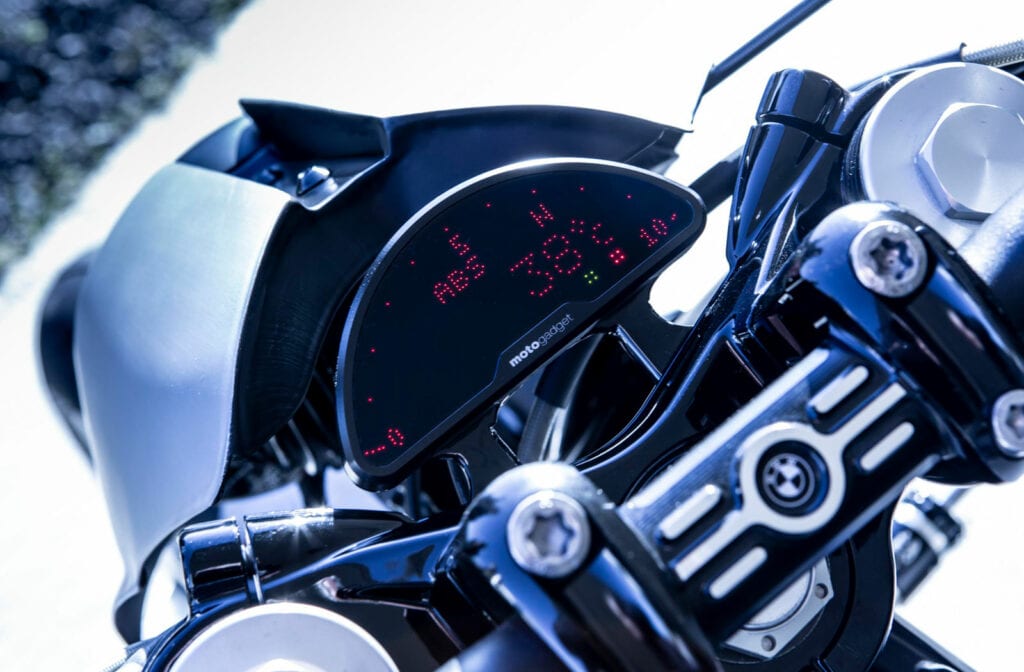 When BMW created the R Nine T it was built with customisation in mind, but Olivier's work here goes well beyond a few bolt-on tweaks. The new bodywork was based on a mix of different styling influences including fighter jet design and flat track racers and it has transformed this R Nine T to the point where it's almost unrecognisable.
For the most part, Olivier has left his alloy work raw leaving his handy work on display for all to appreciate. However, to break things up, he's applied a mix of spatter style graphics and geometric patterns and there's a coat of clear protecting everything from the elements.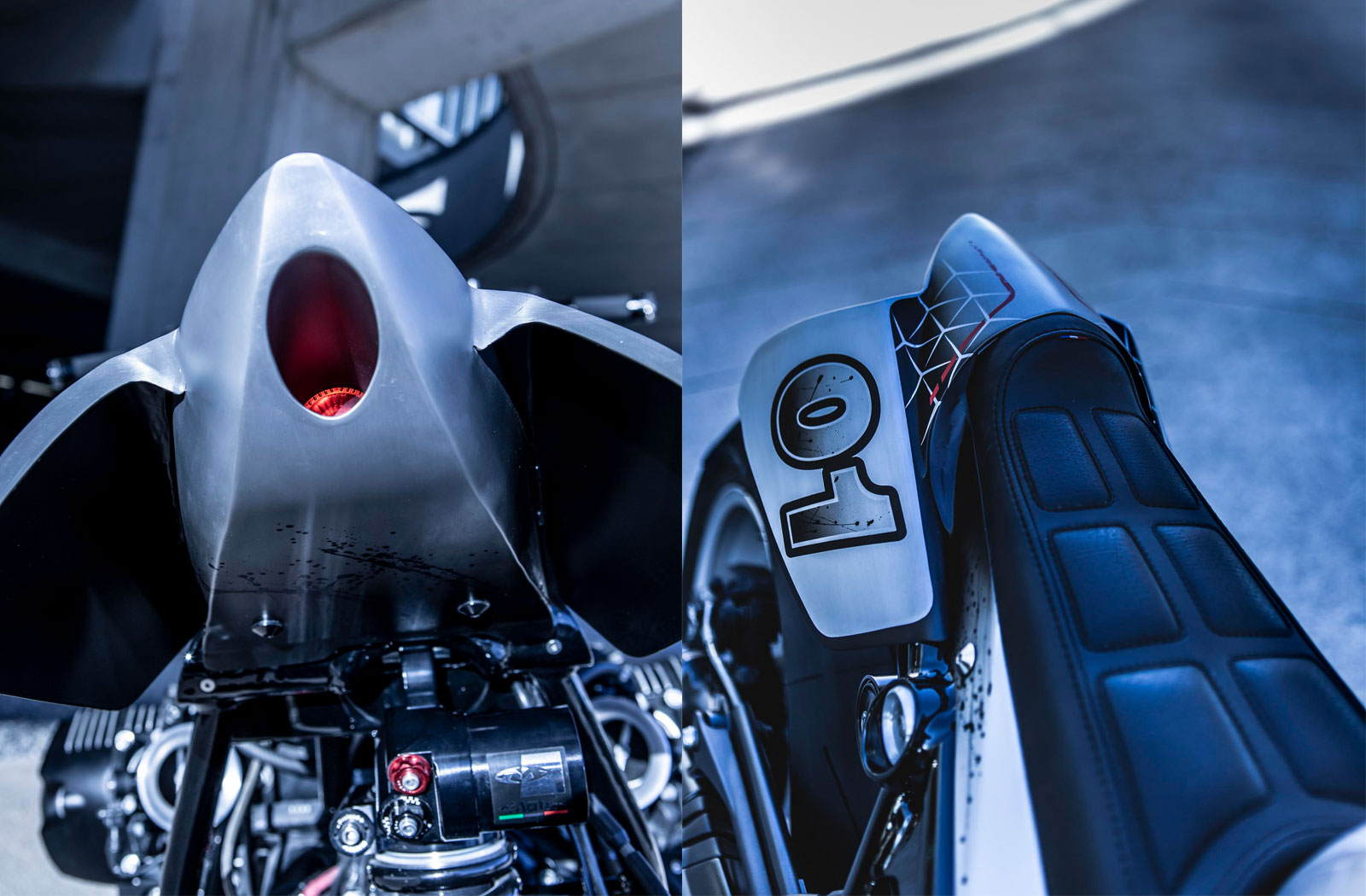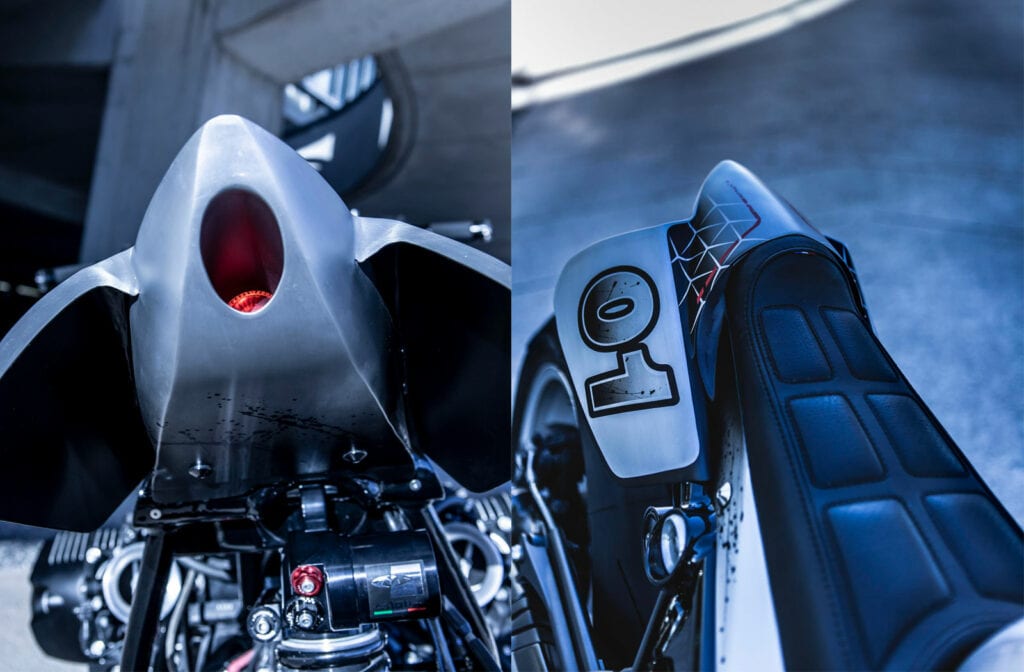 During the rebuild, Olivier also redesigned the R Nine T cockpit. In place of the original twin analogue gauges is a single, digital Motogadget Motoscope Pro speedometer. The new setup transforms the view from the saddle without sacrificing any street legal requirements. Other modifications to functional components of this R Nine T include the move from a single oil cooler set up to a twin configuration. The 2 bespoke coolers now sit either side of the tank in fighter jet style inlets positioned directly above each of the boxers cylinders. This unique design left the front of the engine clutter-free so Olivier dressed it up using an RSD Radial Breast Plate cover.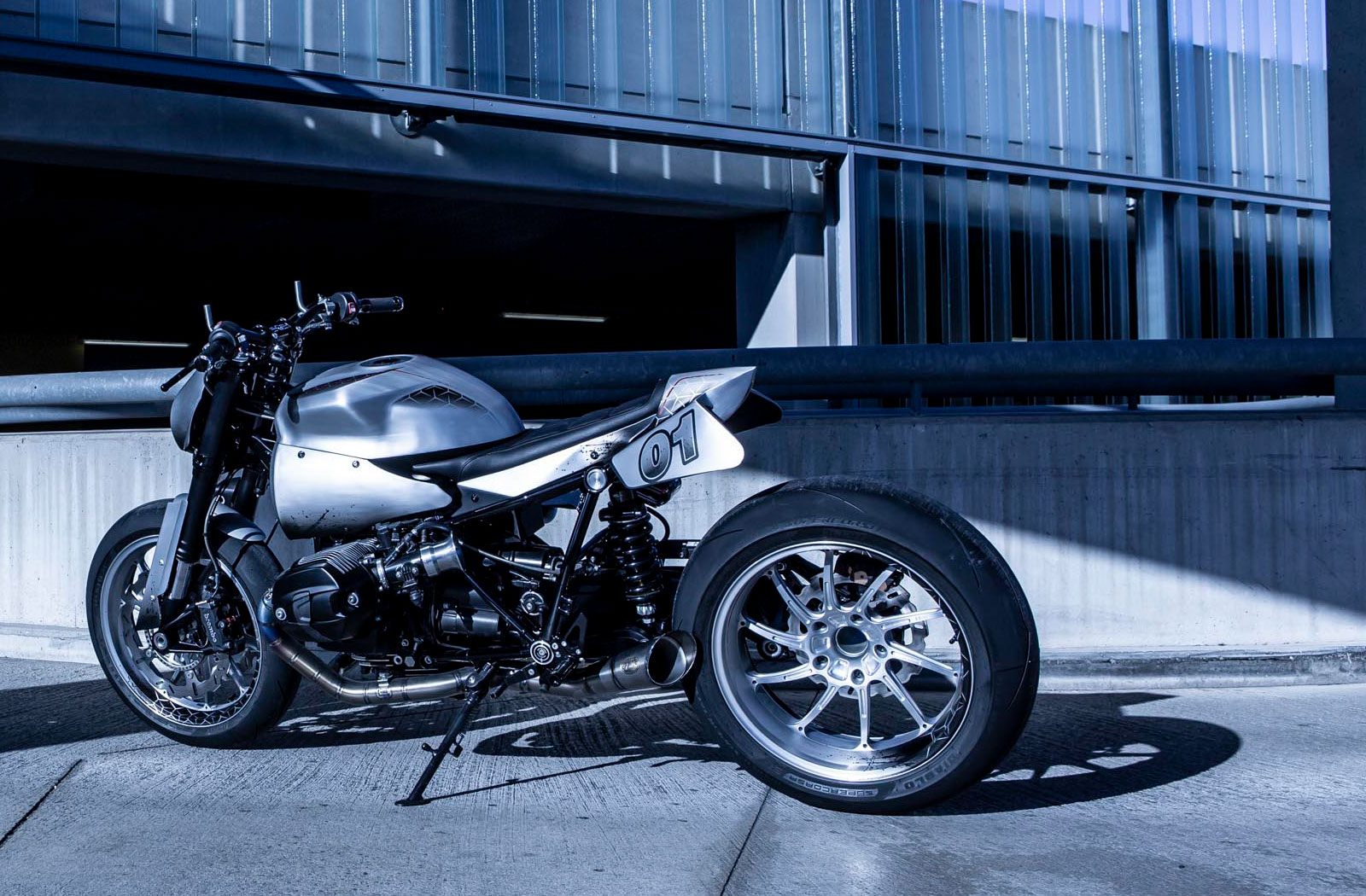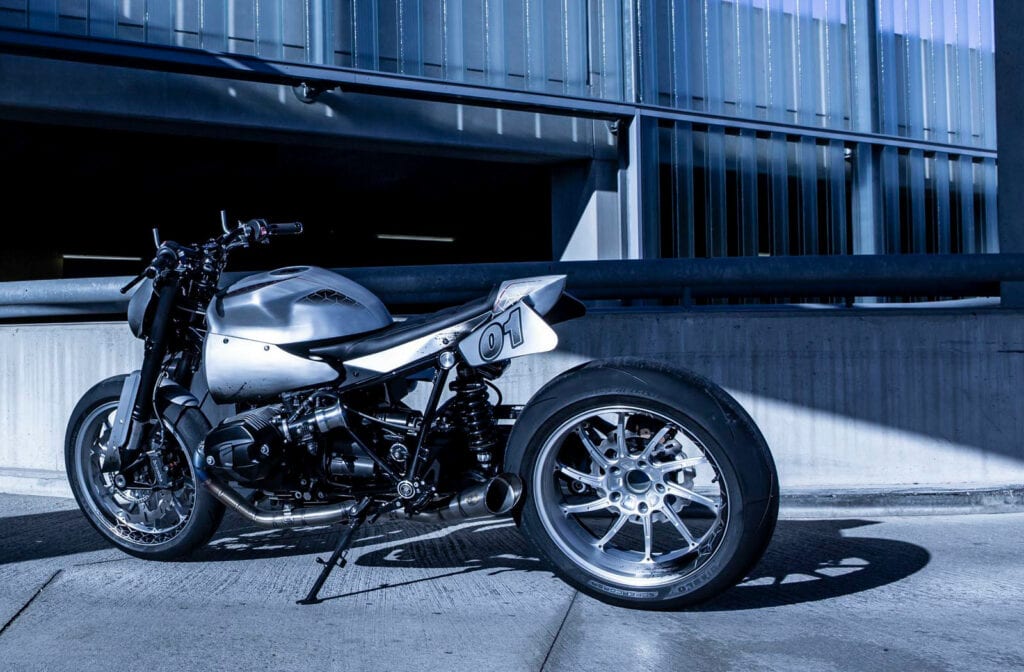 One distinctive and somewhat contentious design feature of the R Nine T is the bike's airbox snorkel. Removing it was a priority and Olivier has taken a race influenced approach here too. Both the snorkel and complete air-box system are gone in favour of a pair of CNC velocity stacks. With the big changes in airflow introduced by the revised intake, the bike has also been fitted with a Power Commander. At the opposite end of the combustion cycle, Olivier has fitted a custom exhaust system too. Taking the place of the restrictive Euro 4 system is a complete Titanium Zard unit which features a custom made baffle to keep noise levels appropriate for his customer's neighbourhood.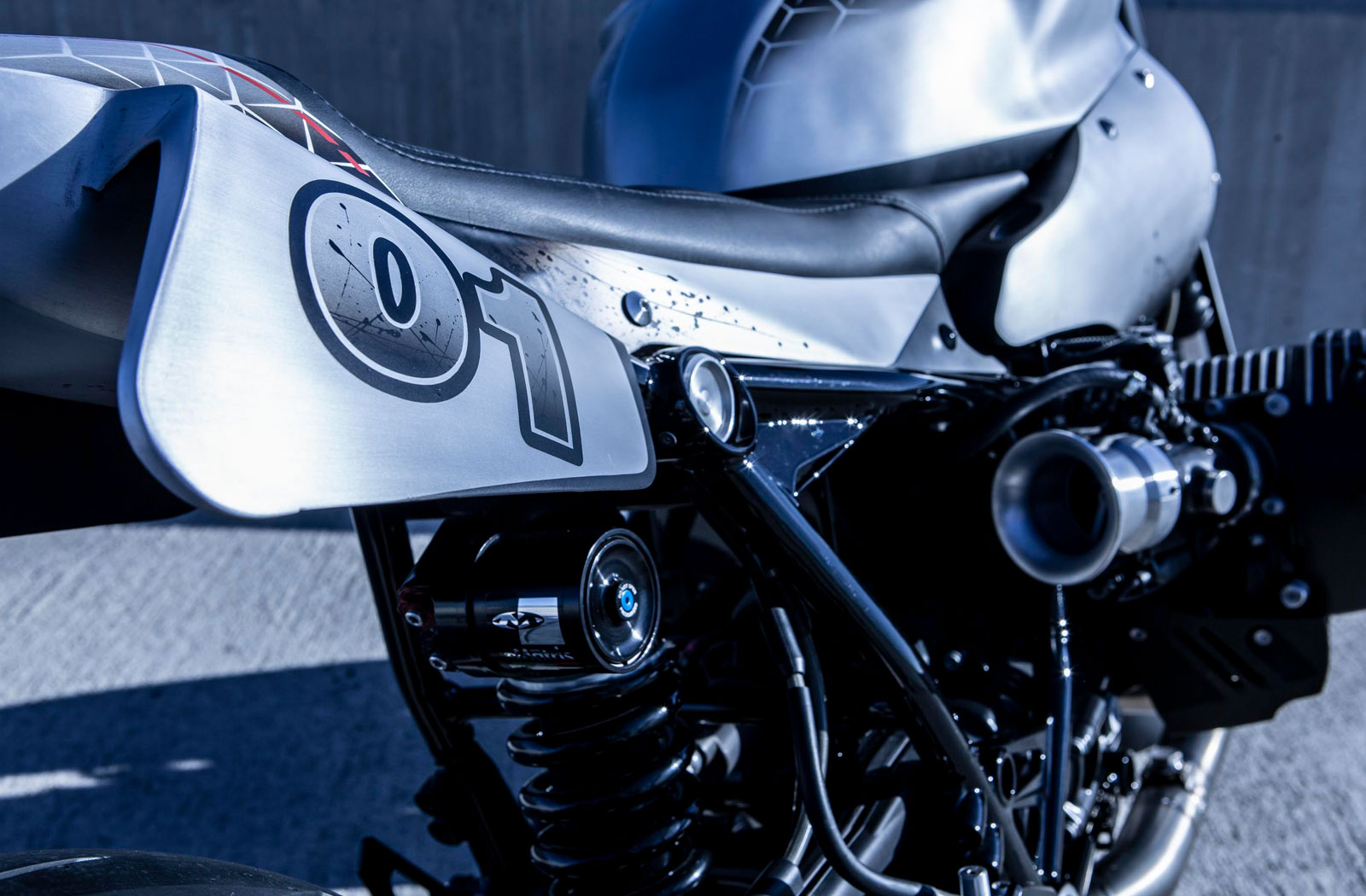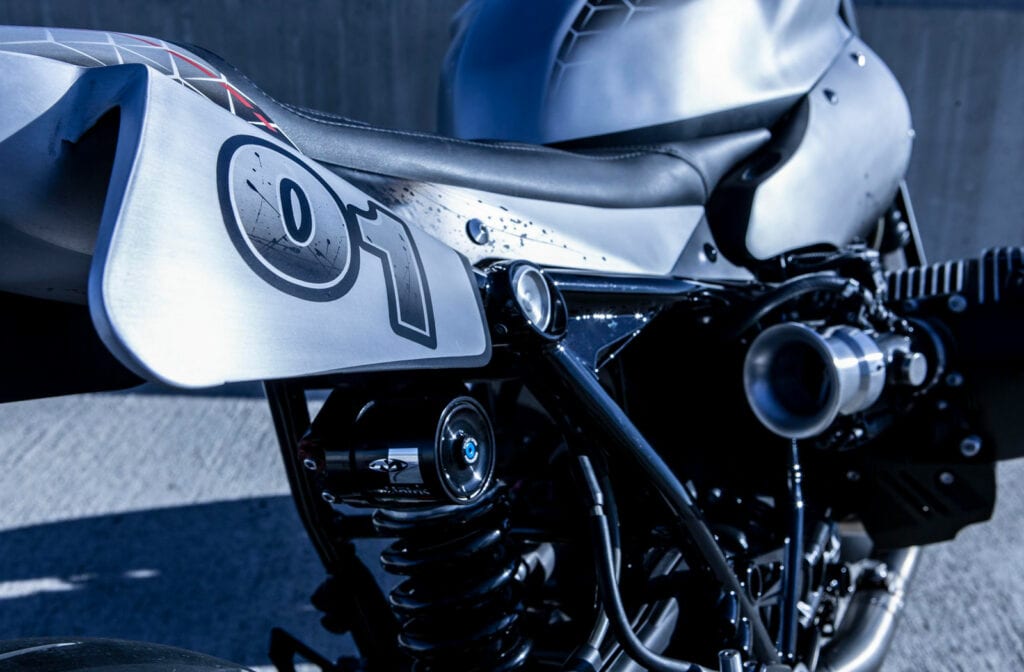 Further performance upgrades completed during this extensive reincarnation include the fitment of forged PVM rims shod in Pirelli Diablo Supercorsa rubber. The brakes now benefit from higher performance discs and an Accossato radial master cylinder while the suspension utilises a Matris mass-cut shock absorber and matching steering damper. Finally to reduce any visual clutter the lighting has all been swapped out with discrete Kellerman units.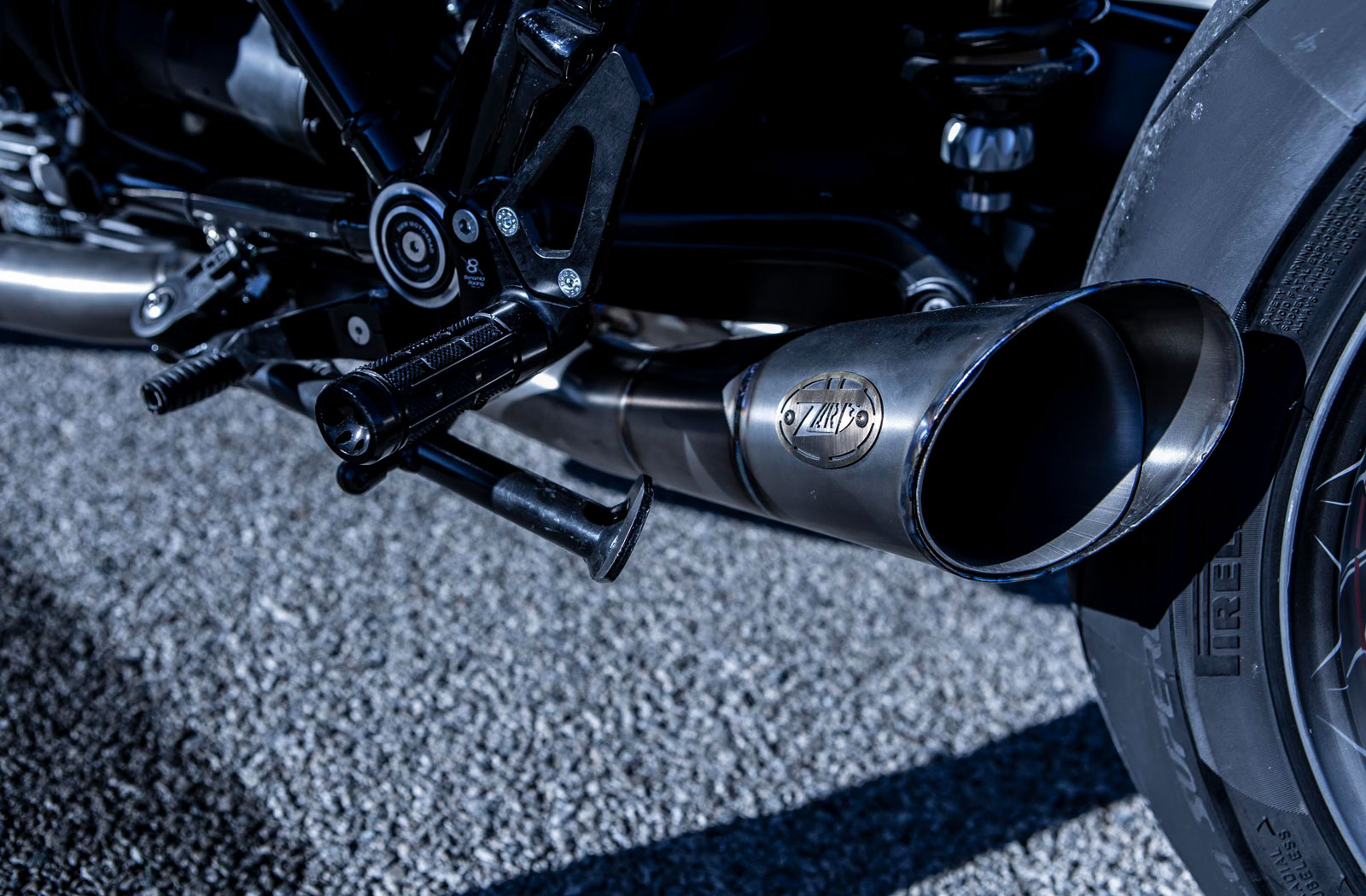 As you can imagine the bike's owner is very happy with his restyled R Nine T and Olivier is too. In fact, he enjoyed working on the R Nine T platform so much he's already got another one in the pipeline. We'll be touching base with him again soon to share that one with you all.
Photography by Bertrant Bremont/ Model: Jessica Duff